Abstract
Carnosine (β-alanyl-l-histidine) is an imidazole dipeptide present at high concentrations in skeletal muscles, where it plays a beneficial role. However, oral intake of carnosine or β-alanine to increase skeletal muscle carnosine levels has disadvantages such as low efficiency and side effects. Therefore, we proposed homocarnosine (γ-aminobutyryl-l-histidine) as a novel alternative imidazole peptide for skeletal muscle based on its structural similarity to carnosine. To induce endogenous homocarnosine synthesis in skeletal muscles, mice were fed a basal diet mixed with 0, 0.5, 2, or 5% γ-aminobutyric acid (GABA) for 6 weeks. As expected, in the control group (0% GABA), GABA and homocarnosine were present in trace concentrations. Skeletal muscle homocarnosine levels were significantly increased in the 2% and 5% GABA intake groups (tenfold, P < 0.01 and 53-fold, P < 0.01; respectively) relative to those of the control group, whereas 0.5% GABA intake induced no such effect. GABA intake had no effect on the levels of carnosine, anserine, and β-alanine. Vigabatrin (inhibitor of GABA transaminase (GABA-T)) administration to mice receiving 2% GABA intake for 2 weeks led to GABA-T inhibition in the liver. Subsequently, a 43-fold increase in circulating GABA levels and a tendency increase in skeletal muscle homocarnosine levels were observed. Therefore, skeletal muscle homocarnosine synthesis can be induced by supplying its substrate GABA in tissues. As GABA availability is tightly regulated by GABA-T via GABA degradation, inhibitors of GABA or β-alanine degradation could be novel potential interventions for increasing skeletal muscle imidazole dipeptides.
Access options
Buy single article
Instant access to the full article PDF.
US$ 39.95
Tax calculation will be finalised during checkout.
Subscribe to journal
Immediate online access to all issues from 2019. Subscription will auto renew annually.
US$ 119
Tax calculation will be finalised during checkout.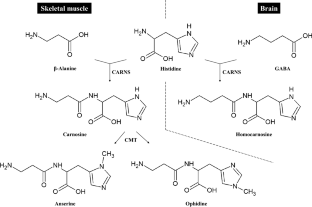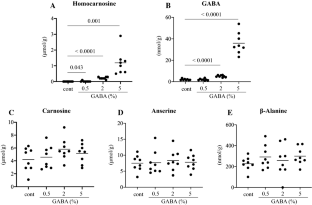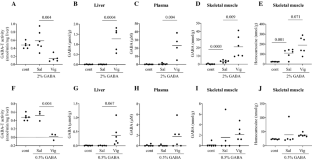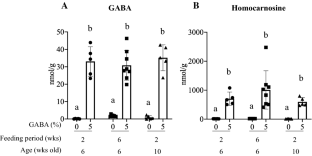 References
Alhamdani MSS, Al-Azzawie HF, Abbas FKH (2007) Decreased formation of advanced glycation end-products in peritoneal fluid by carnosine and related peptides. Perit Dial Int 27:86–89

Armijo J (1989) 4-aminobutyrate-2-ketoglutarate aminotransferase (GABA-T) in human hair follicle. Rev Esp Fisiol 45:337–342

Bai X, Edden RAE, Gao F et al (2015) Decreased γ-aminobutyric acid levels in the parietal region of patients with Alzheimer's disease. J Magn Reson Imaging 41:1326–1331. https://doi.org/10.1002/jmri.24665

Bauer K (2005) Carnosine and homocarnosine, the forgotten, enigmatic peptides of the brain. Neurochem Res 30:1339–1345. https://doi.org/10.1007/s11064-005-8806-z

Blancquaert L, Baba SP, Kwiatkowski S et al (2016) Carnosine and anserine homeostasis in skeletal muscle and heart is controlled by β-alanine transamination. J Physiol 594:4849–4863. https://doi.org/10.1113/JP272050

Boldyrev AA, Aldini G, Derave W (2013) Physiology and pathophysiology of carnosine. Physiol Rev 93:1803–1845. https://doi.org/10.1152/physrev.00039.2012

Boonstra E, de Kleijn R, Colzato LS et al (2015) Neurotransmitters as food supplements: the effects of GABA on brain and behavior. Front Psychol 6:6–11. https://doi.org/10.3389/fpsyg.2015.01520

Bouché N, Lacombe B, Fromm H (2003) GABA signaling: a conserved and ubiquitous mechanism. Trends Cell Biol 13:607–610. https://doi.org/10.1016/j.tcb.2003.10.001

De Ita-Pérez D, Méndez I, Vázquez-Martínez O et al (2014) Synchronization by food access modifies the daily variations in expression and activity of liver GABA transaminase. Biomed Res Int 2014:1–8. https://doi.org/10.1155/2014/590581

Décombaz J, Beaumont M, Vuichoud J et al (2012) Effect of slow-release β-alanine tablets on absorption kinetics and paresthesia. Amino Acids 43:67–76. https://doi.org/10.1007/s00726-011-1169-7

Derave W, De Courten B, Baba SP (2019) Correction to: An update on carnosine and anserine research. Amino Acids 51:5–5. https://doi.org/10.1007/s00726-019-02701-w

Drozak J, Veiga-da-Cunha M, Vertommen D et al (2010) Molecular identification of carnosine synthase as ATP-grasp domain-containing protein 1 (ATPGD1). J Biol Chem 285:9346–9356. https://doi.org/10.1074/jbc.M109.095505

Hipkiss AR (2009) Carnosine and its possible roles in nutrition and health. Adv Food Nutr Res 57:87–154. https://doi.org/10.1016/S1043-4526(09)57003-9

Hoetker D, Chung W, Zhang D et al (2018) Exercise alters and β-alanine combined with exercise augments histidyl dipeptide levels and scavenges lipid peroxidation products in human skeletal muscle. J Appl Physiol 125:1767–1778. https://doi.org/10.1152/japplphysiol.00007.2018

Huang J, Wang T, Yu D et al (2018) L-Homocarnosine attenuates inflammation in cerebral ischemia–reperfusion injury through inhibition of nod-like receptor protein 3 inflammasome. Int J Biol Macromol 118:357–364. https://doi.org/10.1016/j.ijbiomac.2018.06.032

Jeremiah S, Povey S (1981) The biochemical genetics of human gamma-aminobutyric acid transaminase. Ann Hum Genet 45:231–236. https://doi.org/10.1111/j.1469-1809.1981.tb00334.x

Johnson ML, Distelmaier K, Lanza IR et al (2016) Mechanism by which caloric restriction improves insulin sensitivity in sedentary obese adults. Diabetes 65:74–84. https://doi.org/10.2337/db15-0675

Kamisaki Y, Takao Y, Itoh T et al (1990) Determination of gamma-aminobutyric acid in human cerebrospinal fluid by isocratic high-performance liquid chromatography. J Chromatogr 529:417–423

Kang JH (2005) Protection by carnosine and homocarnosine against L-DOPA-Fe(III)-mediated DNA cleavage. Bull Korean Chem Soc 26:1251–1254. https://doi.org/10.5012/bkcs.2005.26.8.1251

Kang JH, Kim KS, Choi SY et al (2002) Protective effects of carnosine, homocarnosine and anserine against peroxyl radical-mediated Cu, Zn-superoxide dismutase modification. Biochim Biophys Acta Gen Subj 1570:89–96. https://doi.org/10.1016/S0304-4165(02)00158-7

Kohen R, Yamamoto Y, Cundy KC, Ames BN (2006) Antioxidant activity of carnosine, homocarnosine, and anserine present in muscle and brain. Proc Natl Acad Sci 85:3175–3179. https://doi.org/10.1073/pnas.85.9.3175

Kumrungsee T, Nirmagustina DE, Arima T et al (2019) Novel metabolic disturbances in marginal vitamin B6-deficient rat heart. J Nutr Biochem 65:26–34. https://doi.org/10.1016/j.jnutbio.2018.11.004

Liu Q, Sikand P, Ma C et al (2012a) Mechanisms of itch evoked by β-alanine. J Neurosci 32:14532–14537. https://doi.org/10.1523/jneurosci.3509-12.2012

Liu WY, Bin WZ, Zhang LC et al (2012b) Tight junction in blood-brain barrier: an overview of structure, regulation, and regulator substances. CNS Neurosci Ther 18:609–615. https://doi.org/10.1111/j.1755-5949.2012.00340.x

Nagai K, Tanida M, Niijima A et al (2012) Role of L-carnosine in the control of blood glucose, blood pressure, thermogenesis, and lipolysis by autonomic nerves in rats: involvement of the circadian clock and histamine. Amino Acids 43:97–109. https://doi.org/10.1007/s00726-012-1251-9

Penafiel R, Ruzafa C, Monserrat F, Cremades A (2004) Gender-related differences in carnosine, anserine and lysine content of murine skeletal muscle. Amino Acids 26:53–58. https://doi.org/10.1007/s00726-003-0034-8

Petroff OAC, Hyder F, Rothman DL et al (2001) Homocarnosine and seizure control in juvenile myoclonic epilepsy and complex partial seizures. Neurology 56:709–715. https://doi.org/10.1212/WNL.56.6.709

Perry TL, Yong VW, Bergeron C et al (1987) Amino acids, glutathione, and glutathione transferase activity in the brains of patients with Alzheimer's disease. Ann Neurol 21:331–336. https://doi.org/10.1002/ana.410210403

Peters V, Kebbewar M, Jansen EW et al (2010) Relevance of allosteric conformations and homocarnosine concentration on carnosinase activity. Amino Acids 38:1607–1615. https://doi.org/10.1007/s00726-009-0367-z

Petroff OAC, Hyder F, Collins T et al (1998a) Acute effects of vigabatrin on brain gamma-aminobutyric acid and homocarnosine. Ann Neurol 44:498

Petroff OAC, Hyder F, Rothman DL et al (2006) Brain homocarnosine and seizure control of patients taking gabapentin or topiramate. Epilepsia 47:495–498. https://doi.org/10.1111/j.1528-1167.2006.00457.x

Petroff OAC, Mattson RH, Behar KL et al (1998b) Vigabatrin increases human brain homocarnosine and improves seizure control. Ann Neurol 44:948–952. https://doi.org/10.1002/ana.410440614

Preston JE, Hipkiss AR, Himsworth DTJ et al (1998) Toxic effects of β-amyloid(25–35) on immortalised rat brain endothelial cell: protection by carnosine, homocarnosine and β-alanine. Neurosci Lett 242:105–108. https://doi.org/10.1016/S0304-3940(98)00058-5

Soga T, Ohashi Y, Ueno Y et al (2003) Quantitative metabolome analysis using capillary electrophoresis mass spectrometry. J Proteome Res 2:488–494. https://doi.org/10.1021/pr034020m

Tabakman R, Lazarovici P, Kohen R (2002) Neuroprotective effects of carnosine and homocarnosine on pheochromocytoma PC12 cells exposed to ischemia. J Neurosci Res 68:463–469. https://doi.org/10.1002/jnr.10228

Teufel M, Saudek V, Ledig JP et al (2003) Sequence identification and characterization of human carnosinase and a closely related non-specific dipeptidase. J Biol Chem 278:6521–6531. https://doi.org/10.1074/jbc.M209764200

The human protein atlas CARNS1. https://www.proteinatlas.org/ENSG00000172508-CARNS1/tissue. Accessed 13 Jul 2019

Veiga-da-Cunha M, Chevalier N, Stroobant V et al (2014) Metabolite proofreading in carnosine and homocarnosine synthesis: molecular identification of PM20D2 as β-alanyl-lysine dipeptidase. J Biol Chem 289:19726–19736. https://doi.org/10.1074/jbc.M114.576579

Vorbrodt AW, Dobrogowska DH, Ueno M et al (1995) A quantitative immunocytochemical study of blood-brain barrier to endogenous albumin in cerebral cortex and hippocampus of senescence-accelerated mice (SAM). Folia Histochem Cytobiol 33:229–237

Waterval WAH, Scheijen JLJM, Ortmans-Ploemen MMJC et al (2009) Quantitative UPLC-MS/MS analysis of underivatised amino acids in body fluids is a reliable tool for the diagnosis and follow-up of patients with inborn errors of metabolism. Clin Chim Acta 407:36–42. https://doi.org/10.1016/j.cca.2009.06.023

Yuneva AO, Kramarenko GG, Vetreshchak TV et al (2002) Effect of carnosine on Drosophila melanogaster lifespan. Bull Exp Biol Med 133:559–561. https://doi.org/10.1023/A:1020273506970
Acknowledgments
This work was supported by Grant-in-Aid for Early Career Scientists (No. 18K14407 to Thanutchaporn Kumrungsee) from the Japanese Ministry of Education, Culture, Sports, Science and Technology (MEXT, Tokyo), a grant from NH Foods Ltd. (Tsukuba, Japan), and the Hiroshima University Grant for Female Scholars' International Collaborative Research.
Ethics declarations
Conflict of interest
Mikako Sato is a patent holder (agent containing imidazole dipeptide-Publication number: 20180140655) and works for NH food Ltd. Although this study was partially supported by the grant from NH Foods Ltd. and some authors work at the company, the funding organization and those authors have no influence on the submitted work and all authors declare that they have no conflict of interest.
Ethical approval
All procedures performed in studies involving animals were in accordance with the ethical standards of the institution or practice at which the studies were conducted. The experiments were approved by the local ethics committee (Ethical Approval No. C17-19, granted by the Ethics Committee, Hiroshima University).
Additional information
Publisher's Note
Springer Nature remains neutral with regard to jurisdictional claims in published maps and institutional affiliations.
Handling Editor: F. Albericio.
About this article
Cite this article
Kumrungsee, T., Arima, T., Sato, K. et al. Dietary GABA induces endogenous synthesis of a novel imidazole peptide homocarnosine in mouse skeletal muscles. Amino Acids 52, 743–753 (2020). https://doi.org/10.1007/s00726-020-02848-x
Received:

Accepted:

Published:

Issue Date:
Keywords
Imidazole dipeptide

Carnosine

Homocarnosine

Skeletal muscle

GABA

β-Alanine