Abstract
It was found recently that acrolein (CH2=CH–CHO), mainly produced from spermine, is more toxic than ROS (reactive oxygen species, O−·2, H2O2, and ·OH). In this review, we describe how the seriousness of brain infarction, dementia, renal failure, and Sjӧgren's syndrome is correlated with acrolein. In brain infarction and dementia, it was possible to identify incipient patients with high sensitivity and specificity by measuring protein-conjugated acrolein (PC-Acro) in plasma together with IL-6 and CRP in brain infarction and Aβ40/42 in dementia. The level of PC-Acro in plasma and saliva correlated with the seriousness of renal failure and Sjӧgren's syndrome, respectively. Thus, development of acrolein scavenger medicines containing SH-group such as N-acetylcysteine derivatives is important to maintain QOL (quality of life) of the elderly.
This is a preview of subscription content, log in to check access.
Access options
Buy single article
Instant access to the full article PDF.
US$ 39.95
Price includes VAT for USA
Subscribe to journal
Immediate online access to all issues from 2019. Subscription will auto renew annually.
US$ 199
This is the net price. Taxes to be calculated in checkout.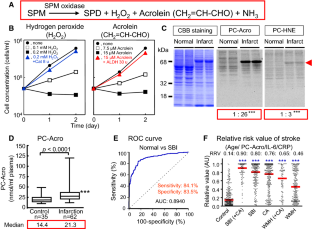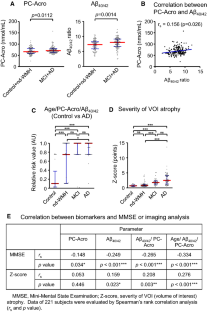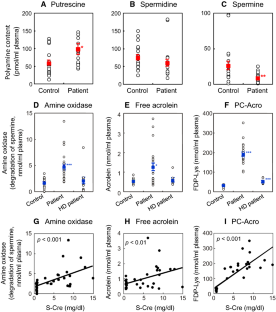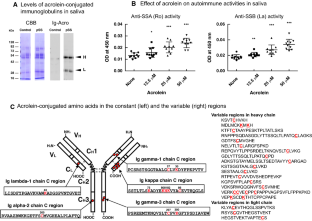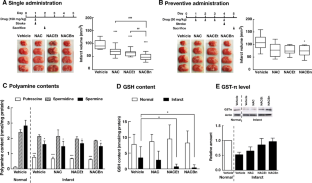 Abbreviations
Aβ:

Amyloid-β

AD:

Alzheimer's disease

CA:

Carotid atherosclerosis

CRP:

C-reactive protein

GAPDH:

Glycelaldehyde-3-phosphate dehydrogenase

GSH:

Glutathione

GST:

Glutathione S-transferase

HNE:

4-Hydroxy-2-nonenal

IL-6:

Interleukin-6

MCI:

Mild cognitive impairment

MMP-9:

Matrix metalloproteinase-9

MMSE:

Mini-mental state examination

NAC:

N-acetylcysteine

nd-WMH:

Non-demented subject with WMH

PAO:

Polyamine oxidase

PC-Acro:

Protein-conjugated acrolein

PC-HNE:

Protein-conjugated 4-hydroxy-2-nonenal

pSS:

Primary Sjögren's syndrome

QOL:

Quality of life

ROC:

Receiver-operating characteristic

ROS:

Reactive oxygen species

RRV:

Relative risk value

SBI:

Silent brain infarction

WMH:

White-matter hyperintensity
References
Ayusawa D, Iwata K, Seno T (1981) Alteration of ribonucleotide reductase in aphidicolin-resistant mutants of mouse FM3A cells with associated resistance to arabinosyladenine and arabinosylcytosine. Somatic Cell Genet 7:27–42

Blennow K, de Leon MJ, Zetterberg H (2006) Alzheimer's disease. Lancet 368:387–403

Bradley MA, Markesbery WR, Lovell MA (2010) Increased levels of 4-hydroxynonenal and acrolein in the brain in preclinical Alzheimer disease. Free Radic Biol Med 48:1570–1576

Cai J, Bhatnagar A, Pierce WM Jr (2009) Protein modification by acrolein: formation and stability of cysteine adducts. Chem Res Toxicol 22:708–716

Calingasan NY, Uchida K, Gibson GE (1999) Protein-bound acrolein: a novel marker of oxidative stress in Alzheimer's disease. J Neurochem 72:751–756

Campbell RA, Talwalker YB, Harner MH, Bartos D, Bartos F, Musgrave JE, Puri H, Grettie DP, Dolney AM, Loggan B (1978) Polyamines, uremia, and hemodialysis. Advances in polyamine research, vol 2. Raven Press, New York, pp 319–343

Dang TN, Arseneault M, Murthy V, Ramassamy C (2010) Potential role of acrolein in neurodegeneration and in Alzheimer's disease. Curr Mol Pharmacol 3:66–78

Drachman DA (2006) Aging of the brain, entropy, and Alzheimer disease. Neurology 67:1340–1352

Franceschini F, Cavazzana I (2005) Anti-Ro/SSA and La/SSB antibodies. Autoimmunity 38:55–63

Furuhata A, Ishii T, Kumazawa S, Yamada T, Nakayama T, Uchida K (2003) Nε-(3-methylpyridinium)lysine, a major antigenic adduct generated in acrolein-modified protein. J Biol Chem 278:48658–48665

Gaugas JM, Dewey DL (1979) Evidence for serum binding of oxidized spermine and its potent G1-phase inhibition of cell proliferation. Br J Cancer 39:548–557

Giovannetti S, Biagini M, Balestri PL, Navalesi R, Giagnoni P, De Matteis A, Ferro-Milone P, Perfetti C (1969) Uraemia-like syndrome in dogs chronically intoxicated with methylguanidine and creatinine. Clin Sci 36:445–452

Goeb V, Salle V, Duhaut P, Jouen F, Smail A, Ducroix JP, Tron F, Le Loet X, Vittecoq O (2007) Clinical significance of autoantibodies recognizing Sjӧgren's syndrome A (SSA), SSB, calpastatin and alpha-fodrin in primary Sjӧgren's syndrome. Clin Exp Immunol 148:281–287

Graff-Radford NR, Crook JE, Lucas J, Boeve BF, Knopman DS, Ivnik RJ, Smith GE, Younkin LH, Petersen RC, Younkin SG (2007) Association of low plasma Aβ42/Aβ40 ratios with increased imminent risk for mild cognitive impairment and Alzheimer disease. Arch Neurol 64:354–362

Hanemaaijer R, Visser H, Konttinen YT, Koolwijk P, Verheijen JH (1998) A novel and simple immunocapture assay for determination of gelatinase-B (MMP-9) activities in biological fluids: saliva from patients with Sjӧgren's syndrome contain increased latent and active gelatinase-B levels. Matrix Biol 17:657–665

Hanley JA, McNeil BJ (1982) The meaning and use of the area under a receiver operating characteristic (ROC) curve. Radiology 143:29–36

Higgins ML, Tillman MC, Rupp JP, Leach FR (1969) The effect of polyamines on cell culture cells. J Cell Physiol 74:149–154

Hirata Y, Matsuda H, Nemoto K, Ohnishi T, Hirao K, Yamashita F, Asada T, Iwabuchi S, Samejima H (2005) Voxel-based morphometry to discriminate early Alzheimer's disease from controls. Neurosci Lett 382:269–274

Hirose T, Saiki R, Uemura T, Suzuki T, Dohmae N, Ito S, Takahashi H, Ishii I, Toida T, Kashiwagi K, Igarashi K (2015) Increase in acrolein-conjugated immunoglobulins in saliva from patients with primary Sjӧgren's syndrome. Clin Chim Acta 450:184–189

Igarashi K, Kashiwagi K (2011) Protein-conjugated acrolein as a biochemical marker of brain infarction. Mol Nutr Food Res 55:1332–1341

Igarashi K, Kashiwagi K (2015) Modulation of protein synthesis by polyamines. IUBMB Life 67:160–169

Igarashi K, Ueda S, Yoshida K, Kashiwagi K (2006) Polyamines in renal failure. Amino Acids 31:477–483

Igarashi K, Yoshida M, Waragai M, Kashiwagi K (2015) Evaluation of dementia by acrolein, amyloid-β and creatinine. Clin Chim Acta 450:56–63

Igarashi K, Uemura T, Kashiwagi K (2018) Acrolein toxicity at advanced age: present and future. Amino Acids 50:217–228

Kobayashi S, Okada K, Koide H, Bokura H, Yamaguchi S (1997) Subcortical silent brain infarction as a risk factor for clinical stroke. Stroke 28:1932–1939

Konttinen YT, Kangaspunta P, Lindy O, Takagi M, Sorsa T, Segerberg M, Tschesche H, Eisen AZ (1994) Collagenase in Sjӧgren's syndrome. Ann Rheum Dis 53:836–839

Lopez OL, Jagust WJ, Dulberg C, Becker JT, DeKosky ST, Fitzpatrick A, Breitner J, Lyketsos C, Jones B, Kawas C, Carlson M, Kuller LH (2003) Risk factors for mild cognitive impairment in the cardiovascular health study cognition study: part 2. Arch Neurol 60:1394–1399

Mehta PD, Pirttila T, Mehta SP, Sersen EA, Aisen PS, Wisniewski HM (2000) Plasma and cerebrospinal fluid levels of amyloid β proteins 1–40 and 1–42 in Alzheimer disease. Arch Neurol 57:100–105

Moutsopoulos HM, Webber BL, Vlagopoulos TP, Chused TM, Decker JL (1979) Differences in the clinical manifestations of sicca syndrome in the presence and absence of rheumatoid arthritis. Am J Med 66:733–736

Muting D (1965) Studies on the pathogenesis of uremia. Comparative determinations of glucuronic acid, indican, free and bound phenols in the serum, cerebrospinal fluid, and urine of renal diseases with and without uremia. Clin Chim Acta 12:551–554

Nakamura M, Tomitori H, Suzuki T, Sakamoto A, Terui Y, Saiki R, Dohmae N, Igarashi K, Kashiwagi K (2013) Inactivation of GAPDH as one mechanism of acrolein toxicity. Biochem Biophys Res Commun 430:1265–1271

Nakamura M, Uemura T, Saiki R, Sakamoto A, Park H, Nishimura K, Terui Y, Toida T, Kashiwagi K, Igarashi K (2016) Toxic acrolein production due to Ca2+ influx by the NMDA receptor during stroke. Atherosclerosis 244:131–137

Niwa T, Takeda N, Tatematsu A, Maeda K (1988) Accumulation of indoxyl sulfate, an inhibitor of drug-binding, in uremic serum as demonstrated by internal-surface reversed-phase liquid chromatography. Clin Chem 34:2264–2267

Nordberg A, Rinne JO, Kadir A, Langstrom B (2010) The use of PET in Alzheimer disease. Nat Rev Neurol 6:78–87

Pegg AE (2013) Toxicity of polyamines and their metabolic products. Chem Res Toxicol 26:1782–1800

Perez P, Goicovich E, Alliende C, Aguilera S, Leyton C, Molina C, Pinto R, Romo R, Martinez B, Gonzalez MJ (2000) Differential expression of matrix metalloproteinases in labial salivary glands of patients with primary Sjӧgren's syndrome. Arthr Rheum 43:2807–2817

Ram M, Sherer Y, Shoenfeld Y (2006) Matrix metalloproteinase-9 and autoimmune diseases. J Clin Immunol 26:299–307

Risacher SL, Shen L, West JD, Kim S, McDonald BC, Beckett LA, Harvey DJ, Jack CR Jr, Weiner MW, Saykin AJ, Alzheimer's Disease Neuroimaging I (2010) Longitudinal MRI atrophy biomarkers: relationship to conversion in the ADNI cohort. Neurobiol Aging 31:1401–1418

Saiki R, Park H, Ishii I, Yoshida M, Nishimura K, Toida T, Tatsukawa H, Kojima S, Ikeguchi Y, Pegg AE, Kashiwagi K, Igarashi K (2011) Brain infarction correlates more closely with acrolein than with reactive oxygen species. Biochem Biophys Res Commun 404:1044–1049

Saiki R, Hayashi D, Ikuo Y, Nishimura K, Ishii I, Kobayashi K, Chiba K, Toida T, Kashiwagi K, Igarashi K (2013) Acrolein stimulates the synthesis of IL-6 and C-reactive protein (CRP) in thrombosis model mice and cultured cells. J Neurochem 127:652–659

Sakata K, Kashiwagi K, Sharmin S, Ueda S, Irie Y, Murotani N, Igarashi K (2003) Increase in putrescine, amine oxidase, and acrolein in plasma of renal failure patients. Biochem Biophys Res Commun 305:143–149

Singh M, Dang TN, Arseneault M, Ramassamy C (2010) Role of by-products of lipid oxidation in Alzheimer's disease brain: a focus on acrolein. J Alzheimer's Dis 21:741–756

Tanaka Y, Marumo T, Omura T, Yoshida S (2007) Quantitative assessments of cerebral vascular damage with a silicon rubber casting method in photochemically-induced thrombotic stroke rat models. Life Sci 81:1381–1388

Tomitori H, Usui T, Saeki N, Ueda S, Kase H, Nishimura K, Kashiwagi K, Igarashi K (2005) Polyamine oxidase and acrolein as novel biochemical markers for diagnosis of cerebral stroke. Stroke 36:2609–2613

Uchida K (1999) Current status of acrolein as a lipid peroxidation product. Trends Cardiovasc Med 9:109–113

Uchida K, Kanematsu M, Sakai K, Matsuda T, Hattori N, Mizuno Y, Suzuki D, Miyata T, Noguchi N, Niki E, Osawa T (1998) Protein-bound acrolein: potential markers for oxidative stress. Proc Natl Acad Sci USA 95:4882–4887

Uemura T, Watanabe K, Ishibashi M, Saiki R, Kuni K, Nishimura K, Toida T, Kashiwagi K, Igarashi K (2016) Aggravation of brain infarction through an increase in acrolein production and a decrease in glutathione with aging. Biochem Biophys Res Commun 473:630–635

Uemura T, Suzuki T, Saiki R, Dohmae N, Ito S, Takahashi H, Toida T, Kashiwagi K, Igarashi K (2017) Activation of MMP-9 activity by acrolein in saliva from patients with primary Sjӧgren's syndrome and its mechanism. Int J Biochem Cell Biol 88:84–91

Uemura T, Watanabe K, Ko K, Higashi K, Kogure N, Kitajima M, Takayama H, Takao K, Sugita Y, Sakamoto A, Terui Y, Toida T, Kashiwagi K, Igarashi K (2018) Protective effects of brain infarction by N-acetylcysteine derivatives. Stroke 49:1727–1733

Vermeer SE, Hollander M, van Dijk EJ, Hofman A, Koudstaal PJ, Breteler MM, Rotterdam Scan S (2003) Silent brain infarcts and white matter lesions increase stroke risk in the general population: the Rotterdam Scan Study. Stroke 34:1126–1129

Vermeer SE, Longstreth WT Jr, Koudstaal PJ (2007) Silent brain infarcts: a systematic review. Lancet Neurol 6:611–619

Waragai M, Yoshida M, Mizoi M, Saiki R, Kashiwagi K, Takagi K, Arai H, Tashiro J, Hashimoto M, Iwai N, Uemura K, Igarashi K (2012) Increased protein-conjugated acrolein and amyloid-β40/42 ratio in plasma of patients with mild cognitive impairment and Alzheimer's disease. J Alzheimers Dis 32:33–41

Yoshida M, Higashi K, Jin L, Machi Y, Suzuki T, Masuda A, Dohmae N, Suganami A, Tamura Y, Nishimura K, Toida T, Tomitori H, Kashiwagi K, Igarashi K (2010a) Identification of acrolein-conjugated protein in plasma of patients with brain infarction. Biochem Biophys Res Commun 391:1234–1239

Yoshida M, Higashi K, Kobayashi E, Saeki N, Wakui K, Kusaka T, Takizawa H, Kashiwado K, Suzuki N, Fukuda K, Nakamura T, Watanabe S, Tada K, Machi Y, Mizoi M, Toida T, Kanzaki T, Tomitori H, Kashiwagi K, Igarashi K (2010b) Correlation between images of silent brain infarction, carotid atherosclerosis and white matter hyperintensity, and plasma levels of acrolein, IL-6 and CRP. Atherosclerosis 211:475–479
Acknowledgements
We are grateful to Dr. A. J. Michael for his help in preparing this manuscript.
Ethics declarations
Conflict of interest
The authors decrare that there is no conflict of interest.
Ethical approval
All procedures performed in studies involving human participants and animals were in accordance with the ethical standards of the ethics committee of Chiba University and with the 1964 Helsinki declaration and the later amendments or comparable ethics standards.
Additional information
Publisher's Note
Springer Nature remains neutral with regard to jurisdictional claims in published maps and institutional affiliations.
Handling Editor: E. Agostinelli.
About this article
Cite this article
Igarashi, K., Uemura, T. & Kashiwagi, K. Assessing acrolein for determination of the severity of brain stroke, dementia, renal failure, and Sjögren's syndrome. Amino Acids 52, 119–127 (2020). https://doi.org/10.1007/s00726-019-02700-x
Received:

Accepted:

Published:

Issue Date:
Keywords
N-Acetylcysteine derivatives

Acrolein

Alzheimer's disease

Brain infarction

Primary Sjӧgren's syndrome

Chronic renal failure

ROS (reactive oxygen species)

Spermine

Tissue damage