Abstract
Advanced glycation end products (AGEs) are a cluster of heterogeneous molecules that are generated in a non-enzymatic reaction by the binding of sugars with amino groups of DNA, lipids and proteins. Carnosine is a naturally occurring dipeptide with antioxidant activity, which inhibits protein carbonylation and glycoxidation. This systematic review searched international sources for all published and unpublished original research in English from any year up to the end of April 2018. An electronic search of PubMed, Scopus and Google Scholar was conducted. 187 articles were initially found and 133 articles were selected after excluding duplicated data. Review articles, studies based on the components of carnosine and studies that were about the effects of carnosine on AGEs-induced changes were excluded. In total, 36 studies met the inclusion criteria. This included 19 in vitro studies, 15 animal studies and two human studies. All but two of the studies indicated that carnosine can prevent the formation of AGEs. The findings of this review indicating that carnosine has anti-glycating properties, and may hinder the formation of protein carbonyls and the cross-links induced by reduced sugars; however, there were few human studies. The mechanism by which carnosine prevents the formation of AGEs needs further investigation.
Access options
Buy single article
Instant access to the full article PDF.
USD 39.95
Price excludes VAT (USA)
Tax calculation will be finalised during checkout.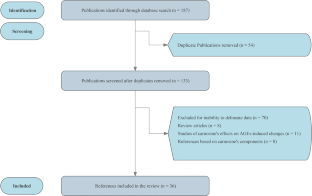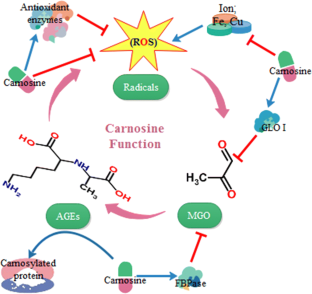 References
Abe H (2000) Role of histidine-related compounds as intracellular proton buffering constituents in vertebrate muscle. Biochemistry (Mosc) 65:757–765

Aldini G, Orioli M, Rossoni G, Savi F, Braidotti P, Vistoli G, Yeum KJ, Negrisoli G, Carini M (2011) The carbonyl scavenger carnosine ameliorates dyslipidaemia and renal function in Zucker obese rats. J Cell Mol Med 15:1339–1354

Alhamdani M-SS, Al-Azzawie HF, Abbas FK (2007a) Decreased formation of advanced glycation end-products in peritoneal fluid by carnosine and related peptides. Perit Dial Int 27(1):86–89

Alhamdani MSS, Al-Kassir AHAM, Abbas FKH, Jaleel NA, Al-Taee MF (2007b) Antiglycation and antioxidant effect of carnosine against glucose degradation products in peritoneal mesothelial cells. Nephron Clin Pract 107:c26–c34

Alizadeh M, Kheirouri S (2017) Curcumin against advanced glycation end products (AGEs) and AGEs-induced detrimental agents. Crit Rev Food Sci Nutr 29:1–9. https://doi.org/10.1080/10408398.2017.1396200

Alsheblak MM, Elsherbiny NM, El-Karef A, El-Shishtawy MM (2016) Protective effects of l-carnosine on CCl4-induced hepatic injury in rats. Eur Cytokine Netw 27:6–15

Ansurudeen I, Sunkari VG, Grünler J, Peters V, Schmitt CP, Catrina S-B, Brismar K, Forsberg EA (2012) Carnosine enhances diabetic wound healing in the db/db mouse model of type 2 diabetes. Amino Acids 43:127–134

Aydin F, Kalaz EB, Kucukgergin C, Coban J, Dogru-Abbasoglu S, Uysal M (2017) Carnosine treatment diminished oxidative stress and glycation products in serum and tissues of d-galactose-treated rats. Curr Aging Sci. https://doi.org/10.2174/1871530317666170703123519

Aydın AF, Bingül İ, Küçükgergin C, Doğan-Ekici I, Doğru Abbasoğlu S, Uysal M (2017a) Carnosine decreased oxidation and glycation products in serum and liver of high-fat diet and low-dose streptozotocin-induced diabetic rats. Int J Exp Pathol 98:278–288

Aydın AF, Küçükgergin C, Bingül İ, Doğan-Ekici I, Doğru-Abbasoğlu S, Uysal M (2017b) Effect of carnosine on renal function, oxidation and glycation products in the kidneys of high-fat diet/streptozotocin-induced diabetic rats. Exp Clin Endocrinol Diabetes 125:282–289

Aydın A, Küçükgergin C, Çoban J, Doğan-Ekici I, Doğru-Abbasoğlu S, Uysal M, Koçak-Toker N (2018) Carnosine prevents testicular oxidative stress and advanced glycation end product formation in d-galactose-induced aged rats. Andrologia 50:e12939

Babizhayev MA (2012) Biomarkers and special features of oxidative stress in the anterior segment of the eye linked to lens cataract and the trabecular meshwork injury in primary open-angle glaucoma: challenges of dual combination therapy with N-acetylcarnosine lubricant eye drops and oral formulation of nonhydrolyzed carnosine. Fundam Clin Pharmacol 26:86–117

Banerjee S, Sinha K, Chowdhury S, Sil PC (2018) Unfolding the mechanism of cisplatin induced pathophysiology in spleen and its amelioration by carnosine. Chem Biol Interact 279:159–170

Battah S, Ahmed N, Thornalley PJ (2002) Novel anti-glycation therapeutic agents: glyoxalase I mimetics. In: International congress series. Elsevier, Amsterdam, pp 107–111

Bauer K (2005) Carnosine and homocarnosine, the forgotten, enigmatic peptides of the brain. Neurochem Res 30:1339–1345

Bierhaus A, Schiekofer S, Schwaninger M, Andrassy M, Humpert PM, Chen J, Hong M, Luther T, Henle T, Kloting I, Morcos M, Hofmann M, Tritschler H, Weigle B, Kasper M, Smith M, Perry G, Schmidt AM, Stern DM, Haring HU, Schleicher E, Nawroth PP (2001) Diabetes-associated sustained activation of the transcription factor nuclear factor-kappaB. Diabetes 50:2792–2808

Bingül İ, Yılmaz Z, Aydın AF, Çoban J, Doğru-Abbasoğlu S, Uysal M (2017) Antiglycation and anti-oxidant efficiency of carnosine in the plasma and liver of aged rats. Geriatr Gerontol Int 17:2610–2614

Boldyrev AA, Aldini G, Derave W (2013) Physiology and pathophysiology of carnosine. Physiol Rev 93:1803–1845

Brownson C, Hipkiss AR (2000) Carnosine reacts with a glycated protein. Free Radic Biol Med 28:1564–1570

Chen F, Wollmer MA, Hoerndli F, Münch G, Kuhla B, Rogaev EI, Tsolaki M, Papassotiropoulos A, Götz J (2004) Role for glyoxalase I in Alzheimer's disease. Proc Natl Acad Sci USA 101:7687–7692

Choi HS, Lim J-Y, Chun HJ, Lee M, Kim ES, Keum B, Seo YS, Jeen Y-T, Um SH, Lee HS (2013) The effect of polaprezinc on gastric mucosal protection in rats with ethanol-induced gastric mucosal damage: comparison study with rebamipide. Life Sci 93:69–77

Coughlan MT, Thorburn DR, Penfold SA, Laskowski A, Harcourt BE, Sourris KC, Tan AL, Fukami K, Thallas-Bonke V, Nawroth PP (2009) RAGE-induced cytosolic ROS promote mitochondrial superoxide generation in diabetes. J Am Soc Nephrol 20:742–752

Delpierre G, Collard F, Fortpied J, Van Schaftingen E (2002) Fructosamine 3-kinase is involved in an intracellular deglycation pathway in human erythrocytes. Biochem J 365:801–808

Delpierrre G, Vertommen D, Communi D, Rider MH, Van Schaftingen E (2004) Identification of fructosamine residues deglycated by fructosamine-3-kinase in human hemoglobin. J Biol Chem 279:27613–27620

Fu M-X, Requena JR, Jenkins AJ, Lyons TJ, Baynes JW, Thorpe SR (1996) The advanced glycation end product, N-(carboxymethyl) lysine, is a product of both lipid peroxidation and glycoxidation reactions. J Biol Chem 271:9982–9986

Giacco F, Brownlee M (2010) Oxidative stress and diabetic complications. Circul Res 107:1058–1070

Glomb MA, Monnier VM (1995) Mechanism of protein modification by glyoxal and glycolaldehyde, reactive intermediates of the Maillard reaction. J Biol Chem 270(17):10017–10026

Goossens V, Grooten J, De Vos K, Fiers W (1995) Direct evidence for tumor necrosis factor-induced mitochondrial reactive oxygen intermediates and their involvement in cytotoxicity. Proc Natl Acad Sci USA 92:8115–8119

Gugliucci A, Smith M, Menini T (2002) Carnosine in physiological concentrations inhibits advanced glycation of histones by reactive trioses methylgyoxal and glyceraldehyde. Diabetes 51:A513

Gugliucci A, Bastos DHM, Schulze J, Souza MFF (2009) Caffeic and chlorogenic acids in Ilex paraguariensis extracts are the main inhibitors of AGE generation by methylglyoxal in model proteins. Fitoterapia 80:339–344

Guney Y, Turkcu UO, Hicsonmez A, Andrieu MN, Guney HZ, Bilgihan A, Kurtman C (2006) Carnosine may reduce lung injury caused by radiation therapy. Med Hypotheses 66:957–959

Hipkiss AR (2009) Carnosine and its possible roles in nutrition and health. Adv Food Nutr Res 57:87–154

Hipkiss AR, Brownson C (2000) A possible new role for the anti-ageing peptide carnosine. Cell Mol Life Sci 57:747–753

Hipkiss AR, Chana H (1998) Carnosine protects proteins against methylglyoxal-mediated modifications. Biochem Biophys Res Commun 248:28–32

Hipkiss AR, Michaelis J, Syrris P (1995a) Non-enzymatic glycosylation of the dipeptide l-carnosine, a potential anti-protein-cross-linking agent. FEBS Lett 371:81–85

Hipkiss AR, Michaelis J, Syrris P, Dreimanis M (1995b) Strategies for the extension of human life span. In: Perspectives in human biology: genes, ethnicity and ageing. World Scientific, Singapore, pp 59–70

Hipkiss A, Preston J, Himsworth D, Worthington V, Keown M, Michaelis J, Lawrence J, Mateen A, Allende L, Eagles P (1998a) Pluripotent protective effects of carnosine, a naturally occurring dipeptidea. Ann N Y Acad Sci 854:37–53

Hipkiss AR, Worthington VC, Himsworth DT, Herwig W (1998b) Protective effects of carnosine against protein modification mediated by malondialdehyde and hypochlorite. Biochim Biophys Acta 1380:46–54

Hipkiss AR, Brownson C, Carrier MJ (2001) Carnosine, the anti-ageing, anti-oxidant dipeptide, may react with protein carbonyl groups. Mech Ageing Dev 122:1431–1445

Hobart LJ, Seibel I, Yeargans GS, Seidler NW (2004) Anti-crosslinking properties of carnosine: significance of histidine. Life Sci 75:1379–1389

Horii Y, Shen J, Fujisaki Y, Yoshida K, Nagai K (2012) Effects of l-carnosine on splenic sympathetic nerve activity and tumor proliferation. Neurosci Lett 510:1–5

Houjeghani S, Kheirouri S, Faraji E, Jafarabadi MA (2018) l-Carnosine supplementation attenuated fasting glucose, triglycerides, advanced glycation end products, and tumor necrosis factor–α levels in patients with type 2 diabetes: a double-blind placebo-controlled randomized clinical trial. Nutr Res 49:96–106

Ikeda T, Kimura K, Hama T, Tamaki N (1980) Activation of rabbit muscle fructose 1, 6-bisphosphatase by histidine and carnosine. J Biochem 87:179–185

Ito M, Shii D, Segami T, Kojima R, Suzuki Y (1992) Preventive actions of N-(3-aminopropionyl)-l-histidinato zinc (Z-103) through increases in the activities of oxygen-derived free radical scavenging enzymes in the gastric mucosa on ethanol-induced gastric mucosal damage in rats. Jpn J Pharmacol 59:267–274

Kheirouri S, Alizadeh M, Maleki V (2017) Zinc against advanced glycation end products. Clin Exp Pharmacol Physiol

Kim S-K, Kwon D, Kwon D-A, Paik IK, Auh J-H (2014) Optimizing carnosine containing extract preparation from chicken breast for anti-glycating agents. Korean J Food Sci An 34:127–132

Kumar H, Kim I-S, More SV, Kim B-W, Choi D-K (2014) Natural product-derived pharmacological modulators of Nrf2/ARE pathway for chronic diseases. Nat Prod Rep 31:109–139

Li N, Xia T, Nel AE (2008) The role of oxidative stress in ambient particulate matter-induced lung diseases and its implications in the toxicity of engineered nanoparticles. Free Radic Biol Med 44:1689–1699

Li JP, Gao Y, S-f Chu, Zhang Z, C-y Xia, Mou Z, X-y Song, W-b He, X-f Guo, N-h Chen (2014) Nrf2 pathway activation contributes to anti-fibrosis effects of ginsenoside Rg1 in a rat model of alcohol-and CCl 4-induced hepatic fibrosis. Acta Pharmacol Sin 35:1031

Los M, Schenk H, Hexel K, Baeuerle PA, Dröge W, Schulze-Osthoff K (1995) IL-2 gene expression and NF-kappa B activation through CD28 requires reactive oxygen production by 5-lipoxygenase. EMBO J 14:3731–3740

Macías-Cervantes MH, Rodríguez-Soto JMD, Uribarri J, Díaz-Cisneros FJ, Cai W, Garay-Sevilla ME (2015) Effect of an advanced glycation end product-restricted diet and exercise on metabolic parameters in adult overweight men. Nutrition 31:446–451

Mark AB, Poulsen MW, Andersen S, Andersen JM, Bak MJ, Ritz C, Holst JJ, Nielsen J, de Courten B, Dragsted LO (2014) Consumption of a diet low in advanced glycation end products for 4 weeks improves insulin sensitivity in overweight women. Diabetes Care 37:88–95

Menini S, Iacobini C, Ricci C, Fantauzzi CB, Pugliese G (2015) Protection from diabetes-induced atherosclerosis and renal disease by d-carnosine-octylester: effects of early vs late inhibition of advanced glycation end-products in Apoe-null mice. Diabetologia 58:845–853

Miller FP, Vandome AF, McBrewster J (2010) Glycolysis. Alphascript Publishing, Dortmund, Germany

Miyata T, Fu M-X, Kurokawa K, CvY De Strihou, Thorpe SR, Baynes JW (1998) Autoxidation products of both carbohydrates and lipids are increased in uremic plasma: is there oxidative stress in uremia? Kidney Int 54:1290–1295

Murata-Kamiya N, Kamiya H, Kaji H, Kasai H (2000) Mutations induced by glyoxal and methylglyoxal in mammalian cells. Nucleic Acids Symp Ser 44:3–4

Naghshvar F, Abianeh SM, Ahmadashrafi S, Hosseinimehr SJ (2012) Chemoprotective effects of carnosine against genotoxicity induced by cyclophosphamide in mice bone marrow cells. Cell Biochem Funct 30:569–573

Nakamura K, S-i Yamagishi, Adachi H, Kurita-Nakamura Y, Matsui T, Yoshida T, Imaizumi T (2007a) Serum levels of sRAGE, the soluble form of receptor for advanced glycation end products, are associated with inflammatory markers in patients with type 2 diabetes. Mol Med 13:185

Nakamura K, Si Yamagishi, Adachi H, Kurita-Nakamura Y, Matsui T, Yoshida T, Sato A, Imaizumi T (2007b) Elevation of soluble form of receptor for advanced glycation end products (sRAGE) in diabetic subjects with coronary artery disease. Diabetes Metab Res Rev 23:368–371

Nedić O, Rattan S, Grune T, Trougakos I (2013) Molecular effects of advanced glycation end products on cell signalling pathways, ageing and pathophysiology. Free Radic Res 47:28–38

Nelson D, Cox M (2000) Lehninger principle of biochemistry, vol 16, 3rd edn. Worth publisher, New York, pp 567–597

Orioli M, Vistoli G, Regazzoni L, Pedretti A, Lapolla A, Rossoni G, Canevotti R, Gamberoni L, Previtali M, Carini M (2011) Design, synthesis, ADME properties, and pharmacological activities of β-alanyl-d-histidine (d-carnosine) prodrugs with improved bioavailability. ChemMedChem 6:1269–1282

Ozdogan K, Taskin E, Dursun N (2011) Protective effect of carnosine on adriamycin-induced oxidative heart damage in rats. Anadolu Kardiyol Derg 11:3–10

Pepper ED, Farrell MJ, Nord G, Finkel SE (2010) Antiglycation effects of carnosine and other compounds on the long-term survival of Escherichia coli. Appl Environ Microbiol 76:7925–7930

Peters V, Riedl E, Braunagel M, Höger S, Hauske S, Pfister F, Zschocke J, Lanthaler B, Benck U, Hammes H-P (2014) Carnosine treatment in combination with ACE inhibition in diabetic rats. Regul Pept 194:36–40

Pfister F, Riedl E, Wang Q, vom Hagen F, Deinzer M, Harmsen MC, Molema G, Yard B, Feng Y, Hammes H-P (2011) Oral carnosine supplementation prevents vascular damage in experimental diabetic retinopathy. Cell Physiol Biochem 28:125–136

Pietkiewicz J, Bronowicka-Szydelko A, Dzierzba K, Danielewicz R, Gamian A (2011) Glycation of the muscle-specific enolase by reactive carbonyls: effect of temperature and the protection role of carnosine, pyridoxamine and phosphatidylserine. Protein J 30:149–158

Rashid I, van Reyk DM, Davies MJ (2007) Carnosine and its constituents inhibit glycation of low-density lipoproteins that promotes foam cell formation in vitro. FEBS Lett 581:1067–1070

Riedl E, Pfister F, Braunagel M, Brinkkötter P, Sternik P, Deinzer M, Bakker SJ, Henning RH, van den Born J, Krämer BK (2011) Carnosine prevents apoptosis of glomerular cells and podocyte loss in STZ diabetic rats. Cell Physiol Biochem 28:279–288

Rubtsov A, Schara M, Sentjurc M, Boldyrev A (1991) Hydroxyl radical-scavenging activity of carnosine: a spin trapping study. Acta Pharm Jugosl 41:401–407

Sakiyama H, Takahashi M, Yamamoto T, Teshima T, Lee SH, Miyamoto Y, Misonou Y, Taniguchi N (2006) The internalization and metabolism of 3-deoxyglucosone in human umbilical vein endothelial cells. J Biochem 139:245–253

Sale C, Artioli GG, Gualano B, Saunders B, Hobson RM, Harris RC (2013) Carnosine: from exercise performance to health. Amino Acids 44:1477–1491

Sauer T, Raithel M, Kressel J, Münch G, Pischetsrieder M (2013) Activation of the transcription factor Nrf2 in macrophages, Caco-2 cells and intact human gut tissue by Maillard reaction products and coffee. Amino Acids 44:1427–1439

Schalkwijk CG, Miyata T (2012) Early-and advanced non-enzymatic glycation in diabetic vascular complications: the search for therapeutics. Amino Acids 42:1193–1204

Schulze-Osthoff K, Bakker A, Vanhaesebroeck B, Beyaert R, Jacob WA, Fiers W (1992) Cytotoxic activity of tumor necrosis factor is mediated by early damage of mitochondrial functions. Evidence for the involvement of mitochondrial radical generation. J Biol Chem 267:5317–5323

Seidler NW, Yeargans GS, Morgan TG (2004) Carnosine disaggregates glycated α-crystallin: an in vitro study. Arch Biochem Biophys 427:110–115

Shi Q, Abusarah J, Zaouter C, Moldovan F, Fernandes JC, Fahmi H, Benderdour M (2014) New evidence implicating 4-hydroxynonenal in the pathogenesis of osteoarthritis in vivo. Arthritis Rheumatol 66:2461–2471

Shin D-S, Kim KW, Chung HY, Yoon S, Moon J-O (2013) Effect of sinapic acid against carbon tetrachloride-induced acute hepatic injury in rats. Arch Pharmacal Res 36:626–633

Smit AJ, Lutgers H (2004) The clinical relevance of advanced glycation endproducts (AGE) and recent developments in pharmaceutics to reduce AGE accumulation. Curr Med Chem 11:2767–2784

Stegen S, Stegen B, Aldini G, Altomare A, Cannizzaro L, Orioli M, Gerlo S, Deldicque L, Ramaekers M, Hespel P (2015) Plasma carnosine, but not muscle carnosine, attenuates high-fat diet-induced metabolic stress. Appl Physiol Nutr Metab 40:868–876

Teufel M, Saudek V, Ledig J-P, Bernhardt A, Boularand S, Carreau A, Cairns NJ, Carter C, Cowley DJ, Duverger D (2003) Sequence identification and characterization of human carnosinase and a closely related non-specific dipeptidase. J Biol Chem 278:6521–6531

Torreggiani A, Bonora S, Fini G (2000a) Raman and IR spectroscopic investigation of zinc (II)–carnosine complexes. Biopolymers 57:352–364

Torreggiani A, Tamba M, Fini G (2000b) Binding of copper (II) to carnosine: Raman and IR spectroscopic study. Biopolymers 57:149–159

Ukeda H, Hasegawa Y, Harada Y, Sawamura M (2002) Effect of carnosine and related compounds on the inactivation of human Cu, Zn-superoxide dismutase by modification of fructose and glycolaldehyde. Biosci Biotechnol Biochem 66:36–43

Uribarri J, Cai W, Ramdas M, Goodman S, Pyzik R, Chen X, Zhu L, Striker GE, Vlassara H (2011) Restriction of advanced glycation end products improves insulin resistance in human type 2 diabetes. Diabetes Care 34:1610–1616

Valko M, Morris H, Cronin M (2005) Metals, toxicity and oxidative stress. Curr Med Chem 12:1161–1208

Vinson JA, Howard TB (1996) Inhibition of protein glycation and advanced glycation end products by ascorbic acid and other vitamins and nutrients. J Nutr Biochem 7:659–663

Vistoli G, Straniero V, Pedretti A, Fumagalli L, Bolchi C, Pallavicini M, Valoti E, Testa B (2012) Predicting the physicochemical profile of diastereoisomeric histidine-containing dipeptides by property space analysis. Chirality 24:566–576

Vistoli G, Colzani M, Mazzolari A, Gilardoni E, Rivaletto C, Carini M, Aldini G (2017) Quenching activity of carnosine derivatives towards reactive carbonyl species: focus on α-(methylglyoxal) and β-(malondialdehyde) dicarbonyls. Biochem Biophys Res Commun 492:487–492

Wang P, Zhang Z, Ma X, Huang Y, Liu X, Tu P, Tong T (2003) HDTIC-1 and HDTIC-2, two compounds extracted from Astragali Radix, delay replicative senescence of human diploid fibroblasts. Mech Ageing Dev 124:1025–1034

Weigand T, Singler B, Fleming T, Nawroth P, Klika KD, Thiel C, Baelde H, Garbade SF, Wagner AH, Hecker M (2018) Carnosine catalyzes the formation of the oligo/polymeric products of methylglyoxal. Cell Physiol Biochem 46:713–726

Wu H-C, Shiau C-Y, Chen H-M, Chiou T-K (2003) Antioxidant activities of carnosine, anserine, some free amino acids and their combination. J Food Drug Anal 11:148–153

Yao D, Brownlee M (2010) Hyperglycemia-induced reactive oxygen species increase expression of the receptor for advanced glycation end products (RAGE) and RAGE ligands. Diabetes 59:249–255

Yeargans GS, Seidler NW (2003) Carnosine promotes the heat denaturation of glycated protein. Biochem Biophys Res Commun 300:75–80

Yılmaz Z, Kalaz EB, Aydın AF, Soluk-Tekkeşin M, Doğru-Abbasoğlu S, Uysal M, Koçak-Toker N (2017) The effect of carnosine on methylglyoxal-induced oxidative stress in rats. Arch Physiol Biochem 123:192–198

Yoshikawa T, Naito Y, Tanigawa T, Yoneta T, Kondo M (1991) The antioxidant properties of a novel zinc-carnosine chelate compound, N-(3-aminopropionyl)–histidinato zinc. Biochim Biophys Acta 1115:15–22
Funding
There is no source of financial support.
Ethics declarations
Conflict of interest
The authors reported no conflict of interest.
Research involving human participants and/or animals
There were no human participants or animals.
Informed consent
Not applicable for this study.
Additional information
Handling Editor: J. D. Wade.
About this article
Cite this article
Ghodsi, R., Kheirouri, S. Carnosine and advanced glycation end products: a systematic review. Amino Acids 50, 1177–1186 (2018). https://doi.org/10.1007/s00726-018-2592-9
Received:

Accepted:

Published:

Issue Date:

DOI: https://doi.org/10.1007/s00726-018-2592-9
Keywords
Advanced glycation end products

Carnosine

Carbonyls

Methylglyoxal

Pentosidine

Carboxymethyl lysine