Abstract
New evidence has emerged in recent years to suggest a strong link between the human gut microbiota, its metabolites, and various physiological aspects of hosts along with important pathophysiological dimensions of diseases. The research indicates that the gut microbiota can facilitate metabolite production in two ways: first, the resident species of the gut microbiota use the amino acids produced from food or the host as elements for protein synthesis, and second, conversion or fermentation are used to drive nutrient metabolism. Additionally, the gut microbiota can synthesize several nutritionally essential amino acids de novo, which is a potential regulatory factor in amino acid homeostasis. The primary objective of this review is to summarize the current literature relating to the ways in which microbial amino acids contribute to host amino acid homeostasis.
Access options
Buy single article
Instant access to the full article PDF.
USD 39.95
Price excludes VAT (USA)
Tax calculation will be finalised during checkout.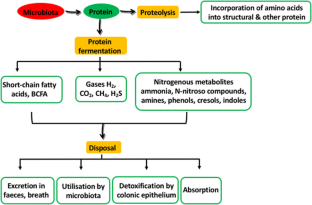 References
Backhed F, Manchester JK, Semenkovich CF, Gordon JI (2007) Mechanisms underlying the resistance to diet-induced obesity in germ-free mice. Proc Natl Acad Sci USA 104(3):979–984. doi:10.1073/pnas.0605374104

Brinkworth GD, Noakes M, Clifton PM, Bird AR (2009) Comparative effects of very low-carbohydrate, high-fat and high-carbohydrate, low-fat weight-loss diets on bowel habit and faecal short-chain fatty acids and bacterial populations. Br J Nutr 101(10):1493–1502. doi:10.1017/S0007114508094658

Christ B, Bruckner S, Winkler S (2015) The therapeutic promise of mesenchymal stem cells for liver restoration. Trends Mol Med 21(11):673–686. doi:10.1016/j.molmed.2015.09.004

Ciarlo E, Heinonen T, Herderschee J, Fenwick C, Mombelli M, Le Roy D, Roger T (2016) Impact of the microbial derived short chain fatty acid propionate on host susceptibility to bacterial and fungal infections in vivo. Sci Rep UK. doi:10.1038/srep37944

Collado MC, Isolauri E, Laitinen K, Salminen S (2008) Distinct composition of gut microbiota during pregnancy in overweight and normal-weight women. Am J Clin Nutr 88(4):894–899

Collins SM, Surette M, Bercik P (2012) The interplay between the intestinal microbiota and the brain. Nat Rev Microbiol 10(11):735–742. doi:10.1038/nrmicro2876

Dai ZL, Wu G, Zhu WY (2011) Amino acid metabolism in intestinal bacteria: links between gut ecology and host health. Front Biosci (Landmark Ed) 16:1768–1786

Dai Z, Wu Z, Hang S, Zhu W, Wu G (2015) Amino acid metabolism in intestinal bacteria and its potential implications for mammalian reproduction. Mol Hum Reprod 21(5):389–409. doi:10.1093/molehr/gav003

Davila AM, Blachier F, Gotteland M, Andriamihaja M, Benetti PH, Sanz Y, Tome D (2013) Re-print of "Intestinal luminal nitrogen metabolism: role of the gut microbiota and consequences for the host". Pharmacol Res 69(1):114–126. doi:10.1016/j.phrs.2013.01.003

De Filippo C, Cavalieri D, Di Paola M, Ramazzotti M, Poullet JB, Massart S, Collini S, Pieraccini G, Lionetti P (2010) Impact of diet in shaping gut microbiota revealed by a comparative study in children from Europe and rural Africa. Proc Natl Acad Sci USA 107(33):14691–14696. doi:10.1073/pnas.1005963107

Diaz Heijtz R, Wang S, Anuar F, Qian Y, Bjorkholm B, Samuelsson A, Hibberd ML, Forssberg H, Pettersson S (2011) Normal gut microbiota modulates brain development and behavior. Proc Natl Acad Sci USA 108(7):3047–3052. doi:10.1073/pnas.1010529108

Do TT, Hindlet P, Waligora-Dupriet AJ, Kapel N, Neveux N, Mignon V, Delomenie C, Farinotti R, Feve B, Buyse M (2014) Disturbed intestinal nitrogen homeostasis in a mouse model of high-fat diet-induced obesity and glucose intolerance. Am J Physiol Endocrinol Metab 306(6):E668–E680. doi:10.1152/ajpendo.00437.2013

Duncan SH, Belenguer A, Holtrop G, Johnstone AM, Flint HJ, Lobley GE (2007) Reduced dietary intake of carbohydrates by obese subjects results in decreased concentrations of butyrate and butyrate-producing bacteria in feces. Appl Environ Microbiol 73(4):1073–1078. doi:10.1128/AEM.02340-06

Evenepoel P, Claus D, Geypens B, Hiele M, Geboes K, Rutgeerts P, Ghoos Y (1999) Amount and fate of egg protein escaping assimilation in the small intestine of humans. Am J Physiol 277(5 Pt 1):G935–G943

Gill SR, Pop M, Deboy RT, Eckburg PB, Turnbaugh PJ, Samuel BS, Gordon JI, Relman DA, Fraser-Liggett CM, Nelson KE (2006) Metagenomic analysis of the human distal gut microbiome. Science 312(5778):1355–1359. doi:10.1126/science.1124234

Greenblum S, Turnbaugh PJ, Borenstein E (2012) Metagenomic systems biology of the human gut microbiome reveals topological shifts associated with obesity and inflammatory bowel disease. Proc Natl Acad Sci USA 109(2):594–599. doi:10.1073/pnas.1116053109

Han GG, Lee JY, Jin GD, Park J, Choi YH, Chae BJ, Kim EB, Choi YJ (2017) Evaluating the association between body weight and the intestinal microbiota of weaned piglets via 16S rRNA sequencing. Appl Microbiol Biotechnol 101(14):5903–5911. doi:10.1007/s00253-017-8304-7

Haro C, Garcia-Carpintero S, Alcala-Diaz JF, Gomez-Delgado F, Delgado-Lista J, Perez-Martinez P, Rangel Zuniga OA, Quintana-Navarro GM, Landa BB, Clemente JC, Lopez-Miranda J, Camargo A, Perez-Jimenez F (2016) The gut microbial community in metabolic syndrome patients is modified by diet. J Nutr Biochem 27:27–31. doi:10.1016/j.jnutbio.2015.08.011

Hijova E, Chmelarova A (2007) Short chain fatty acids and colonic health. Bratisl Lek Listy 108(8):354–358

Hisamatsu T, Okamoto S, Hashimoto M, Muramatsu T, Andou A, Uo M, Kitazume MT, Matsuoka K, Yajima T, Inoue N, Kanai T, Ogata H, Iwao Y, Yamakado M, Sakai R, Ono N, Ando T, Suzuki M, Hibi T (2012) Novel, objective, multivariate biomarkers composed of plasma amino acid profiles for the diagnosis and assessment of inflammatory bowel disease. PLoS One 7(1):e31131. doi:10.1371/journal.pone.0031131

Hullar MAJ, Fu BC (2014) Diet, the gut microbiome, and epigenetics. Cancer J 20(3):170–175

Human Microbiome Project C (2012) Structure, function and diversity of the healthy human microbiome. Nature 486(7402):207–214. doi:10.1038/nature11234

Jost T, Lacroix C, Braegger C, Chassard C (2014) Stability of the maternal gut microbiota during late pregnancy and early lactation. Curr Microbiol 68(4):419–427. doi:10.1007/s00284-013-0491-6

Karlsson FH, Tremaroli V, Nookaew I, Bergstrom G, Behre CJ, Fagerberg B, Nielsen J, Backhed F (2013) Gut metagenome in European women with normal, impaired and diabetic glucose control. Nature 498(7452):99–103. doi:10.1038/nature12198

Keightley PC, Koloski NA, Talley NJ (2015) Pathways in gut-brain communication: evidence for distinct gut-to-brain and brain-to-gut syndromes. Aust NZ J Psychiatry 49(3):207–214. doi:10.1177/0004867415569801

Klose V, Bayer K, Bruckbeck R, Schatzmayr G, Loibner AP (2010) In vitro antagonistic activities of animal intestinal strains against swine-associated pathogens. Vet Microbiol 144(3–4):515–521. doi:10.1016/j.vetmic.2010.02.025

Koren O, Goodrich JK, Cullender TC, Spor A, Laitinen K, Backhed HK, Gonzalez A, Werner JJ, Angenent LT, Knight R, Backhed F, Isolauri E, Salminen S, Ley RE (2012) Host remodeling of the gut microbiome and metabolic changes during pregnancy. Cell 150(3):470–480. doi:10.1016/j.cell.2012.07.008

Ley RE (2010) Obesity and the human microbiome. Curr Opin Gastroenterol 26(1):5–11. doi:10.1097/MOG.0b013e328333d751

Ley RE, Turnbaugh PJ, Klein S, Gordon JI (2006) Microbial ecology: human gut microbes associated with obesity. Nature 444(7122):1022–1023. doi:10.1038/4441022a

Macfarlane GT, Macfarlane S (2012) Bacteria, colonic fermentation, and gastrointestinal health. J AOAC Int 95(1):50–60

Maes M, Rief W (2012) Diagnostic classifications in depression and somatization should include biomarkers, such as disorders in the tryptophan catabolite (TRYCAT) pathway. Psychiatry Res 196(2–3):243–249. doi:10.1016/j.psychres.2011.09.029

Maes M, Mihaylova I, Ruyter MD, Kubera M, Bosmans E (2007) The immune effects of TRYCATs (tryptophan catabolites along the IDO pathway): relevance for depression—and other conditions characterized by tryptophan depletion induced by inflammation. Neuro Endocrinol Lett 28(6):826–831

Maes M, Leonard BE, Myint AM, Kubera M, Verkerk R (2011) The new '5-HT' hypothesis of depression: cell-mediated immune activation induces indoleamine 2,3-dioxygenase, which leads to lower plasma tryptophan and an increased synthesis of detrimental tryptophan catabolites (TRYCATs), both of which contribute to the onset of depression. Prog Neuropsychopharmacol Biol Psychiatry 35(3):702–721. doi:10.1016/j.pnpbp.2010.12.017

Mardinoglu A, Shoaie S, Bergentall M, Ghaffari P, Zhang C, Larsson E, Backhed F, Nielsen J (2015) The gut microbiota modulates host amino acid and glutathione metabolism in mice. Mol Syst Biol 11(10):834. doi:10.15252/msb.20156487

Mawe GM, Hoffman JM (2013) Serotonin signalling in the gut—functions, dysfunctions and therapeutic targets. Nat Rev Gastroenterol Hepatol 10(8):473–486. doi:10.1038/nrgastro.2013.105

Mazloom Z, Yousefinejad A, Dabbaghmanesh MH (2013) Effect of probiotics on lipid profile, glycemic control, insulin action, oxidative stress, and inflammatory markers in patients with type 2 diabetes: a clinical trial. Iran J Med Sci 38(1):38–43

Metges CC, El-Khoury AE, Henneman L, Petzke KJ, Grant I, Bedri S, Pereira PP, Ajami AM, Fuller MF, Young VR (1999) Availability of intestinal microbial lysine for whole body lysine homeostasis in human subjects. Am J Physiol 277(4 Pt 1):E597–E607

Morris G, Berk M, Carvalho A, Caso JR, Sanz Y, Walder K, Maes M (2016) The role of the microbial metabolites including tryptophan catabolites and short chain fatty acids in the pathophysiology of immune-inflammatory and neuroimmune disease. Mol Neurobiol. doi:10.1007/s12035-016-0004-2

Mu CL, Yang YX, Yu KF, Yu M, Zhang CJ, Su Y, Zhu WY (2017) Alteration of metabolomic markers of amino-acid metabolism in piglets with in-feed antibiotics. Amino Acids 49(4):771–781. doi:10.1007/s00726-017-2379-4

Neis EP, Dejong CH, Rensen SS (2015) The role of microbial amino acid metabolism in host metabolism. Nutrients 7(4):2930–2946. doi:10.3390/nu7042930

Nguyen NT, Nakahama T, Le DH, Van Son L, Chu HH, Kishimoto T (2014) Aryl hydrocarbon receptor and kynurenine: recent advances in autoimmune disease research. Front Immunol 5:551. doi:10.3389/fimmu.2014.00551

O'Mahony SM, Clarke G, Borre YE, Dinan TG, Cryan JF (2015) Serotonin, tryptophan metabolism and the brain-gut-microbiome axis. Behav Brain Res 277:32–48. doi:10.1016/j.bbr.2014.07.027

Partanen KH, Mroz Z (1999) Organic acids for performance enhancement in pig diets. Nutr Res Rev 12(1):117–145. doi:10.1079/095442299108728884

Qin J, Li R, Raes J, Arumugam M, Burgdorf KS, Manichanh C, Nielsen T, Pons N, Levenez F, Yamada T, Mende DR, Li J, Xu J, Li S, Li D, Cao J, Wang B, Liang H, Zheng H, Xie Y, Tap J, Lepage P, Bertalan M, Batto JM, Hansen T, Le Paslier D, Linneberg A, Nielsen HB, Pelletier E, Renault P, Sicheritz-Ponten T, Turner K, Zhu H, Yu C, Li S, Jian M, Zhou Y, Li Y, Zhang X, Li S, Qin N, Yang H, Wang J, Brunak S, Dore J, Guarner F, Kristiansen K, Pedersen O, Parkhill J, Weissenbach J, Meta HITC, Bork P, Ehrlich SD, Wang J (2010) A human gut microbial gene catalogue established by metagenomic sequencing. Nature 464(7285):59–65. doi:10.1038/nature08821

Qin J, Li Y, Cai Z, Li S, Zhu J, Zhang F, Liang S, Zhang W, Guan Y, Shen D, Peng Y, Zhang D, Jie Z, Wu W, Qin Y, Xue W, Li J, Han L, Lu D, Wu P, Dai Y, Sun X, Li Z, Tang A, Zhong S, Li X, Chen W, Xu R, Wang M, Feng Q, Gong M, Yu J, Zhang Y, Zhang M, Hansen T, Sanchez G, Raes J, Falony G, Okuda S, Almeida M, LeChatelier E, Renault P, Pons N, Batto JM, Zhang Z, Chen H, Yang R, Zheng W, Li S, Yang H, Wang J, Ehrlich SD, Nielsen R, Pedersen O, Kristiansen K, Wang J (2012) A metagenome-wide association study of gut microbiota in type 2 diabetes. Nature 490(7418):55–60. doi:10.1038/nature11450

Rist VT, Weiss E, Eklund M, Mosenthin R (2013) Impact of dietary protein on microbiota composition and activity in the gastrointestinal tract of piglets in relation to gut health: a review. Anim Int J Anim Biosci 7(7):1067–1078. doi:10.1017/S1751731113000062

Santacruz A, Collado MC, Garcia-Valdes L, Segura MT, Martin-Lagos JA, Anjos T, Marti-Romero M, Lopez RM, Florido J, Campoy C, Sanz Y (2010) Gut microbiota composition is associated with body weight, weight gain and biochemical parameters in pregnant women. Br J Nutr 104(1):83–92. doi:10.1017/S0007114510000176

Sato N, Moore FA, Kone BC, Zou L, Smith MA, Childs MA, Moore-Olufemi S, Schultz SG, Kozar RA (2006) Differential induction of PPAR-gamma by luminal glutamine and iNOS by luminal arginine in the rodent postischemic small bowel. Am J Physiol Gastrointest Liver Physiol 290(4):G616–G623. doi:10.1152/ajpgi.00248.2005

Schicho R, Nazyrova A, Shaykhutdinov R, Duggan G, Vogel HJ, Storr M (2010) Quantitative metabolomic profiling of serum and urine in DSS-induced ulcerative colitis of mice by (1)H NMR spectroscopy. J Proteome Res 9(12):6265–6273. doi:10.1021/pr100547y

Shen Q, Chen YA, Tuohy KM (2010) A comparative in vitro investigation into the effects of cooked meats on the human faecal microbiota. Anaerobe 16(6):572–577. doi:10.1016/j.anaerobe.2010.09.007

Sridharan GV, Choi K, Klemashevich C, Wu C, Prabakaran D, Pan LB, Steinmeyer S, Mueller C, Yousofshahi M, Alaniz RC, Lee K, Jayaraman A (2014) Prediction and quantification of bioactive microbiota metabolites in the mouse gut. Nat Commun 5:5492. doi:10.1038/ncomms6492

Stone TW, Stoy N, Darlington LG (2013) An expanding range of targets for kynurenine metabolites of tryptophan. Trends Pharmacol Sci 34(2):136–143. doi:10.1016/j.tips.2012.09.006

Tilg H, Kaser A (2011) Gut microbiome, obesity, and metabolic dysfunction. J Clin Investig 121(6):2126–2132. doi:10.1172/JCI58109

Tremaroli V, Backhed F (2012) Functional interactions between the gut microbiota and host metabolism. Nature 489(7415):242–249. doi:10.1038/nature11552

Tremblay F, Krebs M, Dombrowski L, Brehm A, Bernroider E, Roth E, Nowotny P, Waldhausl W, Marette A, Roden M (2005) Overactivation of S6 kinase 1 as a cause of human insulin resistance during increased amino acid availability. Diabetes 54(9):2674–2684

Turnbaugh PJ, Hamady M, Yatsunenko T, Cantarel BL, Duncan A, Ley RE, Sogin ML, Jones WJ, Roe BA, Affourtit JP, Egholm M, Henrissat B, Heath AC, Knight R, Gordon JI (2009) A core gut microbiome in obese and lean twins. Nature 457(7228):480–484. doi:10.1038/nature07540

Uronis JM, Muhlbauer M, Herfarth HH, Rubinas TC, Jones GS, Jobin C (2009) Modulation of the intestinal microbiota alters colitis-associated colorectal cancer susceptibility. PLoS One 4(6):e6026. doi:10.1371/journal.pone.0006026

Vijay-Kumar M, Aitken JD, Carvalho FA, Cullender TC, Mwangi S, Srinivasan S, Sitaraman SV, Knight R, Ley RE, Gewirtz AT (2010) Metabolic syndrome and altered gut microbiota in mice lacking Toll-like receptor 5. Science 328(5975):228–231. doi:10.1126/science.1179721

Vital M, Howe AC, Tiedje JM (2014) Revealing the bacterial butyrate synthesis pathways by analyzing (meta) genomic data. MBio. doi:10.1128/mBio.00889-14

Vrieze A, Van Nood E, Holleman F, Salojarvi J, Kootte RS, Bartelsman JF, Dallinga-Thie GM, Ackermans MT, Serlie MJ, Oozeer R, Derrien M, Druesne A, Van Hylckama Vlieg JE, Bloks VW, Groen AK, Heilig HG, Zoetendal EG, Stroes ES, de Vos WM, Hoekstra JB, Nieuwdorp M (2012) Transfer of intestinal microbiota from lean donors increases insulin sensitivity in individuals with metabolic syndrome. Gastroenterology 143(4):913–916 e917. doi:10.1053/j.gastro.2012.06.031

Wang TJ, Larson MG, Vasan RS, Cheng S, Rhee EP, McCabe E, Lewis GD, Fox CS, Jacques PF, Fernandez C, O'Donnell CJ, Carr SA, Mootha VK, Florez JC, Souza A, Melander O, Clish CB, Gerszten RE (2011) Metabolite profiles and the risk of developing diabetes. Nat Med 17(4):448–453. doi:10.1038/nm.2307

Wong JM, de Souza R, Kendall CW, Emam A, Jenkins DJ (2006) Colonic health: fermentation and short chain fatty acids. J Clin Gastroenterol 40(3):235–243

Wu G (2013) Functional amino acids in nutrition and health. Amino Acids 45(3):407–411. doi:10.1007/s00726-013-1500-6

Wu G, Bazer FW, Dai Z, Li D, Wang J, Wu Z (2014) Amino acid nutrition in animals: protein synthesis and beyond. Annu Rev Anim Biosci 2:387–417. doi:10.1146/annurev-animal-022513-114113

Zhang LM, Nichols RG, Correll J, Murray IA, Tanaka N, Smith PB, Hubbard TD, Sebastian A, Albert I, Hatzakis E, Gonzalez FJ, Perdew GH, Patterson AD (2015) Persistent organic pollutants modify gut microbiota-host metabolic homeostasis in mice through aryl hydrocarbon receptor activation. Environ Health Perspect 123(7):679–688. doi:10.1289/ehp.1409055
Acknowledgements
This work was supported by National Natural Science Foundation of China (no. 81600509).
Ethics declarations
Conflict of interest
The author declares that there is no conflict of interest regarding the publication of this article.
Ethical statements
This review does not involve any human participants and animal work.
Additional information
Handling Editors: C.-A. A. Hu, Y. Yin, Y. Hou, G. Wu, Y. Teng.
About this article
Cite this article
Lin, R., Liu, W., Piao, M. et al. A review of the relationship between the gut microbiota and amino acid metabolism. Amino Acids 49, 2083–2090 (2017). https://doi.org/10.1007/s00726-017-2493-3
Received:

Accepted:

Published:

Issue Date:

DOI: https://doi.org/10.1007/s00726-017-2493-3
Keywords
Amino acids

Gut microbiota

Dietary

Tryptophan

Obesity

Type 2 diabetes mellitus