Abstract
Approximately 12 % of histone H2B in mammalian brain contains an unusual d-aspartate residue in its N-terminal tail. Most of this d-aspartate is linked to the C-flanking glycine via an isopeptide bond. To explore the possible significance of these modifications, we generated an antibody to the d-isoaspartyl form of H2B, and used it to assess its levels in H2B associated with "active" vs. "silent" chromatin. We found that the d-isoaspartyl form of H2B appears to be highly enriched in the former. This irreversible modification could serve a novel regulatory function in gene expression.
Access options
Buy single article
Instant access to the full article PDF.
USD 39.95
Price excludes VAT (USA)
Tax calculation will be finalised during checkout.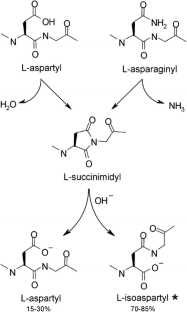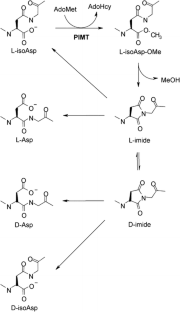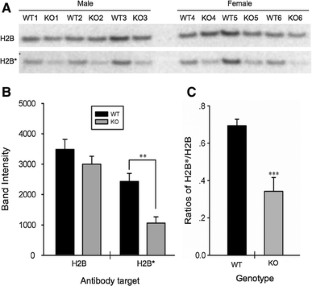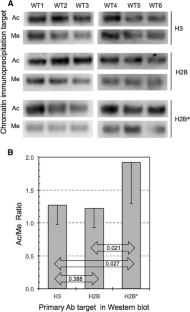 Abbreviations
ECL:

Enhanced chemiluminescence

isoAsp:

Isoaspartyl

KO:

Knockout (PIMT−/−)

PIMT:

Protein l-isoaspartyl methyltransferase

PVDF:

Polyvinylidene difluoride

TBS:

Tris-buffered saline

WT:

Wild type (PIMT+/+)
References
Aswad DW, Paranandi MV, Schurter BT (2000) Isoaspartate in peptides and proteins: formation, significance, and analysis. J Pharm Biomed Anal 21:1129–1136

Clarke S (1987) Propensity for spontaneous succinimide formation from aspartyl and asparaginyl residues in cellular proteins. Int J Peptide Protein Res 30:808–821

Johnson BA, Murray ED Jr, Clarke S, Glass DB, Aswad DW (1987) Protein carboxyl methyltransferase facilitates conversion of atypical l-isoaspartyl peptides to normal l-aspartyl peptides. J Biol Chem 262:5622–5629

Khoury MK, Parker I, Aswad DW (2010) Acquisition of chemiluminescent signals from immunoblots with a digital single-lens reflex camera. Anal Biochem 397:129–131

Kim E, Lowenson JD, MacLaren DC, Clarke S, Young SG (1997) Deficiency of a protein-repair enzyme results in the accumulation of altered proteins, retardation of growth, and fatal seizures in mice. Proc Natl Acad Sci USA 94:6132–6137

McFadden PN, Clarke S (1987) Conversion of isoaspartyl peptides to normal peptides: implications for the cellular repair of damaged proteins. Proc Natl Acad Sci USA 84:2595–2599

Sydow JF et al (2014) Structure-based prediction of asparagine and aspartate degradation sites in antibody variable regions. PLoS One 9:e100736

Venkatesh S, Workman JL (2015) Histone exchange, chromatin structure and the regulation of transcription. Nat Rev Mol Cell Biol 16:178–189

Young AL, Carter WG, Doyle HA, Mamula MJ, Aswad DW (2001) Structural integrity of histone H2B in vivo requires the activity of protein l-isoaspartate O-methyltransferase, a putative protein repair enzyme. J Biol Chem 276:37161–37165

Young GW, Hoofring SA, Mamula MJ, Doyle HA, Bunick GJ, Hu Y, Aswad DW (2005) Protein L-isoaspartyl methyltransferase catalyzes in vivo racemization of Aspartate-25 in mammalian histone H2B. J Biol Chem 280:26094–26098
Acknowledgments
We thank the laboratory of Prof. Mark J. Mamula at the Yale University School of Medicine for providing us with the founder mice from which our colony was generated. Some of this work was funded by NIH Grant NS17269 to DWA.
Ethics declarations
Conflict of interest
The authors declare that they have no conflict of interest with the contents of this article.
About this article
Cite this article
Qin, Z., Zhu, J.X. & Aswad, D.W. The d-isoAsp-25 variant of histone H2B is highly enriched in active chromatin: potential role in the regulation of gene expression?. Amino Acids 48, 599–603 (2016). https://doi.org/10.1007/s00726-015-2140-9
Received:

Accepted:

Published:

Issue Date:

DOI: https://doi.org/10.1007/s00726-015-2140-9
Keywords
d

-Aspartate

Chromatin

Histone

Isoaspartate

Isomerization

Methylation