Abstract
Citrulline (Cit) is a non-essential amino acid whose metabolic properties were largely ignored until the last decade when it began to emerge as a highly promising nutrient with many regulatory properties, with a key role in nitrogen homeostasis. Because Cit is not taken up by the liver, its synthesis from arginine, glutamine, ornithine and proline in the intestine prevents the hepatic uptake of the two first amino acids which activate the urea cycle and so prevents amino acid catabolism. This sparing effect may have positive spin-off for muscle via increased protein synthesis, protein content and functionality. However, the mechanisms of action of Cit are not fully known, even if preliminary data suggest an implication of mTOR pathway. Further exploration is needed to gain a complete overview of the role of Cit in the control of nitrogen homeostasis.
This is a preview of subscription content, log in to check access.
Access options
Buy single article
Instant access to the full article PDF.
US$ 39.95
Price includes VAT for USA
Subscribe to journal
Immediate online access to all issues from 2019. Subscription will auto renew annually.
US$ 199
This is the net price. Taxes to be calculated in checkout.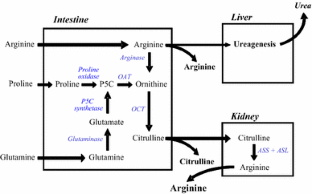 References
Akashi K, Miyake C, Yokota A (2001) Citrulline, a novel compatible solute in drought-tolerant wild watermelon leaves, is an efficient hydroxyl radical scavenger. FEBS Lett 508:438–442

Aussel C (2014) Citrulline, exercise training and muscle strength in the elderly. CT01599676. https://clinicaltrials.gov/ct2/show/NCT01599676?term=NCT01599676&rank=1. Accessed 03 Feb 2015

Bahri S, Curis E, El Wafi F-Z, Aussel C, Chaumeil J-C, Cynober L, Zerrouk N (2008) Mechanisms and kinetics of citrulline uptake in a model of human intestinal epithelial cells. Clin Nutr 27:872–880

Blachier F, Darcy-Vrillon B, Sener A, Duée PH, Malaisse WJ (1991) Arginine metabolism in rat enterocytes. Biochim Biophys Acta 1092:304–310

Bonnefont-Rousselot D, Raynaud-Simon A, Le Plénier S, Cynober L, Moinard C (2010) Citrulline supplementation is efficient in limiting lipoprotein oxidation in healthy aged rats. Clin Nutr Suppl 5:105

Boutry C, Matsumoto H, Bos C, Moinard C, Cynober L, Yin Y, Tomé D, Blachier F (2012) Decreased glutamate, glutamine and citrulline concentrations in plasma and muscle in endotoxemia cannot be reversed by glutamate or glutamine supplementation: a primary intestinal defect? Amino Acids 43:1485–1498

Castillo L, Chapman TE, Sanchez M, Yu YM, Burke JF, Ajami AM, Vogt J, Young VR (1993) Plasma arginine and citrulline kinetics in adults given adequate and arginine-free diets. Proc Natl Acad Sci 90:7749–7753

Crenn P, Messing B, Cynober L (2008) Citrulline as a biomarker of intestinal failure due to enterocyte mass reduction. Clin Nutr 27:328–339

Curis E, Nicolis I, Moinard C, Osowska S, Zerrouk N, Bénazeth S, Cynober L (2005) Almost all about citrulline in mammals. Amino Acids 29:177–205

Curtis JM, Hahn WS, Long EK, Burrill JS, Arriaga EA, Bernlohr DA (2012) Protein carbonylation and metabolic control systems. Trends Endocrinol Metab 23:399–406

Cynober L, Moinard C, De Bandt J-P (2010) The 2009 ESPEN Sir David Cuthbertson. Citrulline: a new major signaling molecule or just another player in the pharmaconutrition game? Clin Nutr 29:545–551

Cynober L (2013a) Amino acids metabolism. In: Lennarz WJ, Lane MD (eds) Encyclopedia of biological chemistry. New York, pp 91–96

Cynober L (2013b) Potential interest of citrulline in critically ill patients. Réanimation 22:350–357

De Bandt JP, Cynober L, Lim SK, Coudray-Lucas C, Poupon R, Giboudeau J (1995) Metabolism of ornithine, alpha-ketoglutarate and arginine in isolated perfused rat liver. Br J Nutr 73:227–239

Delage B, Fennell DA, Nicholson L, McNeish I, Lemoine NR, Crook T, Szlosarek PW (2010) Arginine deprivation and argininosuccinate synthetase expression in the treatment of cancer. Int J Cancer 126:2762–2772

Elwafi F, Curis E, Zerrouk N, Neveux N, Chaumeil J-C, Arnaud P, Cynober L, Moinard C (2012) Endotoxemia affects citrulline, arginine and glutamine bioavailability. Eur J Clin Invest 42:282–289

Faure C, Morio B, Chafey P, Le Plénier S, Noirez P, Randrianarison-Huetz V, Cynober L, Aussel C, Moinard C (2013) Citrulline enhances myofibrillar constituents expression of skeletal muscle and induces a switch in muscle energy metabolism in malnourished aged rats. Proteomics 13:2191–2201

Faure C, Raynaud-Simon A, Ferry A, Daugé V, Cynober L, Aussel C, Moinard C (2012) Leucine and citrulline modulate muscle function in malnourished aged rats. Amino Acids 42:1425–1433

Garlick PJ (2005) The role of leucine in the regulation of protein metabolism. J Nutr 135:1553S–1556S

Geng M, Li T, Kong X, Song X, Chu W, Huang R, Yin Y, Wu G (2011) Reduced expression of intestinal N-acetylglutamate synthase in suckling piglets: a novel molecular mechanism for arginine as a nutritionally essential amino acid for neonates. Amino Acids 40:1513–1522

Goron A, Le Plénier S, Archambault E, Cynober L, Moinard C (2013) Citrulline activates S6K1 and 4E-BP1 in muscle cells by both mTORC1-dependent and mTORC1-independent pathways. Clin Nutr Suppl 32:S118

Grimble GK (2007) Adverse gastrointestinal effects of arginine and related amino acids. J Nutr 137:1693S–1701S

Ham DJ, Lynch GS, Koopman R (2013) Citrulline protects muscle cells from cachectic stimuli and preserves protein metabolism in vitro. Clin Nutr Suppl 32:S117

Hao G, Xie L, Gross SS (2004) Argininosuccinate synthetase is reversibly inactivated by S-nitrosylation in vitro and in vivo. J Biol Chem 279:36192–36200

Jobgen WS, Fried SK, Fu WJ, Meininger CJ, Wu G (2006) Regulatory role for the arginine-nitric oxide pathway in metabolism of energy substrates. J Nutr Biochem 17:571–588

Joffin N, Jaubert A-M, Durant S, Bastin J, De Bandt J-P, Cynober L, Moinard C, Forest C, Noirez P (2014) Citrulline induces fatty acid release selectively in visceral adipose tissue from old rats. Mol Nutr Food Res. doi:10.1002/mnfr.201400053

Jourdan M, Nair KS, Carter RE, Schimke J, Ford GC, Marc J, Aussel C, Cynober L (2014) Citrulline stimulates muscle protein synthesis in the post-absorptive state in healthy people fed a low-protein diet—a pilot study. Clin Nutr. doi:10.1016/j.clnu.2014.04.019

Kawamoto S, Sonoda T, Ohtake A, Tatibana M (1985) Stimulatory effect of arginine on acetylglutamate synthesis in isolated mitochondria of mouse and rat liver. Biochem J 232:329–334

Lassala A, Bazer FW, Cudd TA, Li P, Li X, Satterfield MC, Spencer TE, Wu G (2009) Intravenous administration of l-citrulline to pregnant ewes is more effective than l-arginine for increasing arginine availability in the fetus. J Nutr 139:660–665

Le Plénier S, Archambault E, Sotiropoulos A, Cynober L, Moinard C (2012a) Citrulline activates the mTORC1 pathway via a cell autonomous system in myotubes. Clin Nutr Suppl 7:231

Le Plénier S, Walrand S, Noirt R, Cynober L, Moinard C (2012b) Effects of leucine and citrulline versus non-essential amino acids on muscle protein synthesis in fasted rat: a common activation pathway? Amino Acids 43:1171–1178

Ligthart-Melis GC, Deutz NEP (2011) Is glutamine still an important precursor of citrulline? Am J Physiol Endocrinol Metab 301:E264–E266

Marini JC (2012) Arginine and ornithine are the main precursors for citrulline synthesis in mice. J Nutr 142:572–580

Marini JC, Didelija IC, Castillo L, Lee B (2010) Plasma arginine and ornithine are the main citrulline precursors in mice infused with arginine-free diets. J Nutr 140:1432–1437

Marini JC, Keller B, Didelija IC, Castillo L, Lee B (2011) Enteral arginase II provides ornithine for citrulline synthesis. Am J Physiol Endocrinol Metab 300:E188–E194

Matsugo S, Mizuno M, Konishi T (1995) Free radical generating and scavenging compounds as a new type of drug. Current medicinal chemistry. Bentham, Oak Park, pp 763–790

Meijer AJ, Lamers WH, Chamuleau RA (1990) Nitrogen metabolism and ornithine cycle function. Physiol Rev 70:701–748

Melchior J-C (2014) Citrulline and protein metabolism in the malnourished elderly people (CIPROAGE). NCT00714675. https://clinicaltrials.gov/ct2/show/NCT00714675?term=NCT00714675&rank=1. Accessed 03 Feb 2015

Moinard C, Jourdan M, Walrand S, Cynober L (2006) Use of citrulline for malnutrition state. Patent number 06/09077 applied the 10/17/2006

Moinard C, Walrand S, Boirie Y, Cynober L (2007) Therapeutic use of Citrulline in treatment of increased protein carbonylation-associated diseases. Patent number 07/02090 applied the 03/22/2007

Moinard C, Nicolis I, Neveux N, Darquy S, Bénazeth S, Cynober L (2008) Dose-ranging effects of citrulline administration on plasma amino acids and hormonal patterns in healthy subjects: the Citrudose pharmacokinetic study. Br J Nutr 99:855–862

Moinard C, Le Plénier S, Cynober L, Raynaud-Simon A (2009) Long-term effect of citrulline supplementation in healthy aged rats: effect on body composition. Clin Nutr Suppl 4:12

Norris KA, Schrimpf JE, Flynn JL, Morris SM Jr (1995) Enhancement of macrophage microbicidal activity: supplemental arginine and citrulline augment nitric oxide production in murine peritoneal macrophages and promote intracellular killing of Trypanosoma cruzi. Infect Immun 63:2793–2796

Osowska S, Duchemann T, Walrand S, Paillard A, Boirie Y, Cynober L, Moinard C (2006) Citrulline modulates muscle protein metabolism in old malnourished rats. Am J Physiol Endocrinol Metab 291:E582–E586

Osowska S, Moinard C, Neveux N, Loï C, Cynober L (2004) Citrulline increases arginine pools and restores nitrogen balance after massive intestinal resection. Gut 53:1781–1786

Osowska S, Neveux N, Nakib S, Lasserre V, Cynober L, Moinard C (2008) Impairment of arginine metabolism in rats after massive intestinal resection: effect of parenteral nutrition supplemented with citrulline compared with arginine. Clin Sci 115:159–166

Rieu I, Magne H, Savary-Auzeloux I, Averous J, Bos C, Peyron MA, Combaret L, Dardevet D (2009) Reduction of low grade inflammation restores blunting of postprandial muscle anabolism and limits sarcopenia in old rats. J Physiol 587:5483–5492

Rieu I, Sornet C, Bayle G, Prugnaud J, Pouyet C, Balage M, Papet I, Grizard J, Dardevet D (2003) Leucine-supplemented meal feeding for 10 days beneficially affects postprandial muscle protein synthesis in old rats. J Nutr 133:1198–1205

Romero MJ, Platt DH, Caldwell RB, Caldwell RW (2006) Therapeutic use of citrulline in cardiovascular disease. Cardiovasc Drug Rev 24:275–290

Rougé C, Des Robert C, Robins A, Le Bacquer O, Volteau C, De La Cochetière M-F, Darmaun D (2007) Manipulation of citrulline availability in humans. Am J Physiol Gastrointest Liver Physiol 293:G1061–G1067

Selamnia M, Robert V, Mayeur C, Delpal S, Blachier F (1998) De novo synthesis of arginine and ornithine from citrulline in human colon carcinoma cells: metabolic fate of Lornithine. Biochim Biophys Acta 1425:93–102

Schwedhelm E, Maas R, Freese R, Jung D, Lukacs Z, Jambrecina A, Spickler W, Schulze F, Böger RH (2008) Pharmacokinetic and pharmacodynamic properties of oral l-citrulline and l-arginine: impact on nitric oxide metabolism. Br J Clin Pharmacol 65:51–59

Shang F, Taylor A (2011) Ubiquitin-proteasome pathway and cellular responses to oxidative stress. Free Radic Biol Med 51:5–16

Suzuki YJ, Carini M, Butterfield DA (2010) Protein carbonylation. Antioxidants redox. Signal 12:323–325

Thibault R, Flet L, Vavasseur F, Lemerle M, Ferchaud-Roucher V, Picot D, Darmaun D (2011) Oral citrulline does not affect whole body protein metabolism in healthy human volunteers: results of a prospective, randomized, double-blind, cross-over study. Clin Nutr 30:807–811

Thompson PR, Fast W (2006) Histone citrullination by protein arginine deiminase: is arginine methylation a green light or a roadblock? ACS Chem Biol 1:433–441

Tizianello A, De Ferrari G, Garibotto G, Gurreri G, Robaudo C (1980) Renal metabolism of amino acids and ammonia in subjects with normal renal function and in patients with chronic renal insufficiency. J Clin Invest 65:1162–1173

Tomlinson C, Rafii M, Ball RO, Pencharz PB (2011a) Arginine can be synthesized from enteral proline in healthy adult humans. J Nutr 141:1432–1436

Tomlinson C, Rafii M, Sgro M, Ball RO, Pencharz P (2011b) Arginine is synthesized from proline, not glutamate, in enterally fed human preterm neonates. Pediatr Res 69:46–50

Van de Poll MCG, Ligthart-Melis GC, Boelens PG, Deutz NEP, van Leeuwen PAM, Dejong CHC (2007a) Intestinal and hepatic metabolism of glutamine and citrulline in humans. J Physiol 581:819–827

Van de Poll MCG, Siroen MPC, van Leeuwen PAM, Soeters PB, Melis GC, Boelens PG, Deutz NEP, Dejong CHC (2007b) Interorgan amino acid exchange in humans: consequences for arginine and citrulline metabolism. Am J Clin Nutr 85:167–172

Ventura G, Moinard C, Sinico F, Carrière V, Lasserre V, Cynober L, De Bandt JP (2011) Evidence for a role of the ileum in the control of nitrogen homeostasis via the regulation of arginine metabolism. Br J Nutr 106:227–236

Ventura G, Noirez P, Breuillé D, Godin JP, Pinaud S, Cleroux M, Choisy C, Le Plénier S, Bastic V, Neveux N, Cynober L, Moinard C (2013) Effect of citrulline on muscle functions during moderate dietary restriction in healthy adult rats. Amino Acids 45:1123–1131

Verhoeven S, Vanschoonbeek K, Verdijk LB, Koopman R, Wodzig WKWH, Dendale P, van Loon LJC (2009) Long-term leucine supplementation does not increase muscle mass or strength in healthy elderly men. Am J Clin Nutr 89:1468–1475

Wakabayashi Y, Yamada E, Yoshida T, Takahashi H (1994) Arginine becomes an essential amino acid after massive resection of rat small intestine. J Biol Chem 269:32667–32671

Wijnands KAP, Vink H, Briedé JJ, van Faassen EE, Lamers WH, Buurman WA, Poeze M (2012) Citrulline a more suitable substrate than arginine to restore NO production and the microcirculation during endotoxemia. PLoS One 7:e37439

Windmueller HG, Spaeth AE (1981) Source and fate of circulating citrulline. Am J Physiol 241:E473–E480

Wu G (1997) Synthesis of citrulline and arginine from proline in enterocytes of postnatal pigs. Am J Physiol 272:G1382–G1390

Wu G, Collins JK, Perkins-Veazie P, Siddiq M, Dolan KD, Kelly KA, Heaps CL, Meininger CJ (2007) Dietary supplementation with watermelon pomace juice enhances arginine availability and ameliorates the metabolic syndrome in Zucker diabetic fatty rats. J Nutr 137:2680–2685

Wu G, Davis PK, Flynn NE, Knabe DA, Davidson JT (1997) Endogenous synthesis of arginine plays an important role in maintaining arginine homeostasis in postweaning growing pigs. J Nutr 127:2342–2349

Wu G, Knabe DA, Flynn NE (1994) Synthesis of citrulline from glutamine in pig enterocytes. Biochem J 299:115–121

Wu G, Meininger CJ (2000) Arginine nutrition and cardiovascular function. J Nutr 130:2626–2629

Wu G, Morris SM Jr (1998) Arginine metabolism: nitric oxide and beyond. Biochem J 336:1–17

Zoico E, Rossi A, Di Francesco V, Sepe A, Olioso D, Pizzini F, Fantin F, Bosello O, Cominacini L, Harris TB, Zamboni M (2010) Adipose tissue infiltration in skeletal muscle of healthy elderly men: relationships with body composition, insulin resistance, and inflammation at the systemic and tissue level. J Gerontol A Biol Sci Med Sci 65:295–299
Conflict of interest
C. Breuillard, L. Cynober and C. Moinard are shareholders of Citrage Company®.
Additional information
Handling Editor: C.-A. A. Hu.
About this article
Cite this article
Breuillard, C., Cynober, L. & Moinard, C. Citrulline and nitrogen homeostasis: an overview. Amino Acids 47, 685–691 (2015). https://doi.org/10.1007/s00726-015-1932-2
Received:

Accepted:

Published:

Issue Date:
Keywords
Citrulline

Amino acids

Protein turnover

Muscle

Liver