Abstract
Elevated circulating concentrations of total l-homocysteine (thCys) and free asymmetric dimethylarginine (ADMA) are long-established cardiovascular risk factors. Low circulating l-homoarginine (hArg) concentrations were recently found to be associated with increased cardiovascular morbidity and mortality. The biochemical pathways of these amino acids overlap and share the same cofactor S-adenosylmethionine (SAM). In the present study, we investigated potential associations between hArg, l-arginine (Arg), ADMA and thCys in plasma of patients suffering from rheumatoid arthritis (RA), coronary artery disease (CAD) or peripheral artery occlusive disease (PAOD). In RA, we did not find any correlation between ADMA or hArg and thCys at baseline (n = 100) and after (n = 83) combined add-on supplementation of omega-3 fatty acids, vitamin E, vitamin A, copper, and selenium, or placebo (soy oil). ADMA correlated with Arg at baseline (r = 0.446, P < 0.001) and after treatment (r = 0.246, P = 0.03). hArg did not correlate with ADMA, but correlated with Arg before (r = 0.240, P = 0.02) and after treatment (r = 0.233, P = 0.03). These results suggest that hArg, ADMA and Arg are biochemically familiar with each other, but unrelated to hCys in RA. In PAOD and CAD, ADMA and thCys did not correlate.
Access options
Buy single article
Instant access to the full article PDF.
US$ 39.95
Tax calculation will be finalised during checkout.
Subscribe to journal
Immediate online access to all issues from 2019. Subscription will auto renew annually.
US$ 119
Tax calculation will be finalised during checkout.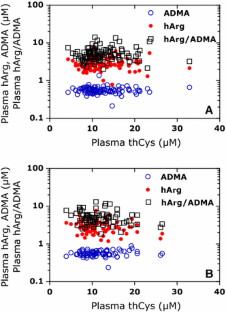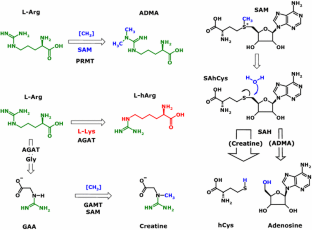 Abbreviations
ADMA:

Asymmetric dimethylarginine (N G,N G-dimethyl-l-arginine)

AGAT:

Arginine:glycine amidinotransferase

CAD:

Coronary artery disease

GAMT:

Guanidinoacetate methyltransferase

GC–MS:

Gas chromatography–mass spectrometry

GC–MS/MS:

Gas chromatography–tandem mass spectrometry

hArg:

Homoarginine

hCys/thCys:

Homocysteine/total homocysteine

NO:

Nitric oxide

NOS:

Nitric oxide synthase

PAOD:

Peripheral arterial occlusive disease

RA:

Rheumatoid arthritis

SAH:

S-Adenosylhomocysteine hydrolase

SAM:

S-adenosylmethionine
References
Antoniades C, Tousoulis D, Marinou K, Vasiliadou C, Tentolouris C, Bouras G, Pitsavos C, Stefanadis C (2006) Asymmetrical dimethylarginine regulates endothelial function in methionine-induced but not in chronic homocystinemia in humans: effect of oxidative stress and proinflammatory cytokines. Am J Clin Nutr 84:781–788

Böger RH, Maas R, Schulze F, Schwedhelm E (2009) Asymmetric dimethylarginine (ADMA) as a prospective marker of cardiovascular disease and mortality—an update on patient populations with a wide range of cardiovascular risk. Pharmacol Res 60:481–487

Bretscher LE, Li H, Poulos TL, Griffith OW (2003) Structural characterization and kinetics of nitric-oxide synthase inhibition by novel N5-(iminoalkyl)- and N5-(iminoalkenyl)-ornithines. J Biol Chem 278:46789–46797

Brosnan JT, da Silva RP, Brosnan ME (2011) The metabolic burden of creatine synthesis. Amino Acids 40:1325–1331

Chobanyan-Jürgens K, Pham VV, Stichtenoth DO, Tsikas D (2011) Elevated dimethylarginine dimethylaminohydrolase (DDAH) activity in rheumatoid arthritis and spondyloarthritis. Nitric Oxide 25:436–438

Choe CU, Atzler D, Wild PS, Carter AM, Böger RH, Ojeda F, Simova O, Stockebrand M, Lackner K, Nabuurs C, Marescau B, Streichert T, Muller C, Luneburg N, De Deyn PP, Benndorf RA, Baldus S, Gerloff C, Blankenberg S, Heerschap A, Grant PJ, Magnus T, Zeller T, Isbrandt D, Schwedhelm E (2013) Homoarginine levels are regulated by l-arginine:glycine amidinotransferase and affect stroke outcome: results from human and murine studies. Circulation 128:1451–1461

Crowson CS, Nicola PJ, Kremers HM, O'Fallon WM, Therneau TM, Jacobsen SJ, Roger VL, Ballman KV, Gabriel SE (2005) How much of the increased incidence of heart failure in rheumatoid arthritis is attributable to traditional cardiovascular risk factors and ischemic heart disease? Arthritis Rheum 52:3039–3044

Davids M, Ndika JD, Salomons GS, Blom HJ, Teerlink T (2012) Promiscuous activity of arginine:glycine amidinotransferase is responsible for the synthesis of the novel cardiovascular risk factor homoarginine. FEBS Lett 586:3653–3657

Dimitroulas T, Sandoo A, Kitas GD (2012) Asymmetric dimethylarginine as a surrogate marker of endothelial dysfunction and cardiovascular risk in patients with systemic rheumatic diseases. Int J Mol Sci 13:12315–12335

Dimitroulas T, Sandoo A, van Veldhuijzen JJZ et al (2013) Predictors of asymmetric dimethylarginine levels in patients with rheumatoid arthritis: the role of insulin resistance. Scand J Rheumatol 42:176–181

Dimitroulas T, Sandoo A, Smith JP, Kitas GD (2014) Asymmetric dimethylarginine is not associated with subendocardial viability ratio in rheumatoid arthritis. Int J Cardiol 172:285–286

Doshi S, McDowell I, Goodfellow J, Stabler S, Boger R, Allen R, Newcombe R, Lewis M, Moat S (2005) Relationship between S-adenosylmethionine, S-adenosylhomocysteine, asymmetric dimethylarginine, and endothelial function in healthy human subjects during experimental hyper- and hypohomocysteinemia. Metabolism 54(3):351–360

Drechsler C, Meinitzer A, Pilz S, Krane V, Tomaschitz A, Ritz E, März W, Wanner C (2011) Homoarginine, heart failure, and sudden cardiac death in haemodialysis patients. Eur J Heart Fail 13:852–859

Giustarini D, Dalle-Donne I, Tsikas D, Rossi R (2009) Oxidative stress and human diseases: origin, link, measurement, mechanisms, and biomarkers. Crit Rev Clin Lab Sci 46:241–281

Horowitz JD, Heresztyn T (2007) An overview of plasma concentrations of asymmetric dimethylarginine (ADMA) in health and disease and in clinical studies: methodological considerations. J Chromatogr B 851:42–50

Jaźwińska-Kozuba A, Martens-Lobenhoffer J, Kruszelnicka O, Rycaj J, Chyrchel B, Surdacki A, Bode-Böger SM (2013) Opposite associations of plasma homoarginine and ornithine with arginine in healthy children and adolescents. Int J Mol Sci 14:21819–21832

Kayacelebi AA, Beckmann B, Gutzki FM, Jordan J, Tsikas D (2014a) GC-MS and GC-MS/MS measurement of the cardiovascular risk factor homoarginine in biological samples. Amino Acids 46:2205–2217

Kayacelebi AA, Nguyen TH, Neil C, Horowitz JD, Jordan J, Tsikas D (2014b) Homoarginine and 3-nitrotyrosine in patients with takotsubo cardiomyopathy. Int J Cardiol 173:546–547

Kayacelebi AA, Pham VV, Willers J, Hahn A, Stichtenoth DO, Jordan J, Tsikas D (2014c) Plasma homoarginine (hArg) and asymmetric dimethylarginine (ADMA) in patients with rheumatoid arthritis: is homoarginine a cardiovascular corrective in rheumatoid arthritis, an anti-ADMA? Int J Cardiol 176:1129–1131

Khalil AA, Tsikas D, Akolekar R, Jordan J, Nicolaides KH (2013) Asymmetric dimethylarginine, arginine and homoarginine at 11–13 weeks' gestation and preeclampsia: a case-control study. J Hum Hypertens 27:38–43

Leiper J, Vallance P (1999) Biological significance of endogenous methylarginines that inhibit nitric oxide synthases. Cardiovasc Res 43:542–548

Lévy L, Fautrel B, Barnetche T, Schaeverbeke T (2008) Incidence and risk of fatal myocardial infarction and stroke events in rheumatoid arthritis patients. A systematic review of the literature. Clin Exp Rheumatol 26:673–679

Lonn E, Yusuf S, Arnold MJ, Sheridan P, Pogue J, Micks M, McQueen MJ, Probstfield J, Fodor G, Held C, Genest J (2006) Heart outcomes prevention evaluation (HOPE) 2 investigators homocysteine lowering with folic acid and B vitamins in vascular disease. N Engl J Med 354: 1567–1577

März W, Meinitzer A, Drechsler C, Pilz S, Krane V, Kleber ME, Fischer J, Winkelmann BR, Böhm BO, Ritz E, Wanner C (2010) Homoarginine, cardiovascular risk, and mortality. Circulation 122:967–975

Moali C, Boucher JL, Sari MA, Stuehr DJ, Mansuy D (1998) Substrate specificity of NO synthases: detailed comparison of l-arginine, homo-l-arginine, their N omega-hydroxy derivatives, and N omega-hydroxynor-l-arginine. Biochemistry 37:10453–10460

Moali C, Brollo M, Custot J, Sari MA, Boucher JL, Stuehr DJ, Mansuy D (2000) Recognition of alpha-amino acids bearing various C = NOH functions by nitric oxide synthase and arginase involves very different structural determinants. Biochemistry 39:8208–8218

Moncada S, Higgs A (1993) The l-arginine-nitric oxide pathway. New Engl J Med 329:2002–2012

Mudd SH, Brosnan JT, Brosnan ME, Jacobs RL, Stabler SP, Allen RH, Vance DE, Wagner C (2007) Methyl balance and transmethylation fluxes in humans. Am J Clin Nutr 85:19–25

Paroni R, Fermo I, Fiorina P, Cighetti G (2005) Determination of asymmetric and symmetric dimethylarginines in plasma of hyperhomocysteinemic subjects. Amino Acids 28(4):389–394

Perna M, Roman MJ, Alpert DR, Crow MK, Lockshin MD, Sammaritano L, Devereux RB, Cooke JP, Salmon JE (2010) Relationship of asymmetric dimethylarginine and homocysteine to vascular aging in systemic lupus erythematosus patients. Arthritis Rheum 2010(62):1718–1722

Pilz S, Tomaschitz A, Meinitzer A, Drechsler C, Ritz E, Krane V, Wanner C, Bohm BO, März W (2011) Low serum homoarginine is a novel risk factor for fatal strokes in patients undergoing coronary angiography. Stroke 42:1132–1134

Roubenoff R, Dellaripa P, Nadeau MR, Abad LW, Muldoon BA, Selhub J, Rosenberg IH (1997) Abnormal homocysteine metabolism in rheumatoid arthritis. Arthritis Rheum 40:718–722

Ryan WL, Wells IC (1964) Homocitrulline and homoarginine synthesis from lysine. Science 144:1122–1127

Ryan WL, Johnson RJ, Dimari S (1969) Homoarginine synthesis by rat kidney. Arch Biochem Biophys 131:521–526

Sobczak A, Prokopowicz A, Radek M, Szula M, Zaciera M, Kurek J, Goniewicz ML (2014) Tobacco smoking decreases plasma concentration of the emerging cardiovascular risk marker, l-homoarginine. Circ J 78:1254–1258

Stühlinger MC, Oka RK, Graf EE, Schmölzer I, Upson BM, Kapoor O, Szuba A, Malinow MR, Wascher TC, Pachinger O, Cooke JP (2003) Endothelial dysfunction induced by hyperhomocyst(e)inemia: role of asymmetric dimethylarginine. Circulation 108:933–938

Surdacki A, Martens-Lobenhoffer J, Wloch A et al (2007) Elevated plasma asymmetric dimethyl-l-arginine levels are linked to endothelial progenitor cell depletion and carotid atherosclerosis in rheumatoid arthritis. Arthritis Rheum 56:809–819

Tsikas D (2008) A critical review and discussion of analytical methods in the l-arginine/nitric oxide area of basic and clinical research. Anal Biochem 379:139–163

Tsikas D, Kayacelebi AA (2014) Do homoarginine and asymmetric dimethylarginine act antagonistically in the cardiovascular system? Circ J 78:2094–2095

Tsikas D, Böger RH, Sandmann J, Bode-Böger SM, Frölich JC (2000) Endogenous nitric oxide synthase inhibitors are responsible for the l-arginine paradox. FEBS Lett 478:1–3

Tsikas D, Schubert B, Gutzki FM, Sandmann J, Frölich JC (2003) Quantitative determination of circulating and urinary asymmetric dimethylarginine (ADMA) in humans by gas chromatography-tandem mass spectrometry as methyl ester tri(N-pentafluoropropionyl) derivative. J Chromatogr B 798:87–99

Tsikas D, Thum T, Becker T, Pham VV, Chobanyan K, Mitschke A, Beckmann B, Gutzki FM, Bauersachs J, Stichtenoth DO (2007) Accurate quantification of dimethylamine (DMA) in human urine by gas chromatography-mass spectrometry as pentafluorobenzamide derivative: evaluation of the relationship between DMA and its precursor asymmetric dimethylarginine (ADMA) in health and disease. J Chromatogr B 851:229–239

Valtonen P, Laitinen T, Lyyra-Laitinen T, Raitakari OT, Juonala M, Viikari JS, Heiskanen N, Vanninen E, Punnonen K, Heinonen S (2008) Serum l-homoarginine concentration is elevated during normal pregnancy and is related to flow-mediated vasodilatation. Circ J 72:1879–1884

van der Zwan LP, Davids M, Scheffer PG, Dekker JM, Stehouver CDA, Teerlink T (2013) l-Homoarginine and arginine are antagonistically related to blood pressure in an elderly population: the Hoorn study. J Hypertens 31:1114–1123

Wanby P, Brattström L, Brudin L, Hultberg B, Teerlink T (2003) Asymmetric dimethylarginine and total homocysteine in plasma after oral methionine loading. Scand J Clin Lab Invest 63:347–353

Wang J, Sim AS, Wang XL, Salonikas C, Naidoo D, Wilcken DE (2006) Relations between plasma asymmetric dimethylarginine (ADMA) and risk factors for coronary disease. Atherosclerosis 184:383–388

Willers J, Hahn A (2012) Cardiovascular risk in patients with rheumatoid arthritis: assessment of several traditional risk parameters and of a German risk score model. Rheumatol Int 32:3741–3749

Willers J, Fasse S, Putschky N et al (2011) Combined add-on supplementation of omega-3 fatty acids, vitamin E, vitamin A, copper, and selenium in rheumatoid arthritis. Food Nutr Sci 2:714–723

Wright K, Crowson CS, Gabriel SE (2014) Cardiovascular comorbidity in rheumatic diseases: a focus on heart failure. Heart Fail Clin 10:339–352

Wu G, Bazer FW, Davis TA, Kim SW, Li P, Marc Rhoads J, Carey Satterfield M, Smith SB, Spencer TE, Yin Y (2009) Arginine metabolism and nutrition in growth, health and disease. Amino Acids 37:153–168

Yoo JH, Lee SC (2001) Elevated levels of plasma homocyst(e)ine and asymmetric dimethylarginine in elderly patients with stroke. Atherosclerosis 158:425–430
Acknowledgments
The authors are thankful to Bibiana Beckmann for excellent laboratory assistance.
Conflict of interest
The authors declare that they have no conflict of interest.
About this article
Cite this article
Kayacelebi, A.A., Willers, J., Pham, V.V. et al. Plasma homoarginine, arginine, asymmetric dimethylarginine and total homocysteine interrelationships in rheumatoid arthritis, coronary artery disease and peripheral artery occlusion disease. Amino Acids 47, 1885–1891 (2015). https://doi.org/10.1007/s00726-015-1915-3
Received:

Accepted:

Published:

Issue Date:
Keywords
Cardiovascular risk

Homoarginine

Homocysteine

Methylation

Plasma

Rheumatoid arthritis