Abstract
The purpose of this study was to examine the effects of betaine supplementation on the regulation of one-carbon metabolism and liver lipid accumulation induced by a high-fat diet in rats. Rats were fed one of three different liquid diets: control diet, high-fat diet and high-fat diet supplemented with betaine. The control and high-fat liquid diets contained, respectively, 35 and 71 % of energy derived from fat. Betaine supplementation involved the addition of 1 % (g/L) to the diet. After three weeks on the high-fat diet the rats had increased total liver fat concentration, liver triglycerides, liver TBARS and plasma TNF-α. The high-fat diet decreased the hepatic S-adenosylmethionine concentration and the S-adenosylmethionine/S-adenosylhomocysteine ratio compared to the control as well as altering the expression of genes involved in one-carbon metabolism. Betaine supplementation substantially increased the hepatic S-adenosylmethionine concentration (~fourfold) and prevented fatty liver and hepatic injury induced by the high-fat diet. It was accompanied by the normalization of the gene expression of BHMT, GNMT and MGAT, which code for key enzymes of one-carbon metabolism related to liver fat accumulation. In conclusion, the regulation of the expression of MGAT by betaine supplementation provides an additional and novel mechanism by which betaine supplementation regulates lipid metabolism and prevents accumulation of fat in the liver.
Access options
Buy single article
Instant access to the full article PDF.
US$ 39.95
Tax calculation will be finalised during checkout.
Subscribe to journal
Immediate online access to all issues from 2019. Subscription will auto renew annually.
US$ 119
Tax calculation will be finalised during checkout.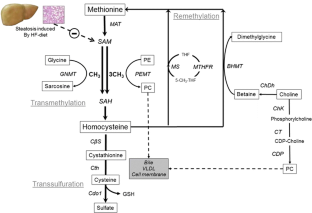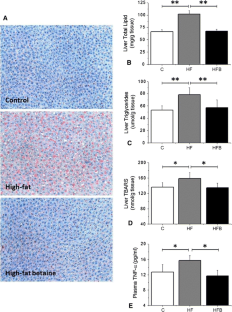 Abbreviations
BHMT:

Betaine-homocysteine S-methyltransferase

CβS:

Cystathionine-β-synthase

CDD:

Choline deficient diet

ChDh:

Choline dehydrogenase

CDO:

Cysteine dioxygenase

Chka:

Choline kinase alpha

Chkb:

Choline kinase beta

Cta:

Choline-phosphate cytidylyltransferase A

Cth:

Cystathionase

CTP:

Phosphorylcholine cytidylyltransferase

ET:

Ethanolamine phosphate cytidylyltransferase 2

Gclc:

Glutamyl-cysteine synthetase

Gnmt:

Glycine N-methyltransferase

Hcy:

Homocysteine

HHcy:

Hyperhomocysteinemia

Mat1:

Methionine adenosyltransferase

Mgat1:

Monoacylglycerol O-acyltransferase 1

MS:

Methionine synthase

Mthfr:

5,10-Methylenetetrahydrofolate reductase

PE:

Phosphatidylethanolamine

PEMT:

Phosphatidylehanolamine N-methyltranferase

PC:

Phosphatidylcholine

SAH:

S-adenosylhomocysteine

SAM:

S-adenosylmethionine
References
Brunt EM (2010) Pathology of nonalcoholic fatty liver disease. Nat Rev Gastroenterol Hepatol 7:195–203. doi:10.1038/nrgastro.2010.21

da Silva RP, Kelly KB, Al Rajabi A et al (2014) Novel insights on interactions between folate and lipid metabolism. BioFactors 40:277–283. doi:10.1002/biof.1154

Dahlhoff C, Desmarchelier C, Sailer M et al (2013) Hepatic methionine homeostasis is conserved in C57BL/6 N mice on high-fat diet despite major changes in hepatic one-carbon metabolism. PLoS One 8:e57387. doi:10.1371/journal.pone.0057387

Dahlhoff C, Worsch S, Sailer M et al (2014) Methyl-donor supplementation in obese mice prevents the progression of NAFLD, activates AMPK and decreases acyl-carnitine levels. Mol Metab 3:565–580. doi:10.1016/j.molmet.2014.04.010

Day CP, James OF (1998) Steatohepatitis: a tale of two "hits"? Gastroenterology 114:842–845

Deminice R, da Silva RP, Lamarre SG et al (2011) Creatine supplementation prevents the accumulation of fat in the livers of rats fed a high-fat diet. J Nutr 141:1799–1804. doi:10.3945/jn.111.144857

Duvnjak M, Lerotić I, Barsić N et al (2007) Pathogenesis and management issues for non-alcoholic fatty liver disease. World J Gastroenterol 13:4539–4550. doi:10.3748/wjg.v13.i34.4539

Erman F, Balkan J, Cevikbaş U et al (2004) Betaine or taurine administration prevents fibrosis and lipid peroxidation induced by rat liver by ethanol plus carbon tetrachloride intoxication. Amino Acids 27:199–205. doi:10.1007/s00726-004-0105-5

Hall AM, Kou K, Chen Z et al (2012) Evidence for regulated monoacylglycerol acyltransferase expression and activity in human liver. J Lipid Res 53:990–999. doi:10.1194/jlr.P025536

Jacobs RL, Stead LM, Devlin C (2005) Physiological regulation of phospholipid methylation alters plasma homocysteine in mice. J Biol Chem 280:28299–28305. doi:10.1074/jbc.M501971200

Jacobs RL, Lingrell S, Zhao Y et al (2008) Hepatic CTP:phosphocholine cytidylyltransferase-alpha is a critical predictor of plasma high density lipoprotein and very low density lipoprotein. J Biol Chem 283:2147–2155. doi:10.1074/jbc.M706628200

Jung YS, Kim SJ, Kwon do Y et al (2013) Alleviation of alcoholic liver injury by betaine involves an enhancement of antioxidant defense via regulation of sulfur amino acid metabolism. Food Chem Toxicol 62:292–298. doi:10.1016/j.fct.2013.08.049

Kawakami S, Han KH, Nakamura Y et al (2012) Effects of dietary supplementation with betaine on a nonalcoholic steatohepatitis (NASH) mouse model. J Nutr Sci Vitaminol (Tokyo) 58:371–375. doi:10.3177/jnsv.58.371

Kharbanda KK (2013) Methionine metabolic pathway in alcoholic liver injury. Curr Opin Clin Nutr Metab Care 16:89–95. doi:10.1097/MCO.0b013e32835a892a

Kharbanda KK, Mailliard ME, Baldwin CR et al (2007) Betaine attenuates alcoholic steatosis by restoring phosphatidylcholine generation via the phosphatidylethanolamine methyltransferase pathway. J Hepatol 46:314–321. doi:10.1016/j.jhep.2006.08.024

Kharbanda KK, Todero SL, Ward BW et al (2009) Betaine administration corrects ethanol-induced defective VLDL secretion. Mol Cell Biochem 327:75–78. doi:10.1007/s11010-009-0044-2

Kim SK, Kim YC (2005) Effects of betaine supplementation on hepatic metabolism of sulfur-containing amino acids in mice. J Hepatol 42:907–913. doi:10.1016/j.jhep.2005.01.017

Kim SJ, Jung YS, Kwon do Y et al (2008) Alleviation of acute ethanol-induced liver injury and impaired metabolomics of S-containing substances by betaine supplementation. Biochem Biophys Res Commun 368:893–898. doi:10.1016/j.bbrc.2008.02.003

Kwon do Y, Jung YS, Kim SJ et al (2009) Impaired sulfur-amino acid metabolism and oxidative stress in nonalcoholic fatty liver are alleviated by betaine supplementation in rats. J Nutr 139:63–68. doi:10.3945/jn.108.094771

Lee YJ, Ko EH, Kim JE et al (2012) Nuclear receptor PPARγ-regulated monoacylglycerol O-acyltransferase 1 (MGAT1) expression is responsible for the lipid accumulation in diet-induced hepatic steatosis. Proc Natl Acad Sci USA 109:13656–13661. doi:10.1073/pnas.1203218109

Li Z, Vance DE (2008) Phosphatidylcholine and choline homeostasis. J Lipid Res 49:1187–1194. doi:10.1194/jlr.R700019-JLR200

Li Z, Agellon LB, Allen TM et al (2006) The ratio of phosphatidylcholine to phosphatidylethanolamine influences membrane integrity and steatohepatitis. Cell Metab 3:321–331. doi:10.1016/j.cmet.2006.03.007

Liu SP, Li YS, Chen YJ et al (2007) Glycine N-methyltransferase-/- mice develop chronic hepatitis and glycogen storage disease in the liver. Hepatology 46:1413–1425. doi:10.1002/hep.21863

Martínez-Chantar ML, Vázquez-Chantada M, Ariz U et al (2008) Loss of the glycine N-methyltransferase gene leads to steatosis and hepatocellular carcinoma in mice. Hepatology 47:1191–1199. doi:10.1002/hep.22159

Obeid R (2013) The metabolic burden of methyl donor deficiency with focus on the betaine homocysteine methyltransferase pathway. Nutrients 5:3481–3495. doi:10.3390/nu5093481

Rowling MJ, McMullen MH, Schalinske KL (2002) Vitamin A and its derivatives induce hepatic glycine N-methyltransferase and hypomethylation of DNA in rats. J Nutr 132:365–369

Song Z, Deaciuc I, Zhou Z et al (2007) Involvement of AMP-activated protein kinase in beneficial effects of betaine on high-sucrose diet-induced hepatic steatosis. Am J Physiol Gastrointest Liver Physiol 293:G894–G902. doi:10.1152/ajpgi.00133.2007

Varela-Rey M, Martínez-López N, Fernández-Ramos D et al (2010) Fatty liver and fibrosis in glycine N-methyltransferase knockout mice is prevented by nicotinamide. Hepatology 52:105–114. doi:10.1002/hep.23639

Vester B, Rasmussen K (1991) High performance liquid chromatography method for rapid and accurate determination of homocysteine in plasma and serum. Eur J Clin Chem Clin Biochem 29:549–554

Wang Z, Yao T, Pini M et al (2010) Betaine improved adipose tissue function in mice fed a HF-diet: a mechanism for hepatoprotective effect of betaine in nonalcoholic fatty liver disease. Am J Physiol Gastrointest Liver Physiol 298:G634–G642. doi:10.1152/ajpgi.00249.2009

Wang LJ, Zhang HW, Zhou JY et al (2014) Betaine attenuates hepatic steatosis by reducing methylation of the MTTP promoter and elevating genomic methylation in mice fed a high-fat diet. J Nutr Biochem 25:329–336. doi:10.1016/j.jnutbio.2013.11.007
Acknowledgments
The authors acknowledge Ms. Kathy Clow for skilled technical assistance. Supported by Grants from the Canadian Institutes for Health Research (JTB/MEB), Natural Sciences and Engineering Research Council of Canada (RLJ grant number 386652) and Fundação de Amparo a Pesquisa do Estado de São Paulo, Brazil Protocol 07/08099-5 (RD). K.K. was supported by an Alexander Graham Bell Canada graduate scholarship from the Natural Sciences and Engineering Research Council of Canada. R.L.J. holds a Canadian Institutes of Health Research New Investigator Award.
Conflict of interest
None of the authors has either financial or personal conflicts of interest to declare.
About this article
Cite this article
Deminice, R., da Silva, R.P., Lamarre, S.G. et al. Betaine supplementation prevents fatty liver induced by a high-fat diet: effects on one-carbon metabolism. Amino Acids 47, 839–846 (2015). https://doi.org/10.1007/s00726-014-1913-x
Received:

Accepted:

Published:

Issue Date:
Keywords
Betaine

Liver

High-fat diet

S-adenosylmethionine