Abstract
Endurance exercise training as well as leucine supplementation modulates glucose homeostasis and protein turnover in mammals. Here, we analyze whether leucine supplementation alters the effects of endurance exercise on these parameters in healthy mice. Mice were distributed into sedentary (C) and exercise (T) groups. The exercise group performed a 12-week swimming protocol. Half of the C and T mice, designated as the CL and TL groups, were supplemented with leucine (1.5 % dissolved in the drinking water) throughout the experiment. As well known, endurance exercise training reduced body weight and the retroperitoneal fat pad, increased soleus mass, increased VO2max, decreased muscle proteolysis, and ameliorated peripheral insulin sensitivity. Leucine supplementation had no effect on any of these parameters and worsened glucose tolerance in both CL and TL mice. In the soleus muscle of the T group, AS-160Thr-642 (AKT substrate of 160 kDa) and AMPKThr-172 (AMP-Activated Protein Kinase) phosphorylation was increased by exercise in both basal and insulin-stimulated conditions, but it was reduced in TL mice with insulin stimulation compared with the T group. Akt phosphorylation was not affected by exercise but was lower in the CL group compared with the other groups. Leucine supplementation increased mTOR phosphorylation at basal conditions, whereas exercise reduced it in the presence of insulin, despite no alterations in protein synthesis. In trained groups, the total FoxO3a protein content and the mRNA for the specific isoforms E2 and E3 ligases were reduced. In conclusion, leucine supplementation did not potentiate the effects of endurance training on protein turnover, and it also reduced its positive effects on glucose homeostasis.
Access options
Buy single article
Instant access to the full article PDF.
US$ 39.95
Tax calculation will be finalised during checkout.
Subscribe to journal
Immediate online access to all issues from 2019. Subscription will auto renew annually.
US$ 119
Tax calculation will be finalised during checkout.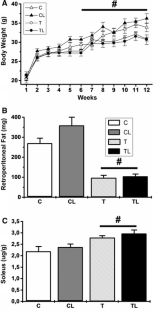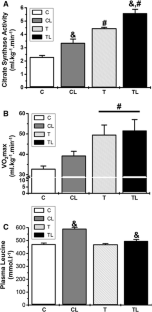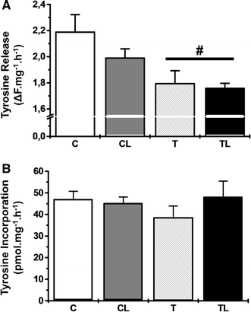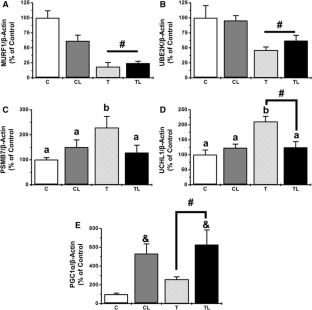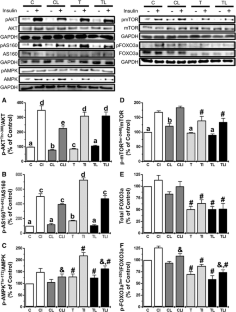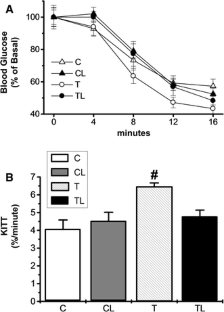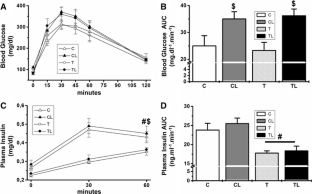 References
Baar K, Nader G, Bodine S (2006) Resistance exercise, muscle loading/unloading and the control of muscle mass. Essays Biochem 42:61–74

Bajotto G, Sato Y, Kitaura Y, Shimomura Y (2011) Effect of branched-chain amino acid supplementation during unloading on regulatory components of protein synthesis in atrophied soleus muscles. Eur J Appl Physiol 111:1815–1828

Bidlingmeyer BA, Cohen SA, Tarvin TL (1984) Rapid analysis of amino acids using pre-column derivatization. J Chromatogr 336:93–104

Baptista IL, Leal ML, Artioli GG, Aoki MS, Fiamoncini J, Turri AO, Curi R, Miyabara EH, Moriscot AS (2010) Leucine attenuates skeletal muscle wasting via inhibition of ubiquitin ligases. Muscle Nerve 41:800–808

Bodine SC, Latres E, Baumhueter S, Lai VK, Nunez L, Clarke BA, Poueymirou WT, Panaro FJ, Na E, Dharmarajan K, Pan ZQ, Valenzuela DM, DeChiara TM, Stitt TN, Yancopoulos GD, Glass DJ (2001) Identification of ubiquitin ligases required for skeletal muscle atrophy. Science 294:1704–1708

Brault JJ, Jespersen JG, Goldberg AL (2010) Peroxisome proliferator-activated receptor gamma coactivator 1alpha or 1beta overexpression inhibits muscle protein degradation, induction of ubiquitin ligases, and disuse atrophy. J Biol Chem 285:19460–19471

Chan AY, Dyck JR (2005) Activation of AMP-activated protein kinase (AMPK) inhibits protein synthesis: a potential strategy to prevent the development of cardiac hypertrophy. Can J Physiol Pharmacol 83:24–28

Dreyer HC, Drummond MJ, Pennings B, Fujita S, Glynn EL, Chinkes DL, Dhanani S, Volpi E, Rasmussen BB (2008) Leucine-enriched essential amino acid and carbohydrate ingestion following resistance exercise enhances mTOR signaling and protein synthesis in human muscle. Am J Physiol Endocrinol Metab 294:E392–E400

Gobatto CA, Manchado-Gobatto FB, Carneiro LG, Araujo GG, Reis IGM (2009) Maximal lactate steady state for aerobic evaluation of swimming mice. Comp Exerc Physiol 3:99–103

Hardie DG (2011) AMP-activated protein kinase: an energy sensor that regulates all aspects of cell function. Genes Dev 25:1895–1908

Hussain S, Foreman O, Perkins SL, Witzig TE, Miles RR, van Deursen J, Galardy PJ (2010) The de-ubiquitinase UCH-L1 is an oncogene that drives the development of lymphoma in vivo by deregulating PHLPP1 and Akt signaling. Leukemia 24:1641–1655

Jewell JL, Guan KL (2013) Nutrient signaling to mTOR and cell growth. Trends Biochem Sci 38:233–242

Kim HJ, Kim YM, Lim S, Nam YK, Jeong J, Lee KJ (2009) Ubiquitin C-terminal hydrolase-L1 is a key regulator of tumor cell invasion and metastasis. Oncogene 28:117–127

Krebs M, Brunmair B, Brehm A, Artwohl M, Szendroedi J, Nowotny P, Roth E, Fürnsinn C, Promintzer M, Anderwald C, Bischof M, Roden M (2007) The mammalian target of rapamycin pathway regulates nutrient-sensitive glucose uptake in man. Diabetes 56:1600–1607

Lira VA, Benton CR, Yan Z, Bonen A (2010) PGC-1alpha regulation by exercise training and its influences on muscle function and insulin sensitivity. Am J Physiol Endocrinol Metab 299:E145–E161

Maarbjerg SJ, Sylow L, Richter EA (2011) Current understanding of increased insulin sensitivity after exercise—emerging candidates. Acta Physiol 202:323–335

Macotela Y, Emanuelli B, Bång AM, Espinoza DO, Boucher J, Beebe K, Gall W, Kahn CR (2011) Dietary leucine–an environmental modifier of insulin resistance acting on multiple levels of metabolism. PLoS ONE 6:e21187

Nader GA (2006) Concurrent strength and endurance training: from molecules to man. Med Sci Sports Exerc 38:1965–1970

Nicastro H, Artioli GG, Costa AdoS S, Solis MY, da Luz CR, Blachier F, Lancha AH (2011) An overview of the therapeutic effects of leucine supplementation on skeletal muscle under atrophic conditions. Amino Acids 40:287–300

O'Neill HM, Maarbjerg SJ, Crane JD, Jeppesen J, Jørgensen SB, Schertzer JD, Shyroka O, Kiens B, van Denderen BJ, Tarnopolsky MA, Kemp BE, Richter EA, Steinberg GR (2011) AMP-activated protein kinase (AMPK) beta1beta2 muscle null mice reveal an essential role for AMPK in maintaining mitochondrial content and glucose uptake during exercise. Proc Natl Acad Sci USA 108:16092–16097

O'Neill HM (2013) AMPK and exercise: glucose uptake and insulin sensitivity. Diabetes Metab J 37:1–21

Peters SJ, van Helvoort A, Kegler D, Argilès JM, Luiking YC, Laviano A, van Bergenhenegouwen J, Deutz NE, Haagsman HP, Gorselink M, van Norren K (2011) Dose-dependent effects of leucine supplementation on preservation of muscle mass in cancer cachectic mice. Oncol Rep 26:247–254

Rezende EL, Garland T, Chappell MA, Malisch JL, Gomes FR (2006) Maximum aerobic performance in lines of Mus selected for high wheel-running activity: effects of selection, oxygen availability and the mini-muscle phenotype. J Exp Biol 209:115–127

Ruderman NB, Carling D, Prentki M, Cacicedo JM (2013) AMPK, insulin resistance, and the metabolic syndrome. J Clin Invest 123:2764–2772

Saha AK, Xu XJ, Lawson E, Deoliveira R, Brandon AE, Kraegen EW, Ruderman NB (2010) Downregulation of AMPK accompanies leucine- and glucose-induced increases in protein synthesis and insulin resistance in rat skeletal muscle. Diabetes 59:2426–2434

Salomão EM, Gomes-Marcondes MC (2012) Light aerobic physical exercise in combination with leucine and/or glutamine-rich diet can improve the body composition and muscle protein metabolism in young tumor-bearing rats. J Physiol Biochem 68:493–501

Salomão EM, Toneto AT, Silva GO, Gomes-Marcondes MC (2010) Physical exercise and a leucine-rich diet modulate the muscle protein metabolism in Walker tumor-bearing rats. Nutr Cancer 62:1095–1104

Sandri M, Sandri C, Gilbert A, Skurk C, Calabria E, Picard A, Walsh K, Schiaffino S, Lecker SH, Goldberg AL (2004) Foxo transcription factors induce the atrophy-related ubiquitin ligase atrogin-1 and cause skeletal muscle atrophy. Cell 117:399–412

Sandri M, Lin J, Handschin C, Yang W, Arany ZP, Lecker SH, Goldberg AL, Spiegelman BM (2006) PGC-1alpha protects skeletal muscle from atrophy by suppressing FoxO3 action and atrophy-specific gene transcription. Proc Natl Acad Sci USA 103:16260–16265

Scharff R, Wool IG (1966) Effect of diabetes on the concentration of amino acids in plasma and heart muscle of rats. Biochem J 99(1):173–178

Tischler ME, Desautels M, Goldberg AL (1982) Does leucine, leucyl-tRNA, or some metabolite of leucine regulate protein synthesis and degradation in skeletal and cardiac muscle? J Biol Chem 257:1613–1621

Tong JF, Yan X, Zhu MJ, Du M (2009) AMP-activated protein kinase enhances the expression of muscle-specific ubiquitin ligases despite its activation of IGF-1/Akt signaling in C2C12 myotubes. J Cell Biochem 108:458–468

Waalkes TP, Udenfriend S (1957) A fluorometric method for the estimation of tyrosine in plasma and tissues. J Lab Clin Med 50:733–736

Wilkinson SB, Phillips SM, Atherton PJ, Patel R, Yarasheski KE, Tarnopolsky MA, Rennie MJ (2008) Differential effects of resistance and endurance exercise in the fed state on signalling molecule phosphorylation and protein synthesis in human muscle. J Physiol 586:3701–3717
Acknowledgments
This study was supported by Fundação de Amparo à Pesquisa do Estado de São Paulo (Fapesp) and Conselho Nacional de Desenvolvimento Científico e Tecnológico (CNPq).
Conflict of interest
The authors have no conflicts of interest to declare.
Additional information
E. M. Carneiro and C. A. M. de Oliveira have contributed equally to this work.
Handling Editor: F. Blachier.
About this article
Cite this article
Costa Júnior, J.M., Rosa, M.R., Protzek, A.O. et al. Leucine supplementation does not affect protein turnover and impairs the beneficial effects of endurance training on glucose homeostasis in healthy mice. Amino Acids 47, 745–755 (2015). https://doi.org/10.1007/s00726-014-1903-z
Received:

Accepted:

Published:

Issue Date:
Keywords
Endurance exercise

Leucine supplementation

Skeletal muscle adaptations