Abstract
Electron transfer dissociation (ETD) has been developed recently as an efficient ion fragmentation technique in mass spectrometry (MS), being presently considered a step forward in proteomics with real perspectives for improvement, upgrade and application. Available also on affordable ion trap mass spectrometers, ETD induces specific N–Cα bond cleavages of the peptide backbone with the preservation of the post-translational modifications and generation of product ions that are diagnostic for the modification site(s). In addition, in the last few years ETD contributed significantly to the development of top-down approaches which enable tandem MS of intact protein ions. The present review, covering the last 5 years highlights concisely the major achievements and the current applications of ETD fragmentation technique in proteomics. An ample part of the review is dedicated to ETD contribution in the elucidation of the most common posttranslational modifications, such as phosphorylation and glycosylation. Further, a brief section is devoted to top-down by ETD method applied to intact proteins. As the last few years have witnessed a major expansion of the microfluidics systems, a few considerations on ETD in combination with chip-based nanoelectrospray (nanoESI) as a platform for high throughput top-down proteomics are also presented.
Access options
Buy single article
Instant access to the full article PDF.
US$ 39.95
Tax calculation will be finalised during checkout.
Subscribe to journal
Immediate online access to all issues from 2019. Subscription will auto renew annually.
US$ 119
Tax calculation will be finalised during checkout.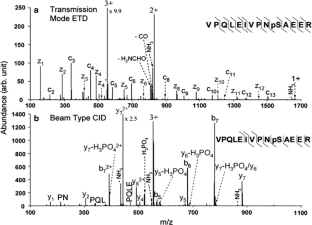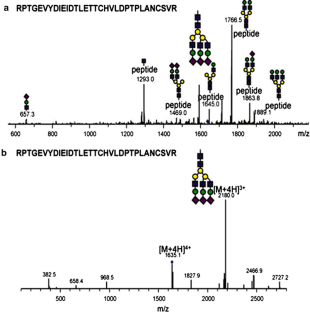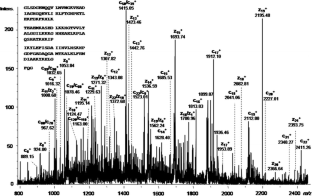 References
Ahlf DR, Compton PD, Tran JC, Early BP, Thomas PM, Kelleher NL (2012) Evaluation of the compact high-field orbitrap for top-down proteomics of human cells. J Proteome Res 11(8):4308–4314

Alley WR Jr, Mechref Y, Novotny MV (2009) Characterization of glycopeptides by combining collision-induced dissociation and electron-transfer dissociation mass spectrometry data. Rapid Commun Mass Spectrom 23:161–170

Alley WR Jr, Vasseur JA, Goetz JA, Svoboda M, Mann BF, Matei DE, Menning N, Hussein A, Mechref Y, Novotny MV (2012) N-linked glycan structures and their expressions change in the blood sera of ovarian cancer patients. J Proteome Res 11:2282–2300

Andresen L, Skovbakke SL, Persson G, Hagemann-Jensen M, Hansen KA, Jensen H, Skov S (2012) 2-deoxy D-glucose prevents cell surface expression of NKG2D ligands through inhibition of N-linked glycosylation. J Immunol 188:1847–1855

Breuker K, Oh H, Lin C, Carpenter BK, McLafferty FW (2004) Nonergodic and conformational control of the electron capture dissociation of protein cations. Proc Natl Acad Sci USA 101:14011–14016

Catalina MI, Koeleman CA, Deelder AM, Wuhrer M (2007) Electron transfer dissociation of N-glycopeptides: loss of the entire N-glycosylated asparagine side chain. Rapid Commun Mass Spectrom 21:1053–1061

Catherman AD, Durbin KR, Ahlf DR, Early BP, Fellers RT, Tran JC, Thomas PM, Kelleher NL (2013) Large-scale top-down proteomics of the human proteome: membrane proteins, mitochondria, and senescence. Mol Cell Proteomics 12:3465–3473

Chen R, Wang F, Tan Y, Sun Z, Song C, Ye M, Wang H, Zou H (2012) Development of a combined chemical and enzymatic approach for the mass spectrometric identification and quantification of aberrant N-glycosylation. J Proteomics 75:1666–1674

Chirwa N, Govender D, Ndimba B, Lotz Z, Tyler M, Panieri E, Kahn D, Mall AS (2012) A 40–50 kDa glycoprotein associated with mucus is identified as α-1-acid glycoprotein in carcinoma of the stomach. J Cancer 3:83–92

Coon JJ, Shabanowitz J, Hunt DF, Syka JE (2005) Electron transfer dissociation of peptide anions. J Am Soc Mass Spectrom 16:880–882

Darula Z, Chalkley RJ, Lynn A, Baker PR, Medzihradszky KF (2011) Improved identification of O-linked glycopeptides from ETD data with optimized scoring for different charge states and cleavage specificities. Amino Acids 1:321–328

Darula Z, Medzihradszky KF (2009) Affinity enrichment and characterization of mucin core-1 type glycopeptides from bovine serum. Mol Cell Proteomics 8:2515–2526

Deguchi K, Ito H, Baba T, Hirabayashi A, Nakagawa H, Fumoto M, Hinou H, Nishimura S (2007) Structural analysis of O-glycopeptides employing negative- and positive-ion multi-stage mass spectra obtained by collision-induced and electron-capture dissociations in linear ion trap time-of-flight mass spectrometry. Rapid Commun Mass Spectrom 21:691–698

Delom F, Chevet E (2006) Protein analysis: from proteins to proteomes. Proteome Sci 4:15

Dodds ED (2012) Gas-phase dissociation of glycosylated peptide ions. Mass Spectrom Rev 31:666–682

Drabik A, Bodzon-Kulakowska A, Suder P (2012) Application of the ETD/PTR reactions in top-down proteomics as a faster alternative to bottom-up nanoLC-MS/MS protein identification. J Mass Spectrom 47:1347–1352

Eyrich B, Sickmann A, Zahedi RP (2011) Catch me if you can: mass spectrometry-based phosphoproteomics and quantification strategies. Proteomics 11:554–570

Fan Q, Amen M, Harden M, Severini A, Griffiths A, Longnecker R (2012) Herpes B virus utilizes human nectin-1 but not HVEM or PILRα for cell-cell fusion and virus entry. J Virol 86:4468–4476

Flangea C, Schiopu C, Capitan F, Mosoarca C, Manea M, Sisu E, Zamfir AD (2013) Fully automated chip-based nanoelectrospray combined with electron transfer dissociation for high throughput top-down proteomics. Cent Eur J Chem 11:25–34

Fornelli L, Damoc E, Thomas PM, Kelleher NL, Aizikov K, Denisov E, Makarov A, Tsybin YO (2012) Analysis of intact monoclonal antibody IgG1 by electron transfer dissociation orbitrap FTMS. Mol Cell Proteomics 11:1758–1767

Ghosh G, Adams JA (2011) Phosphorylation mechanism and structure of serine-arginine protein kinases. FEBS J 278:587–597

Guthals A, Bandeira N (2012) Peptide identification by tandem mass spectrometry with alternate fragmentation modes. Mol Cell Proteomics 9:550–557

Halim A, Rüetschi U, Larson G, Nilsson J (2013) LC-MS/MS characterization of O-glycosylation sites and glycan structures of human cerebrospinal fluid glycoproteins. J Proteome Res 12:573–584

Han H, Xia Y, Yang M, McLuckey SA (2008) Rapidly alternating transmission mode electron-transfer dissociation and collisional activation for the characterization of polypeptide ions. Anal Chem 80:3492–3497

Hanisch FG (2012) O-glycoproteomics: site-specific O-glycoprotein analysis by CID/ETD electrospray ionization tandem mass spectrometry and top-down glycoprotein sequencing by in-source decay MALDI mass spectrometry. Methods Mol Biol 842:179–189

Hansen TA, Sylvester M, Jensen ON, Kjeldsen F (2012) Automated and high confidence protein phosphorylation site localization using complementary collision-activated dissociation and electron transfer dissociation tandem mass spectrometry. Anal Chem 84:9694–9699

Hernandez-Aya LF, Gonzalez-Angulo AM (2011) Targeting the phosphatidylinositol 3-kinase signaling pathway in breast cancer. Oncologist 16:404–414

Hogan JM, Pitteri SJ, Chrisman PA, McLuckey SA (2005) Complementary structural information from a tryptic N-linked glycopeptide via electron transfer ion/ion reactions and collision-induced dissociation. J Proteome Res 4:628–632

Hung CW, Tholey A (2012) Tandem mass tag protein labeling for top-down identification and quantification. Anal Chem 84:161–170

Jones AW, Cooper HJ (2011) Dissociation techniques in mass spectrometry-based proteomics. Analyst 136:3419–3429

Julien SG, Dubé N, Hardy S, Tremblay ML (2011) Inside the human cancer tyrosine phosphatome. Nat Rev Cancer 11:35–49

Kim MS, Pandey A (2012) Electron transfer dissociation mass spectrometry in proteomics. Proteomics 12:530–542

Leitner A, Sturm M, Lindner W (2011) Tools for analyzing the phosphoproteome and other phosphorylated biomolecules: a review. Anal Chim Acta 703:19–30

MacLaine NJ, Hupp TR (2011) How phosphorylation controls p53. Cell Cycle 10:916–921

Manri N, Satake H, Kaneko A, Hirabayashi A, Baba T, Sakamoto T (2013) Glycopeptide identification using liquid-chromatography-compatible hot electron capture dissociation in a radio-frequency-quadrupole ion trap. Anal Chem 85:2056–2063

Mao Y, Valeja SG, Rouse JC, Hendrickson CL, Marshall AG (2013) Top-down structural analysis of an intact monoclonal antibody by electron capture dissociation-Fourier transform ion cyclotron resonance-mass spectrometry. Anal Chem 85:4239–4246

McAlister GC, Coon JJ (2010) Practical aspects of trapped ion mass spectrometry, Applications of ion trapping devices, vol V. CRC Press, USA, pp 59–73

McAlister GC, Russell JD, Rumachik NG, Hebert AS, Syka JE, Geer LY, Westphall MS, Pagliarini DJ, Coon JJ (2012) Analysis of the acidic proteome with negative electron-transfer dissociation mass spectrometry. Anal Chem 84:2875–2882

Mendoza JL, Schmidt A, Li Q, Nuvaga E, Barrett T, Bridges RJ, Feranchak AP, Brautigam CA, Thomas PJ (2012) Requirements for efficient correction of ΔF508 CFTR revealed by analyses of evolved sequences. Cell 148:164–174

Mijakovic I, Macek B (2012) Impact of phosphoproteomics on studies of bacterial physiology. FEMS Microbiol Rev 36:877–892

Palumbo AM, Reid GE (2008) Evaluation of gas-phase rearrangement and competing fragmentation reactions on Protein phosphorylation site assignment using CID-MS/MS and MS3. Anal Chem 80:9735–9747

Palumbo AM, Smith SA, Kalcic CL, Dantus M, Stemmer PM, Reid GE (2011) Tandem mass spectrometry strategies for phosphoproteome analysis. Mass Spectrom Rev 30:600–625

Pan J, Borchers CH (2013) Top-down structural analysis of posttranslationally modified proteins by Fourier transform ion cyclotron resonance-MS with hydrogen/deuterium exchange and electron capture dissociation. Proteomics 13:974–981

Perdivara I, Petrovich R, Allinquant B, Deterding LJ, Tomer KB, Przybylski M (2009) Elucidation of O-glycosylation structures of the beta-amyloid precursor protein by liquid chromatography-mass spectrometry using electron transfer dissociation and collision induced dissociation. J Proteome Res 8:631–642

Remmers N, Anderson JM, Linde EM, DiMaio DJ, Lazenby AJ, Wandall HH, Mandel U, Clausen H, Yu F, Hollingsworth MA (2013) Aberrant expression of mucin core proteins and O-linked glycans associated with progression of pancreatic cancer. Clin Cancer Res 19:1981–1993

Scott NE, Parker BL, Connolly AM, Paulech J, Edwards AV, Crossett B, Falconer L, Kolarich D, Djordjevic SP, Højrup P, Packer NH, Larsen MR, Cordwell SJ (2011) Simultaneous glycan-peptide characterization using hydrophilic interaction chromatography and parallel fragmentation by CID, higher energy collisional dissociation, and electron transfer dissociation MS applied to the N-linked glycoproteome of Campylobacter jejuni. Mol Cell Proteomics 10(2):M000031–MCP201

Singh C, Zampronio CG, Creese AJ, Cooper HJ (2012) Higher energy collision dissociation (HCD) product ion-triggered electron transfer dissociation (ETD) mass spectrometry for the analysis of N-linked glycoproteins. J Proteome Res 11:4517–4525

Snovida SI, Bodnar ED, Viner R, Saba J, Perreault H (2010) A simple cellulose column procedure for selective enrichment of glycopeptides and characterization by nano LC coupled with electron-transfer and high-energy collisional-dissociation tandem mass spectrometry. Carbohydr Res 345:792–801

Swaney DL, Wenger CD, Thomson JA, Coon JJ (2009) Human embryonic stem cell phosphoproteome revealed by electron transfer dissociation tandem mass spectrometry. Proc Natl Acad Sci USA 106:995–1000

Syka JE, Coon JJ, Schroeder MJ, Shabanowitz J, Hunt DF (2004) Peptide and protein sequence analysis by electron transfer dissociation mass spectrometry. Proc Natl Acad Sci USA 101:9528–9533

Thaysen-Andersen M, Wilkinson BL, Payne RJ, Packer NH (2011) Site-specific characterisation of densely O-glycosylated mucin-type peptides using electron transfer dissociation ESI-MS/MS. Electrophoresis 32:3536–3545

Vinaik R, Kozlov G, Gehring K (2013) Structure of the non-catalytic domain of the protein disulfide isomerase-related protein (PDIR) reveals function in protein binding. PLoS One 8(4):e62021

Wang D, Hincapie M, Rejtar T, Karger BL (2011) Ultrasensitive characterization of site-specific glycosylation of affinity-purified haptoglobin from lung cancer patient plasma using 10 μm i.d. porous layer open tubular liquid chromatography-linear ion trap collision-induced dissociation/electron transfer dissociation mass spectrometry. Anal Chem 83:2029–2037

Wells JM, McLuckey SA (2005) Methods in enzymology, Biological mass spectrometry, vol 402. Elsevier Academic Press, USA, pp 148–186

Wu SL, Hühmer AF, Hao Z, Karger BL (2007) On-line LC-MS approach combining collision-induced dissociation (CID), electron-transfer dissociation (ETD), and CID of an isolated charge-reduced species for the trace-level characterization of proteins with post-translational modifications. J Proteome Res 6:4230–4244

Yoshimura Y, Nudelman AS, Levery SB, Wandall HH, Bennett EP, Hindsgaul O, Clausen H, Nishimura S (2012) Elucidation of the sugar recognition ability of the lectin domain of UDP-GalNAc:polypeptide N-acetylgalactosaminyltransferase 3 by using unnatural glycopeptide substrates. Glycobiology 22:429–438

Yu T, Guo C, Wang J, Hao P, Sui S, Chen X, Zhang R, Wang P, Yu G, Zhang L, Dai Y, Li N (2011) Comprehensive characterization of the site-specific N-glycosylation of wild-type and recombinant human lactoferrin expressed in the milk of transgenic cloned cattle. Glycobiology 21:206–224

Zauner G, Kozak RP, Gardner RA, Fernandes DL, Deelder AM, Wuhrer M (2012) Protein O-glycosylation analysis. Biol Chem 393:687–708

Zeng X, Hood BL, Sun M, Conrads TP, Day RS, Weissfeld JL, Siegfried JM, Bigbee WL (2010) Lung cancer serum biomarker discovery using glycoprotein capture and liquid chromatography mass spectrometry. J Proteome Res 9:6440–6449

Zhang Q, Tang N, Brock JW, Mottaz HM, Ames JM, Baynes JW, Smith RD, Metz TO (2007) Enrichment and analysis of nonenzymatically glycated peptides: boronate affinity chromatography coupled with electron-transfer dissociation mass spectrometry. J Proteome Res 6:2323–2330

Zhou Y, Dong J, Vachet RW (2011) Electron transfer dissociation of modified peptides and proteins. Curr Pharm Biotechnol 12:1558–1567

Zhurov KO, Fornelli L, Wodrich MD, Laskay UA, Tsybin YO (2013) Principles of electron capture and transfer dissociation mass spectrometry applied to peptide and protein structure analysis. Chem Soc Rev 42(12):5014–5030

Zubarev R (2006) Protein primary structure using orthogonal fragmentation techniques in Fourier transform mass spectrometry. Expert Rev Proteomics 3:251–261

Zubarev RA (2004) Electron-capture dissociation tandem mass spectrometry. Curr Opin Biotechnol 15:12–16

Zubarev RA, Horn DM, Fridriksson EK, Kelleher NL, Kruger NA, Lewis MA, Carpenter BK, McLafferty FW (2000) Electron capture dissociation for structural characterization of multiply charged protein cations. Anal Chem 72:563–573
Acknowledgments
This work was supported by FP7 MARIE CURIE-PIRSES-GA-2010-269256 project, PN-II-ID-2011-0047, RU-TE-2011-0008 and PN-II-PT-PCCA-2011-3.1-0187 projects granted by the Romanian National Authority for Scientific Research (ANCS/UEFISCDI) and POSDRU 107/1.5/S/78702 project through the European Social Fund.
Conflict of interest
The authors declare no conflict of interest.
Additional information
M. Sarbu and R. M. Ghiulai equal contributed.
About this article
Cite this article
Sarbu, M., Ghiulai, R.M. & Zamfir, A.D. Recent developments and applications of electron transfer dissociation mass spectrometry in proteomics. Amino Acids 46, 1625–1634 (2014). https://doi.org/10.1007/s00726-014-1726-y
Received:

Accepted:

Published:

Issue Date:
Keywords
Electron transfer dissociation

Mass spectrometry

Phosphorylation

Glycosylation

Top-down proteomics