Abstract
It has been demonstrated that taurine has various physiological functions in the body. We demonstrated that taurine is abundant in the serum, liver, muscle and testis of the Japanese eel (Anguilla japonica). In the eel testis, taurine is found mainly in spermatogonia and is weakly expressed also in the Sertoli cells. We have further found in the eel testis that taurine is actively accumulated via the sodium/chloride-dependent taurine transporter (TauT; SLC6A6), which is expressed in germ cells. In our current study, the effects of taurine on the anti-oxidant response were examined. Taurine was found to promote the total superoxide dismutase (SOD) activity in the testis. Moreover, our results indicate that taurine does not affect the mRNA levels of copper–zinc (Cu/Zn) SOD or manganese SOD, but promotes the translation of Cu/Zn SOD. Overall, our present data suggest that taurine may modulate Cu/Zn SOD at the translational level and thereby may play an important role in the protection of germ cells from oxidative stress.
Access options
Buy single article
Instant access to the full article PDF.
US$ 39.95
Tax calculation will be finalised during checkout.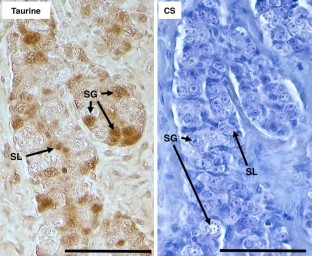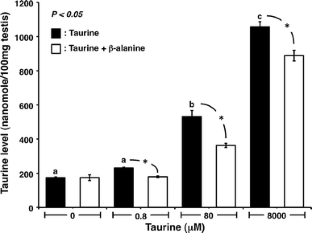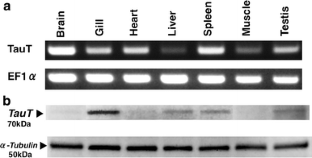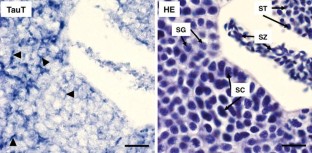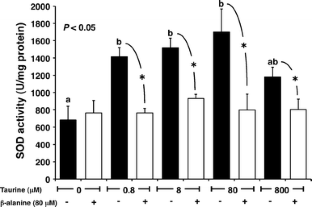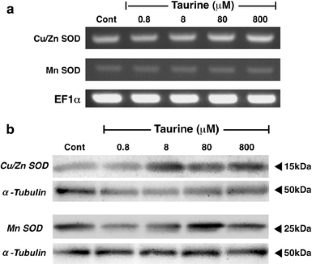 References
Aitken RJ, Krausz CG (2001) Oxidative stress, DNA damage and the Y chromosome. Reproduction 122:497–506

Allo AN, Bagby L, Schaffer SW (1997) Taurine depletion, a novel mechanism for cardioprotection from regional ischemia. Am J Physiol 273:H1956–H1961

Anthony JC, Yoshizawa F, Anthony TG, Vary TC, Jefferson LS, Kimball SR (2000) Leucine stimulates translation initiation in skeletal muscle of postabsorptive rats via a rapamycin-sensitive pathway. J Nutr 130:2413–2419

Antolin I, Rodriguez C, Sainz RM (1996) Neurohormone melatonin prevents cell damage: effect on gene expression for antioxidant enzymes. FASEB J 10:882–890

Balkan J, Kanbagli O, Aykac-Toker G, Uysal M (2002) Taurine treatment reduces hepatic lipids and oxidative stress in chronically ethanol treated rats. Biol Pharm Bull 25:1231–1233

Bauché F, Fouchard MH, Jégou B (1994) Antioxidant system in rat testicular cells. FEBS Lett 349:392–396

Billardo R, Menezo Y (1984) The amino acid composition of rainbow trout (Salmo gairdneri) seminal fluid and blood plasma: a comparison with carp (Cyprinus carpio). Aquaculture 41:255–258

Boatman DE, Bavister DB, Cruz E (1990) Addition of hypotaurine can reactivate immotile golden hamster spermatozoa. J Androl 11:66–72

Campistron G, Geffard M, Buijs RM (1986) Immunological approach to the detection of taurine and immunocytochemical results. J Neurochem 46:862–868

Celino FT, Yamaguchi S, Miura C, Miura T (2009) Arsenic inhibits in vitro spermatogenesis and induces germ cell apoptosis in Japanese eel (Anguilla japonica). Reproduction 138:279–287

Celino FT, Yamaguchi S, Miura C, Ohta T, TozawaY, Iwai T, Miura T (2011) Tolerance of spermatogonia to oxidative stress is due to high levels of Zn and Cu/Zn superoxide dismutase. PLoS One 6(2): e16938. doi:10.1371/journal.pone.0016938

Chow SC, Ching LY, Wong AMF, Wong CKC (2009) Cloning and regulation of expression of the Na+-Cl− taurine transporter in gill cells of freshwater Japanese eels. J Exp Biol 212:3205–3210

Cunningham C, Tipton KF, Dixon HBF (1998) Conversion of taurine into N-chlorotaurine (taurine chloramine) and sulphoacetaldehyde in response to oxidative stress. Biochem J 330:939–945

Das J, Ghosh J, Manna P, Sinha M, Sil PC (2009) Taurine protects rat testes against NaAsO2-induced oxidative stress and apoptosis via mitochondrial dependent and independent pathways. Toxicol Lett 187:201–210

Glisovic T, Bachorik JK, Yong J, Dreyfuss G (2008) RNA-binding proteins and post-transcriptional gene regulation. FEBS Lett 582:1977–1986

Glover CN, Hogstrand C (2002) Amino acid modulation of in vivo intestinal zinc absorption in freshwater rainbow trout. J Exp Biol 205:151–158

Green TR, Fellman JH, Eicher AL, Pratt KL (1991) Antioxidant role and subcellular location of hypotaurine and taurine in human neutrophils. Biochim biophy acta 1073(1):91–97

Gu W, Hechet NB (1996) Translation of a testis-specific Cu/Zn SOD superoxide dismutase (SOD-1) mRNA is regulated by a 65-kilodalton protein which binds to its 5′ untranslated region. Mol Cell Biol 16:4534–4543

Gürer H, Ozgünes H, Saygin E, Ercal N (2001) Antioxidant effect of taurine against lead-induced oxidative stress. Archives Environ Contamination Toxicol 41(4):397–402

Harraki B, Guiraud P, Rochat MH, Faure H, Richard MJ, Fusselier M, Favier A (1994) Effect of taurine, l-glutamine and l-histidine addition in an amino acid glucose solution on the cellular bioavailability of zinc. Biometals 7:237–243

Hauck SJ, Bartke A (2000) Effects of growth hormone on hypothalamic catalase and Cu/Zn superoxide dismutase. Free Radic Biol Med 28:970–978

Higuchi M, Celino FT, Tamai A, Miura C, Miura T (2011) The synthesis and role of taurine in the Japanese eel testis. Amino Acids. doi:10.1007/s00726-011-1128-3

Huxtable RJ (1992) The physiological actions of taurine. Physiol Rev 72:101–163

Huxtable RJ, Bressler R (1973) Effects of taurine on a muscle intracellular membrane. Biochim Biophys Acta 323:573–583

Jhiang SM, Fithian L, Smanik P, Mcgill J, Tong Q, Mazzaferri EL (1993) Cloning of the human taurine transporter and characterization of taurine uptake in thyroid-cells. FEBS Lett 318:139–144

Karlsson, EJ. Eliason LT, Mydland AP, Farrell, Kiessling (2006) Postprandial changes in plasma amino acid levels obtained simultaneously from the hepatic portal vein and the dorsal aorta in rainbow trout (Oncorhynchus mykiss). J Exp Biol 209:4885–4894

Kim SK, Takeuchi T, Yokoyama M, Murata Y (2003) Effect of dietary supplementation with taurine, β-alanine and GABA on the growth of juvenile and fingerling Japanese flounder Paralichthys olivaceus. Fish Sci 69:242–248

Kim SK, Takeuchi T, Akimoto A, Furuita H, Yamamoto T, Yokoyama M, Murata Y (2005) Effect of taurine supplemented practical diet on growth performance and taurine contents in whole body and tissues of juvenile Japanese flounder Paralichthys olivaceus. Fish Sci 71:627–632

Kozlowski DJ, Chen Z, Zhuang LN, Fei YJ, Navarre S, Ganapathy V (2008) Molecular characterization and expression pattern of taurine transporter in zebrafish during embryogenesis. Life Sci 82:1004–1011

Lasserre P, Gilles R (1971) Modification of the amino acid pool in the parietal muscle of two euryhaline teleosts during osmotic adjustment. Experientia 27:1437–1445

Lazarewicz JW, Noremberg K, Lehmann A, Hamberger A (1985) Effects of taurine on calcium binding and accumulation in rabbit hippocampal and cortical synaptosomes. Neurochem Int 7:421–428

Lee ER, Renno WM, Beitz AJ (1992) A quantitative light and elec- tron microscopic analysis of taurine-like immunoreactivity in the dorsal horn of the rat spinal cord. J Comp Neurol 321:65–82

Liu QR, Lopezcorcuera B, Nelson H, Mandiyan S, Nelson N (1992) Cloning and expression of a cdna-encoding the transporter of taurine and beta-alanine in mouse-brain. Proc Natl Acad Sci USA 89:12145–12149

Lobo MVT, Alonso FJM, Latorre A, del Rio RM (2000) Immunohistochemical localization of taurine in the male reproductive organs of the rat. J Histochem Cytochem 48:313–320

Lobo MVT, Alonso FJM, Latorre A, del Rio RM (2001) Immunohistochemical Localization of taurine in the rat ovary, oviduct, and uterus. J Histochem Cytochem 49:1133–1142

Lombardini JB (1985) Effects of taurine on calcium ion uptake and protein phosphorylation in rat retinal membrane preparations. J Neurochem 45:268–275

Maalej S, Dammak I, Dukan S (2006) The impairment of superoxide dismutase coordinates the derepression of the PerR regulon in the response of Staphylococcus aureus to HOCL stress. Microbiol 152:855–861

Magnusson KR, Clements JR, Wu JY, Beitz AJ (1989) Colocalization of taurine- and cysteine sulfinic acid decarboxylase-like immunoreactivity in the hippocampus of the rat. Synapse 4:55–69

Mandal M, Lee M, Barrick JE, Weinberg Z, Emilsson GM, Ruzzo WL, Breaker RR (2004) A glycine-dependent riboswitch that uses cooperative binding to control gene expression. Science 306:275–279

Manna P, Sinha M, Sil PC (2009) Taurine plays a beneficial role against cadmium-induced oxidative renal dysfunction. Amino Acids 36:417–428

Matsunari H, Takeuchi T, Takahashi M, Mushiake K (2005) Effect of dietary taurine supplementation on growth performance of yellowtail juveniles Seriola quinqueradiata. Fish Sci 71:1131–1135

Mattick JS, Makunin IV (2006) Non-coding RNA. Hum Mol Genet 15:R17–R29

Miura T, Yamauchi K, Takahashi H, Nagahama Y (1991) Hormonal induction of all stages of spermatogenesis in vitro in the male Japanese eel (Anguilla japonica). Proc Natl Acad Sci USA 88:5774–5778

Nonogaki T, Noda Y, Narimoto K, Shiotani M, Mori T (1992) Localization of Cu/Zn-superoxide dismutase in the human male genital organs. Hum Reprod 7:81–85

Nusetti S, Urbina M, Obregon F, Quintal M, Benzo Z, Lima L (2010) Effects of zinc ex vivo and intracellular zinc chelator in vivo on taurine uptake in goldfish retina. Amino Acids 38:1429–1437

O´ Flaherty L, Stapleton PP, Redmond HP, Bouchier-Hayes DJ (1997) Intestinal taurine transport: a review. Eur J Clin Invest 27:873–880

Park GS, Takeuchi T, Yokoyama M, Seikai T (2002) Optimal dietary taurine level for growth of juvenile Japanese flounder Paralichthys olivaceus. Fish Sci 68:824–829

Paul C, Teng S, Saunders PTK (2009) A single, mild transient scrotal heat stress causes hypoxia and oxidative stress in mouse testes, which induces germ cell death. Biol Reprod 80:913–919

Pinto W, Rønnestad I, Jordal AE, Gomes AS, Dinis MT, Aragão C (2011) Cloning, tissue and ontogenetic expression of the taurine transporter in the flatfish Senegalese sole (Solea senegalensis). Amino Acids. doi:10.1007/s00726-010-0826-6

Quesada O, Lu P, Sturman A (1993) Taurine distribution in different cat muscles as visualized by immunohistochemistry: changes with stimulus state. Cytobios 73:143–154

Ramamoorthy S, Leibach FH, Mahesh VB, Han H, Yangfeng T, Blakely RD, Ganapathy V (1994) Functional-characterization and chromosomal localization of a cloned taurine transporter from human placenta. Biochem J 300:893–900

Ray PS, Jia J, Majumder M, Hatzoglou M, Fox PL (2009) A stress-responsive RNA switch regulates VEGFA expression. Nature 457:915–919

Rhoads JM, Wu G (2008) Glutamine, arginine, and leucine signaling in the intestine. Amino Acids. doi:10.1007/s00726-008-0225-4

Rodionov DA, Vitreschak AG, Mironov AA, Gelfand MS (2003) Regulation of lysine biosynthesis and transport genes in bacteria: yet another RNA riboswitch? Nucleic Acids Res 31:6748–6757

Schuller-Levis G, Mehta PD, Rudelli R, Sturman J (1990) Immunologic consequences of taurine deficiency in cats. J Leuko Biol 47:321–333

Sinha M, Manna P, Sil PC (2008) Taurine protects the antioxidant defense system in the erythrocytes of cadmium treated mice. BMB Rep 41(9):657–663

Sturman JA (1993) Taurine in development. Physiol Rev 73:119–148

Sturman JA, Messing JM, Rossi SS, Hofmann AF, Neuringer MD (1988) Tissue taurine content and conjugated bile acid composition of rhesus monkey infants fed a human infant soy-protein formula with or without taurine supplementation for 3 months. Neurochem Res 13:311–316

Sudarsan N, Wickiser JK, Nakamura S, Ebert MS, Breaker RR (2003) An mRNA structure in bacteria that controls gene expression by binding lysine. Genes Dev 17:2688–2697

Sugino N, Hirosawa-Takamori M, Zhong L (1998) Hormonal regulation of copper-zinc superoxide dismutase and manganese superoxide dismutase messenger ribonucleic acid in the rat corpus luteum: induction by prolactin and placental lactogens. Biol Rept 59:599–605

Suzuki T, Suzuki T, Wada T, Saigo K, Watanabe K (2002) Taurine as a constituent of mitochondrial tRNA: new insights into the functions of taurine and human mitochondrial diseases. EMBO J 21:6581–6589

Takagi S, Murata H, Goto T, Endo M, Yamashita H, Miyatake H, Ukawa M (2010) Necessity of dietary taurine supplementation for preventing green liver symptom and improving growth performance in yearling red sea bream Pagrus major fed nonfishmeal diets based on soy protein concentrate. Fish Sci 76:119–130

Takeuchi K, Toyohara H, Sakaguchi M (2000) A hyperosmotic stress- induced mRNA of carp cell encodes Na+- and Cl−-dependent high affinity taurine transporter. Biochim Biophys Acta 1464:219–230

Timbrell JA, Seabra V, Watereld CJ (1995) The in vivo and in vitro protective properties of taurine. Gen Pharmacol 26:453–462

Vessey DA (1978) The biochemical basis for the conjugation of bile acids with either glycine or taurine. Biochem J 174:621–626

Winkler WC, Cohen-Chalamish S, Breaker RR (2002) An mRNA structure that controls gene expression by binding FMN. Proc Natl Acad Sci USA 99:15908–15913

Yang JC, Wu GF, Feng Y, Sun CM, Lin SM, Hu JM (2010) CSD mRNA expression in rat testis and the effect of taurine on testosterone secretion. Amino Acids 39(1):155–160

Zarate JM, Bradley TM (2007) Molecular cloning and characterization of the taurine transporter of Atlantic salmon. Aquaculture 273:209–217

Zelko I, Mariani TJ, Folz RJ (2002) Superoxide dismutase multigene family: a comparison of the CuZn-SOD (SOD1), Mn-SOD (SOD2), and EC-SOD (SOD3) gene structures, evolution, and expression. F. Free Radical Biol Med 33:337–349
Acknowledgments
This study was supported by a Grant-in-Aid for Scientific Research from the Japan Society for the Promotion of Science (JSPS) and by grants from the Global COE program of the Ministry of Education, Culture, Sports, Science, and Technology of the Japanese government.
Electronic supplementary material
Below is the link to the electronic supplementary material.
About this article
Cite this article
Higuchi, M., Celino, F.T., Shimizu-Yamaguchi, S. et al. Taurine plays an important role in the protection of spermatogonia from oxidative stress. Amino Acids 43, 2359–2369 (2012). https://doi.org/10.1007/s00726-012-1316-9
Received:

Accepted:

Published:

Issue Date:
Keywords
Taurine

Cu/Zn SOD

Spermatogonia

Oxidative stress

Japanese eel