Abstract
There is an extensive and still growing body of the literature supporting the efficacy of creatine (Cr) supplementation. In sports, creatine has been recognized as the most effective nutritional supplement in enhancing exercise tolerance, muscle strength and lean body mass. From a clinical perspective, the application of Cr supplementation is indeed exciting. Evidences of benefits from this supplement have been reported in a broad range of diseases, including myopathies, neurodegenerative disorders, cancer, rheumatic diseases, and type 2 diabetes. In addition, after hundreds of published studies and millions of exposures creatine supplementation maintains an excellent safety profile. Thus, we contend that the widespread application of this supplement may benefit athletes, elderly people and various patient populations. In this narrative review, we aimed to summarize both the ergogenic and therapeutic effects of Cr supplementation. Furthermore, we reviewed the impact of Cr supplementation on kidney function.
Access options
Buy single article
Instant access to the full article PDF.
US$ 39.95
Tax calculation will be finalised during checkout.
Subscribe to journal
Immediate online access to all issues from 2019. Subscription will auto renew annually.
US$ 119
Tax calculation will be finalised during checkout.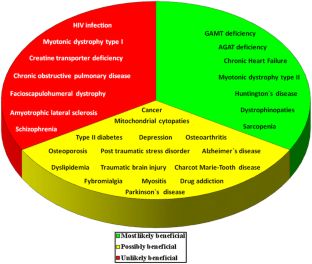 References
Amital D, Fostick L, Polliack ML, Segev S, Zohar J, Rubinow A, Amital H (2006a) Posttraumatic stress disorder, tenderness, and fibromyalgia syndrome: are they different entities? J Psychosom Res 61(5):663–669. doi:10.1016/j.jpsychores.2006.07.003

Amital D, Vishne T, Roitman S, Kotler M, Levine J (2006b) Open study of creatine monohydrate in treatment-resistant posttraumatic stress disorder. J Clin Psychiatry 67(5):836–837

Amital D, Vishne T, Rubinow A, Levine J (2006c) Observed effects of creatine monohydrate in a patient with depression and fibromyalgia. Am J Psychiatry 163(10):1840–1841. doi:10.1176/appi.ajp.163.10.1840-b

Andreassen OA, Jenkins BG, Dedeoglu A, Ferrante KL, Bogdanov MB, Kaddurah-Daouk R, Beal MF (2001) Increases in cortical glutamate concentrations in transgenic amyotrophic lateral sclerosis mice are attenuated by creatine supplementation. J Neurochem 77(2):383–390

Andres RH, Ducray AD, Huber AW, Perez-Bouza A, Krebs SH, Schlattner U, Seiler RW, Wallimann T, Widmer HR (2005) Effects of creatine treatment on survival and differentiation of GABA-ergic neurons in cultured striatal tissue. J Neurochem 95(1):33–45

Andres RH, Ducray AD, Schlattner U, Wallimann T, Widmer HR (2008) Functions and effects of creatine in the central nervous system. Brain Res Bull 76(4):329–343. doi:10.1016/j.brainresbull.2008.02.035

Andrews R, Greenhaff P, Curtis S, Perry A, Cowley AJ (1998) The effect of dietary creatine supplementation on skeletal muscle metabolism in congestive heart failure. Eur Heart J 19(4):617–622 (pii:S0195668X97907673)

Barisic N, Bernert G, Ipsiroglu O, Stromberger C, Müller T, Gruber S, Prayer D, Moser E, Bittner RE, Stöckler-Ipsiroglu S (2002) Effects of oral creatine supplementation in a patient with MELAS phenotype and associated nephropathy.Neuropediatrics 33(3):157–161

Beal F (2011) Neuroprotective effects of creatine. Amino Acids 40(5):1305–1313

Bemben MG, Lamont HS (2005) Creatine supplementation and exercise performance: recent findings. Sports Med 35(2):107–125 (pii:3522)

Benton D, Donohoe R (2010) The influence of creatine supplementation on the cognitive functioning of vegetarians and omnivores. Br J Nutr:1-6. doi:10.1017/S0007114510004733

Bourgeois JM, Nagel K, Pearce E, Wright M, Barr RD, Tarnopolsky MA (2008) Creatine monohydrate attenuates body fat accumulation in children with acute lymphoblastic leukemia during maintenance chemotherapy. Pediatr Blood Cancer 51(2):183–187. doi:10.1002/pbc.21571

Branch JD (2003) Effect of creatine supplementation on body composition and performance: a meta-analysis. Int J Sport Nutr Exerc Metab 13(2):198–226

Brewer GJ, Wallimann TW (2000) Protective effect of the energy precursor creatine against toxicity of glutamate and beta-amyloid in rat hippocampal neurons. J Neurochem 74(5):1968–1978

Buford TW, Kreider RB, Stout JR, Greenwood M, Campbell B, Spano M, Ziegenfuss T, Lopez H, Landis J, Antonio J (2007) International society of sports nutrition position stand: creatine supplementation and exercise. J Int Soc Sports Nutr 4:6. doi:10.1186/1550-2783-4-6

Burke DG, Candow DG, Chilibeck PD, MacNeil LG, Roy BD, Tarnopolsky MA, Ziegenfuss T (2008) Effect of creatine supplementation and resistance-exercise training on muscle insulin-like growth factor in young adults. Int J Sport Nutr Exerc Metab 18(4):389–398

Candow DG, Little JP, Chilibeck PD, Abeysekara S, Zello GA, Kazachkov M, Cornish SM, Yu PH (2008) Low-dose creatine combined with protein during resistance training in older men. Med Sci Sports Exerc 40(9):1645–1652. doi:10.1249/MSS.0b013e318176b310

Chung YL, Alexanderson H, Pipitone N, Morrison C, Dastmalchi M, Stahl-Hallengren C, Richards S, Thomas EL, Hamilton G, Bell JD, Lundberg IE, Scott DL (2007) Creatine supplements in patients with idiopathic inflammatory myopathies who are clinically weak after conventional pharmacologic treatment: six-month, double-blind, randomized, placebo-controlled trial. Arthr Rheum 57(4):694–702. doi:10.1002/art.22687

Cox G, Mujika I, Tumilty D, Burke L (2002) Acute creatine supplementation and performance during a field test simulating match play in elite female soccer players. Int J Sport Nutr Exerc Metab 12(1):33–46

DN NET-P (2006) A randomized, double-blind, futility clinical trial of creatine and minocycline in early Parkinson disease. Neurology 66(5):664–671. doi:10.1212/01.wnl.0000201252.57661.e1

Edmunds JW, Jayapalan S, DiMarco NM, Saboorian MH, Aukema HM (2001) Creatine supplementation increases renal disease progression in Han:SPRD-cy rats. Am J Kidney Dis 37(1):73–78

Engelhardt M, Neumann G, Berbalk A, Reuter I (1998) Creatine supplementation in endurance sports. Med Sci Sports Exerc 30(7):1123–1129

Ferreira LG, De Toledo Bergamaschi C, Lazaretti-Castro M, Heilberg IP (2005) Effects of creatine supplementation on body composition and renal function in rats. Med Sci Sports Exerc 37(9):1525–1529

Fuld JP, Kilduff LP, Neder JA, Pitsiladis Y, Lean ME, Ward SA, Cotton MM (2005) Creatine supplementation during pulmonary rehabilitation in chronic obstructive pulmonary disease. Thorax 60(7):531–537. doi:10.1136/thx.2004.030452

Funanage VL, Carango P, Shapiro IM, Tokuoka T, Tuan RS (1992) Creatine kinase activity is required for mineral deposition and matrix synthesis in endochondral growth cartilage. Bone Miner 17(2):228–236

Gerber I, ap Gwynn I, Alini M, Wallimann T (2005) Stimulatory effects of creatine on metabolic activity, differentiation and mineralization of primary osteoblast-like cells in monolayer and micromass cell cultures. Eur Cell Mater 10:8–22 (pii:vol010a02)

Greenhalff P (1995) Creatine and its application as an ergogenic aid. Int J Sport Nutr 5:S100–S110

Greenhalff P (2001) The creatine–phosphocreatine system: there's more than one song in its repertoire. J Physiol 537(Pt 3):657

Groeneveld GJ, Veldink JH, van der Tweel I, Kalmijn S, Beijer C, de Visser M, Wokke JH, Franssen H, van den Berg LH (2003) A randomized sequential trial of creatine in amyotrophic lateral sclerosis. Ann Neurol 53(4):437–445. doi:10.1002/ana.10554

Gualano B, Novaes RB, Artioli GG, Freire TO, Coelho DF, Scagliusi FB, Rogeri PS, Roschel H, Ugrinowitsch C, Lancha AH Jr (2008) Effects of creatine supplementation on glucose tolerance and insulin sensitivity in sedentary healthy males undergoing aerobic training. Amino Acids 34(2):245–250. doi:10.1007/s00726-007-0508-1

Gualano B, Artioli GG, Poortmans JR, Lancha Junior AH (2010a) Exploring the therapeutic role of creatine supplementation. Amino Acids 38(1):31–44. doi:10.1007/s00726-009-0263-6

Gualano B, Ferreira DC, Sapienza MT, Seguro AC, Lancha AH Jr (2010b) Effect of short-term high-dose creatine supplementation on measured GFR in a young man with a single kidney. Am J Kidney Dis 55(3):e7–e9. doi:10.1053/j.ajkd.2009.10.053

Gualano B, de Salles Painelli V, Roschel H, Lugaresi R, Dorea E, Artioli GG, Lima FR, da Silva ME, Cunha MR, Seguro AC, Shimizu MH, Otaduy MC, Sapienza MT, da Costa Leite C, Bonfa E, Lancha Junior AH (2010c) Creatine supplementation does not impair kidney function in type 2 diabetic patients: a randomized, double-blind, placebo-controlled, clinical trial. Eur J Appl Physiol. doi:10.1007/s00421-010-1676-3

Gualano B, de Salles Painneli V, Roschel H, Artioli GG, Junior MN, Lucia de Sa Pinto A, Rossi da Silva ME, Cunha MR, Otaduy MC, da Costa Leite C, Ferreira JC, Pereira RM, Brum PC, Bonfa E, Lancha AHJ (2010d) Creatine in type 2 diabetes: a randomized, double-blind, placebo-controlled trial. Med Sci Sports Exerc. doi:10.1249/MSS.0b013e3181fcee7d

Harris RC, Soderlund K, Hultman E (1992) Elevation of creatine in resting and exercised muscle of normal subjects by creatine supplementation. Clin Sci (Lond) 83(3):367–374

Head SI, Greenaway B, Chan S (2011) Incubating isolated mouse EDL muscles with creatine improves force production and twitch kinetics in fatigue due to reduction in ionic strength. PLoS ONE 6(8): e22742. doi:10.1371/journal.pone.0022742

Hespel P, Derave W (2007) Ergogenic effects of creatine in sports and rehabilitation. Subcell Biochem 46:245–259

Hopwood MJ, Graham K, Rooney KB (2006) Creatine supplementation and swim performance: a brief review. J Sports Sci Med Sport 5:10–24

Hultman E, Soderlund K, Timmons JA, Cederblad G, Greenhaff PL (1996) Muscle creatine loading in men. J Appl Physiol 81(1):232–237

Juhasz I, Gyore I, Csende Z, Racz L, Tihanyi J (2009) Creatine supplementation improves the anaerobic performance of elite junior fin swimmers. Acta Physiol Hung 96(3):325–336. doi:10.1556/APhysiol.96.2009.3.6

Kaldis P, Hemmer W, Zanolla E, Holtzman D, Wallimann T (1996) 'Hot spots' of creatine kinase localization in brain: cerebellum, hippocampus and choroid plexus. Dev Neurosci 18(5–6):542–554

Kim JH, Kim CK, Carpentier A, Poortmans JR (2011) Studies on the safety of creatine supplementation. Amino Acids 40:1409–1418

Kley RA, Tarnopolsky MA, Vorgerd M (2008) Creatine treatment in muscle disorders: a meta-analysis of randomised controlled trials. J neurol, neurosurg, psychiatry 79(4):366–367. doi:10.1136/jnnp.2007.127571

Klopstock T, Elstner M, Bender A (2011) Creatine in mouse models of neurodegeneration and aging. Amino Acids. 40(5):1297–1303

Koshy KM, Griswold E, Schneeberger EE (1999) Interstitial nephritis in a patient taking creatine. N Engl J Med 340(10):814–815

Kreider RB, Melton C, Rasmussen CJ, Greenwood M, Lancaster S, Cantler EC, Milnor P, Almada AL (2003) Long-term creatine supplementation does not significantly affect clinical markers of health in athletes. Mol Cell Biochem 244(1–2):95–104

Kuehl K, Goldberg L, Elliot D (1998) Renal insufficiency after creatine supplementation in a college football athlete. Med Sci Sports Exerc 30:S235

Law YL, Ong WS, GillianYap TL, Lim SC, Von Chia E (2009) Effects of two and five days of creatine loading on muscular strength and anaerobic power in trained athletes. J Strength Cond Res 23(3):906–914. doi:10.1519/JSC.0b013e3181a06c59

Louis M, Lebacq J, Poortmans JR, Belpaire-Dethiou MC, Devogelaer JP, Van Hecke P, Goubel F, Francaux M (2003) Beneficial effects of creatine supplementation in dystrophic patients. Muscle Nerve 27(5):604–610. doi:10.1002/mus.10355

Mazzini L, Balzarini C, Colombo R, Mora G, Pastore I, De Ambrogio R, Caligari M (2001) Effects of creatine supplementation on exercise performance and muscular strength in amyotrophic lateral sclerosis: preliminary results. J Neurol Sci 191(1–2):139–144 (pii:S0022510X01006116)

McMorris T, Harris RC, Howard AN, Langridge G, Hall B, Corbett J, Dicks M, Hodgson C (2007a) Creatine supplementation, sleep deprivation, cortisol, melatonin and behavior. Physiol Behav 90(1):21–28. doi:10.1016/j.physbeh.2006.08.024

McMorris T, Mielcarz G, Harris RC, Swain JP, Howard A (2007b) Creatine supplementation and cognitive performance in elderly individuals. Neuropsychol Dev Cogn B Aging Neuropsychol Cogn 14(5):517–528. doi:10.1080/13825580600788100

Murphy RM, Stephenson DG, Lamb GD (2004) Effect of creatine on contractile force and sensitivity in mechanically skinned single fibers from rat skeletal muscle. Am J Physiol Cell Physiol 287:C1589–C1595

Neves M Jr, Gualano B, Roschel H, Fuller R, Benatti FB, Pinto AL, Lima FR, Pereira RM, Lancha AH Jr, Bonfá E (2011a) Beneficial effect of creatine supplementation in knee osteoarthritis. Med Sci Sports Exerc.43(8):1538-43

Neves M Jr, Gualano B, Roschel H, Lima FR, Lúcia de Sá-Pinto A, Seguro AC, Shimizu MH, Sapienza MT, Fuller R, Lancha AH Jr, Bonfá E (2011b) Effect of Creatine Supplementation on measured glomerular filtration rate in postmenopausal women. Appl Physiol Nutr Metab. 36(3):419-22.

Op 't Eijnde B, Urso B, Richter EA, Greenhaff PL, Hespel P (2001a) Effect of oral creatine supplementation on human muscle GLUT4 protein content after immobilization. Diabetes 50(1):18–23

Op 't Eijnde B, Vergauwen L, Hespel P (2001b) Creatine loading does not impact on stroke performance in tennis. Int J Sports Med 22(1):76–80. doi:10.1055/s-2001-11334

Ostojic SM (2004) Creatine supplementation in young soccer players. Int J Sport Nutr Exerc Metab 14(1):95–103

Persky AM, Rawson ES (2007) Safety of creatine supplementation. Subcell Biochem 46:275–289

Pluim BM, Ferrauti A, Broekhof F, Deutekom M, Gotzmann A, Kuipers H, Weber K (2006) The effects of creatine supplementation on selected factors of tennis specific training. Br J Sports Med 40 (6):507–511 (discussion 511–502). doi:10.1136/bjsm.2005.022558

Poortmans JR, Francaux M (1999) Long-term oral creatine supplementation does not impair renal function in healthy athletes. Med Sci Sports Exerc 31(8):1108–1110

Poortmans JR, Auquier H, Renaut V, Durussel A, Saugy M, Brisson GR (1997) Effect of short-term creatine supplementation on renal responses in men. Eur J Appl Physiol Occup Physiol 76(6):566–567

Poortmans JR, Kumps A, Duez P, Fofonka A, Carpentier A, Francaux M (2005) Effect of oral creatine supplementation on urinary methylamine, formaldehyde, and formate. Med Sci Sports Exerc 37(10):1717–1720

Pritchard NR, Kalra PA (1998) Renal dysfunction accompanying oral creatine supplements. Lancet 351(9111):1252–1253

Rawson E, Clarkson P (2004) Scientifically debatable: is creatine worth its weight? GSSE 16:1–6

Rawson E, Persky A (2007) Mechanisms of muscular adaptations to creatine. Int Sport Med J 8:43–53

Rawson ES, Volek JS (2003) Effects of creatine supplementation and resistance training on muscle strength and weightlifting performance. J Strength Cond Res 17(4):822–831 (pii:R-13753)

Rawson ES, Stec MJ, Frederickson SJ, Miles MP (2010) Low-dose creatine supplementation enhances fatigue resistance in the absence of weight gain. Nutrition. doi:10.1016/j.nut.2010.04.001

Revai T, Sapi Z, Benedek S, Kovacs A, Kaszas I, Viranyi M, Winkler G (2003) Severe nephrotic syndrome in a young man taking anabolic steroid and creatine long term. Orv Hetil 144(49):2425–2427

Robinson TM, Sewell DA, Casey A, Steenge G, Greenhaff PL (2011) Dietary creatine supplementation does not affect some haematological indices, or indices of muscle damage and hepatic and renal function. Br J Sports Med 34(4):284–288

Rossouw F, Kruger P, Rossouw J (2000) The effect of creatine monohydrate loading on maximal intermittent exercise and sport-specific strength in well trained power-lifters. Nutr Res 20:505–514

Sahlin K, Harris RC (2011) The creatine kinase reaction: a simple reaction with functional complexity. Amino Acids 40(5):1363–1367

Sale C, Harris RC, Florance J, Kumps A, Sanvura R, Poortmans JR (2009) Urinary creatine and methylamine excretion following 4 9 5 g day−1 or 20 g 9 1 g day−1 of creatine monohydrate for 5 days. J Sports Sci 27:759–766

Salomons GS, van Dooren SJ, Verhoeven NM, Marsden D, Schwartz C, Cecil KM, DeGrauw TJ, Jakobs C (2003) X-linked creatine transporter defect: an overview. J Inherit Metab Dis 26(2–3):309–318

Schedel JM, Terrier P, Schutz Y (2000) The biomechanic origin of sprint performance enhancement after one-week creatine supplementation. Jpn J Physiol 50(2):273–276

Sestili P, Martinelli C, Colombo E, Barbieri E, Potenza L, Sartini S, Fimognari C (2011) Creatine as an antioxidant 40:1385–1396

Silva AJ, Machado Reis V, Guidetti L, Bessone Alves F, Mota P, Freitas J, Baldari C (2007) Effect of creatine on swimming velocity, body composition and hydrodynamic variables. J Sports Med Phys Fit 47(1):58–64

Skare OC, Skadberg, Wisnes AR (2001) Creatine supplementation improves sprint performance in male sprinters. Scand J Med Sci Sports 11 (2):96-102. (pii:sms110205)

Smith CA, Chetlin RD, Gutmann L, Yeater RA, Alway SE (2006) Effects of exercise and creatine on myosin heavy chain isoform composition in patients with Charcot-Marie-Tooth disease. Muscle Nerve 34(5):586–594. doi:10.1002/mus.20621

Stockler S, Hanefeld F, Frahm J (1996) Creatine replacement therapy in guanidinoacetate methyltransferase deficiency, a novel inborn error of metabolism. Lancet 348(9030):789–790 (pii:S0140673696041165)

Tabrizi SJ, Blamire AM, Manners DN, Rajagopalan B, Styles P, Schapira AH, Warner TT (2003) Creatine therapy for Huntington's disease: clinical and MRS findings in a 1-year pilot study. Neurology 61(1):141–142

Tarnopolsky M, Martin J (1999) Creatine monohydrate increases strength in patients with neuromuscular disease. Neurology 52(4):854–857

Tarnopolsky MA, Roy BD, MacDonald JR (1997) A randomized, controlled trial of creatine monohydrate in patients with mitochondrial cytopathies. Muscle Nerve 20(12):1502–1509. doi:10.1002/(SICI)1097-4598(199712)20:12<1502:AID-MUS4>3.0.CO;2-C

Tarnopolsky MA, Bourgeois JM, Snow R, Keys S, Roy BD, Kwiecien JM, Turnbull J (2003) Histological assessment of intermediate- and long-term creatine monohydrate supplementation in mice and rats. Am J Physiol Regul Integr Comp Physiol 285(4):R762–R769. doi:10.1152/ajpregu.00270.2003

Terjung RL, Clarkson P, Eichner ER, Greenhaff PL, Hespel PJ, Israel RG, Kraemer WJ, Meyer RA, Spriet LL, Tarnopolsky MA, Wagenmakers AJ, Williams MH (2000) American college of sports medicine roundtable. The physiological and health effects of oral creatine supplementation. Med Sci Sports Exerc 32(3):706–717

Thorsteinsdottir B, Grande JP, Garovic VD (2006) Acute renal failure in a young weight lifter taking multiple food supplements, including creatine monohydrate. J Ren Nutr 16(4):341–345

Vandebuerie F, Vanden Eynde B, Vandenberghe K, Hespel P (1998) Effect of creatine loading on endurance capacity and sprint power in cyclists. Int J Sports Med 19(7):490–495. doi:10.1055/s-2007-971950

Vandenberghe K, Goris M, Van Hecke P, Van Leeputte M, Vangerven L, Hespel P (1997) Long-term creatine intake is beneficial to muscle performance during resistance training. J Appl Physiol 83(6):2055–2063

Volek JS, Duncan ND, Mazzetti SA, Staron RS, Putukian M, Gomez AL, Pearson DR, Fink WJ, Kraemer WJ (1999) Performance and muscle fiber adaptations to creatine supplementation and heavy resistance training. Med Sci Sports Exerc 31(8):1147–1156

Wallimann T, Tokarska-Schlattner M, Schlattner U (2011) The creatine kinase system and pleiotropic effects of creatine. Amino Acids 40(5):1271–1296

Watanabe A, Kato N, Kato T (2002) Effects of creatine on mental fatigue and cerebral hemoglobin oxygenation. Neurosci Res 42(4):279–285 (pii:S016801020200007X)

Yu PH, Deng Y (2000) Potential cytotoxic effect of chronic administration of creatine, a nutrition supplement to augment athletic performance. Med Hypotheses 54(5):726–728
Acknowledgments
We are grateful to Fundação de Amparo à Pesquisa do Estado de São Paulo (FAPESP) for supporting our studies with creatine supplementation (process 2010/18708-1). The authors declare that they have no conflict of interests.
About this article
Cite this article
Gualano, B., Roschel, H., Lancha-Jr., A.H. et al. In sickness and in health: the widespread application of creatine supplementation. Amino Acids 43, 519–529 (2012). https://doi.org/10.1007/s00726-011-1132-7
Received:

Accepted:

Published:

Issue Date:
Keywords
Nutritional supplements

Exercise performance

Sports

Chronic diseases