Abstract
Doubtful allegations of adverse effects of creatine supplementation have been released through the press media and through scientific publications. In the present review we have tried to separate the wheat from the chaff by looking for the experimental evidence of any such claims. Anecdotal reports from athletes have appeared on muscle cramp and gastrointestinal complaints during creatine supplementation, but the incidence of these is limited and not necessarily linked to creatine itself. Despite several unproved allegations, liver (enzymes, urea) and kidneys (glomerular filtration urea and albumin excretion rates) show no change in functionality in healthy subjects supplemented with creatine, even during several months, in both young and older populations. The potential effects (production of heterocyclic amines) of mutagenicity and carcinogenicity induced by creatine supplementation have been claimed by a French Sanitary Agency (AFSSA), which might put consumers at risk. Even if there is a slight increase (within the normal range) of urinary methylamine and formaldehyde excretion after a heavy load of creatine (20 g/day) this is without effect on kidney function. The search for the excretion of heterocyclic amines remains a future task to definitively exclude the unproved allegation made by some national agencies. We advise that high-dose (>3–5 g/day) creatine supplementation should not be used by individuals with pre-existing renal disease or those with a potential risk for renal dysfunction (diabetes, hypertension, reduced glomerular filtration rate). A pre-supplementation investigation of kidney function might be considered for reasons of safety, but in normal healthy subjects appears unnecessary.
This is a preview of subscription content, log in to check access.
Access options
Buy single article
Instant access to the full article PDF.
US$ 39.95
Price includes VAT for USA
Subscribe to journal
Immediate online access to all issues from 2019. Subscription will auto renew annually.
US$ 199
This is the net price. Taxes to be calculated in checkout.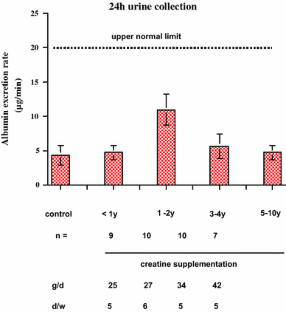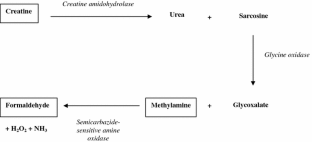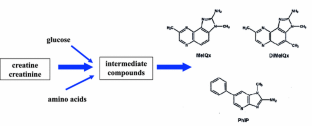 References
Agence Française de Sécurité Sanitaire et Alimentaire (AFSSA) (2004) Avis relatif à la publicité portant sur des substances de développement musculaire et de mise en forme contenue dans un magazine spécialisé (Saisines 2003-SA-0385 & 2003-SA-0386)

Almada A, Mitchell T, Earnest C (1996) Impact of chronic creatine supplementation on serum enzyme concentration. FASEB J 10:A791

American College of Sports Medicine (2000) The physiological and health effects of oral creatine supplementation. Med Sci Sports Exerc 32:706–717

Bermon S, Venembre P, Sachet C, Valour S, Dolisi C (1998) Effects of creatine monohydrate ingestion in sedentary and weight-trained older adults. Acta Physiol Scand 164:147–155

Berode M, Sethre T, Laubli T, Savolainen T (2000) Urinary methanol and formic acid as indicators of occupational exposure to methyl formate. Int Arch Occup Environ Health 73(6):410–414

Boeniger MF (1987) Formate in urine as a biological indicator of formaldehyde exposure: a review. Am Ind Hyg Assoc J 48(11):900–908

Camamori ML, Fioretto M (2000) The need for early predictors of diabetic nephrpathy risk. Diabetes 49:1399–1408

Chanutin A (1926) The fate of creatine when asministered to man. J Biol Chem 67:29–41

Dalbo V, Roberts M, Stout J, Kerksick C (2008) Putting to rest the myth of creatine supplementation leading to muscle cramps and dehydration. Br J Sports Med 42:567–573

Deng Y, Boomsma F, Yu PH (1998) Deamination of methylamine and aminoacetone increases aldehydes and oxidative stress in rats. Life Sci 63(23):2049–2058

Derave W, Vanden Eede E, Hespel P, Carmella SG, Hecht DS (2006) Oral creatine supplementation in humans does not elevate urinary excretion of the carcinogen N-nitrososarcosine. Nutrition 22:332–333

Duarte JA, Neuparth MJ, Soares JMC, Appell HJ (1999) Oral creatine supplementation and liver metabolism. Int J Sports Med 20:S50

Edmunds JW, Jayapalan S, DiMarco NM, Saboorian MH, Aukema HM (2001) Creatine supplementation increases renal disease progression in Han:SPRD-cy rats. Am J Kidney Dis 37:73–79

Engelhardt M, Neumann G, Berbalk A, Reuter I (1998) Creatine supplementation in endurance sports. Med Sci Sports Exerc 30:1123–1129

European FSA (2004) Creatine monohydrate for use in foods for particular nutrional uses (Question number EFSA-Q-2003–125). EFSA J 36:1–6

Evans G, Greaves I (1999) Microalbuminuria as predictor of outcome. Br Med J 318:207–208

Ferreira LG, Bergamaschi CT, Lazaretti-Castro M, Heilberg IP (2005) Effects of creatine supplementation on body composition and renal function in rats. Med Sci Sport Exerc 37:1525–1529

Friesen MD, Rothman N, Strickland PT (2001) Concentration of 2-amino-1-methyl-6-phenylimidazo(4, 5-b)pyridine (PhIP) in urine and alkali-hydrolyzedn urine after consumption of charbroiled beef. Cancer Lett 173:43–51

Garpenstrand H, Bergqvist M, Brattstrom D, Larsson A, Oreland L, Hesselius P, Wagenius G (2004) Serum semicarbazide-sensitive amine oxidase (SSAO) activity correlates with VEGF in non-small-cell lung cancer patients. Med Oncol 21(3):241–250

Gooderham NJ, Murray S, Lynch AM, Yadollahi-Farsani M, Shao K, Boobis AR, Davies DS (2001) Food-derived heterocyclic amine mutagens: Variable metabolism and significanbce to humans. Drug Metab Dispos 29:529–534

Gotschalk LA, Volek JS, Staron RS, Denegar CR, Hagerman F, Kraemer WJ (2002) Creatine supplementation improves muscular performance in older men. Med Sci Sport Exerc 34:537–543

Greenhaff P (1998) Renal dysfunction accompanying oral creatine supplements. Lancet 352:233

Greenwood M, Kreider RB, Melton C, Rasmussen C, Lancaster S, Cantler E, Milnor P, Almada A (2003) Creatine supplementation during college footbal training does not increase the incidence of cramping or injury. Mol Cell Biochem 244:83–88

Groeneveld GJ, Beijer C, Veldink JH, Kalmijn S, Wokke JHJ, Van den Berg LH (2005) Few adverse effects of long-term creatine supplementation in a placebo-controlled trial. Eur J Sports Med 26:307–313

Gualano B, Ugrinowitsch C, Novaes R, Artioli G, Shimizu M, Seguro A, Harris R, Lancha A Jr (2008) Effects of creatine supplementation on renal function: a randomized, double-blind, placebo-controlled clinical trial. Eur J Appl Physiol 103:33–40

Headlam HA, Mortimer A, Easton CJ (2000) Beta-scission of C-3 (beta carbon) alkoxyl radicals on peptides and proteins: a novel pathway which results in the formation of alpha-carbon radicals and the loss of amino acid side chains. Chem Res Toxicol 13:1087–1095

Heddle JA, Knize MG, Dawod D, Zhang XB (2001) A test of the mutagenicity of cooked meats in vivo. Mutagenesis 16:103–107

Hoberman HD, Sims EAH, Peters JH (1948) Creatine ans creatinine metabolism in the normal male adult studied with the aid of isotopic nitrogen. J Biol Chem 172:45–58

Hultman E, Söderlund K, Timmons J, Cederblad G, Greenhaff P (1996) Muscle creatine loading in men. J Appl Physiol 81:232–237

Hyde E (1942) Creatine feeding and creatine-creatinine excretion in males and females of different age groups. J Biol Chem 143:301–310

Juhn MS, Tarnopolsky M (1998) Potential side effects of oral creatine supplementation: a critical review. Clin J Sport Med 8:298–304

Juhn MS, O'Kane JW, Vinci DM (1999) Oral creatine supplementation in male collegiate athletes: a survey of dosing habits and side effects. J Am Diet Assoc 99:593–595

Kage S, Kudo K, Ikeda H, Ikeda N (2004) Simultaneous determination of formate and acetate in whole blood and urine from humans using gas chromatography-mass spectrometry. J Chromatogr B Analyt Technol Biomed Life Sci 805(1):113–117

Kapeller-Adler R, Toda K (1932) Uber das vorkommen von monomethylamin im harn. Biochem Z 248:403–425

Keys S, Tyminski M, Davis J, Bacon C, Benglovanni J, Hussin A (2001) The effects of long-term creatine supplementation on liver architecture in mice. Med Sci Sport Exerc 33:S206

Kinemuchi H, Sugimoto H, Obata T, Satoh N, Ueda S (2004) Selective inhibitors of membrane-bound semicarbazide-sensitive amine oxidase (SSAO) activity in mammalian tissues. Neurotoxicology 25(1–2):325–335

Knize MG, Salmon CP, Pais P, Felton JS (1999) Food heating and the formation of heterocyclic aromatic amine and polycyclic aromatic hydrocarbon mutagens/carcinogens. Adv Exp Med Biol 459:179–193

Knize MG, Kulp KS, Malfatti MA, Salmon CP, Felton JS (2001) Liquid chromatography-tandem mass spectrometry method of urine analysis for determining human variation in carcinogen metabolism. J Chromat 914:95–103

Knize MG, Kulp KS, Salmon CP, Keating GA, Felton JS (2002) Factors affecting human heterocyclic amine intake and the metabolism of PhIP. Mutation Res 9377:1–10

Koshy KM, Griswold Schneeberger EE (1999) Interstitial nephritis in a patient taking creatine. New Engl J Med 340:814–815

Kreider R, Ferreira M, Wilson M, Grindstaff P, Plisk S, Reinardy J (1998) Effects of creatine supplementation on body composition, strength, and sprint performance. Med Sci Sports Exerc 30:73–82

Maganaris C, Maughan R (1998) Creatine supplementation enhances maximum volunbtary isometric force and endurance capacity in resistance trained men. Acta Physiol Scand 163:279–287

Mattock MB (1992) Prospective study of microalbuminuria as predictor of mortality in NIDDM. Diabetes 41:736–741

Mihic S, MacDonald JR, McKenzie S, Tarnopolsky MA (1998) The effect of creatine supplementation on blood presure, plasma creatine kinase, and body composition. FASEB J 12:A652

Mitchell SC, Zhang AQ (2001) Methylamine in human urine. Clin Chim Acta 312(1–2):107–114

Mogensen CE (1990) Prediction in clinical diabetic nephropathy in IDDM patients. Diabetes 39:761–767

Ostojic S, Ahmetovic Z (2008) Gastrointestinal distress after creatine supplementation in athletes: are side effects dose dependent? Res Sports Med 16:15–22

Poortmans JR, Francaux M (1998) Renal dysfunction accompanying oral creatine supplements—reply. Lancet 352:234

Poortmans JR, Francaux M (1999) Long-term oral creatine supplementation does not impair renal function in healthy athletes. Med Sci Sports Exerc 31:1108–1110

Poortmans JR, Francaux M (2000) Adverse effects of creatine supplementation : Fact or fiction? Sports Med 30:155–170

Poortmans JR, Francaux M (2002) Renal implications of exogenous creatine monohydrate supplementation. Am J Med Sports 4:212–216

Poortmans JR, Francaux M (2008) Creatine consumption in health. In: Stout J, Antonio J, Kalman D (eds) Essentials of creatine in sports and health. Humana Press, Totowa, pp 137–172

Poortmans JR, Auquier H, Renaut V, Durussel A, Saugy M, Brisson GR (1997) Effects of short-term creatine supplementation on renal responses in men. Eur J Appl Physiol 76:566–567

Poortmans JR, Kumps A, Duez P, Fofonka A, Carpentier A, Francaux M (2005) Effect of oral creatine supplementation on urinary methylamine, formaldehyde, and formate. Med Sci Sport Exerc 37:1717–1720

Pritchard N, Kalra P (1998) Renal dysfunction accompanying oral creatine supplementations. Lancet 351:1252–1253

Quievryn G, Zhitkovich A (2000) Loss of DNA-protein crosslinks from formaldehyde-exposed cells occurs through spontaneous hydrolysis and an active repair process linked to proteasome function. Carcinogenesis 21:1573–1580

Rawson ES, Gunn B, Clarkson PM (2001) The effects of creatine supplementation on exercise-induced muscle damage. J Strength Cond Res 15:178–184

Rose WC, Ellis RH, Helming OC (1928) The transformation of creatine into creatinine by the male and female organism. J Biol Chem 77:171–184

Sale C, Harris RC, Florance J, Kumps A, Sanvura R, Poortmans JR (2009) "Urinary creatine and methylamine excretion following 4 × 5 g day−1 or 20 g × 1 g day−1 of creatine monohydrate for 5 days. J Sports Sci 27:759–766

Santos RVT, Bassit RA, Caperuro EC, Costa Rosa LFBP (2004) The effect of creatine supplementation upon inflammatory and muscle soreness markers after a 30 km race. Life Sci 75:1917–1924

Schmidt FH (1967) Faulty measurement of urinary glucose concentration by polarization. Dtsch Med Wochenschr 92(44):2025–2027

Skog K, Johansson M, Jägenstad M (1995) Factors affecting the formation and yield of heterocyclic amines. Princess Takamatsu Symp 23:9–19

Taes YEC, Delanghe JR, Wuyts B, Van de Voorde J, Lameire NH (2003) Creatine supplementation does not affect kidney function in an animal model with pre-existing renal failure. Nephrol Dial Transplant 18:258–264

Tarnopolsky M, Bourgeois JM, Snow RJ, Keys S, Roy BD, Kwiecien JM, Turnbull J (2003) Histological assessment of intermediate- and long-term creatine monohydrate supplementation in mice and rats. Am J Physiol 285:R762–R769

Vandenberghe K, Goris M, Van Hecke P, Van Leemputte M, Vangerven L, Hespel P (1997) Long-term creratine intake is beneficial to muscle performance during resistance training. J Appl Physiol 83:2055–2063

Wyss M (2004) Writing about creatine: is it worth the risk ? Toxicol Lett 152:273–274

Wyss M, Kaddurah-Daouk R (2000) Creatine and creatinine metabolism. Physiol Rev 80(3):1107–1213

Wyss M, Schulze A (2002) Health implications of creatine: Can oral creatine supplementation protect against neurological and atherosclerotic disease ? Neurosience 112:243–260

Yu PH, Deng Y (2000) Potential cytotoxic effect of chronic administration of creatine, a nutrition supplement to augment athletic performance. Med Hypotheses 54(5):726–728

Yu PH, Zuo DM (1996) Formaldehyde produced endogenously via deamination of methylamine. A potential risk factor for initiation of endothelial injury. Atherosclerosis 120(1–2):189–197

Yu PH, Wright S, Fan EH, Lun ZR, Gubisne-Harberle D (2003) Physiological and pathological implications of semicarbazide-sensitive amine oxidase. Biochim Biophys Acta 1647(1–2):193–199
About this article
Cite this article
Kim, H.J., Kim, C.K., Carpentier, A. et al. Studies on the safety of creatine supplementation. Amino Acids 40, 1409–1418 (2011). https://doi.org/10.1007/s00726-011-0878-2
Received:

Accepted:

Published:

Issue Date:
Keywords
Sport

Creatine

Liver

Kidney

Health risks