Abstract
The increasing occurrences of allergic disorders may be attributed to exposure to environmental factors that contribute to the pathogenesis of allergy. The health benefits of green tea have been widely reported but are largely unsubstantiated. Theanine is the major amino acid present in green tea. In this study, we investigated the role of theanine in both IgE- and non- IgE-induced allergic response. Theanine inhibited compound 48/80-induced systemic anaphylactic shock and ear swelling responses. IgE-mediated passive cutaneous anaphylaxis was inhibited by the oral administration or pharmaceutical acupuncture of theanine. Histamine release from mast cells was decreased with the treatment of theanine. Theanine also repressed phorbol 12-myristate 13-acetate and calcium ionophore A23187-induced TNF-α, IL-1β, IL-6, and IL-8 secretion by suppressing NF-κB activation. Furthermore, theanine suppressed the activation of caspase-1 and the expression of receptor interacting protein-2. The current study demonstrates for the first time that theanine might possess mast cell-stabilizing capabilities.
This is a preview of subscription content, log in to check access.
Access options
Buy single article
Instant access to the full article PDF.
US$ 39.95
Price includes VAT for USA
Subscribe to journal
Immediate online access to all issues from 2019. Subscription will auto renew annually.
US$ 199
This is the net price. Taxes to be calculated in checkout.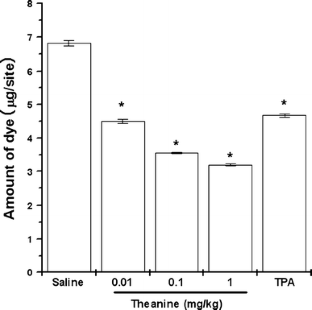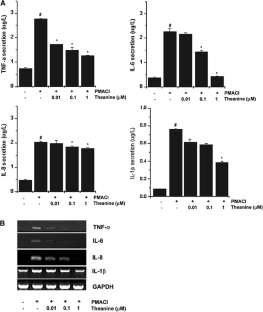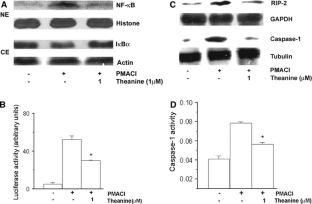 References
Abdou AM, Higashiguchi S, Horie K, Kim M, Hatta H, Yokogoshi H (2006) Relaxation and immunity enhancement effects of gamma-aminobutyric acid (GABA) administration in humans. Biofactors 26:201–208

Akdis CA, Akdis M (2011) Mechanisms of allergen-specific immunotherapy. J Allergy Clin Immunol 127:18–27

Baye TM, Martin LJ, Khurana Hershey GK (2010) Application of genetic/genomic approaches to allergic disorders. J Allergy Clin Immunol 126:425–436

Borzelleca J, Peters D, Hall W (2006) A 13-week dietary toxicity and toxicokinetic study with L-theanine in rats. Food Chem Toxicol 44:1158–1166

Chiang CT, Weng MS, Lin-Shiau SY, Kuo KL, Tsai YJ, Lin JK (2005) Puerh tea supplementation suppresses fatty acid synthase expression in the rat liver through downregulating Akt and JNK signalings as demonstrated in human hepatoma HepG2 cells. Oncol Res 16:119–128

Chin AI, Dempsey PW, Bruhn K, Miller JF, Xu Y, Cheng G (2002) Involvement of receptor-interacting protein 2 in innate and adaptive immune responses. Nature 416:190–194

Cook EB, Stahl JL, Barney NP, Graziano FM (2000) Mechanisms of antihistamines and mast cell stabilizers in ocular allergic inflammation. Curr Drug Targets Inflamm Allergy 1:167–180

Druilhe A, Srinivasula SM, Razmara M, Ahmad M, Alnemri ES (2001) Regulation of IL-1beta generation by Pseudo-ICE and ICEBERG, two dominant negative caspase recruitment domain proteins. Cell Death Differ 8:649–657

Eschenauer G, Sweet BV (2006) Pharmacology and therapeutic uses of theanine. Am J Health Syst Pharm 63:28–30

Galien R, Evans HF, Garcia T (1996) Involvement of CCAAT/enhancer-binding protein and nuclear factor-kappa B binding site in interleukin-6 promoter inhibition by estrogens. Mol Endocrinol 10:713–722

Galli SJ, Zsebo KM, Geissler EN (1994) The kit ligand, stem cell factor. Adv Immunol 55:1–96

Hammami MM, Bouchama A, Ai-Sedairy S, Shail E, Alohaly Y, Mohamed GE (1997) Concentrations of soluble tumor necrosis factor and interleukin-6 receptors in heatstroke and heatstress. Crit Care Med 25:1314–1319

Hougee S, Sanders A, Faber J, Graus YM, van den Berg WB, Garssen J, Smit HF, Hoijer MA (2005) Decreased proinflammatory cytokine production by LPS-stimulated PBMC upon in vitro incubation with the flavonoids apigenin, luteolin or chrysin, due to selective elimination of monocytes/macrophages. Biochem Pharmacol 69:241–248

Humke EW, Shriver SK, Starovasnik MA, Fairbrother WJ, Dixit VM (2000) ICEBERG: a novel inhibitor of interleukin-1β generation. Cell 103:99–111

Irmler M, Hertig S, MacDonald HR, Sadoul R, Becherer JD, Proudfoot A, Solari R, Tschopp J (1995) Granzyme A is an interleukin 1 beta-converting enzyme. J Exp Med 181:1917–1922

Jeong HJ, Choi IY, Kim MH, Kim HM, Moon PD, Hong JW, Kim SH (2010) Chungsim-Yeunja-Tang decreases the inflammatory response in peripheral blood mononuclear cells from patients with cerebral infarction through an NF-κB dependent mechanism. J Neuroinflamm 7:85

Kakuda T, Nozawa A, Unno T, Okamura N, Okai O (2000) Inhibiting effects of theanine on caffeine stimulation evaluated by EEG in rat. Biosci Biotechnol Biochem 64:287–293

Kamath AB, Wang L, Das H, Li L, Reinhold VN, Bukowski JF (2003) Antigens in tea-beverage prime human Vgamma 2Vdelta 2 T cells in vitro and in vivo for memory and nonmemory antibacterial cytokine responses. Proc Natl Acad Sci USA 100:6009–6014

Kim TI, Lee YK, Park SG, Choi IS, Ban JO, Park HK, Nam SY, Yun YW, Han SB, Oh KW, Hong JT (2009) l-Theanine, an amino acid in green tea, attenuates beta-amyloid-induced cognitive dysfunction and neurotoxicity: reduction in oxidative damage and inactivation of ERK/p38 kinase and NF-kappaB pathways. Free Radic Biol Med 47:1601–1610

Kuida K, Lippke JA, Ku G, Harding MW, Livingston DJ, Su MSS, Flavell RA (1995) Altered cytokine export and apoptosis in mice deficient in interleukin-1B converting enzyme. Science 267:2000–2002

Lamkanfi M, Kalai M, Saelens X, Declercq W, Vandenabeele P (2004) Caspase-1 activates nuclear factor of the k-enhancer in B cells independently of its enzymatic activity. J Biol Chem 279:24785–24793

Lee SH, Stehlik C, Reed JC (2001) Cop, a caspase recruitment domaincontaining protein and inhibitor of caspase-1 activation processing. J Biol Chem 276:34495–34500

Lin MT, Kao TY, Su CF, Hsu SS (1994) Interleukin-1 beta production during the onset of heat stroke in rabbits. Neurosci Lett 174:17–20

Liu Q, Duan H, Luan J, Yagasaki K, Zhang G (2009) Effects of theanine on growth of human lung cancer and leukemia cells as well as migration and invasion of human lung cancer cells. Cytotechnology 59:211–217

Lu K, Gray MA, Oliver C, Liley DT, Harrison BJ, Bartholomeusz CF (2004) The acute effects of L-theanine in comparison with alprazolam on anticipatory anxiety in humans. Hum Psychopharmacol 19:457–465

Mariathasan S, Newton K, Monack DM, Vucic D, French DM, Lee WP, Roose-Girma M, Erickson S, Dixit VM (2004) Differential activation of the inflammasome by caspase-1 adaptors ASC and Ipaf. Nature 430:213–218

Miescher SM, Vogel M (2002) Molecular aspects of allergy. Mol Aspects Med 23:413–462

Murakami S, Kurihara S, Titchenal CA, Ohtani M (2010) Suppression of exercise-induced neutrophilia and lymphopenia in athletes by cystine/theanine intake: a randomized, double-blind, placebo-controlled trial. J Int Soc Sports Nutr 7:23

Okano M (2009) Mechanisms and clinical implications of glucocorticosteroids in the treatment of allergic rhinitis. Clin Exp Immunol 158:164–173

Plaut M, Pierce JH, Watson CJ, Hanley-Hyde J, Nordan RP, Paul WE (1989) Mast cell lines produce lymphokines in response to cross-linkage of Fc epsilon RI or to calcium ionophores. Nature 339:64–67

Poyet JL, Srinivasula SM, Tnani M, Razmara M, Fernandes-Alnemri T, Alnemri ES (2001) Identification of Ipaf, a human caspase-1-activating protein related to Apaf-1. J Biol Chem 276:28309–28313

Prussin C, Metcalfe DD (2003) IgE, mast cells, basophils, and eosinophils. J Allergy Clin Immunol 111:S486–S494

Sadzuka Y, Inoue C, Hirooka S, Sugiyama T, Umegaki K, Sonobe T (2005) Effects of theanine on alcohol metabolism and hepatic toxicity. Biol Pharm Bull 28:1702–1706

Sakato Y (1949) The chemical constituents of tea: A new amide theanine. Nippon Nogeikagaku Kaishi. 23:262–267

Saleh M, Green DR (2007) Caspase-1 inflammasomes: choosing between death and taxis. Cell Death Differ 14:1559–1560

Srinivasula SM, Poyet JL, Razmara M, Datta P, Zhang Z, Alnemri ES (2002) The PYRIN-CARD protein ASC is an activating adaptor for caspase-1. J Biol Chem 277:21119–21122

Stehlik C, Lee SH, Dorfleutner A, Stassinopoulos A, Sagara J, Reed JC (2003) Apoptosis-associated speck-like protein containing a caspase recruitment domain is a regulator of procaspase-1 activation. J Immunol 171:6154–6163

Tasaka K, Mio M, Okamoto M (1986) Intracellular calcium release induced by histamine releasers and its inhibition by some antiallergic drugs. Ann Allergy 56:464–469

Wang X, Wang HY, Bryan EF, Zhang WH, Huo CF, Guan YJ, Zhang Y, Bruey JM, John CR, Robert MF (2005) Dysregulation of receptor interacting protein-2 and caspase recruitment domain only protein mediates aberrant caspase-1 activation in Huntington's disease. J Neurosci 25:11645–11654

Yamada T, Terashima T, Okubo T, Juneja LR, Yokogoshi H (2005) Effects of theanine, r-glutamylethylamide, on neurotransmitter release and its relationship with glutamic acid neurotransmission. Nutr Neurosci 8:219–226

Yamada T, Terashima T, Kawano S, Furuno R, Okubo T, Juneja LR, Yokogoshi H (2009) Theanine, gamma-glutamylethylamide, a unique amino acid in tea leaves, modulates neurotransmitter concentrations in the brain striatum interstitium in conscious rats. Amino Acids 36:21–27

Yokogoshi H, Kato Y, Sagesaka MY, Mastuura TT, Kakuda T, Takeuchi N (1995) Reduction effect of theanine of blood pressure and brain 5-hydroxyindoles in spontaneously hypertensive rats. Biosci Biotechnol Biochem 59:615–618

Zhang Y, Ramos BF, Jackschik BK (1992) Neutrophil recruitment by tumor necrosis factor from mast cells in immune complex peritonitis. Science 258:1957–1959
Acknowledgments
This research was supported by Basic Science Research Program through the National Research Foundation of Korea (NRF) funded by the Ministry of Education, Science and Technology (No. 2005-0049404). We thank professor Seung-Youp Shin at Department of Otolaryngology, College of Medicine, Kyung Hee University, for helpful discussion and critical reading of the manuscript.
Conflict of interest
The authors have no financial conflict of interest.
Additional information
N. H. Kim and H. J. Jeong contributed equally to this work.
About this article
Cite this article
Kim, N.H., Jeong, H.J. & Kim, H.M. Theanine is a candidate amino acid for pharmacological stabilization of mast cells. Amino Acids 42, 1609–1618 (2012). https://doi.org/10.1007/s00726-011-0847-9
Received:

Accepted:

Published:

Issue Date:
Keywords
Caspase-1

Histamine

Nuclear factor-κB

Receptor interacting protein-2

Theanine