Abstract
Infusion of carnitine has been observed to increase non-oxidative glucose disposal in several studies, but the effect of oral carnitine on glucose disposal in non-diabetic lean versus overweight/obese humans has not been examined. This study examined the effects of 14 days of l-carnitine l-tartrate oral supplementation (LC) on blood glucose, insulin, NEFA and GLP-1 responses to an oral glucose tolerance test (OGTT). Sixteen male participants were recruited [lean (n = 8) and overweight/obese (n = 8)]. After completing a submaximal predictive exercise test, participants were asked to attend three experimental sessions. These three visits were conducted in the morning to obtain fasting blood samples and to conduct 2 h OGTTs. The first visit was a familiarisation trial and the final two visits were conducted 2 weeks apart following 14 days of ingestion of placebo (PL, 3 g glucose/day) and then LC (3 g LC/day) ingested as two capsules 3×/day with meals. On each visit, blood was drawn at rest, at intervals during the OGTT for analysis of glucose, insulin, non-esterified fatty acids (NEFA) and total glucagon-like peptide-1 (GLP-1). Data obtained were used for determination of usual insulin sensitivity indices (HOMA-IR, AUC glucose, AUC insulin, 1st phase and 2nd phase β-cell function, estimated insulin sensitivity index and estimated metabolic clearance rate). Data were analysed using RMANOVA and post hoc comparisons where appropriate. There was a significant difference between groups for body mass, % fat and BMI with no significant difference in age and height. Mean (SEM) plasma glucose concentration at 30 min was significantly lower (p < 0.05) in the lean group on the LC trial compared with PL [8.71(0.70) PL; 7.32(0.36) LC; mmol/L]. Conversely, plasma glucose concentration was not different at 30 min, but was significantly higher at 90 min (p < 0.05) in the overweight/obese group on the LC trial [5.09(0.41) PL; 7.11(0.59) LC; mmol/L]. Estimated first phase and second phase β-cell function both tended to be greater following LC in the lean group only. No effects of LC were observed on NEFA or total GLP-1 response to OGTT. It is concluded that LC supplementation induces changes in blood glucose handling/disposal during an OGTT, which is not influenced by GLP-1. The glucose handling/disposal response to oral LC is different between lean and overweight/obese suggesting that further investigation is required. LC effects on gastric emptying and/or direct 'insulin-like' actions on tissues should be examined in larger samples of overweight/obese and lean participants, respectively.
Access options
Buy single article
Instant access to the full article PDF.
USD 39.95
Price excludes VAT (USA)
Tax calculation will be finalised during checkout.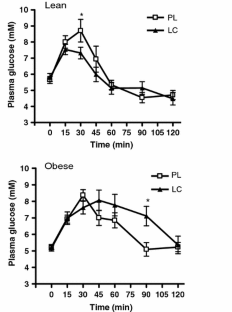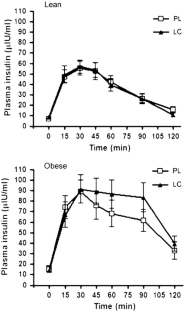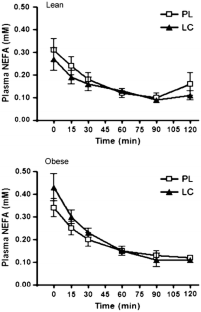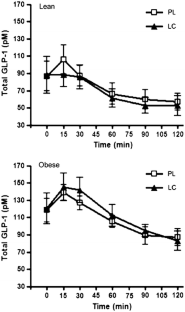 Similar content being viewed by others
References
Abramowicz WN, Galloway SD (2005) Effects of acute versus chronic l-carnitine l-tartrate supplementation on metabolic responses to steady state exercise in males and females. Int J Sport Nutr Exerc Metab 15:386–400

Azlina MF, Nafeeza MI, Khalid BA (2005) A comparison between tocopherol and tocotrienol effects on gastric parameters in rats exposed to stress. Asia Pac J Clin Nutr 14:358–365

Baggio LL, Drucker DJ (2007) Biology of incretins: GLP-1 and GIP. Gastroenterology 132:2131–2157

Brass EP, Hiatt WR (1998) The role of carnitine and carnitine supplementation during exercise in man and in individuals with special needs. J Am Coll Nutr 17:207–215

Broad EM, Maughan RJ, Galloway SD (2005) Effects of four weeks l-carnitine l-tartrate ingestion on substrate utilization during prolonged exercise. Int J Sport Nutr Exerc Metab 15:665–679

Broad EM, Maughan RJ, Galloway SD (2008) Carbohydrate, protein, and fat metabolism during exercise after oral carnitine supplementation in humans. Int J Sport Nutr Exerc Metab 18:567–584

Chandarana K, Drew ME, Emmanuel J, Karra E, Gelegen C, Chan P, Cron NJ, Batterham RL (2009) Subject standardization, acclimatization, and sample processing affect gut hormone levels and appetite in humans. Gastroenterology 136:2115–2126

Deacon CF (2005) What do we know about the secretion and degradation of incretin hormones? Regul Pept 128:117–124

Decombaz J, Deriaz O, Acheson K, Gmuender B, Jequier E (1993) Effect of l-carnitine on submaximal exercise metabolism after depletion of muscle glycogen. Med Sci Sports Exerc 25:733–740

Galloway SDR, Broad EM (2004) Effects of l-Carnitine l-tartrate supplementation on substrate metabolism during exercise. Faseb Journal 18:A770–A770

Galloway SDR, Broad EM (2005) Oral l-carnitine supplementation and exercise metabolism. Monatshefte fur Chemie 136:1391–1410

Giancaterini A, De GA, Mingrone G, Gniuli D, Liverani E, Capristo E, Greco AV (2000) Acetyl-l-carnitine infusion increases glucose disposal in type 2 diabetic patients. Metabolism 49:704–708

Gonzalez-Ortiz M, Hernandez-Gonzalez SO, Hernandez-Salazar E, Martinez-Abundis E (2008) Effect of oral l-carnitine administration on insulin sensitivity and lipid profile in type 2 diabetes mellitus patients. Ann Nutr Metab 52:335–338

Hawley JA, Brouns F, Jeukendrup A (1998) Strategies to enhance fat utilisation during exercise. Sports Med 25:241–257

Holst JJ (2007) The physiology of glucagon-like peptide 1. Physiol Rev 87:1409–1439

Kahn SE, Hull RL, Utzschneider KM (2006) Mechanisms linking obesity to insulin resistance and type 2 diabetes. Nature 444:840–846

Kinzig KP, D'Alessio DA, Herman JP, Sakai RR, Vahl TP, Figueiredo HF, Murphy EK, Seeley RJ (2003) CNS glucagon-like peptide-1 receptors mediate endocrine and anxiety responses to interoceptive and psychogenic stressors. J Neurosci 23:6163–6170

Ma J, Stevens JE, Cukier K, Maddox AF, Wishart JM, Jones KL, Clifton PM, Horowitz M, Rayner CK (2009) Effects of a protein preload on gastric emptying, glycemia, and gut hormones after a carbohydrate meal in diet-controlled type 2 diabetes. Diabetes Care 32:1600–1602

Matsuda K, Yuasa H, Watanabe J (1998) Physiological mechanism-based analysis of dose-dependent gastrointestinal absorption of l-carnitine in rats. Biopharm Drug Dispos 19:465–472

Mingrone G (2004) Carnitine in type 2 diabetes. Ann NY Acad Sci 1033:99–107

Mingrone G, Greco AV, Capristo E, Benedetti G, Giancaterini A, De GA, Gasbarrini G (1999) l-carnitine improves glucose disposal in type 2 diabetic patients. J Am Coll Nutr 18:77–82

Newsholme P, Brennan L, Rubi B, Maechler P (2005) New insights into amino acid metabolism, beta-cell function and diabetes. Clin Sci (Lond) 108:185–194

Poorabbas A, Fallah F, Bagdadchi J, Mahdavi R, Aliasgarzadeh A, Asadi Y, Koushavar H, Vahed JM (2007) Determination of free l-carnitine levels in type II diabetic women with and without complications. Eur J Clin Nutr 61:892–895

Power RA, Hulver MW, Zhang JY, Dubois J, Marchand RM, Ilkayeva O, Muoio DM, Mynatt RL (2007) Carnitine revisited: potential use as adjunctive treatment in diabetes. Diabetologia 50:824–832

Rahbar AR, Shakerhosseini R, Saadat N, Taleban F, Pordal A, Gollestan B (2005) Effect of l-carnitine on plasma glycemic and lipidemic profile in patients with type II diabetes mellitus. Eur J Clin Nutr 59:592–596

Rodgers RL, Christe ME, Tremblay GC, Babson JR, Daniels T (2001) Insulin-like effects of a physiologic concentration of carnitine on cardiac metabolism. Mol Cell Biochem 226:97–105

Roepstorff C, Halberg N, Hillig T, Saha AK, Ruderman NB, Wojtaszewski JF, Richter EA, Kiens B (2005) Malonyl-CoA and carnitine in regulation of fat oxidation in human skeletal muscle during exercise. Am J Physiol Endocrinol Metab 288:E133–E142

Stephens FB, Constantin-Teodosiu D, Laithwaite D, Simpson EJ, Greenhaff PL (2006a) An acute increase in skeletal muscle carnitine content alters fuel metabolism in resting human skeletal muscle. J Clin Endocrinol Metab 91:5013–5018

Stephens FB, Constantin-Teodosiu D, Laithwaite D, Simpson EJ, Greenhaff PL (2006b) Insulin stimulates l-carnitine accumulation in human skeletal muscle. FASEB J 20:377–379

Stephens FB, Constantin-Teodosiu D, Greenhaff PL (2007a) New insights concerning the role of carnitine in the regulation of fuel metabolism in skeletal muscle. J Physiol 581:431–444

Stephens FB, Evans CE, Constantin-Teodosiu D, Greenhaff PL (2007b) Carbohydrate ingestion augments l-carnitine retention in humans. J Appl Physiol 102:1065–1070

Stumvoll M, Mitrakou A, Pimenta W, Jenssen T, Yki-Jarvinen H, Van HT, Renn W, Gerich J (2000) Use of the oral glucose tolerance test to assess insulin release and insulin sensitivity. Diabetes Care 23:295–301

Vukovich MD, Costill DL, Fink WJ (1994) Carnitine supplementation: effect on muscle carnitine and glycogen content during exercise. Med Sci Sports Exerc 26:1122–1129

Wall BT, Stephens FB, Constantin-Teodosiu D, Marimuthu K, Macdonald IA, Greenhaff PL (2010) Increasing muscle carnitine content alters muscle fuel metabolism and improves exercise performance in humans. In: 15th Annual Congress of the European College of Sports Science Antalya, Turkey

Wutzke KD, Lorenz H (2004) The effect of l-carnitine on fat oxidation, protein turnover, and body composition in slightly overweight subjects. Metabolism 53:1002–1006

Zhang T, Uchida T, Gomez G, Lluis F, Thompson JC, Greeley GH Jr (1993) Neural regulation of peptide YY secretion. Regul Pept 48:321–328
Conflict of interest
The authors were not financially supported by any company for this research, but the l-carnitine l-tartrate used in this study was supplied to the authors by Lonza Ltd, Basel, Switzerland.
About this article
Cite this article
Galloway, S.D.R., Craig, T.P. & Cleland, S.J. Effects of oral l-carnitine supplementation on insulin sensitivity indices in response to glucose feeding in lean and overweight/obese males. Amino Acids 41, 507–515 (2011). https://doi.org/10.1007/s00726-010-0770-5
Received:

Accepted:

Published:

Issue Date:

DOI: https://doi.org/10.1007/s00726-010-0770-5
Keywords