Abstract
Hepatotoxic side effects of neoadjuvant chemotherapy for colorectal liver metastases increase perioperative morbidity and mortality. Glycine protects liver from injury in various animal models. Thus, this study was designed to assess its effect on liver after chemotherapy. Sprague–Dawley rats (200–220 g) were fed a synthetic diet containing 5% glycine for 5 days. Subsequently, chemotherapy (FOLFIRI: irinotecan, folinic acid and fluorouracil, or FOLFOX: oxaliplatin, folinic acid and fluorouracil) was administered at standard doses. Transaminases, histology, immunohistochemistry and in vivo microscopy were used to index liver injury, to monitor intrahepatic microperfusion and activation of Kupffer cells. Glycine significantly decreased transaminases after chemotherapy to 25–50% of control values (p < 0.05). Microvesicular steatosis was significantly reduced from 18.5 ± 3.4 and 57.1 ± 8.6% in controls to 9.5 ± 1.8 and 37.7 ± 4.4% after FOLFIRI and FOLFOX, respectively. Furthermore, phagocytosis of latex beads was reduced by about 50%, while leukocyte adherence in central and midzonal subacinar zones decreased to 60–80% after glycine (p < 0.05). Glycine significantly reduced expression of inducible nitric oxide synthase after chemotherapy, while hepatic microcirculation was increased (p < 0.05). This study shows for the first time that glycine reduces chemotherapy-induced liver injury. The underlying mechanisms most likely include Kupffer cells and an improved intrahepatic microperfusion.
This is a preview of subscription content, log in to check access.
Access options
Buy single article
Instant access to the full article PDF.
US$ 39.95
Price includes VAT for USA
Subscribe to journal
Immediate online access to all issues from 2019. Subscription will auto renew annually.
US$ 199
This is the net price. Taxes to be calculated in checkout.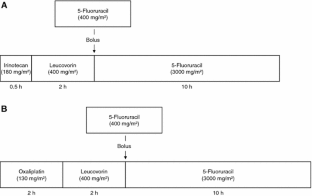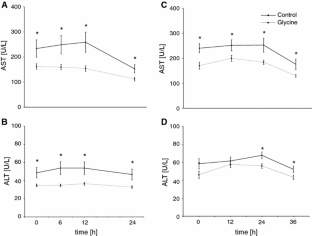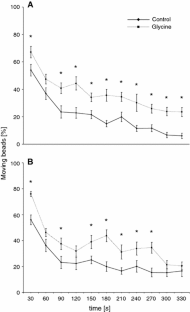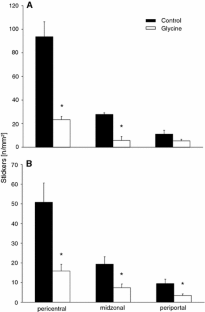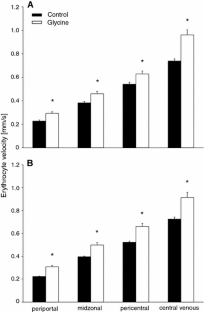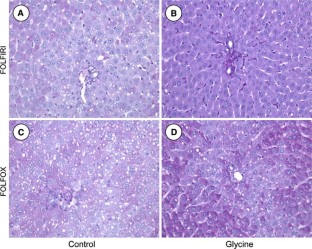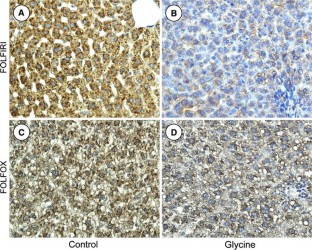 References
Abdalla EK, Vauthey J (2008) Chemotherapy prior to hepatic resection for colorectal liver metastases: helpful until harmful? Dig Surg 25:421–429

Altin JG, Bygrave FL (1988) Non-parenchymal cells as mediators of physiological responses in liver. Mol Cell Biochem 83:3–14

Bergmeyer HU (1972) Standardization of enzyme assays. Clin Chem 18:1305–1311

Bilzer M, Baron A, Schauer R, Steib C, Ebensberger S, Gerbes AL (2002) Glutathione treatment protects the rat liver against injury after warm ischemia and Kupffer cell activation. Digestion 66:49–57

D'Souza DC, Gil R, Cassello K, Morrissey K, Abi-Saab D, White J, Sturwold R, Bennett A, Karper LP, Zuzarte E, Charney DS, Krystal JH (2000) IV glycine and oral d-cycloserine effects on plasma and CSF amino acids in healthy humans. Biol Psychiatry 47:450–462

Duvnjak M, Lerotić I, Barsić N, Tomasić V, Virović Jukić L, Velagić V (2007) Pathogenesis and management issues for non-alcoholic fatty liver disease. World J Gastroenterol 13:4539–4550

Froh M, Thurman RG, Wheeler MD (2002) Molecular evidence for a glycine-gated chloride channel in macrophages and leukocytes. Am J Physiol Gastrointest Liver Physiol 283:G856–G863

Goldberg RM, Rothenberg ML, Van Cutsem E, Benson AB3, Blanke CD, Diasio RB, Grothey A, Lenz H, Meropol NJ, Ramanathan RK, Becerra CHR, Wickham R, Armstrong D, Viele C (2007) The continuum of care: a paradigm for the management of metastatic colorectal cancer. Oncologist 12:38–50

Guan X, Dei-Anane G, Liang R, Gross M, Nickkholgh A, Kern M, Ludwig J, Zeier M, Büchler MW, Schmidt J, Schemmer P (2008) Donor preconditioning with taurine protects kidney grafts from injury after experimental transplantation. J Surg Res 146:127–134

Gundersen RY, Vaagenes P, Breivik T, Fonnum F, Opstad PK (2005) Glycine: an important neurotransmitter and cytoprotective agent. Acta Anaesthesiol Scand 49:1108–1116

Harbrecht BG, Perpetua M, Fulmer M, Zhang B (2004) Glucagon regulates hepatic inducible nitric oxide synthesis in vivo. Shock 22:157–162

Heresco-Levy U, Javitt DC, Ermilov M, Mordel C, Silipo G, Lichtenstein M (1999) Efficacy of high-dose glycine in the treatment of enduring negative symptoms of schizophrenia. Arch Gen Psychiatry 56:29–36

Hribaschek A, Kuhn R, Pross M, Meyer F, Fahlke J, Ridwelski K, Boltze C, Lippert H (2006) Intraperitoneal versus intravenous CPT-11 given intra- and postoperatively for peritoneal carcinomatosis in a rat model. Surg Today 36:57–62

Ikejima K, Qu W, Stachlewitz RF, Thurman RG (1997) Kupffer cells contain a glycine-gated chloride channel. Am J Physiol 272:G1581–G1586

Jaeschke H, Farhood A (1991) Neutrophil and Kupffer cell-induced oxidant stress and ischemia–reperfusion injury in rat liver. Am J Physiol 260:G355–G362

Kemeny N (2007) Presurgical chemotherapy in patients being considered for liver resection. Oncologist 12:825–839

Khan AZ, Morris-Stiff G, Makuuchi M (2009) Patterns of chemotherapy-induced hepatic injury and their implications for patients undergoing liver resection for colorectal liver metastases. J Hepatobiliary Pancreat Surg 16:137–144

Kincius M, Liang R, Nickkholgh A, Hoffmann K, Flechtenmacher C, Ryschich E, Gutt CN, Gebhard M, Schmidt J, Buchler MW, Schemmer P (2007) Taurine protects from liver injury after warm ischemia in rats: the role of Kupffer cells. Eur Surg Res 39:275–283

Luntz SP, Unnebrink K, Seibert-Grafe M, Bunzendahl H, Kraus TW, Büchler MW, Klar E, Schemmer P (2005) HEGPOL: randomized, placebo controlled, multicenter, double-blind clinical trial to investigate hepatoprotective effects of glycine in the postoperative phase of liver transplantation [ISRCTN69350312]. BMC Surg 5:18

Masi G, Loupakis F, Pollina L, Vasile E, Cupini S, Ricci S, Brunetti IM, Ferraldeschi R, Naso G, Filipponi F, Pietrabissa A, Goletti O, Baldi G, Fornaro L, Andreuccetti M, Falcone A (2009) Long-term outcome of initially unresectable metastatic colorectal cancer patients treated with 5-fluorouracil/leucovorin, oxaliplatin, and irinotecan (folfoxiri) followed by radical surgery of metastases. Ann Surg 249:420–425

Menger MD, Pelikan S, Steiner D, Messmer K (1992) Microvascular ischemia–reperfusion injury in striated muscle: significance of "reflow paradox". Am J Physiol 263:H1901–H1906

Morris-Stiff G, Tan Y, Vauthey JN (2008) Hepatic complications following preoperative chemotherapy with oxaliplatin or irinotecan for hepatic colorectal metastases. Eur J Surg Oncol 34:609–614

Nordlinger B, Sorbye H, Glimelius B, Poston GJ, Schlag PM, Rougier P, Bechstein WO, Primrose JN, Walpole ET, Finch-Jones M, Jaeck D, Mirza D, Parks RW, Collette L, Praet M, Bethe U, Van Cutsem E, Scheithauer W, Gruenberger T (2008) Perioperative chemotherapy with FOLFOX4 and surgery versus surgery alone for resectable liver metastases from colorectal cancer (eortc intergroup trial 40983): a randomised controlled trial. Lancet 371:1007–1016

Nordlinger B, Van Cutsem E, Gruenberger T, Glimelius B, Poston G, Rougier P, Sobrero A, Ychou M (2009) Combination of surgery and chemotherapy and the role of targeted agents in the treatment of patients with colorectal liver metastases: recommendations from an expert panel. Ann Oncol 20:985–992

Parikh AA, Gentner B, Wu T, Curley SA, Ellis LM, Vauthey J (2003) Perioperative complications in patients undergoing major liver resection with or without neoadjuvant chemotherapy. J Gastrointest Surg 7:1082–1088

Petzke K, Albrecht V, Zybilski H (1986) The influence of high glycine diets on the activity of glycine-catabolizing enzymes and on glycine catabolism in rats. J Nutr 116:742

Post S, Palma P, Rentsch M, Gonzalez AP, Menger MD (1993) Differential impact of Carolina rinse and University of Wisconsin solutions on microcirculation, leukocyte adhesion, Kupffer cell activity and biliary excretion after liver transplantation. Hepatology 18:1490–1497

Pozzo C, Barone C (2008) Recurrent disease four years after surgery and adjuvant chemotherapy. Cancer Treat Rev 34(Suppl 2):8S–11S

Pozzo C, Barone C, Kemeny NE (2008) Advances in neoadjuvant therapy for colorectal cancer with liver metastases. Cancer Treat Rev 34:293–301

Qu W, Ikejima K, Zhong Z, Waalkes MP, Thurman RG (2002) Glycine blocks the increase in intracellular free Ca2+ due to vasoactive mediators in hepatic parenchymal cells. Am J Physiol Gastrointest Liver Physiol 283:G1249–G1256

Rivera CA, Bradford BU, Hunt KJ, Adachi Y, Schrum LW, Koop DR, Burchardt ER, Rippe RA, Thurman RG (2001) Attenuation of CCl(4)-induced hepatic fibrosis by GDCl(3) treatment or dietary glycine. Am J Physiol Gastrointest Liver Physiol 281:G200–G207

Roberts RA, Ganey PE, Ju C, Kamendulis LM, Rusyn I, Klaunig JE (2007) Role of the Kupffer cell in mediating hepatic toxicity and carcinogenesis. Toxicol Sci 96:2–15

Rose ML, Rivera CA, Bradford BU, Graves LM, Cattley RC, Schoonhoven R, Swenberg JA, Thurman RG (1999) Kupffer cell oxidant production is central to the mechanism of peroxisome proliferators. Carcinogenesis 20:27–33

Rosse RB, Theut SK, Banay-Schwartz M, Leighton M, Scarcella E, Cohen CG, Deutsch SI (1989) Glycine adjuvant therapy to conventional neuroleptic treatment in schizophrenia: an open-label, pilot study. Clin Neuropharmacol 12:416–424

Schemmer P, Schoonhoven R, Swenberg JA, Bunzendahl H, Thurman RG (1998) Gentle in situ liver manipulation during organ harvest decreases survival after rat liver transplantation: role of Kupffer cells. Transplantation 65:1015–1020

Schemmer P, Connor HD, Arteel GE, Raleigh JA, Bunzendahl H, Mason RP, Thurman RG (1999) Reperfusion injury in livers due to gentle in situ organ manipulation during harvest involves hypoxia and free radicals. J Pharmacol Exp Ther 290:235–240

Schemmer P, Liang R, Kincius M, Flechtenmacher C, Bunzendahl H, Gutt CN, Mehrabi A, Gebhard M, Büchler MW, Kraus TW (2005) Taurine improves graft survival after experimental liver transplantation. Liver Transpl 11:950–959

Schindler G, Kincius M, Liang R, Backhaus J, Zorn M, Flechtenmacher C, Gebhard M, Buchler MW, Schemmer P (2009) Fundamental efforts toward the development of a therapeutic cocktail with a manifold ameliorative effect on hepatic ischemia/reperfusion injury. Microcirculation, pp 1–10

Stachlewitz RF, Seabra V, Bradford B, Bradham CA, Rusyn I, Germolec D, Thurman RG (1999) Glycine and uridine prevent d-galactosamine hepatotoxicity in the rat: role of Kupffer cells. Hepatology 29:737–745

Suzuki S, Toledo-Pereyra LH (1994) Interleukin 1 and tumor necrosis factor production as the initial stimulants of liver ischemia and reperfusion injury. J Surg Res 57:253–258

Szabó C, Southan GJ, Thiemermann C (1994) Beneficial effects and improved survival in rodent models of septic shock with S-methylisothiourea sulfate, a potent and selective inhibitor of inducible nitric oxide synthase. Proc Natl Acad Sci USA 91:12472–12476

Tamandl D, Gruenberger B, Herberger B, Kaczirek K, Gruenberger T (2009) Surgery after neoadjuvant chemotherapy for colorectal liver metastases is safe and feasible in elderly patients. J Surg Oncol 100:364–371

Teufel A, Steinmann S, Siebler J, Zanke C, Hohl H, Adami B, Schroeder M, Klein O, Höhler T, Galle PR, Heike M, Moehler M (2004) Irinotecan plus folinic acid/continuous 5-fluorouracil as simplified bimonthly FOLFIRI regimen for first-line therapy of metastatic colorectal cancer. BMC Cancer 4:38

Tournigand C, André T, Achille E, Lledo G, Flesh M, Mery-Mignard D, Quinaux E, Couteau C, Buyse M, Ganem G, Landi B, Colin P, Louvet C, de Gramont A (2004) FOLFIRI followed by FOLFOX6 or the reverse sequence in advanced colorectal cancer: a randomized GERCOR study. J Clin Oncol 22:229–237

Uhlmann S, Uhlmann D, Spiegel HU (1999) Evaluation of hepatic microcirculation by in vivo microscopy. J Invest Surg 12:179–193

Vauthey J, Pawlik TM, Ribero D, Wu T, Zorzi D, Hoff PM, Xiong HQ, Eng C, Lauwers GY, Mino-Kenudson M, Risio M, Muratore A, Capussotti L, Curley SA, Abdalla EK (2006) Chemotherapy regimen predicts steatohepatitis and an increase in 90-day mortality after surgery for hepatic colorectal metastases. J Clin Oncol 24:2065–2072

Vos TA, Gouw AS, Klok PA, Havinga R, van Goor H, Huitema S, Roelofsen H, Kuipers F, Jansen PL, Moshage H (1997) Differential effects of nitric oxide synthase inhibitors on endotoxin-induced liver damage in rats. Gastroenterology 113:1323–1333

Weinberg JM, Davis JA, Abarzua M, Rajan T (1987) Cytoprotective effects of glycine and glutathione against hypoxic injury to renal tubules. J Clin Invest 80:1446–1454

Welsh FKS, Tilney HS, Tekkis PP, John TG, Rees M (2007) Safe liver resection following chemotherapy for colorectal metastases is a matter of timing. Br J Cancer 96:1037–1042

Wheeler MD (2003) Endotoxin and Kupffer cell activation in alcoholic liver disease. Alcohol Res Health 27:300–306

Wheeler MD, Ikejema K, Enomoto N, Stacklewitz RF, Seabra V, Zhong Z, Yin M, Schemmer P, Rose ML, Rusyn I, Bradford B, Thurman RG (1999) Glycine: a new anti-inflammatory immunonutrient. Cell Mol Life Sci 56:843–856

Wheeler M, Stachlewitz RF, Yamashina S, Ikejima K, Morrow AL, Thurman RG (2000a) Glycine-gated chloride channels in neutrophils attenuate calcium influx and superoxide production. FASEB J 14:476–484

Wheeler MD, Rose ML, Yamashima S, Enomoto N, Seabra V, Madren J, Thurman RG (2000b) Dietary glycine blunts lung inflammatory cell influx following acute endotoxin. Am J Physiol Lung Cell Mol Physiol 279:L390–L398

Widmann JJ, Cotran RS, Fahimi HD (1972) Mononuclear phagocytes (Kupffer cells) and endothelial cells identification of two functional cell types in rat liver sinusoids by endogenous peroxidase activity. J Cell Biol 52:159–170

Yano H, Kinoshita S, Kira S (2004) Effects of acute moderate exercise on the phagocytosis of Kupffer cells in rats. Acta Physiol Scand 182:151–160

Younis HS, Parrish AR, Glenn Sipes I (2003) The role of hepatocellular oxidative stress in Kupffer cell activation during 1,2-dichlorobenzene-induced hepatotoxicity. Toxicol Sci 76:201–211

Zhong Z, Jones S, Thurman RG (1996) Glycine minimizes reperfusion injury in a low-flow, reflow liver perfusion model in the rat. Am J Physiol 270:G332–G338

Zhong Z, Wheeler MD, Li X, Froh M, Schemmer P, Yin M, Bunzendaul H, Bradford B, Lemasters JJ (2003) l-glycine: a novel antiinflammatory, immunomodulatory, and cytoprotective agent. Curr Opin Clin Nutr Metab Care 6:229–240

Zorzi D, Laurent A, Pawlik TM, Lauwers GY, Vauthey J, Abdalla EK (2007) Chemotherapy-associated hepatotoxicity and surgery for colorectal liver metastases. Br J Surg 94:274–286
Acknowledgments
The authors are grateful to Elvira Mohr for her kind help with sectioning liver tissue and histochemical staining, and to Martynas Manikas for excellent assistance with statistical evaluation. The authors would like to thank Markus Zorn for performing laboratory analyses of transaminases and Christa Flechtenmacher for supervision of immunohistochemistry.
Conflict of interest
No conflicts of interest exist
Additional information
S. Mikalauskas, L. Mikalauskiene and H. Bruns contributed equally to this study.
About this article
Cite this article
Mikalauskas, S., Mikalauskiene, L., Bruns, H. et al. Dietary glycine protects from chemotherapy-induced hepatotoxicity. Amino Acids 40, 1139–1150 (2011). https://doi.org/10.1007/s00726-010-0737-6
Received:

Accepted:

Published:

Issue Date:
Keywords
Glycine

Chemotherapy

Kupffer cell-dependent liver injury

Steatosis

In vivo microscopy

Leukocyte–endothelium interaction