Abstract
Heat shock proteins are highly conserved proteins and play an important chaperone role in aiding the folding of nascent proteins within cells. The heat shock protein response to various stressors, both in vitro and in vivo, is well characterised. However, basal levels of heat shock protein 70 (Hsp70) have not previously been investigated. Monocyte-expressed Hsp70 was determined every 4 h, over a 24 h time period, in 17 healthy male subjects (177 ± 6.4 cm, 75.7 ± 10.9 kg, 19.8 ± 4.3 years) within a temperature and activity controlled environment. Core temperature was measured at 5-min intervals during the 24 h period. Hsp70 showed significant diurnal variation (F = 7.4; p < 0.001), demonstrating peaks at 0900 and 2100 hours, and a nadir at 05.00. Core temperature followed a similar temporal trend (range = 35.96–38.10°C) and was significantly correlated with Hsp70 expression (r s = 0.44; p < 0.001). These findings suggest a high responsiveness of Hsp70 expression in monocytes to slight variations in core temperature.
Access options
Buy single article
Instant access to the full article PDF.
USD 39.95
Price includes VAT (USA)
Tax calculation will be finalised during checkout.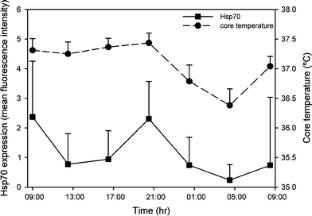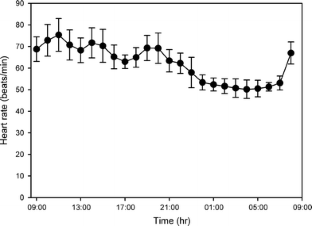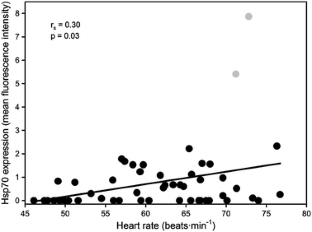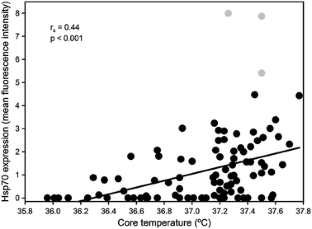 References
Asea A, Kraeft SK, Kurt-Jones EA, Stevenson MA, Chen LB, Finberg RW, Koo GC, Calderwood SK (2000) HSP70 stimulates cytokine production through a CD14-dependant pathway, demonstrating its dual role as a chaperone and cytokine. Nat Med 6:435–442

Anbarasi K, Kathirvel G, Vani G, Jayaraman G, Devi CSS (2006) Cigarette smoking induces heat shock protein 70 kDa expression and apoptosis in rat brain: modulation by bacoside A. Neuroscience 138:1127–1135

Bachelet M, Mariethoz E, Banzet N, Souil E, Pinot F, Polla CZ, Durand P, Bouchaert I, Polla BS (1998) Flow cytometry is a rapid and reliable method for evaluating heat shock protein 70 expression in human monocytes. Cell Stress Chaperones 3:168–176

Beckmann RP, Mizzen LE, Welch WJ (1990) Interaction of Hsp 70 with newly synthesized proteins: implications for protein folding and assembly. Science 248:850–854

Bridges AB, McLaren M, Saniabadi A, Fisher TC, Belch JJF (1991) Circadian variation of endothelial-cell function, red-blood-cell deformability and dehydro-thromboxane-b2 in healthy-volunteers. Blood Coagul Fibrinolysis 2:447–452

Bridges AB, Fisher TC, Scott N, McLaren M, Belch JJF (1992) Circadian-rhythm of white blood-cell aggregation and free-radical status in healthy-volunteers. Free Radical Res Commun 16:89–97

Bukau B, Horwich AL (1998) The Hsp70 and Hsp60 chaperone machines. Cell 92:351–366

Collins PL, Hightower LE (1982) Newcastle disease virus stimulates the cellular accumulation of stress (heat shock) mRNAs and proteins. J Virol 44:703–707

Davenne D, Lagarde D (1995) Circadian rhythm of vigilance and temperature during 24 hours of continuous and strenuous exercise. Med Sci Res 23:767–770

Fehrenbach E, Passek F, Niess AM, Pohla H, Weinstock C, Dickhuth HH, Northoff H (2000) HSP expression in human leukocytes is modulated by endurance exercise. Med Sci Sports Exerc 32:592–600

Garrido C, Gurbuxani S, Ravagnan L, Kroemer G (2001) Heat shock proteins: endogenous modulators of apoptotic cell death. Biochem Biophys Res Commun 286:433–442

Giannessi D, Caselli C, Vitale RL, Crucean A, Murzi B, Ry SD, Vanini V, Biagini A (2003) A possible cardioprotective effect of heat shock proteins during cardiac surgery in pediatric patients. Pharmacol Res 48:519–529

Horn P, Kalz A, Lim CL, Pyne D, Saunders P, Mackinnon L, Peake J, Suzuki K (2007) Exercise-recruited NK cells display exercise-associated eHSP-70. Exerc Immunol Rev 13:100–111

Kregel KC (2002) Heat shock proteins: modifying factors in physiological stress responses and acquired thermo tolerance. J Appl Phys 92:2177–2186

Kräuchi K, Wirz-Justice A (2001) Circadian clues to sleep onset mechanisms. Neuropsychopharmacology 25:S92–6

Leger JP, Smith FM, Currie RW (2000) Confocal microscopic localization of constitutive and heat shock-induced proteins HSP70 and HSP27 in the rat heart. Circulation 102:1703–1709

Liu Y, Lormes W, Wang L, Reissnecker S, Steinacker JM (2004) Different skeletal muscle HSP70 responses to high-intensity strength training and low-intensity endurance training. Eur J Appl Physiol 91:330–335

Locke M, Noble EG (1995) Stress proteins—the exercise response. Canadian J Appl Physiol 20:155–167 Revue Canadienne De Physiologie Appliquee

Lovell R, Madden L, Carrol S, McNaughton L (2006) The time-profile of the PBMC HSP70 response to invitro heat shock appears temperature-dependent. Amino Acids 33:137–44

Madden LA, Sandström ME, Lovell RJ, McNaughton L (2008) Inducible heat shock protein 70 and its role in preconditioning and exercise. Amino Acids 34:511–516

Maloyan A, Palmon A, Horowitz M (1999) Heat acclimation increases the basal HSP72 level and alters its production dynamics during heat stress. Am J Physiol Regul Integr Comp Physiol 276:R1506–R1515

Maple C, Kirk G, McLaren M, Veale D, Belch JJF (1998) A circadian variation exists for soluble levels of intercellular adhesion molecule-1 and E-selectin in healthy volunteers. Clin Sci 94:537–540

McClung JP, Hasday JD, He JR, Montain SJ, Cheuvront SN, Sawka MN, Singh IS (2008) Exercise-heat acclimation in humans alters baseline levels and ex vivo heat inducibility of HSP72 and HSP90 in peripheral blood mononuclear cells. Am J Physiol Regul Integr Comp Physiol 294:R185–191

Millar-Craig MW, Bishop CN, Raftery EB (1978) Circadian variation of blood-pressure. Lancet 1:795–797

O'Brien C, Hoyt RW, Buller MJ, Castellani JW, Young AJ (1998) Telemetry pill measurement of core temperature in humans during active heating and cooling. Med Sci Sports Exerc 30:468–72

Oehler R, Pusch E, Zellner M, Dungel P, Hergovics N, Homoncik M, Eliasen MM, Brabec M, Roth E (2001) Cell type-specific variations in the induction of hsp70 in human leukocytes by feverlike whole body hyperthermia. Cell Stress Chaperones 6:306–315

Pantos C, Mourouzis I, Dimopoulos A, Markakis K, Panagiotou M, Xinaris C, Tzeis S, Kokkinos AD, Cokkinos DV (2007) Enhanced tolerance of the rat myocardium to ischemia and reperfusion injury early after acute myocardial infarction. Basic Res Cardiol 102:327–333

Reilly T, Atkinson G, Edwards B, Waterhouse J, Farrelly K, Fairhurst E (2007) Diurnal variation in temperature, mental and physical performance, and tasks specifically related to football (soccer). Chronobiol Int 24:507–519

Reilly T, Brooks GA (1986) Exercise and the circadian variation in body temperature measures. Int J Sports Med 7:358–62

Refinetti R (1998) Body temperature and behavior of tree shrews and flying squirrels in a thermal gradient. Physiol Behav 63:517–20

Ritossa F (1962) A new puffing induced by temperature shock and DNP in Drosophilia. Experientia 15:571

Ryan AJ, Gisolfi CV, Moseley PL (1991) Synthesis of 70k stress protein by human-leukocytes—effect of exercise in the heat. J Appl Physiol 70:466–471

Sandström ME, Siegler JC, Lovell RJ, Madden LA, McNaughton L (2008) The effect of 15 consecutive days of heat-exercise acclimation on heat shock protein 70. Cell Stress Chaperones 13:169–175

Shastry S, Toft DO, Joyner MJ (2002) HSP70 and HSP90 expression in leucocytes after exercise in moderately trained humans. Acta Physiol Scand 175:139–146

Sonna LA, Gaffin SL, Pratt RE, Cullivan ML, Angel KC, Lilly CM (2002) Effect of acute heat shock on gene expression by human peripheral blood mononuclear cells. J Appl Physiol 92:2208–2220

Staib JL, Quindry JC, French JP, Criswell DS, Powers SK (2007) Increased temperature, not cardiac load, activates heat shock transcription factor 1 and heat shock protein 72 expression in the heart. Am J Physiol Regul Integr Comp Physiol 292:R432–439

Waterhouse J, Edwards B, Bedford P, Hughes A, Robinson K, Nevill A, Weinert D, Reilly T (2004) Thermoregulation during mild exercise at different circadian times. Chronobiol Int 21:253–75

Waterhouse J, Drust B, Weinert D, Edwards B, Gregson W, Atkinson G, Kao S, Aizawa S, Reilly T (2005) The circadian rhythm of core temperature: origin and some implications for exercise performance. Chronobiol Int 22:207–25

Watkins AM, Cheek DJ, Harvey AE, Goodwin JD, Blair KE, Mitchell JB (2007) Heat shock protein (HSP-72) levels in skeletal muscle following work in heat. Aviation Space Environ Med 78:901–905

White WB (2001) Cardiovascular risk and therapeutic intervention for the early morning surge in blood pressure and heart rate. Blood Press Monit 6:63–72

White WB (2007) Importance of blood pressure control over a 24-hour period. J Manag Care Pharm 13:34–39
Acknowledgments
The authors would like to thank our subjects who participated in this study and Rebecca Vince for experimental assistance and data analysis.
About this article
Cite this article
Sandström, M.E., Madden, L.A., Taylor, L. et al. Variation in basal heat shock protein 70 is correlated to core temperature in human subjects. Amino Acids 37, 279 (2009). https://doi.org/10.1007/s00726-008-0144-4
Received:

Accepted:

Published:
Keywords
Hsp70

Diurnal variation

Core temperature