Abstract
This study compared fat percentage in the HISTO method and chemical-shift imaging method, a 3-echo 3D gradient echo sequence with a T2*-corrected Dixon (3-point Dixon) and 6-echo interference Dixon magnetic resonance (MR) imaging (6-point Dixon) method, to evaluate clinical significance of fatty liver quantification by multi-echo T2*-corrected single-voxel spectroscopy Histo (HISTO). A total of 21 liver donors underwent MR imaging examination. The 3-T MR system (Siemens Healthcare Tim Verio, Erlangen, Germany) was used for all studies. For fat percentage evaluations, a 3-echo 3D gradient echo sequence with T2*-corrected Dixon (3-point Dixon) and 6-Echo Interference Dixon (6-point Dixon) pulse sequences, including HISTO, were applied in sequence. Using fat percentages obtained from each pulse sequence, levels of fatty liver were classified as: non-fatty liver, <5 %; mild fatty liver, >5 but <31 %; and severe fatty liver, >31 %. The correlation between methods was calculated with a correlation coefficient (R 2): HISTO and 3-point Dixon, 0.936 (p < 0.001); HISTO and 6-point Dixon, 0.944 (p < 0.001); and 3-point Dixon and 6-point Dixon, 0.984 (p < 0.001). The HISTO, which was used to investigate fat percentages after T2* correction, showed a high correlation with 3-point Dixon and 6-point Dixon, suggesting that the multi-echo method is useful for accurately determining fat percentages.
Access options
Buy single article
Instant access to the full article PDF.
US$ 39.95
Tax calculation will be finalised during checkout.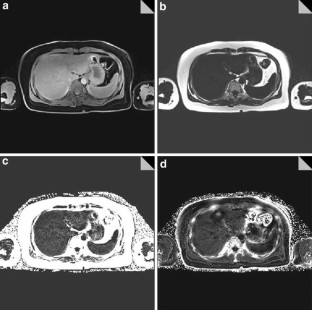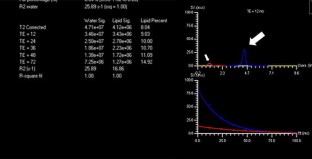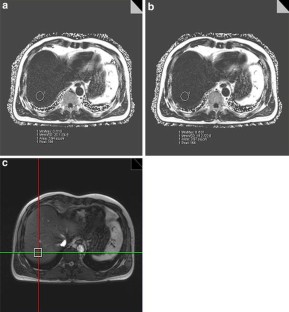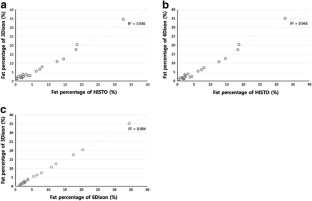 References
1.

P. Angulo, N. Engl. J. Med. 346, 1221 (2002)

2.

E.E. Powell, J.R. Jonsson, A.D. Clouston, Hepatology 42, 5 (2005)

3.

O. Cheung, A.J. Sanyal, Clin. Liver Dis. 12, 573 (2008)

4.

A. Gordon, C.A. McLean, J.S. Pedersen, M.J. Bailey, S.K. Roberts, J. Hepatol. 43, 38 (2005)

5.

S. Han, J.S. Ko, G. Kwon, C. Park, S. Lee, J. Kim, G. Kim, C.D. Kwon, M. Gwak, S. Ha, Liver Transpl. 20, 473 (2014)

6.

D.S. Manning, N.H. Afdhal, Gastroenterology 134, 1670 (2008)

7.

J.S. Ko, Korean J. Gastroenterol. 56, 6 (2010)

8.

H.M. Patton, C. Sirlin, C. Behling, M. Middleton, J.B. Schwimmer, J.E. Lavine, J. Pediatr. Gastroenterol. Nutr. 43, 413 (2006)

9.

J.Y. Lee, K.M. Kim, S.G. Lee, E. Yu, Y.S. Lim, H.C. Lee, Y.H. Chung, Y.S. Lee, D.J. Suh, J. Hepatol. 47, 239 (2007)

10.

W.T. Dixon, Radiology 153, 189 (1984)

11.

S.M. Yu, S.S. Kim, M.Y. Paek, E.H. Goo, Y.S. Ji, B.Y. Choe, Appl. Magn. Reson. 44, 791 (2013)

12.

J.P. Kühn, M. Evert, N. Friedrich, S. Kannengiesser, J. Mayerle, R. Thiel, M.M. Lerch, F. Dombrowski, B. Mensel, N. Hosten, R. Puls, Invest. Radiol. 46, 783 (2011)

13.

B.K. Kang, E.S. Yu, S.S. Lee, Y.J. Lee, N.K. Kim, C.B. Sirlin, E.Y. Cho, S.K. Yeom, J.H. Byun, S.H. Park, M.G. Lee, Invest. Radiol. 47, 368 (2012)

14.

J. Ren, I. Dimitrov, A.D. Sherry, C.R. Malloy, J. Lipid Res. 49, 2055 (2008)

15.

S.H. Kim, W.J. Lee, H.K. Lim, S.A. Kim, S.H. Kim, S.J. Lee, J.H. Lim, J. Korean Soc. Med. Ultrasound 22, 11 (2003)

16.

N. Pineda, P. Sharma, Q. Xu, X. Hu, M. Vos, D.R. Martin, Radiology 252, 568 (2009)
Acknowledgments
This work was supported by the 2014 Gimcheon University Research Grant.
About this article
Cite this article
Lee, SJ., Yu, SM. Effectiveness Evaluation of the Fat Percentage Determination in Multi-Echo T2-Corrected Single-Voxel Spectroscopy by Comparing the 3-Point Dixon and the 6-Point Interference Dixon Techniques. Appl Magn Reson 45, 1333–1342 (2014). https://doi.org/10.1007/s00723-014-0563-1
Received:

Revised:

Published:

Issue Date:
Keywords
Magnetic Resonance Spectroscopy

Pulse Sequence

Severe Fatty Liver

Magnetic Resonance Imaging Pulse Sequence

Mild Fatty Liver