Zusammenfassung
Hintergrund
Im Gesundheitswesen ist die Sicherung der Qualität der medizinischen Betreuung eine zentrale Forderung geworden. Die Augenabteilung des Krankenhauses Hietzing hat an einem Projekt zur Sicherung der Qualität in der vitreoretinalen Chirurgie bei epiretinalen Membranen teilgenommen.
Methoden
Zwei Fragebögen wurden entwickelt. Der erste wurde zum Zeitpunkt der Operation ausgefüllt und der zweite ein Jahr nach der Operation.
Resultate
72,25 % der Patienten bemerkten eine subjektive Verbesserung ihrer Sehkraft und 82,5 % der Patienten würden sich nachträglich erneut für eine Operation entscheiden.
Schlussfolgerung
Kontinuierliche Qualitätssicherung ist ein zentraler Bestandteil modernen Qualitätsmanagementsysteme. Erwartungsgemäß gaben Patienten mit einer Verbesserung ihrer Sehkraft an, sich erneut für eine Operation zu entscheiden, während Patienten mit Sehverschlechterung nachträglich eher von einer Operation Abstand nehmen würden.
Summary
Background
Modern society demands the assurance of high medical quality in health care. The Department of Ophthalmology at Hietzing Hospital Vienna took part in a study of quality assurance of the Austrian Ophthalmological Society to evaluate vitreo-retinal surgery in patients with macular pucker.
Methods
Two questionnaires were developed. The first one was answered at the time of surgery, the second one, one year after surgery.
Results
72.25 % of patients noticed positive development in their vision. 82.5 % of patients would undergo surgery again.
Conclusion
Continuous quality control is an important part of modern health care systems. Patients with increased visual acuity after surgery would recommend surgery, whereas patients with decrease in visual acuity would not undergo surgery again.
Access options
Buy single article
Instant access to the full article PDF.
US$ 39.95
Tax calculation will be finalised during checkout.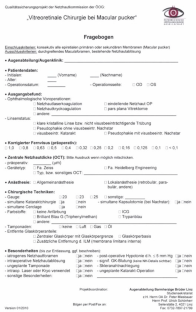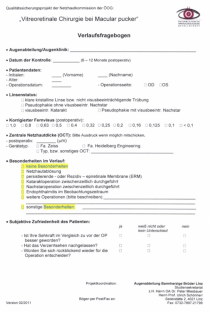 Literatur
1

Schönherr U, Haas A, Kralinger M, et al. Qualitätssicherung vitreoretinale Chirurgie bei "Macular pucker" – ein Projekt der Netzhautkommission der Österreichischen Ophthalmologischen Gesellschaft. Spektrum der Augenheilkunde. 2011;25:3–7.

2

Hirneiß C, Rombold F, Kampik A, Neubauer AS. Visuelle Lebensqualität nach vitreomakulärer Chirurgie bei epiretinalen Membranen. Der Ophthalmologe. 2006;103(2):109–13.

3

Okamoto F, Okamoto Y, Hiraoka T, Oshika T. Effect of vitrectomy for epiretinal membrane on visual function and vision-related quality of life. Am J Ophthalmol. 2009;147(5):869–74.

4

Gupta OP, Brown GC, Brown MM. A value-based medicine cost-utility analysis of idiopathic epiretinal membrane surgery. Am J Ophthalmol. 2008;145(5):923–8.

5

Matsuoka Y, Tanito M, Takai Y, Koyama Y, Nonoyama S, Ohira A. Visual function and vision-related quality of life after vitrectomy for epiretinal membranes: a 12-month follow-up study. Invest Ophthalmol Vis Sci. 2012;53(6):3054–8.

6

Moisseiev E, Davidovitch Z, Kinori M, Loewenstein A, Moisseiev J, Barak A. Vitrectomy for idiopathic epiretinal membrane in elderly patients: surgical outcomes and visual prognosis. Curr Eye Res. 2012;37(1):50–4.

7

Ghazi-Nouri SM, Tranos PG, Rubin GS, Adams ZC, Charteris DG. Visual function and quality of life following vitrectomy and epiretinal membrane peel surgery. Br J Ophthalmol. 2006;90(5):559–62.

8

Okamoto F, Okamoto Y, Fukuda S, Hiraoka T, Oshika T. Vision-related quality of life and visual function after vitrectomy for various vitreoretinal disorders. Invest Ophthalmol Vis Sci. 2010;51(2):744–51.

9

Richter-Mueksch S, Vécsei-Marlovits PV, Sacu SG, Kiss CG, Weingessel B, Schmidt-Erfrurth U. Functional macular mapping in patients with vitreomacular pathologic features before and after surgery. Am J Ophthalmol. 2007;144(1):23–31.
About this article
Cite this article
Burgmüller, M., Richter-Müksch, S., Irsigler, P. et al. Ein-Jahresergebnisse des Qualitätssicherungsprojekts bei vitreoretinaler Chirurgie bei "macular pucker" im Krankenhaus Hietzing. Spektrum Augenheilkd. 28, 205–209 (2014). https://doi.org/10.1007/s00717-014-0234-5
Received:

Accepted:

Published:

Issue Date:
Schlüsselwörter
Qualitätssicherung

Vitreoretinale Chirurgie

Macular pucker
Keywords
Quality assurance

Vitreoretinal surgery

Macular pucker