Every 4–5 years, since 1973, International Kimberlite Conferences (IKCs) act as a forum that brings together the diverse spectrum of explorationists, mine geologists and researchers who have devoted their careers to cratons, kimberlites and diamonds. The close community of geologists from industry, academia and governments who gather from around the globe to share their latest discoveries, debate and learn from each other is what makes IKCs very special meetings. That icebreaker parties at IKCs have the character of large family re-unions speaks to the social character of this community.
The 11th International Kimberlite Conference (11 IKC) was held September 18–22, 2017, in Gaborone, Botswana – a very fitting location not only because of the country's leading role as a rough diamond producer as well as a diamond valuation and sales centre, but because the conference also coincided with the 50th anniversary of the discovery of Orapa, Botswana's first diamond mine. Since then Botswana has become a shining example to the world how the wealth created by resource extraction can completely transform a once poor country and benefit the entire population, if good governance practices and a willingness to share are in place.
The impetus to hold 11 IKC in Gaborone came from the University of Botswana and in particular the Head of the Department of Geology, Read Mapeo, who became the conference convenor. Barbara Scott Smith (Vancouver) did the herculean work of organizing 11 IKC as a world-class meeting and was instrumental in raising major sponsorship from industry (www.11ikc.com). Many others contributed to make 11 IKC the tremendous success that it was:
Conference convenor: Read Mapeo

Co-convenors: Alexander Proyer, Martin Roberts, Barbara Scott Smith

Executive committee: Read Mapeo, Alexander Proyer, Martin Roberts, Jock Robey, Barbara Scott Smith, Stuart Smith, Thomas Stachel

Technical programme committee: Thomas Stachel, D. Graham Pearson

Scientific theme convenors: Stephen Foley, Casey M. Hetman, Rob van der Hilst, Jarek Jakubec, Phil Janney, Alan F. Kobussen, Oded Navon, Tom Nowicki, D. Graham Pearson, Alexander Proyer, Roberta Rudnick, Thomas Stachel

Field trips: Jock Robey

Field trip leaders: Jock Robey, Casey M. Hetman, Martin Roberts, Andrew Macdonald, Michiel C.J. de Wit, Andy Moore, Jürgen Jacob

Fund raising: Barbara Scott Smith, Mike Wuth, Casey M. Hetman, Andrew Fagan

Conference proceedings publications: Thomas Stachel, D. Graham Pearson, Lutz Nasdala

Conference publications: Barbara Scott Smith, Jock Robey, Stuart Smith

Delegate financial support: Roberta Rudnick, Sonja Aulbach, Dorrit Jacob, Steve Richardson, Katie Smart

Awards: Sonja Aulbach, George Read, Tom McCandless, Jock Robey, Karen Smit, Robert Rapp, Phil Janney, Emilie Thomassot

Social programme: Barbara Scott Smith, Mary Lou Willows, Stuart Smith, Naledi Dikgomo-Goulden

Conference venue and accommodation: Barbara Scott Smith, Stuart Smith, Alexander Proyer

Public and sponsor relations: Barbara Scott Smith, Stuart Smith, Naledi Dikgomo-Goulden

Conference secretariat: Venue West Conference Services Ltd.

Botswana liaison and field trip support: Chain of Events [Forever United (Pty) Ltd. Trading]

Graphic designer: Andres Salumets

International Kimberlite Conference advisory committee (2017 onwards): Gerhard Brey (Germany), Stephen Haggerty (USA), Andrew Macdonald (South Africa), Roger Mitchell (Chairman; Canada), Tom Nowicki (Canada), Hugh O'Brien (Finland), Suzanne Y. O'Reilly (Australia), D. Graham Pearson (Canada), David Phillips (Australia), Roberta Rudnick (USA), Barbara Scott Smith (Canada), Craig Smith (South Africa), Stuart Smith (Canada), Karen V. Smit (USA), Nikolay V. Sobolev (Russia), Thomas Stachel (Canada), Victor Ustinov (Russia)
Eleven IKC was held in the majestic Gaborone International Convention Centre (GICC), set within the beautiful park-like surroundings of the Grand Palm Resort. Three-hundred-thirty delegates enjoyed 5 days of a continuous single oral session, followed by late afternoon poster viewing on three of these days. The complete extended abstracts of 11 IKC, and all previous IKCs, are freely accessible at www.ikcabstracts.com.
The oral and poster sessions were grouped around the six conference themes, covering (1) kimberlite geology, (2) Earth's mantle, (3) diamonds, (4) kimberlite petrology, (5) diamond exploration and mining and (6) cratons. These conference themes also guided the order of papers in this supplement to volume 112 of the journal Mineralogy and Petrology, representing the 11 IKC Proceedings. Because of its considerable thickness, about 750 journal pages, the supplement is printed in two parts. Part I focusses on cratons, Earth's mantle and diamonds and is dedicated to Gerhard P. Brey, Goethe University Frankfurt, Germany. Part II deals with the geology and petrology of kimberlites and their exploration and mining and is dedicated to Suzanne Y. O'Reilly and William (Bill) L. Griffin, Macquarie University, Sydney. Each in their different way, these three researchers shaped kimberlite, mantle and diamond research through their immense scientific contributions. They have all been devoted to the cause of IKCs over many decades and Bill actually attended 1 IKC.
The editing of these proceedings volumes critically relied on the volunteer work of our expert reviewers: Adam Abersteiner, Tom Andersen, John Armstrong, Nick Arndt, Sonja Aulbach, Wayne Peter Barnett, David Bell, Martina Bezzola, Curtis Brett, Gerhard P. Brey, Galina P. Bulanova, Ray Burgess, Anthony Burnham, Yannick Bussweiler, Richard Carlson, Montgarri Castillo-Oliver, Anton R. Chakhmouradian, Gideon Chitombo, Don Cummings, Ulrika D'Haenens-Johansson, Gareth R. Davies, Eric De Kemp, Yana Fedortchouk, Matthew Field, Cathy Fitzgerald, Alexandrina Fulop, Greeshma Gadikota, Elouise Gaillou, Gareth Garlick, Matthew Gaudet, Thomas Gernon, William L. Griffin, Herman Grutter, Thomas Hainschwang, Jeffey W. Harris, Ben Harte, Larry Heaman, Herwart Helmstaedt, Geoffrey Howarth, Mark Hutchison, Dorrit Jacob, Nicole Januszczak, A. Lynton Jaques, Alan G. Jones, Ekaterina E. Kiseeva, Maya Kopylova, Andrey V. Korsakov, Stephan Kurszlaukis, Falko Langenhorst, Véronique Le Roux, Nathalie Lefebvre, Long Li, Wie Liu, Andrew Macdonald, Manfred Marx, Tom McCandless, Sandy McCracken, Leone Melluso, Sami Mikhail, Roger Mitchell, Andy Moore, Stephen W. Moss, Fabrizio Nestola, Mark Noppe, Tom Nowicki, Hugh O'Brien, Tolulope Olugboji, Claire Palmer, Yuri N. Pal'yanov, Jennifer Pell, Duane Petts, David Phillips, Sebastien Pilet, Martin Henry Podolsky, Dejan Prelevic, Shu Qiao, George Read, Julian van Aardt Robey, Andrew Rodgers, Kelly Russell, Chiranjeeb Sarkar, Todd Schaef, Barbara Scott Smith, James Scott, Azhar M. Shaikh, Steven Shirey, Karen V. Smit, Evan Smith, Ashton Soltys, Stephen Sparks, Johann Stiefenhofer, Sebastian Tappe, Sergej V. Titkov, Wayne Taylor, Rooney Tyrone, Ron Uken, Adrian D. Van Rythoven, Stephanus Viljoen, Kimberley Webb, Yaakov Weiss, Chris Welbourn, Bruce A. Wyatt, Zhaoping Yang, Dmitry A. Zedgenizov and Luca Zorzi.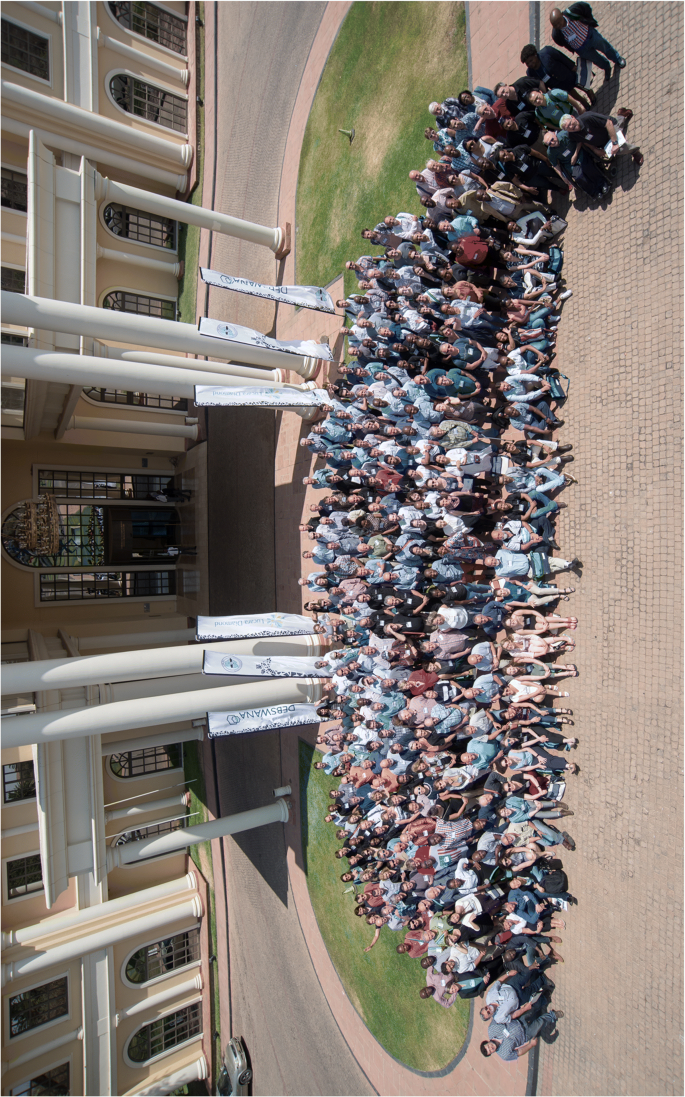 Additional information
Publisher's Note
Springer nature remains neutral with regard to jurisdictional claims in published maps and institutional affiliations.
About this article
Cite this article
Stachel, T., Pearson, D.G., Giuliani, A. et al. Cratons, kimberlites and diamonds: selected papers of the 11th International Kimberlite Conference. Miner Petrol 112, 1–3 (2018). https://doi.org/10.1007/s00710-018-0643-2