Abstract
We report mineral chemistry and whole-rock major and trace-element geochemistry for a recent find of Mesoproterozoic (~1.4 Ga) lamproites from the Garledinne (Banganapalle) cluster, south-western part of the Paleo-Mesoproterozoic Cuddapah Basin, southern India. The Garledinne lamproites occur as WNW–ESE-trending dykes that have undergone varying degree of pervasive silicification and carbonate alteration. Nevertheless, their overall texture and relict mineralogy remain intact and provide important insights into the nature of their magmas. The lamproite dykes have porphyritic to weakly porphyritic textures comprising pseudomorphed olivine macrocrysts and microphenocrysts, titanian phlogopite microphenocrysts, spinel having a compositional range from chromite to rarely magnesiochromite, Sr-rich apatite and niobian rutile. The Garledinne and other Cuddapah Basin lamproites (Chelima and Zangamarajupalle) collectively lack sanidine, clinopyroxene, potassic richterite, and titanite and are thus mineralogically distinct from the nearby Mesoproterozoic lamproites (Krishna and Ramadugu) in the Eastern Dharwar Craton, southern India. The strong correlation between various major and trace elements coupled with high abundances of incompatible and compatible trace elements imply that alteration and crustal contamination have had a limited effect on the whole-rock geochemistry (apart from K2O and CaO) of the Garledinne lamproites and that olivine fractionation played an important role in their evolution. The Garledinne lamproites represent small-degree partial melts derived from a refractory (previously melt extracted) peridotitic mantle source that was subsequently metasomatised (enriched) by carbonate–rich fluids/melts within the garnet stability field. The involvement of multiple reservoirs (sub-continental lithospheric mantle and asthenosphere) has been inferred in their genesis. The emplacement of the Garledinne lamproites is linked to extensional events, across the various Indian cratons, related to the break-up of the Proterozoic supercontinent of Columbia.
Access options
Buy single article
Instant access to the full article PDF.
US$ 39.95
Tax calculation will be finalised during checkout.
Subscribe to journal
Immediate online access to all issues from 2019. Subscription will auto renew annually.
US$ 119
Tax calculation will be finalised during checkout.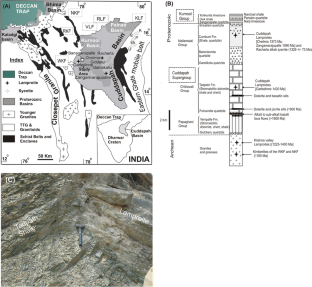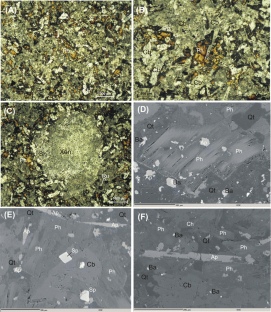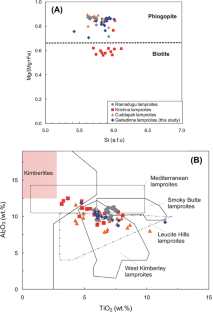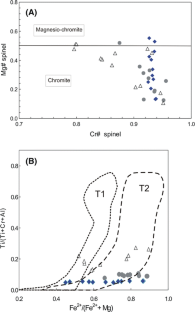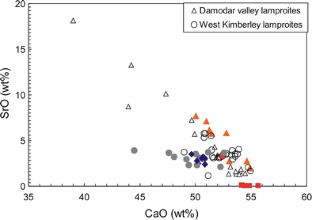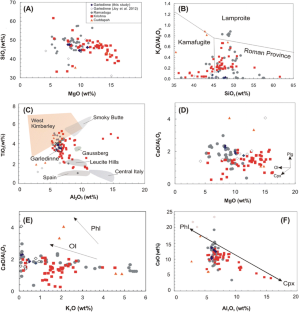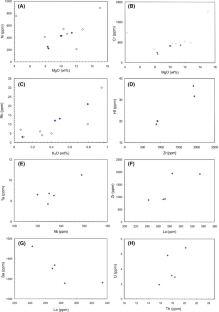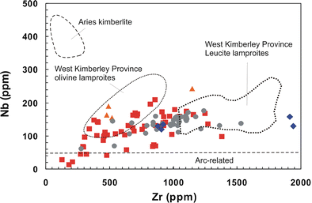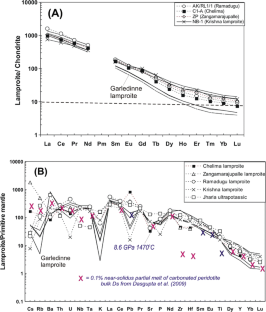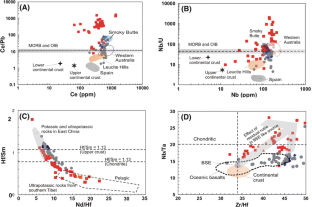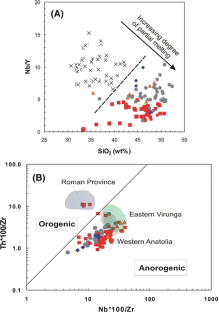 References
Akal C (2008) K-richterite-olivine-phlogopite-diopside-sanidine lamproite from the Afyon volcanic province, Turkey. Geol Mag 145:570–585

Altherr R, Meyer HP, Holl A, Volker F, Alibert C, McCulloch MT, Majer V (2004) Geochemical and Sr-Nd-Pb isotopic characteristics of Late Cenozoic leucite lamproites from the East European Alpine belt. Contrib Mineral Petrol 147:58–73

Anand M, Gibson SA, Subbarao KV, Kelley SP, Dickin AP (2003) Early Proterozoic melt generation processes beneath the intracratonic Cuddapah Basin, southern India. J Petrol 44:2139–2171

Avanzinelli R, Lustrino M, Mattei M, Melluso L, Conticelli S (2009) Potassic and ultrapotassic magmatism in the circum-Tyrrhenian region: significance of carbonated pelitic vs. Pelitic sediment recycling at destructive plate margins. Lithos 113:213–227

Barnes SJ, Roeder PL (2001) The range of spinel compositions in terrestrial mafic and ultramafic rocks. J Petrol 42:2279–2302

Basu A, Bickford ME (2013) Contributions of zircon U-Pb geochronology to understanding the volcanic and sedimentary history of some Purāna basins, India. J Asian Earth Sci 91:252–262

Beard AD, Downes H, Hegner E, Sablukov SM, Vetrin VR, Balogh K (1998) Mineralogy and geochemistry of Devonian ultramafic minor intrusions of the southern Kola peninsula, Russia: implications for the petrogenesis of kimberlites and melilitites. Contrib Mineral Petrol 130:288–303

Beard AD, Downes H, Hegner E, Sablukov SM (2000) Geochemistry and mineralogy of kimberlites from the Argkhangelsk Region, NW Russia: evidence for transitional kimberlite magma types. Lithos 51:47–73

Beard AD, Hownes H, Mason PRD, Vetrin VR (2007) Depletion and enrichment processes in the lithospheric mantle beneath the Kola peninsula (Russia): evidence from spinel lherzolite and wehrilite xenoliths. Lithos 94:1–24

Becker M, Le Roex AP (2006) Geochemistry of south African on- and off-craton group I and II kimberlites: petrogenesis and source region evaluation. J Petrol 47:673–703

Bergman SC (1987) Lamproites and other K-rich igneous rocks: review of their occurrence, mineralogy and geochemistry. Geol Soc Lond Spec Publ 30:103–190

Bhattacharji S, Singh RN (1984) Thermomechanical structure of the southern part of the Indian shield and its relevance to Precambrian basin evolution. Tectonophysics 105:103–120

Bickford ME, Saha D, Schieber S, Kamenov G, Russell A, Basu A (2013) New U-Pb ages of zircons in the Owk Shale (Kurnool Group) with reflections on Proterozoic procellanites in India. J Geol Soc India 82:207–217

Birkett TC (2008) First-row transition elements, Y and Ga in kimberlite and lamproite: applications to diamond prospectivity and petrogenesis. Can Mineral 46:1269–1282

Carlier G, Lorand JP (2003) Petrogenesis of a zirconolite-bearing Mediterranean-type lamproite from the Peruvian Altiplano (Andean Cordillera). Lithos 104:15–35

Chakrabarti R, Basu AR, Paul DK (2007) Nd-Hf-Sr-Pb isotopes and trace element geochemistry of Proterozoic lamproites from southern India: subducted komatiite in the source. Chem Geol 236:291–302

Chalapathi Rao NV (2005) A petrological and geochemical reappraisal of the mesoproterozoic diamondiferous majhgawan pipe of central India: evidence for transitional kimberlite- orangeite (Group- II kimberlite) - lamproite rock type. Mineral Petrol 84:69–106

Chalapathi Rao NV (2007) Chelima dykes, Cuddapah basin, southern India: a review of the age, petrology, geochemistry and petrogenesis of World's oldest lamproites. J Geol Soc India 69:523–538

Chalapathi Rao NV (2011) Sr-rich apatite and Nb-rutile from the Chelima lamproite dykes, Cuddapah basin, southern India and their petrological significance. Curr Sci 100:1207–1210

Chalapathi Rao NV, Srivastava RK (2009) Petrology and geochemistry of diamondiferous Mesoproterozoic kimberlites from Wajrakarur kimberlite field, Eastern Dharwar Craton, Southern India: genesis and constraints on mantle source regions. Contrib Mineral Petrol 157:245–265

Chalapathi Rao NV, Miller JA, Pyle DM, Madhavan V (1996) New Proterozoic K-Ar ages for some kimberlites and lamproites from the Cuddapah Basin and Dharwar craton, southern India. Precambrian Res 79:363–369

Chalapathi Rao NV, Gibson SA, Pyle DM, Dickin AP (1998) Contrasting isotopic mantle sources for Proterozoic lamproites and kimberlites from the Cuddapah Basin and Eastern Dharwar craton: Implication for Proterozoic mantle heterogeneity beneath southern India. J Geol Soc India 52:683–694

Chalapathi Rao NV, Miller JA, Gibson SA, Pyle DM, Madhavan V (1999) Precise 40Ar/39Ar dating of Kotakonda kimberlite and Chelima lamproite, India: implication to the timing of mafic dyke swarm activity in the Eastern Dhawar craton. J Geol Soc India 53:425–432

Chalapathi Rao NV, Gibson SA, Pyle DM, Dickin AP (2004) Petrogenesis of Proterozoic lamproites and kimberlites from the Cuddapah basin and Dharwar cratons, southern India. J Petrol 45:907–948

Chalapathi Rao NV, Kamde G, Kale HG, Dongre A (2010) Mesoproterozoic lamproites from the Krishna Valley, Eastern Dharwar craton, southern India: Petrogenesis and diamond prospectivity. Precambrian Res 177:103–130

Chalapathi Rao NV, Wu FY, Srinivas M (2012) Mesoproterozoic emplacement and enriched mantle derivation of the Racherla alkali syenite, Palaeo-Mesoproterozoic Cuddapah basin, southern India: Insights from in situ Sr-Nd isotopic analysis on apatite. Geol Soc Lond Spec Publ 365:185–195

Chalapathi Rao NV, Wu FY, Mitchell RH, Li Q, Lehmann B (2013a) Mesoproterozoic U–Pb ages, trace element and Sr–Nd isotopic composition of perovskite from kimberlites of the Eastern Dharwar craton, southern India: distinct mantle sources and a widespread 1.1 Ga tectonomagmatic event. Chem Geol 353:48–64

Chalapathi Rao NV, Creaser RA, Lehmann B (2013b) Re-Os isotope study of Indian kimberlites and lamproites: implications for their mantle source regions and cratonic evolution. Chem Geol 353:36–47

Chalapathi Rao NV, Kumar A, Sahoo S, Dongre A, Talukdar D (2014a) Petrology and petrogenesis of Mesoproterozoic lamproites from the Ramadugu field, NW margin of the Cuddapah basin, eastern Dharwar craton, southern India. Lithos 196–197:150–168

Chalapathi Rao NV, Srivastava RK, Sinha AK, Ravikant V (2014b) Petrogenesis of Kerguelen-plume linked ultrapotassic intrusives from the Gondwana sedimentary basins, Damodar valley, eastern India. Earth Sci Rev 136:96–120

Chatterjee N, Bhattacharjee S (1998) Formation of tholeiitic intrusives in and around Cuddapah basin, south India and their Gondwana counterparts in East Antarctica and compositional variation in their mantle sources. Neues Jahrb Miner Abh 174:79–102

Chaudhuri AK, Saha D, Deb GK, Deb SP, Mukherjee MK, Ghosh G (2002) The Purana basins of southern cratonic province of India- a case for Mesoproterozoic fossil rifts. Gondwana Res 5:23–33

Chetty TRK (2011) Tectonics of Proterozoic Cuddapah basin, Southern India: a conceptual model. J Geol Soc India 78:446–456

Coban H, Flower MFJ (2006) Mineral phase compositions in silica-undersaturated 'leucite' lamproites from the Bucak area, Isparta, SW Turkey. Lithos 389:275–299

Coe N, Le Roex A, Gurney JJ, Pearson GD, Nowell G (2008) Petrogenesis of Swartruggens and Star Group II kimberlite dyke swarms, South Africa: constraints from whole rock geochemistry. Contrib Mineral Petrol 156:627–652

Collins AS, Patranabis-Deb S, Alexander E, Bertram CN, Falster GM, Gore RJ, Mackintosh J, Dhang PC, Saha D, Payne JL, Jourdan F, Back'e G, Halverson GP, Wade BP (2014) Detrital mineral age, radiogenic isotopic stratigraphy and tectonic significance of the Cuddapah basin. India Gondwana Res. doi:10.1016/j.gr.2014.10.013

Coltorti M, Bonadiman C, Hinton RW, Siena F, Upton BGJ (1999) Carbonatite metasomatism of the oceanic upper mantle: evidence from clinopyroxenes and glasses in ultramafic xenoliths of Grande Comore, Indian Ocean. J Petrol 40:133–165

Coulson AL (1933) Barytes in ceded districts of madras presidency, with notes on its occurrence in other parts of India. Mem Geol Surv India 64(Part 1):114–115

Dasgupta R, Hirschmann MM, McDonough WF, Spiegelman M, Withers AC (2009) Trace element partitioning between garnet lherzolite and carbonatite at 6.6 and 8.6 GPa with applications to the geochemistry of mantle and mantle-derived melts. Chem Geol 262:57–77

Davies GR, Stolz AZ, Mahotkin IL, Mowell GM, Pearson DG (2006) Trace element and Sr-Pb-Nd-Hf evidence for ancient, fluid-dominated enrichment of the source of Aldan shield lamproites. J Petrol 47:1119–1146

Deb M, Pal T (2014) Mineral potential of Proterozoic intra-cratonic basins in India. Geol Soc Lond Mem 42:309–325

Drury SA (1984) A Proterozoic intracratonic basin, dyke swarms and thermal evolution in South India. J Geol Soc India 25:437–444

Edgar AD, Vukadinovic D (1992) Implications of experimental petrology to the evolution of ultrapotassic rocks. Lithos 28:205–220

Ersoy YE, Palmer MR, Uysal I, Gundogan I (2014) Geochemistry and petrology of the Early Miocene lamproites and related volcanic rocks in the Thrace Basin, NW Anatolia. J Volcanol Geothem Res 283:143–158

Evenssen NM, Hamilton PJ, O'Nions RK (1978) Rare earth abundances in chondritic meteorites. Geochim Cosmochim Acta 42:1199–1212

Foley SF (1992) Vein-plus-wall-rock melting mechanisms in the lithosphere and the origin of potassic alkaline magmas. Lithos 28:435–438

Foley SF (1993) An experimental study of olivine lamproite: first results from the diamond stability field. Geochim Cosmochim Acta 57:483–489

Foley SF, Venturelli G, Green DH, Toscani L (1987) The ultra-potassic rocks: characteristics, classification and constraints for petrogenetic models. Earth Sci Rev 24:81–134

Foley SF, Link K, Tiberindwa JV, Barifaijo E (2012) Patterns and origins of igneous activity around the Tanzanian craton. J Afr Earth Sci 62:1–18

French JE, Heaman LM, Chacko T, Srivastava RK (2007) 1891–1883 Ma Southern Bastar-Cuddapah mafic igneous events, India: a newly recognised large igneous province. Precambrian Res 160:308–322

Fritschle T, Prelević D, Foley SF, Jacob DE (2013) Petrological characterization of the mantle source of Mediterranean lamproites: indications from major and trace elements of phlogopite. Chem Geol 353:267–279

Gale GH, Dabek LB, Fedikow MAF (1997) The application of rare earth element analyses in the exploration for volcanogenic massive sulfide type deposits. Explor Min Geol 6:233–252

Garza AO, Dostal J, Keppie JD, Moreno FAP (2013) Mid-Tertiary (25–21 Ma) lamprophyres in NW Mexico derived from subduction-modified subcontinental lithospheric mantle in an extensional backarc environment following steepening of the Benioff zone. Tectonophys 590:59–71

Geological Survey of India (2011) Detailed information dossier on diamond in India. 136p

Gibson SA, Thompson RN, Leonardos OH, Dickin AP, Mitchell JG (1995) The Late Cretaceous impact of the Trindade mantle plume: evidence from large-volume, mafic, potassic magmatism in SE Brazil. J Petrol 36:189–229

Gibson SA, Malarkey J, Day J (2008) Melt depletion and enrichment beneath the western Kaapvaal Craton: evidence from Finsch peridotite xenoliths. J Petrol 49:1817–1852

Gudfinnsson GH, Presnall DC (2005) Continuous gradations among primary carbonatitic, kimberlitic, melilititic, basaltic, picritic and komatiitic melts in equilibrium with garnet lherzolite at 3–8 GPa. J Petrol 46:1645–1659

Holland TH (1907) Imperial gazetteer of India. 1:50–103

Ionov DA, Bodinier JL, Mukasa SB, Zanetti A (2002) Mechanisms and sources of mantle metasomatism: major and trace element compositions of peridotite xenoliths from Spitsbergen in the context of numerical modelling. J Petrol 43:2219–2259

Jelsma H, Barnett W, Richards S, Lister G (2009) Tectonic setting of kimberlites. Lithos 112:155–165

Joy S, Jelsma HA, Preston RF, Kota S (2012) Geology and diamond provenance of the Proterozoic Banganapalle conglomerates, Kurnool Group, India. Geol Soc Lond Spec Publ 365:197–218

King W (1872) The Kadapah and Karnul formations in the Madras presidency. Mem Geol Surv India 8:244

Kirchenbaur M, Munker C, Schuth S, Garbe-Schonberg D, Marchev P (2012) Tectonomagmatic constraints on the sources of eastern Mediterranean K-rich lavas. J Petrol 53:27–65

Konzett J, Sweeney RJ, Thompson AB, Ulmer P (1997) Potassium amphibole stability in the upper mantle: an experimental study in a peralkaline KNCMASH system to 8.5 GPa. J Petrol 38:537–568

Krishna Brahmam N, Dutt NVBS (1992) A meteoritic impact theory for the initiation of the Cuddapah (Proterozoic) basin of India. Bull Indian Geol Ass 25:43–60

Kullerud K, Zozulya D, Bergh SG, Hansen H, Ravna EJK (2011) Geochemistry and tectonic setting of a lamproite dyke in Kvaloya, North Norway. Lithos 126:278–289

Kumar A, Gopalan K, Rao KRP, Nayak SS (2001) Rb-Sr ages of kimberlites and lamproites from Eastern Dharwar craton, South India. J Geol Soc India 58:135–142

Kumar KV, Frost CD, Frost BR, Chamberlain BR (2007) The Chimakurthi, Errakonda, and Uppalapadu plutons, Eastern Ghats belt, India: an unusual association of tholeiitic and alkaline magmatism. Lithos 97:30–57

Le Roex AP, Bell DR, Davis P (2003) Petrogenesis of Group I kimberlites from Kimberley, South Africa: evidence from bulk rock geochemistry. J Petrol 44:2261–2286

Lehmann B, Mainkar D, Belyatsky B (2006) The Tokapal crater-facies kimberlite system, Chattisgarh, India: reconnaissance petrography and geochemistry. J Geol Soc India 68:9–18

Lehmann B, Storey C, Mainkar D, Jeffries T (2007) In-situ U-Pb dating of titanite in the Tokapal-Bejripadar kimberlite system, Central India. J Geol Soc India 69:553–556

Madhavan V, Mallikharjuna Rao J, Srinivas M, Natarajan R, Sayeed A (1994) Petrology and petrogenesis of syenites from the Cuddapah basin, Andhra Pradesh. J Geol Soc India 43:225–237

Mall DM, Pandey OP, Chandrakala K, Reddy PR (2008) Imprints of a Proterozoic tectonothermal anomaly below the 1.1 Ga kimberlitic province of the Southwest Cuddapah basin, Dharwar craton (South India). Geophys J Int 172:422–438

Mallikharjuna Rao J, Bhattacharji S, Rao MN, Wampler JM (2007) Potassium-argon ages and geochemical characters of some basic igneous rocks of Cuddapah basin. J Geol Soc India 69:161–170

Masun K, Sthapak AV, Singh A, Vaidya A, Krishna C (2009) Exploration history and geology of the diamondiferous ultramafic Saptarshi intrusions, Madhya Pradesh, India. Lithos 112:142–154

McKenzie D (1985) Extraction of the magma from crust and the mantle. Earth Planet Sci Lett 74:81–91

McKenzie D (1989) Some remarks on the movement of small melt fractions in the mantle. Earth Planet Sci Lett 95:53–72

Meert JG (2012) What's in a name? The Columbia (Palaeopangea/Nuna) Supercontinent. Gondwana Res 21:987–993

Mirnejad H, Bell K (2006) Origin and source evolution of the Leucite Hills lamproites: evidence from Sr-Nd-Pb-O isotopic compositions. J Petrol 47:2463–2489

Mitchell RH (1995) Kimberlites, orangeites and related rocks. Plenum Press, New York

Mitchell RH (2006) Potassic magmas derived from metasomatised lithospheric mantle: nomenclature and relevance to exploration for diamond-bearing rocks. J Geol Soc India 67:317–327

Mitchell RH, Bergman SC (1991) Petrology of lamproites. Plenum Press

Mitchell RH, Edgar AD (2002) Melting experiments on SiO2-rich lamproites to 6.4 GPa and their bearing on the sources of lamproite magmas. Mineral Petrol 74:115–128

Mitchell RH, Fareeduddin (2009) Mineralogy of peralkaline lamproites from the Raniganj Coalfield, India. Mineral Mag 73:457–477

Mohanty S (2011) Palaeoproterozoic assembly of the Napier Complex, Southern India and Western Australia: implications for the evolution of the Cuddapah basin. Gondwana Res 20:344–361

Murphy DT, Collerson KD, Kamber BS (2002) Lamproites from Gaussberg, Antarctica: possible transition zone melts of Archaean subducted sediments. J Petrol 43:981–1001

Nagaraja Rao BK, Rajurkar ST, Ramalingaswamy G, Ravindra Babu B (1987) Stratigraphy, structure and evolution of the Cuddapah Basin. Geol Soc India Mem 6:33–86

Naqvi SM, Rogers JJW (1987) Precambrian geology of India. Oxford University Press

Nelson DR (1992) Isotopic characteristics of potassic rocks—evidence for the involvement of subducted sediments in the magma. Lithos 28:403–420

Osborne I, Sherlock S, Anand M, Argles T (2011) New Ar-Ar ages of southern Indian kimberlites and a lamproite and their geochemical evolution. Precambrian Res 189:91–103

Palme H, O'Neill HSC (2003) Cosmochemical estimates of mantle composition. In: Holland H, Turekian KK, (eds) Treatise on geochemistry 2: 1–38

Paton C, Hergt JM, Woodhead JD, Phillips D, Shee SR (2009) Identifying the asthenospheric component of kimberlite magmas from the Dharwar craton, India. Lithos 112:296–310

Patranabis-Deb S, Saha D, Tripathy V (2012) Basin stratigraphy, sea-level fluctuations and their global connections: evidence from the Proterozoic Cuddapah Basin. Geol J 47:263–283

Paul DK, Crocket JH, Reddy TAK, Pant NC (2007) Petrology and geochemistry including Platinum Group element abundances of the Mesoproterozoic ultramafic (lamproite) rocks of Krishna district, southern India: implications for source rock characteristics and ptrogenesis. J Geol Soc Indi 69:577–596

Pe-Piper G, Zhang Y, Piper DJW, Prelevic D (2014) Relationship of Mediterranean type lamproites to large shoshonite volcanoes, Miocene of Lesbos, NE Aegean Sea. Lithos 184–187:281–299

Prelević D, Akal C, Foley SF, Romer RL, Stracke A, Bogaard PVD (2012) Ultrapotassic mafic rocks as geochemical proxies for post-collisional dynamics of orogenic lithospheric mantle: the case of Southwestern Anatolia, Turkey. J Petrol 55:1019–1055

Priestly K, McKenzie D (2006) The thermal structure of the lithosphere from shear wave velocities. Earth Planet Sci Lett 244:285–301

Radhakrishna BP (2007) Diamond exploration in India: retrospect and prospect. J Geol Soc of India 69:419–442

Reddy NS (1988) Pillowed spilitic lavas from the Tadpatri formation of the Cuddapah Basin. J Geol Soc of India 32:65–67

Reider M, Cavazzini D, Yakonov YSD, Frank-Kamenetskii VA, Gottardi G, Guggenheim S, PV K, Muller G, Neiva AMR, Radoslovich EW, Robert JL, Sassi FP, Takeda H, Weiss Z, Wones DR (1998) Nomenclature of micas. Can Mineral 36:905–912

Rogers JJW, Santosh M (2009) Tectonics and surface effects of the supercontinent Columbia. Gondwana Res 15:373–380

Saha D, Tripathy V (2012) Tuff beds in Kurnool subbasin, southern India and implications for felsic volcanism in Proterozoic intracratonic basins. Geosci Front 3:429–444

Sahu N, Gupta T, Patel SC, Khuntia DBK, Behera D, Pande K, Das SK (2013) Petrology of lamproites from the Nuapada lamproite field, Bastar craton, India. In: Pearson DG et al (ED) Proceedings of the X International Kimberlite Conference, Bangalore. J Geol Soc India Spec 1: 137–165

Sastry CA, Rama Rao G, Prasad GJS, Reddy VA (2005) Electron micro analysis of indicator minerals from kimberlites of Andhra Pradesh and Karnataka-basic data. Geol Surv India Bull Ser C6:282

Sato K, Katsura T, Ito E (1997) Phase relations of natural phlogopite with and without enstatite up to 8 GPa: implication for mantle metasomatism. Earth Planet Sci Lett 146:511–526

Sen SN, Narasimha Rao H (1971) Chelima dykes—a source for diamonds in Kurnool district, A.P. Geol Surv India Misc Publ 19:92–94

Sesha Sai VV (2014) Pyroclastic volcanism in Papaghni sub-basin, Andhra Pradesh: significant Paleoproterozoic tectonomagmatic event in SW Part of the Cuddapah basin, Eastern Dharwar Craton. J Geol Soc India 83:355–362

Sheppard S, Taylor WR (1992) Barium- and LREE-rich, olivine-mica-lamprophyres with affinities to lamproites, Mt. Bundey, Northern Territory, Australia. Lithos 28:303–325

Singh AP, Mishra DC (2002) Tectonosedimentary evolution of Cuddapah Basin and Eastern Ghats Mobile belt (India) as Proterozoic collision: gravity, seismic and geodynamic constraints. J Geodyn 33:249–267

Srikantia SV (1984) Kuppalapalle volcanic—a distinct Upper Papaghni volcanic activity in the Cuddapah Basin. J Geol Soc India 25:775–779

Sun Y, Ying J, Zhou X, Shao J, Chu Z, Su B (2014) Geochemistry of ultrapotassic volcanic rocks in Xiaogulihe NE China: implications for the role of ancient subducted sediments. Lithos 208–209:53–66

Tainton KM, McKenzie D (1994) The generation of kimberlites, lamproites and their source rocks. J Petrol 35:787–817

Tappe S, Jenner GA, Foley SF, Heaman L, Besserer D, Kjarsgaard BA, Ryan B (2004) Torngat ultramafic lamprophyres and their relation to the North Atlantic Alkaline Province. Lithos 76:491–518

Tappe S, Foley SF, Kjarsgaard BA, Romer RL, Heaman LM, Stracke A, Jenner GA (2008) Between carbonatite and lamproite - diamondiferous Torngat ultramafic lamprophyres formed by carbonate fusion melting of cratonic MARID type metasomes. Geochim Cosmochim Acta 72:3258–3286

Tappe S, Pearson DG, Nowell GM, Nielsen TFD, Milstead P, Muehlenbachs K (2011) A fresh isotopic look at Greenland kimberlites: cratonic mantle lithosphere imprint on deep source signal. Earth Planet Sci Lett 305:235–248

Tappe S, Pearson DG, Kjarsgaard BA, Nowell G (2013) Mantle transition zone input to kimberlite magmatism near a subduction zone: origin of anomalous Nd-Hf isotope systematics at Lac de Gras, Canada. Earth Planet Sci Lett 371–372:235–25

Torsvik TH, Burke K, Steinberger B, Webb SJ, Ashwal LD (2010) Diamonds sampled by plumes from the core–mantle boundary. Nature 466:352–355

Tripathy V, Saha D (2013) Plate margin paleostress variations and intracontinental deformations in the evolution of the Cuddapah basin through Proterozoic. Precambrian Res 235:107–130

Upadhyay D, Raith MM, Mezger K, Hammerschmidt K (2006) Mesoproterozoic rift-related alkaline magmatism at Elchuru, Prakasam Alkaline Province, SE India. Lithos 89:447–477

Wang B, Chen JL, Xu JF, Wang LQ (2014) Geochemical and Sr–Nd–Pb–Os isotopic compositions of Miocene ultrapotassic rocks in southern Tibet: Petrogenesis and implications for the regional tectonic history. Lithos 208–209:237–250

Weyer S, Munker C, Mezger K (2003) Nb/Ta, Zr/Hf and REE in the depleted mantle: implications for the differentiation history of the crust-mantle system. Earth Planet Sci Lett 205:309–324

Yilmaz K (2010) Origin of anorogenic 'lamproite-like' potassic lavas from the Denizli region in Western Anatolia Extensional Province, Turkey. Mineral Petrol 99:219–239
Acknowledgments
It's a great pleasure to contribute to this special issue being brought out in honor of the late Professor Rex Prider whose pioneering studies on lamproites are indeed remarkable. In-depth reviews provided by Felix Kaminsky (Vancouver) and Peter Downes (Perth) as well as editorial suggestions by Johann Raith (Leoben) are thankfully acknowledged. Financial assistance from CSIR (At, AK and NC), UGC (SS) and DST (PN) are thankfully acknowledged. NVCR thanks the Head, Dept. of Geology, BHU and AvH Foundation, Germany, for support.
Additional information
Re-Revised Paper submitted on 19.5.2015 to the Mineralogy and Petrology special issue dedicated to Late Professor Rex Prider
Editorial handling: P. Downes
About this article
Cite this article
Rao, N.V.C., Atiullah, Kumar, A. et al. Petrogenesis of Mesoproterozoic lamproite dykes from the Garledinne (Banganapalle) cluster, south-western Cuddapah Basin, southern India. Miner Petrol 110, 247–268 (2016). https://doi.org/10.1007/s00710-015-0388-0
Received:

Accepted:

Published:

Issue Date:
Keywords
Chromian Spinel

Incompatible Trace Element

Cuddapah Basin

Eastern Dharwar Craton

Ultrapotassic Rock