Abstract
A sequence of high-grade rocks collectively referred to as Mkhondo Valley Metamorphic Suite is exposed around the Nhlangano Gneiss Dome in southwest Swaziland and also less extensively further north. Meta-ironstones are part of this sequence and have been studied specifically with two main objectives in mind, firstly, to test the hypothesis of the high-grade metamorphic sequence correlating with lower-grade Pongola-age rocks nearby, and secondly, to assess the potential of these meta-ironstones for retrieving P-T conditions of metamorphism. The studied ironstones contain substantial Al due to terrigenous clastic input and also include Mn-rich varieties. Three compositional groups of meta-ironstones can be distinguished: garnet-orthopyroxene-bearing ones, garnet-bearing, orthopyroxene-free ones, and a garnet-poor to garnet-free type. A comparison of bulk rock compositions between these high-grade meta-ironstones and low-grade Mn-poor to Mn-rich ironstones from the Mozaan Group supports a stratigraphic correlation. Pseudosection modelling demonstrates that aluminous meta-ironstones provide useful P-T constraints at high peak temperatures as they do not tend to produce significant amounts of melt, if any. The presence of Al is critical for introducing garnet to amphibolite and granulite-facies assemblages, which also allows to apply conventional thermobarometers. The combination of pseudosection modelling and conventional thermobarometry yielded peak metamorphic conditions of 850–890 °C at 7 to 8 kbar. These data are compatible with the ones obtained from associated metapelitic gneisses, except that the latter indicate decompression to lower pressure granulite-facies conditions. The petrological, structural and geochronological data from southwest Swaziland confirm major orogenic activity in the eastern Kaapvaal Craton during the Neo-Archaean.
Access options
Buy single article
Instant access to the full article PDF.
US$ 39.95
Tax calculation will be finalised during checkout.
Subscribe to journal
Immediate online access to all issues from 2019. Subscription will auto renew annually.
US$ 119
Tax calculation will be finalised during checkout.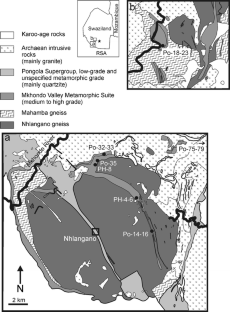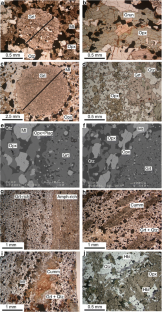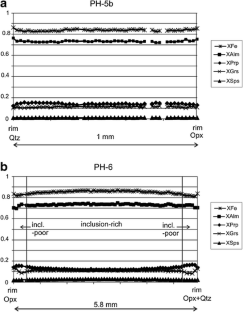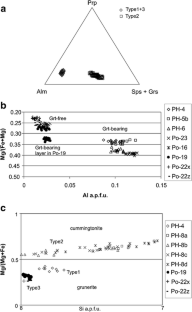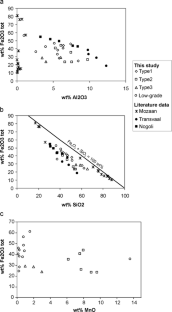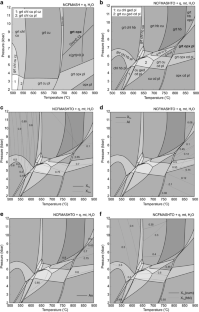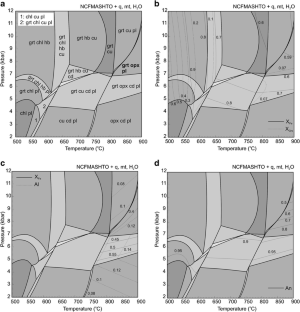 References
Alexander BW, Bau M, Andersson P, Dulski P (2008) Continentally-derived solutes in shallow Archean seawater: rare earth element and Nd isotope evidence in iron formation from the 2.9 Ga Pongola Supergroup, South Africa. Geochim Cosmochim Acta 72:378–394

Bekker A, Slack JF, Planavsky N, Krapez B, Hofmann A, Konhauser KO, Rouxel OJ (2010) Iron formation: the sedimentary product of a complex interplay among mantle, tectonic, oceanic, and biospheric processes. Econ Geol 105:467–508

Beukes NJ, Cairncross B (1991) A lithostratigraphic-sedimentological reference profile for the late Archaean Mozaan Group, Pongola sequence: application to sequence stratigraphy and correlation with the Witwatersrand Supergroup. S Afr J Geol 94:44–69

Condie KC, Kröner A, Milisenda CC (1996) Geochemistry and geochronology of the Mkhondo suite, Swaziland: evidence for passive-margin deposition and granulite facies metamorphism in the late Archean of Southern Africa. J Afr Earth Sci 21:483–506

de Villiers J (1960) The manganese deposits of the Union of South Africa. Geological Survey of South Africa Handbook 2, Pretoria, Government Printer, 271 pp

Diener JFA, Powell R, White RW, Holland TJB (2007) A new thermodynamic model for clino- and orthoamphiboles in Na2O-CaO-FeO-MgO-Al2O3-SiO2-H2O-O. J Metamorph Geol 25:631–656

Gold DJC (2006) The Pongola supergroup. In: Johnson MR, Anhaeusser CR, Thomas RJ (eds) The geology of South Africa. Geological Society of South Africa, Johannesburg/Council for Geoscience, Pretoria, pp 135–147

González PD, Sato AM, Llambías EJ, Petronilho LA (2009) Petrology and geochemistry of the banded iron formation in the Eastern Sierras Pampeanas of San Luis (Argentina): implications for the evolution of the Nogolí metamorphic complex. J S Am Earth Sci 28:89–112

Holland TJB, Powell R (1998) An internally consistent thermodynamic dataset for phases of petrological interest. J Metamorph Geol 16:309–343

Holland TJB, Powell R (2003) Activity-composition relations for phases in petrological calculations: an asymmetric multicomponent formulation. Contrib Mineral Petrol 145:492–501

Holland TJB, Baker JM, Powell R (1998) Mixing properties and activity-composition relationships of chlorites in the system MgO-FeO-Al2O3-SiO2-H2O. Eur J Mineral 10:395–406

Horstmann UE, Hälbich IW (1995) Chemical composition of banded iron-formations of the Griqualand West Sequence, Northern Cape Province, South Africa, in comparison with other Precambrian iron formations. Precambrian Res 72:109–145

Horváth P, Reinhardt J, Hofmann A, Nagy G (2010) Neoarchaean high-grade metamorphism of politic gneisses and ironstones in the Nhlangano area, SW Swaziland.20th General Meeting of the IMA, August 2010, Budapest, Hungary. Acta Mineralogica-Petrographica Abstract Series 6, p. 593

Hunter DR (1970) The ancient gneiss complex in Swaziland. Trans Geol Soc S Afr 73:107–150

Hunter DR, Barker F, Millard HT Jr (1978) The geochemical nature of the Archean Ancient Gneiss complex and granodiorite suite, Swaziland: a preliminary study. Precambrian Res 7:105–127

Klein C (2005) Some Precambrian banded iron-formations (BIFs) from around the world: their age, geologic setting, mineralogy, metamorphism, geochemistry, and origin. Am Mineral 90:1473–1499

Kröner A (2007) The ancient gneiss complex of Swaziland and environs: record of early Archean crustal evolution in Southern Africa. In: van Kranendonk MJ, Smithies RH, Bennett VC (eds) Earth's oldest rocks. Developments in Precambrian Geology 15, Elsevier, pp 465–480

Leake BE, Woolley AR, Arps CES, Birch WD, Gilbert MC, Grice JD, Hawthorne FC, Kato A, Kisch HJ, Krivovichev VG, Linthout K, Laird J, Mandarino J, Maresch WV, Nickel EH, Rock NMS, Schumacher JC, Smith DC, Stephenson NCN, Ungaretti L, Whitaker EJW, Youzhi G (1997) Nomenclature of amphiboles: report of the subcommittee on amphiboles of the international mineralogical association commission on new minerals and mineral names. Min Mag 61:295–321

Miyano T, Klein C (1989) Phase equilibria in the system K2O-FeO-MgO-Al2O3-SiO2-H2O and the stability limit of stilpnomelane in metamorphosed Precambrian iron-formations. Contrib Mineral Petrol 102:478–491

Mukasa SB, Wilson AH, Young KR (2013) Geochronological constraints on the magmatic and tectonic development of the Pongola Supergroup (Central Region), South Africa. Precambrian Res 224:268–286

Pattison DRM, Chacko T, Farquhar J, McFarlane CRM (2003) Temperatures of granulite-facies metamorphism: constraints from experimental phase equilibria and thermobarometry corrected for retrograde exchange. J Petrol 44:867–900

Potts PJ (1987) A handbook of silicate rock analysis. Blackie, Glasgow & London, 622 p

Powell R, Holland TJB (1999) Relating formulations of the thermodynamics of mineral solid solutions: activity modelling of pyroxenes, amphiboles and micas. Am Mineral 84:1–14

Powell R, Holland TJB, Worley B (1998) Calculating phase diagrams involving solid solutions via non-linear equations, with examples using THERMOCALC. J Metamorph Geol 16:577–588

Taylor J, Stevens G, Armstrong R, Kisters AFM (2010) Granulite facies anatexis in the Ancient Gneiss Complex, Swaziland, at 2.73 Ga: mid-crustal metamorphic evidence for mantle heating of the Kaapvaal craton during Ventersdorp magmatism. Precambrian Res 177:88–102

Taylor J, Stevens G, Lana C (2012) Age and field relationships of Mahamba orthogneisses and Mkhondo Valley Metamorphic suite paragneisses from the Mkhondo River, Ancient Gneiss complex, Swaziland. S Afr J Geol 115:369–384

White RW, Powell R (2002) Melt loss and the preservation of granulite facies mineral assemblages. J Metamorph Geol 20:621–632

White RW, Powell R, Holland TJB, Worley BA (2000) The effect of TiO2 and Fe2O3 on metapelitic assemblages at greenschist and amphibolite facies conditions: mineral equilibria calculations in the system K2O-FeO-MgO-Al2O3-SiO2-H2O-TiO2-Fe2O3. J Metamorph Geol 18:497–511

White RW, Powell R, Holland TJB (2007) Progress relating to calculation of partial melting equilibria for metapelites. J Metamorph Geol 25:511–527

Wilson AC (1980) Swaziland 1:50,000 geological series, sheets 2631CD, 2731AA and 2731AB, edition 1 (compiled by A.C. Wilson)

Wilson AC, Jackson MPA (1988) Mantled gneiss domes in southern Swaziland and the concept of 'stable' Pongola cratonic cover. S Afr J Geol 91/3:404–414
Acknowledgments
P. Horváth acknowledges the support of an NRF postdoctoral scholarship. We would like to thank Noah Nhleko, Swaziland Geological Survey, for showing us the outcrops of low-grade Pongola Fe- and Mn-rich metasediments, Johann Diener for discussions on amphibole modelling, Thomas Fockenberg at the University of Bochum for performing the Fe2+ analytical tests to cross-check our own results, and the director and staff of the Geological Survey and Mines Department, Swaziland, for their hospitality and support. Armin Zeh and an anonymous reviewer are thanked for their critical comments that helped to improve the manuscript.
Additional information
Editorial handling: R. Abart
About this article
Cite this article
Horváth, P., Reinhardt, J. & Hofmann, A. High-grade metamorphism of ironstones in the Mesoarchaean of southwest Swaziland. Miner Petrol 108, 589–605 (2014). https://doi.org/10.1007/s00710-013-0307-1
Received:

Accepted:

Published:

Issue Date:
Keywords
Magnetite

Kaapvaal Craton

Phase Diagram Calculation

Transvaal Supergroup

Peak Assemblage