Abstract
Carbonatites of the Eocene Tamazeght complex, High Atlas Mountains, Morocco, consist of calciocarbonatites (alvikite and sövite dykes) and magnesiocarbonatites (diatreme breccias and dykes rocks). These are associated with ultramafic, shonkinitic, gabbroic to monzonitic and various foid syenitic silicate units. Stable and radiogenic isotope compositions for carbonatites and silicate rocks indicate that they share a common source in the mantle, although for some carbonatitic samples contamination with sedimentary rocks seems important. The observed isotopic heterogeneity is mainly attributed to source characteristics, fractional crystallization (accompanied by various degrees of assimilation), and late- to post-magmatic fluid–rock interaction. During the late fluid–rock interaction, Sr, Mn, and possibly also Fe were mobilized and redistributed to form secondary carbonate minerals in carbonatites. These fluids also penetrated into the adjacent syenitic rocks, causing enrichment in the same elements.
Access options
Buy single article
Instant access to the full article PDF.
US$ 39.95
Tax calculation will be finalised during checkout.
Subscribe to journal
Immediate online access to all issues from 2019. Subscription will auto renew annually.
US$ 119
Tax calculation will be finalised during checkout.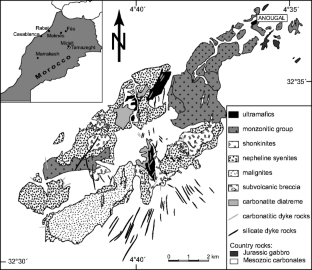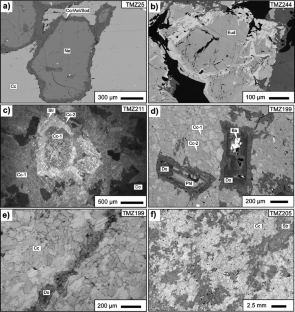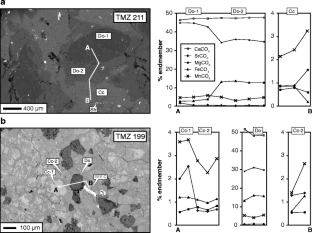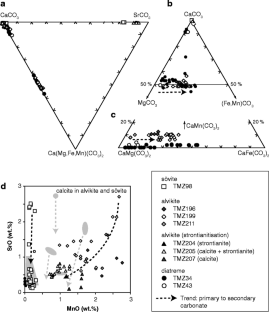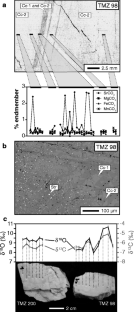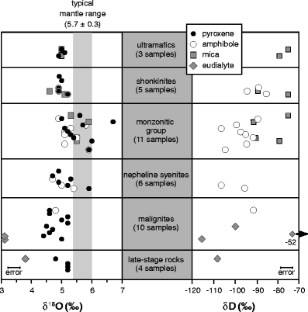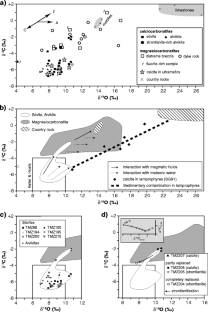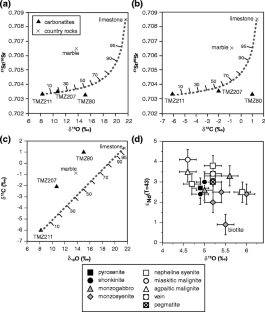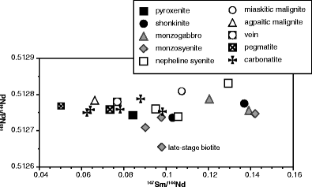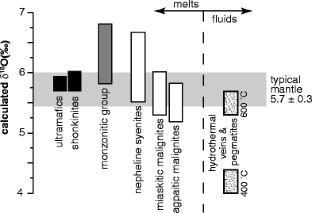 References
Anovitz LM, Essene EJ (1987) Phase equilibria in the system CaCO3–MgCO3–FeCO3. J Petrol 28:389–414

Barker DS (1989) Field relations of carbonatites. In: Bell K (ed) Carbonatites: genesis and evolution. Unwin Hyman, London, pp 38–69

Bell K (1998) Radiogenic isotope constraints on relationships between carbonatites and associated silicate rocks—a brief review. J Petrol 39:1987–1996

Bell K, Kjarsgaard BA, Simonetti A (1998) Carbonatites-into the twenty-first century. J Petrol 39:1839–1845

Bernard-Griffiths J, Fourcade S, Dupuy C (1991) Isotopic study (Sr, Nd, O and C) of lamprophyres and associated dykes from Tamazart (Morocco); crustal contamination processes and source characteristics. Earth Planet Sci Lett 103:190–199

Böttcher ME (1996) 18O/16O and 13C/12C fractionation during the reaction of carbonates with phosphoric acid: effects of cationic substitution and reaction temperature. Isot Environ Health Stud 32:299–305

Bouabdli A, Liotard J-M (1999) Rôle des fluide carbonatés dans le contrôle de la composition des clinopyroxènes ferrisodiques: example du massif carbonatique de Tamazert (Haut-Atlas de Midelt, Maroc). Africa Geoscience Review 6:291–300

Bouabdli A, Dupuy C, Dostal J (1988) Geochemistry of Mesozoic alkaline lamprophyres and related rocks from the Tamazert massif, High Atlas, (Morocco). Lithos 22:43–58

Coulson IM, Goodenough KM, Pearce NJG, Leng MJ (2003) Carbonatites and lamprophyres of the Gardar Province—a' window' to the sub-Gardar mantle? Mineral Mag 67:855–872

Das Sharma S, Patil DJ, Gopalan K (2002) Temperature dependence of oxygen isotope fractionation of CO2 from magnesite–phosphoric acid reaction. Geochim Cosmochim Acta 66:589–593

Dawson JB, Steele IM, Smith JV, Rivers ML (1996) Minor and trace element chemistry of carbonates, apatites and magnetites in some African carbonatites. Mineral Mag 60:415–425

Deines P (1970) The carbon and oxygen isotopic composition of carbonates from the Oka carbonatite complex, Quebec, Candada. Geochim Cosmochim Acta 34:1199–1225

Deines P (1989) Stable isotope variations in carbonatites. In: Bell K (ed) Carbonatites: genesis and evolution. Unwin Hyman, London, pp 301–359

Deines P (2004) Carbon isotope effects in carbonate systems. Geochim Cosmochim Acta 68:2659–2679

Demény A, Ahijado A, Casillas R, Vennemann TW (1998) Crustal contamination and fluid/rock interaction processes in the carbonatites of Fuerteventura (Canary Islands, Spain) a C, O, H isotope study. Lithos 44:101–115

Eiler JM (2001) Oxygen isotope variations of Basaltic Lavas and Upper Mantle Rocks. Rev Mineral Geochem 43:319–364

Farver JR (1989) Oxygen self diffusion in diopside with application to cooling rate determinations. Earth Planet Sci Lett 92:386–396

Farver JR, Giletti BJ (1985) Oxygen diffusion in amphiboles. Geochim Cosmochim Acta 49:1403–1411

Freestone IC, Hamilton DL (1980) The role of liquid immiscibility in the genesis of carbonatites—an experimental study. Contrib Mineral Petrol 73:105–117

Friedman I, O'Neil JR (1977) Compilation of stable isotope fractionation factors of geochemical interest. Data of Geochemistry. US Geological Survey, Professional Papers—Fleischer M (ed) (1977) 440-KK:12

Gittins J (1979) Problems inherent in the application of calcite–dolomite geothermometry to carbonatites. Contrib Mineral Petrol 69:1–4

Gittins J, Beckett MF, Jago BC (1990) Composition of the fluid phase accompanying carbonatite magma: a critical examination. Am Mineral 75:1106–1109

Goldstein SL, O'Nions RK, Hamilton PJ (1984) A Sm–Nd isotopic study of the atmospheric dust and particulates from major river systems. Earth Planet Sci Lett 70:221–236

Golyshev SI, Padalko NL, Pechenkin SA (1981) Fractionation of stable oxygen and carbon isotopes in carbonate systems. Geochem Intl 18:85–99

Halama R, Vennemann TW, Siebel W, Markl G (2005) The Grønnedal-Ika Carbonatite–Syenite complex, south Greenland: Carbonatite formation by Liquid Immiscibility. J Petrol 46:191–217

Harmer RE (1999) The petrogenetic association of carbonatite and alkaline magmatism: constraints from the Spitskop complex, South Africa. J Petrol 40:525–548

Harmer RE, Gittins J (1998) The case for primary, mantle derived carbonatite magma. J Petrol 39:1895–1903

Harris C (1995) Oxygen isotope geochemistry of the Mesozoic anorogenic complexes of Damaraland, northwest Namibia: evidence for crustal contamination and its effects on silica saturation. Contrib Mineral Petrol 122:308–321

Hoefs J (2001) Stable isotope geochemistry. Springer, Berlin

Horstmann UE, Verwoerd WJ (1997) Carbon and oxygen variations in southern African carbonatites. J Afr Earth Sci 25:115–136

Jacobson SB, Wasserburg GJ (1980) Sm–Nd isotopic evolution of chondrites. Earth Planet Sci Lett 50:139–155

Kchit A (1990) Le plutonisme alcalin du Tamazert, Haut Atlas de Midelt (Maroc), Petrologie et Structurologie. Unpublished thesis, Univ. Paul Sabatier, Toulouse

Khadem-Alla B, Fontan F, Kadar M, Monchoux P, Sørensen H (1998) Reactions between agpaitic neheline syenitic melts and sedimentary carbonate rocks, exemplified by the Tamazeght complex, Morocco. Geochem Int 36:569–581

Keller J, Hoefs J (1995) Stable isotope characteristics of recent natrocarbonatites from Oldoinyo Lengai. In: Bell K, Keller J (eds) Carbonatite volcanism: Oldoinyo Lengai and the petrogenesis of natrocarbonatites. Springer, Berlin, pp 113–123

Keppler H (2003) Water solubility in carbonatite melts. Am Mineral 88:1822–1824

Kjarsgaard BA (1998) Phase relations of a carbonated high-CaO nephelinite at 0.2 and 0.5 GPa. J Petrol 39:2061–2075

Kyser TK (1986) Stable isotope variations in the mantle. Rev Mineral 16:141–162

Laville E, Harmand C (1982) Evolutionion magmatique et tectonique du basin intracontinental mésozoique du Haut-Atlas (Maroc): un modèle de mise en place synsédimentaire de massifs "anorogeniques" liés à des dérochements. Bulletin de la Sciété Géologique de France 7:221–227

Le Bas MJ (1989) Diversification of carbonatites. In: Bell K (ed) Carbonatites: genesis and evolution. Unwin Hyman, London, pp 428–447

Lee W-J, Wyllie PJ (1994) Experimental data bearing on liquid immiscibility, crystal fractionation, and the origin of calciocarbonatites and natrocarbonatites. Int Geol Rev 36:797–819

Lee W-J, Wyllie PJ (1998) Petrogenesis of carbonatite magmas from mantle to crust, constrained by the system CaO-(MgO+FeO*)-(Na2O+K2O)-(SiO2+Al2O3+TiO2)-CO2. J Petrol 39:495–517

Lugmair GW, Marti K (1978) Lunar initial 143Nd/144Nd: differential evolution of the lunar crust and mantle. Earth Planet Sci Lett 39:349–357

Malone MJ, Baker PA, Burns SJ (1996) Recrystallization of dolomite: an experimental study from 50–200°C. Geochim Cosmochim Acta 60:2189–2207

Marks M, Vennemann TW, Siebel W, Markl G (2003) Quantification of magmatic and hydrothermal processes in a peralkaline syenite–alkali granite complex based on textures, phase equilibria, and stable and radiogenic isotopes. J Petrol 44:1247–1280

Marks MAW, Coulson IM, Schilling J, Jacob D, Schmitt AK, Markl G (2008a) The effect of titanite and other HFSE-rich mineral (Ti-bearing andradite, zircon, eudialyte) fractionation on the geochemical evolution of silicate melts. Chem Geol 257:153–172

Marks MAW, Schilling J, Coulson IM, Wenzel T, Markl G (2008b) The alkaline–peralkaline Tamazeght complex, High Atlas Mountains, Morocco: mineral chemistry and petrological constraints for derivation from a compositionally heterogeneous mantle source. J Petrol 49:1097–1131

Mitchell RH (2005) Carbonatites and carbonatites and carbonatites. Can Mineral 43:2049–2068

Moore KR, Wood BJ (1998) The transition from carbonate to silicate melts in the CaO–MgOSiO2–CO2 system. J Petrol 39:1943–1951

Mourtada S, Le Bas MJ, Pin C (1997) Pétrogenèse des magnésio-carbonatites du complexe de Tamazert (Haut Atlas marocain). Compt Rend Ac Sci Paris 325:559–564

Nelson DR, Chivas AR, Chappell BW, McCulloch MT (1988) Geochemical and isotopic systematics in carbonatites and implications for the evolution of ocean-island sources. Geochim Cosmochim Acta 52:1–17

Ngwenya BT (1994) Hydrothermal rare earth mineralisation in carbonatites of the Tundulu complex, Malawi; processes at the fluid/rock interface. Geochim Cosmochim Acta 58:2061–1072

Pineau F, Javoy M, Allegre CJ (1973) Etude systématique des isotopes de l'oxygen, du carbone et du strontium dans les carbonatites. Geochim Cosmochim Acta 37:2363–2377

Platt RG, Woolley AR (1990) The carbonatites and fenites of Chipman Lake, Ontario. Can Mineral 28:241–250

Ray JS, Ramesh R (2000) Rayleigh fractionation of stable isotopes from a multicomponent source. Geochim Cosmochim Acta 64:299–306

Roddick JC, Sullivan RW, Dudas FÖ (1992) Precise calibration of Nd tracer isotopic composition for Sm–Nd studies. Chem Geol 97:1–8

Rosenbaum J, Sheppard SMF (1986) An isotopic study of siderites, dolomites and ankerites at high temperatures. Geochim Cosmochim Acta 50:1147–1150

Rumble D, Hoering TC (1994) Analysis of oxygen and sulfur isotope ratios in oxide and sulfide minerals by spot heating with a carbon dioxide laser in a fluorine atmosphrere. Acc Chem Res 27:237–241

Salvi S, Fontan F, Monchoux P (2000) Hydrothermal mobilization of High field Strength elements in alkaline igneous systems: evidence from the Tamazeght Complex, (Morocco). Econ Geol 95:559–576

Santos RV, Clayton RN (1995) Variations of oxygen and carbon isotopes in carbonatites: a study of Brazilian alkaline complexes. Geochim Cosmochim Acta 59:1339–1352

Sharp ZD (1990) A laser-based microanalytical method for the in-situ determination of oxygen isotope ratios of silicates and oxides. Geochim Cosmochim Acta 54:1353–1357

Sharp ZD, Atudorei V, Durakiewicz T (2001) A rapid method for determining the hydrogen and oxygen isotope ratios from water and solid hydrous substances. Chem Geol 178:197–210

Schilling J, Marks MAW, Wenzel T, Markl G (2009) Reconstruction of magmatic to subsolidus processes in an agpaitic system using eudialyte textures and composition: a case study from Tamazeght, Morocco. Can Mineral 40:351–365

Spötl C, Vennemann TW (2003) Continuous-flow IRMS analysis of carbonate minerals. Rapid Commun Mass Spectrom 17:1004–1006

Suzuoki T, Epstein S (1976) Hydrogen isotope fractionation between OH-bearing minerals and water. Geochim Cosmochim Acta 40:1229–1240

Sweeney RJ, Prozesky V, Przybylowicz W (1994) Trace element partitioning between silicate minerals and carbonatite and silicate melts at 18 kb to 46 kb pressure. Mineral Mag 58:885–886

Taylor HPJ, Sheppard SMF (1986) Igneous rocks: I. Processes of isotopic fractionation and isotope systematics. Rev Miner 16:227–269

Thompson RN, Smith PM, Gibson SA, Mattey DP, Dickin AP (2002) Ankerite carbonatite from Swartbooisdrif, Namibia: the first evidence for magmatic ferrocarbonatite. Contrib Mineral Petrol 143:37–359

Tichomirowa M, Grosche G, Götze J, Belyatsky BV, Savva EV, Keller J, Todt W (2006) The mineral isotope composition of two Precambrian carbonatite complexes from the Kola Alkaline Province—alteration versus primary magmatic signatures. Lithos 91:229–249

Tisserant D, Thuizat R, Agard J (1976) Données géochronologiques sur le complexe de roches alcalines du Tamazeght (Haut Atlas de Midelt, Maroc). Bureau des Recherches Géologiques et Minière Bulletin 2:279–283

Treiman AH, Essene EJ (1984) A periclase–dolomite–calcite carbonatite from the Oka complex, Quebec, and ist calculated volatile composition. Contrib Mineral Petrol 85:149–157

Valley JW, Kitchen N, Kohn MJ, Niendorf CR, Spicuzza MJ (1995) UWG-2, a garnet standard for oxygen iotope ratios: strategies for high precision and accuracy with laser heating. Geochim Cosmochim Acta 59:5223–5231

Veksler IV, Petibon C, Jenner GA, Dorfman AM, Dingwell DB (1998) Trace element partitioning in immiscible silicate–carbonate liquid systems: an initial experiments study using a centrifuge autoclave. J Petrol 39:2095–2104

Woolley AR (1982) A discussion of carbonatite evolution and nomenclature, and the generation of sodic and potassic fenites. Mineral Mag 46:13–17

Zheng Y-F (1993a) Calculation of oxygen isotope fractionation in anydrous silicate minerals. Geochim Cosmochim Acta 57:1079–1091

Zheng Y-F (1993b) Calculation of oxygen isotope fractionation in hydroxyl-bearing silicates. Earth Planet Sci Lett 120:247–263

Zheng Y-F (1999) Oxygen isotope fractionation in carbonate and sulfate minerals. Geochem J 33:109–126

Zaitsev AN, Wall F, Le Bas MJ (1998) REE-Sr-Ba minerals from the Khibina carbonatites, Kola peninsula, Russia: their mineralogy, paragenesis and evolution. Mineral Mag 62:225–250
Acknowledgements
Julian Schilling was of invaluable help during fieldwork and shared his ideas during numerous discussions. Ali Bajja (University of Marrakesh) is acknowledged for his cooperation that facilitated our fieldwork and Boudaoud Boujemaa supplied the infrastructure in the field. Thomas Wenzel is thanked for his help during microprobe measurements, Bernd Steinhilber for oxygen and carbon isotope analysis of carbonatite samples, Annabel Händel for the careful and time-consuming hand picking of the large number of mineral separates used in this study and Zsófia Wáczek (Lausanne) for analyzing them. Thomas Wenzel, Heiner Taubald, Wolfgang Siebel and Ralf Halama and four anonymous reviewers gave valuable comments at an earlier stage of this work. This research was supported by the Alfried Krupp Prize for Young University Teachers of the Krupp Foundation and by the Deutsche Forschungsgemeinschaft (grant Ma 2135/11-1 and 11-2), which is gratefully acknowledged.
Additional information
Editorial handling: L.G. Gwalani
About this article
Cite this article
Marks, M.A.W., Neukirchen, F., Vennemann, T. et al. Textural, chemical, and isotopic effects of late-magmatic carbonatitic fluids in the carbonatite–syenite Tamazeght complex, High Atlas Mountains, Morocco. Miner Petrol 97, 23 (2009). https://doi.org/10.1007/s00710-009-0075-0
Received:

Accepted:

Published:
Keywords
Calcite

Dolomite

Barite

Mantle Source

Nepheline