Abstract
The Purulia carbonatite of West Bengal, India is a dyke occurring within the 100 km long South Purulia Shear Zone (SPSZ), which marks the boundary between the Singhbhum Group of Rocks and the Chhotanagpur Granite Gneissic Complex (CGGC). It is composed essentially of calcite with apatite, amphibole, phlogopite, biotite, magnetite and ilmenite as common accessories. Based on optical properties and mineral chemistry two varieties of the amphibole are recognized: magnesiokatophorite and richterite. The latter is characterized by a relatively high content of Si and Na, while the former is enriched in Al and Ca. Such a composition of the amphibole is characteristic for the intermediate to the late stage carbonatite development. These two co-existing amphiboles reflect a sudden variation in total pressure within the magma chamber during the intrusion of the carbonatite dyke. It is inferred that the magnesiokatophorite started crystallizing first along with calcite and apatite. Subsequently, the ascent of carbonatitic magma to a more shallow depth (hypabyssal) resulted in the formation of the richterite. The difference in amphibole composition reflects a variation in the total pressure within the magma chamber that took place during the formation of the Purulia carbonatite. However, an alternative explanation, such as wallrock contamination, or liquid immiscibility, followed by carbonate magma segregation or magma mixing, may also be possible. There is, however, no evidence corroborating such an interpretation.
Access options
Buy single article
Instant access to the full article PDF.
US$ 39.95
Tax calculation will be finalised during checkout.
Subscribe to journal
Immediate online access to all issues from 2019. Subscription will auto renew annually.
US$ 119
Tax calculation will be finalised during checkout.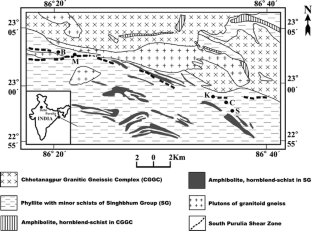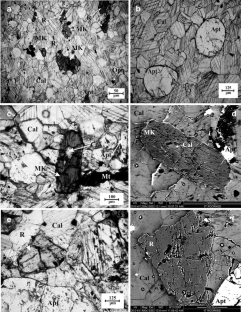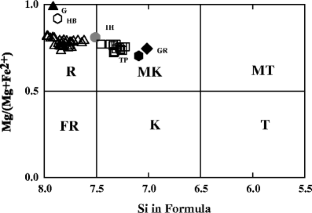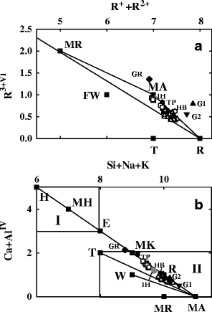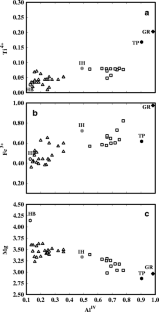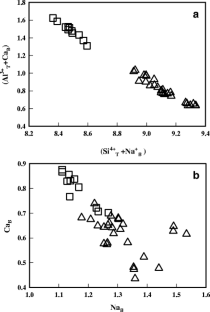 References
Basu SK (1988) Investigation of apatite and other associated minerals in the southern Shear Zone, Purulia District, West Bengal. Extended Abstracts, Rec Geol Surv India 122: Part 2, 42

Basu SK (1993) Alkaline–carbonatite complex in precambrian of South Purulia Shear Zone, Eastern India: its characteristics and mineral potentialities. Indian Miner 47:179–194

Bell K (1989) Carbonatites genesis and evolution. Unwin Hyman, London

Bhattacharya C, Chakraborty A, Banerjee PK (1991) Petrology–geochemistry of apatite–magnetite amphibolites and their role in phosphate mineralisation along the southern shear zone, Puruliya Dt., West Bengal. Indian J Earth Sci 18:94–109

Bulakh AG (1965) Amphibole group. In: Kukharenko AA (ed) Kaledonskii kompleks ul'traosnovnykh, shchelochnykh porod i karbonatitov Kol'skogo Poluostrova i severnoi Karelia. Nedra, Moscow, pp 453–463 (in Russian)

Chakhmouradian AR, Zaitsev AN (2002) Calcite–Amphibole–Clinopyroxene rock from the Afrikanda Complex, Kola Peninsula, Russia: mineralogy and a possible link to carbonatites. III. Silicate minerals. Can Mineral 40:1347–1374

Dasgupta S, Bhattacharya DK (1992) Apatite mineralisation along Singhbhum and Purulia–Bankura shear zones: their nature and physico-chemical characteristics. Indian Miner 46:123–132

Fabriés J (1978) Les types paragénétiques des amphiboles sodiques dans les roches magmatiques. Bull Minéral 101:155–165

Giret A, Bonin B, Leger JM (1980) Amphibole compositional trends in oversaturated and understurated alaklaine plutonic ring-complexes. Can Mineral 18:481–495

Hammarstrom JM, Zen E (1986) Aluminium in hornblende: an empirical igneous geobarometer. Am Mineral 71:1297–1313

Hogarth DD (1989) Pyrochlore, apatite and amphibole: distinctive minerals in carbonatite. In: Bell K (eds) Carbonatites: genesis and evolution. Unwin Hyman, London, pp 105–148

Holland T, Blundy J (1994) Non-ideal interactions in calcic amphiboles and their bearing on amphibole–plagioclase thermometry. Contrib Mineral Petrol 116:433–447

Hollister LS, Grissom GC, Peters EK, Stowell HH, Sisson VB (1987) Confirmation of the emperical correlation of Al in hornblende with pressure of sloidification of calc-alkaline plutons. Am Mineral 72:231–239

Kapustin YL (1973) Mineralogiya Kory Vyvetrivaniya Karbonatitov. Nedra, Moscow (in Russian)

Kapustin YL (1980) Mineralogy of carbonatites. Amerind, New Delhi, India (translated by DK Biswas)

Leake BE (1978) Nomenclature of amphiboles. Mineral Mag 42:533–563

Leake BE, Woolley AR, Arps CES, Birch WD, Gilbert MC, Grice JD, Hawthorne FC, Kato A, Kisch HJ, Krivovichev VG, Linthout K, Larid J, Mandarino JA, Maresch WV, Nickel EH, Rock NMS, Schumacher JC, Smith DC, Stephenson NCN, Ungaretti L, Whittaker EJW, Youzhi G (1997) Nomenclature of amphiboles: report of the Subcommittee on Amphiboles of the International Mineralogical Association, Commission on New Minerals and Mineral Names. Can Mineral 35:219–246

Leake BE, Woolley AR, Birch WD, Burke EAJ, Ferraris G, Grice JD, Hawthorne FC, Kisch HJ, Krivovichev VG, Schumacher JC, Stephenson NCN, Whittaker EJW (2004) Nomenclature of amphiboles: additions and revisions to the International Mineralogical Associations amphibole nomenclature. Min Mag 68(1):209–215

Meeker GP, Bern AM, Brownfield IK, Lowers HA, Sutley SJ, Hoefen TM, Vance JS (2003) The composition and morphology of amphiboles from the Rainey Creek Complex, Near Libby, Montana. Am Mineral 88:1955–1969

Mitchell RH (1990) A review of the compositional variation of amphiboles in alkaline plutonic complexes. Lithos 26:135–156

Samoylov VS (1977) Karbonatity (fatsii i usloviya obrazovaniya). Nauka, Moscow (in Russian)

Samoylov VS, Gormasheva GS (1975) Alkali amphiboles of carbonatites and genetically related rocks. Zapiski Vsesoyuznogo Mineralogicheskogo Obshchetva 104:145–159 (in Russian)

Samoylov VS, Gormasheva GS, Chernysheva EA (1974) Low-aluminum alkalic amphiboles of carbonatites. Yearbook Institute of Geochemistry, Irskutsk, pp 189–193

Schmidt MW (1992) Amphibole composition in tonalite as a function of pressure: an experimental calibration of the Al-in-hornblende barometer. Contrib Mineral Petrol 110:304–310

Sokolov SV (1985) Carbonates in ultramafic alkali-rock, and carbonatite intrusions. Geochem Int 22:150–166
Acknowledgements
We express sincere thanks to CSIR, New Delhi for funding the project (no. 24(0286)/05/EMR-II). The help rendered by Mr. Sandeep Banerjee (Durgapur Govt. College) during the fieldwork, Head, Earth Sciences and IIC, IIT Roorkee for providing laboratory facilities and Prof. O. P. Varma, and Prof. R. P. Gupta for improving the manuscript is gratefully acknowledged. The manuscript has been substantially improved by the suggestions of the reviewers Dr. Keith Bell and Dr. Frances Wall. We sincerely thank both of them. We also express our sincere gratitude to Prof. L.G. Gwalani for his excellent editorial handling.
Additional information
Editorial handling: L.G. Gwalani
About this article
Cite this article
Chakrabarty, A., Sen, A.K. & Ghosh, T.K. Amphibole—a key indicator mineral for petrogenesis of the Purulia carbonatite, West Bengal, India. Miner Petrol 95, 105–112 (2009). https://doi.org/10.1007/s00710-008-0024-3
Received:

Accepted:

Published:

Issue Date:
Keywords
Calcite

Apatite

Ilmenite

Magma Chamber

Carbonatite Complex