Abstract
Orchid pollinia have the potential to make a valuable contribution to current techniques of germplasm storage and assisted reproduction, yet information regarding their preservation and their ability to remain viable over time is currently limited. Dactylorhiza fuchsii and Disa uniflora were used as models for investigating potential techniques for storing orchid pollinia. Initially, freshly harvested pollinia of Dact. fuchsii were incubated at 25 °C and 100% RH (relative humidity) for up to 7 days and germinated in vitro. For pollinia from both species, moisture sorption isotherms were constructed and thermal fingerprints generated using differential scanning calorimetry (DSC). Pollinia were stored at three temperatures (5, − 18 and − 196 °C) after equilibration at four different RHs (5, 33, 50 and 75%) and germinated. The isotherms and DSC results varied between species. Compared with D. uniflora, pollinia of Dact. fuchsii consistently equilibrated at higher moisture content (MC) for each RH, had less detectable lipids by DSC and had shorter lifespans, remaining viable after 3–4 months only at − 20 and − 196 °C and at low RH (5 and 33%). Both species' pollinia stored well at − 20 °C and − 196 °C, although there was some evidence of a small loss of viability under cryopreservation. In conclusion, pollen of these two species can be stored successfully for at least 3–4 months, and to maximize the pre-storage quality, it is recommended that fresh pollen is collected from flowers just prior to anthesis.
Access options
Buy single article
Instant access to the full article PDF.
USD 39.95
Price includes VAT (USA)
Tax calculation will be finalised during checkout.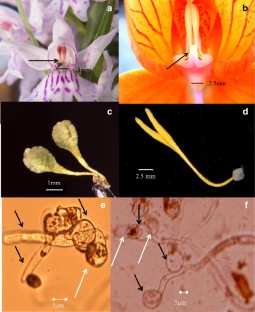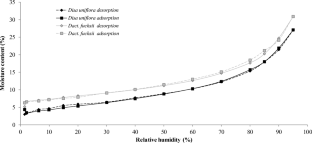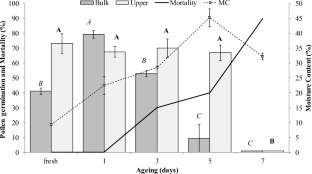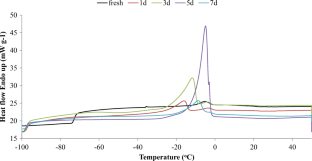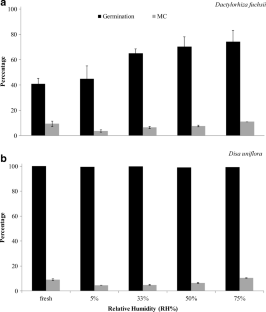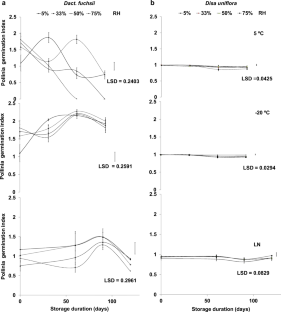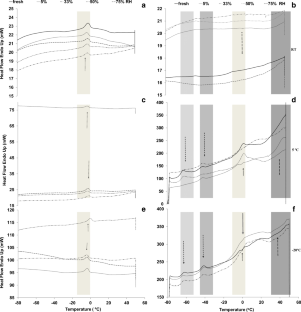 Notes
1.

Abbreviations of scientific names followed the rules of Royal Horticultural Society (for orchid genera and hybrids (RHS 2017).
References
Aggarwal P (2001) Phase transition of apple cuticles: a DSC study. Thermochim Acta 367–368:9–13. https://doi.org/10.1016/S0040-6031(00)00701-2

Ajeeshkumar S, Decruse SW (2013) Fertilizing ability of cryopreserved pollinia of Luisia macrantha, an endemic orchid of Western Ghats. CryoLetters 34:20–29

Ballesteros D, Pence VC (2017) Survival and death of seeds during liquid nitrogen storage: a case study on seeds with short lifespans. CryoLetters 38:278–289

Ballesteros D, Hill LM, Lynch RT, Pritchard HW, Walters C (2018) Longevity of preserved germplasm: the temperature dependency of aging reactions in glassy matrices of dried fern spores. Plant Cell Physiol 60:376–392. https://doi.org/10.1093/pcp/pcy217

Bellusci F, Musacchio A, Stabile R, Pellegrino G (2010) Differences in pollen viability in relation to different deceptive pollination strategies in Mediterranean orchids. Ann Bot 106:769–774. https://doi.org/10.1093/aob/mcq164

Benson EE (2008) Cryopreservation theory. In: Reed BM (ed) Plant cryopreservation: a practical guide. Springer, New York, pp 15–32

Cozzolino S, Widmer A (2005) The evolutionary basis of reproductive isolation in Mediterranean orchids. Taxon 54:977–985. https://doi.org/10.2307/25065482

Dafni A, Firmage D (2000) Pollen viability and longevity: practical, ecological and evolutionary implications. In: Pollen and pollination. Springer, Dordrecth, pp 113–132

Dolce NR, Medina RD, Mroginski LA, Rey HY (2016) Storage of Cohniella cepula (Orchidaceae) Pollinia: fertilizing ability and subsequent fruit and seed formation. HortSci 51:1265–1269. https://doi.org/10.21273/HORTSCI10903-16

Dressler RL (1993) Phylogeny and classification of the orchid family. Cambridge University Press, Cambridge

Dunn RO (2012) Effects of high-melting methyl esters on crystallization properties of fatty acid methyl ester mixtures. Trans ASABE 55:637–646

Ellis RH, Hong TD (2007) Seed longevity–moisture content relationships in hermetic and open storage. Seed Sci Technol 35:423–431. https://doi.org/10.15258/sst.2007.35.2.17

Fagerström A, Kocherbitov V, Westbye P, Bergström K, Arnebrant T, Engblom J (2014) Surfactant softening of plant leaf cuticle model wax – a Differential Scanning Calorimetry (DSC) and Quartz Crystal Microbalance with Dissipation (QCM-D) study. J Colloid Interface Sci 426:22–30. https://doi.org/10.1016/j.jcis.2014.03.064

Franchi GG, Nepi M, Dafni A, Pacini E (2002) Partially hydrated pollen: taxonomic distribution, ecological and evolutionary significance. Plant Syst Evol 234:211–227. https://doi.org/10.1007/s00606-002-0221-1

Franchi GG, Piotto B, Nepi M, Baskin CC, Baskin JM, Pacini E (2011) Pollen and seed desiccation tolerance in relation to degree of developmental arrest, dispersal, and survival. J Exp Bot 62:5267–5281. https://doi.org/10.1093/jxb/err154

Govaerts R, Bernet P, Kratochvil K et al (2016) World checklist of Orchidaceae. The Board of Trustees of the Royal Botanic Gardens - Kew, Richmond

Hay FR, Adams J, Manger K, Probert R (2008) The use of non-saturated lithium chloride solutions for experimental control of seed water content. Seed Sci Technol 36:737–746. https://doi.org/10.15258/sst.2008.36.3.23

Hay FR, Merritt DJ, Soanes JA, Dixon KW (2010) Comparative longevity of Australian orchid (Orchidaceae) seeds under experimental and low temperature storage conditions. Bot J Linn Soc 164:26–41. https://doi.org/10.1111/j.1095-8339.2010.01070.x

Hickey M, King C, King M (2000) The Cambridge illustrated glossary of botanical terms. Cambridge University Press, Cambridge

Hobbhahn N, Johnson SD, Bytebier B, Yeung EC, Harder LD (2013) The evolution of floral nectaries in Disa (Orchidaceae: Disinae): recapitulation or diversifying innovation? Ann Bot 112:1303–1319. https://doi.org/10.1093/aob/mct197

Hobbhahn N, Johnson SD, Harder LD (2017) The mating consequences of rewarding vs. deceptive pollination systems: is there a quantity–quality trade-off? Ecol Monogr 87:91–104. https://doi.org/10.1002/ecm.1235

Hong TD, Ellis RH, Buitink J et al (1999) A model of the effect of temperature and moisture on pollen longevity in air-dry storage environments. Ann Bot 83:167–173. https://doi.org/10.1006/anbo.1998.0807

Hor YL, Kim YJ, Ugap A et al (2005) Optimal hydration status for cryopreservation of intermediate oily seeds: Citrus as a case study. Ann Bot 95:1153–1161. https://doi.org/10.1093/aob/mci126

Hosomi ST, Custódio CC, Seaton PT, Marks TR, Machado-Neto NB (2012) Improved assessment of viability and germination of Cattleya (Orchidaceae) seeds following storage. In Vitro Cell Dev Biol Plant 48:127–136. https://doi.org/10.1007/s11627-011-9404-1

Johnson SD, Bond WJ (1992) Habitat dependent pollination success in a Cape orchid. Oecologia 91:455–456. https://doi.org/10.1007/BF00317637

Johnson SD, Linder HP, Steiner KE (1998) Phylogeny and radiation of pollination systems in Disa (Orchidaceae). Am J Bot 85:402–411. https://doi.org/10.2307/2446333

Kartzinel TR, Shefferson RP, Trapnell DW (2013) Relative importance of pollen and seed dispersal across a Neotropical mountain landscape for an epiphytic orchid. Mol Ecol 22:6048–6059. https://doi.org/10.1111/mec.12551

Linder HP, Kurzweil H, Johnson SD (2005) The Southern African orchid flora: composition, sources and endemism. J Biogeogr 32(1):29–47. https://doi.org/10.1111/j.1365-2699.2004.01202.x

Lughadha EN, Govaerts R, Belyaeva I et al (2016) Counting counts: revised estimates of numbers of accepted species of flowering plants, seed plants, vascular plants and land plants with a review of other recent estimates. Phytotaxa 272:82–88. https://doi.org/10.11646/phytotaxa.272.1.5

Machado Neto NB, Custódio CC (2005) Orchid conservation through seed banking: ins and outs. Selbyana 26:229–235

Marks TR, Seaton PT, Pritchard HW (2014) Desiccation tolerance, longevity and seed-siring ability of entomophilous pollen from UK native orchid species. Ann Bot 114:561–569. https://doi.org/10.1093/aob/mcu139

Mattila E, Kuitunen MT (2000) Nutrient versus pollination limitation in Platanthera bifolia and Dactylorhiza incarnata (Orchidaceae). Oikos 89:360–366. https://doi.org/10.1034/j.1600-0706.2000.890217.x

McDonald MB (2004) Orthodox seed deterioration and its repair. In: Benech-Arnold RL, Sanchez RA (eds) Handbook of seed physiology: applications to agriculture. Food Products Press, New York, pp 273–304

Meeyot W, Kamemoto H (1969) Studies on storage of orchid pollen. Am Orchid Soc Bull 38:388–393

Milet-Pinheiro P, do Amaral Ferraz Navarro DM, Dötterl S et al (2015) Pollination biology in the dioecious orchid Catasetum uncatum: how does floral scent influence the behaviour of pollinators? Phytochemistry 116:149–161. https://doi.org/10.1016/j.phytochem.2015.02.027

Mira S, Hill LM, González-Benito ME, Ibáñez MA, Walters C (2016) Volatile emission in dry seeds as a way to probe chemical reactions during initial asymptomatic deterioration. J Exp Bot 67:1783–1793. https://doi.org/10.1093/jxb/erv568

Mira S, Nadarajan J, Liu U, González-Benito ME, Pritchard HW (2019) Lipid thermal fingerprints of long-term stored seeds of Brassicaceae. Plants 8:414. https://doi.org/10.3390/plants8100414

Nagel M, Börner A (2010) The longevity of crop seeds stored under ambient conditions. Seed Sci Res 20:1–12. https://doi.org/10.1017/S0960258509990213

Nepi M, Franchi GG, Padni E (2001) Pollen hydration status at dispersal: cytophysiological features and strategies. Protoplasma 216:171–180. https://doi.org/10.1007/BF02673869

Pacini E (2009) Orchids pollen dispersal units and reproductive consequences. In: Kull T, Arditti J, Wong SM (eds) Orchid biology: reviews and perspectives 10. Springer, Dordrecht, pp 185–218

Pacini E, Hesse M (2002) Types of pollen dispersal units in orchids, and their consequences for germination and fertilization. Ann Bot 89:653–664. https://doi.org/10.1093/aob/mcf138

Pacini E, Jacquard C, Clément C (2011) Pollen vacuoles and their significance. Planta 234:217–227. https://doi.org/10.1007/s00425-011-1462-4

Popova E, Kim HH, Saxena PK, Engelmann F, Pritchard HW (2016) Frozen beauty: the cryobiotechnology of orchid diversity. Biotechnol Adv 34:380–403. https://doi.org/10.1016/j.biotechadv.2016.01.001

Pritchard HW (1995) Cryopreservation of seeds. In: Day JG, MR ML (eds) Methods in molecular biology, Vol 38: cryopreservation and freeze-drying protocols. Humana Press Inc., Totowa, pp 133–144

Pritchard HW, Poynter ALC, Seaton PT (1999) Interspecific variation in orchid seed longevity in relation to ultra-dry storage and cryopreservation. Lindleyana 14:92–101

Pritchard HW, Prendergast FG (1989) Factors influencing the germination and storage characteristics of orchid pollen. In: Modern Methods in Orchid Conservation, pp 1–16

Pritchard HW, Seaton PT (1993) Orchid seed storage: historical perspective, current status, and future prospects for long-term conservation. Selbyana 89–104

Raja MM, Vijayalakshmi G, Naik ML, Basha PO, Sergeant K, Hausman JF, Khan PSSV (2019) Pollen development and function under heat stress: from effects to responses. Acta Physiol Plant 41:47. https://doi.org/10.1007/s11738-019-2835-8

RHS (Royal Horticultural Society) (2017) Orchid names abbreviations. Available at <https://www.rhs.org.uk/plants/pdfs/plant-registration-forms/orchid-name-abbreviations-list.pdf> Accessed 15 Nov 2019

Seaton P, Kendon JP, Pritchard HW et al (2013) Orchid conservation: the next ten years. Lankesteriana Intern J Orchid 13:93–101

Seaton PT, Pritchard HW, Marks TR (2015) Aspects of orchid conservation: seed and pollen storage and their value in re-introduction projects. Univ J Plant Sci 3:72–76. https://doi.org/10.13189/ujps.2015.030403

Teixeira AS, González-Benito ME, Molina-García AD (2014) Determination of glassy state by cryo-SEM and DSC in cryopreservation of mint shoot tips by encapsulation–dehydration. Plant Cell Tissue Organ Cult 119:269–280. https://doi.org/10.1007/s11240-014-0531-3

Thompson DI (2003) Conservation of select South African Disa Berg. species (Orchidaceae) through in vitro seed germination. (Doctoral dissertation)

Thornhill A, Koopowitz H (1992) Viability of Disa uniflora Berg (Orchidaceae) seeds under variable storage conditions: is orchid gene-banking possible? Biol Conserv 62:21–27

Tremblay RL, Ackerman JD, Zimmerman JK, Calvo RN (2004) Variation in sexual reproduction in orchids and its evolutionary consequences: a spasmodic journey to diversification. Biol J Linn Soc 84:1–54. https://doi.org/10.1111/j.1095-8312.2004.00400.x

Vendrame WA, Carvalho VS, Dias JMM (2007) In vitro germination and seedling development of cryopreserved Dendrobium hybrid mature seeds. Sci Hortic 114:188–193. https://doi.org/10.1016/j.scienta.2007.06.006

Walters C, Hill LM, Wheeler LJ (2005a) Dying while dry: kinetics and mechanisms of deterioration in desiccated organisms. Integr Comp Biol 45:751–758. https://doi.org/10.1093/icb/45.5.751

Walters C, Wheeler L, Stanwood PC (2004) Longevity of cryogenically stored seeds. Cryobiol. 48:229–244. https://doi.org/10.1016/j.cryobiol.2004.01.007

Walters C, Wheeler LM, Grotenhuis JM (2005b) Longevity of seeds stored in a genebank: species characteristics. Seed Sci Res 15:1–20. https://doi.org/10.1079/SSR2004195

Wang B, Wang R-R, Cui Z-H, Bi WL, Li JW, Li BQ, Ozudogru EA, Volk GM, Wang QC (2014) Potential applications of cryogenic technologies to plant genetic improvement and pathogen eradication. Biotechnol Adv 32:583–595. https://doi.org/10.1016/j.biotechadv.2014.03.003

Wang B, Zhang Z, Yin Z, Feng C, Wang Q (2012) Novel and potential application of cryopreservation to plant genetic transformation. Biotechnol Adv 30:604–612. https://doi.org/10.1016/j.biotechadv.2011.10.008

Wheather online (2017) Available at: HYPERLINK http://www.weatheronline.co.uk/weather/maps/city

Xu J, Li B, Liu Q, Shi Y, Peng J, Jia M, Liu Y (2014) Wide-scale pollen banking of ornamental plants through cryopreservation. CryoLetters 35:312–319
Acknowledgements
We would like to thanks UNOESTE for allowing these Post Doctoral fellowships, to CNPq for the scholarships and for all support from staff at the Royal Botanic Gardens, Kew, Wakehurst Place.
Funding
This work was supported by fellowships conceded by Conselho Nacional de Pesquisa - CNPq Brazil - Science Without Borders Program (C.C.C. grant number 245783/2012-1, and N.B.M.N. grant number 245777/2012-1); Royal Botanic Gardens, Kew, receives grant-in-aid from Defra.
Ethics declarations
Conflict of interest
The authors declare that there are no conflicts of interest.
Additional information
Publisher's note
Springer Nature remains neutral with regard to jurisdictional claims in published maps and institutional affiliations.
Handling Editor: Dorota Kwiatkowska
About this article
Cite this article
Custodio, C.C., Machado-Neto, N.B., Singer, R.B. et al. Storage of orchid pollinia with varying lipid thermal fingerprints. Protoplasma 257, 1401–1413 (2020). https://doi.org/10.1007/s00709-020-01514-z
Received:

Accepted:

Published:

Issue Date:
Keywords
Pollen germination

Germplasm

Conservation

Orchidaceae