Abstract
The transcriptional and posttranscriptional AGO-mediated control of gene expression may play important roles during male monocot gametophyte development. In this report, we demonstrated dynamic changes in the spatiotemporal distribution of AGO1 and AGO4, which are key proteins of the RNA-induced silencing complex (RISC) in Hyacinthus orientalis male gametophyte development. During maturation of the bicellular pollen grains and in vitro pollen tube growth, the pattern of AGO1 localization was correlated with previously observed transcriptional activity of the cells. During the period of high transcriptional activity, AGO1 is associated with chromatin while the clustered distribution of AGO1 in the interchromatin areas is accompanied by condensation of chromatin and the gradual transcriptional silencing of both cells in mature, dehydrated pollen. During pollen tube growth and the restarting of RNA synthesis in the vegetative nucleus, AGO1 is dispersed in the chromatin. Additionally, the gradual increase in the cytoplasmic pool of AGO1 in the elongating pollen tube indicates the activation of the posttranscriptional gene silencing (PTGS) pathway. During pollen tube growth in the generative cell and in the sperm cells, AGO1 is present mainly in the areas between highly condensed chromatin clusters. Changes in the distribution of AGO4 that indicated the possibility of spatiotemporal organization in the RNA-directed DNA methylation (RdDM) process (cytoplasmic and nuclear steps) were also observed during hyacinth male gametophyte development. Based on our findings, we propose that in the germinating pollen tube, the cytoplasmic assembly of AGO4/siRNA takes place and that the mature complexes could be transported to the nucleus to carry out their function during the next steps of pollen tube growth.
Access options
Buy single article
Instant access to the full article PDF.
USD 39.95
Price includes VAT (USA)
Tax calculation will be finalised during checkout.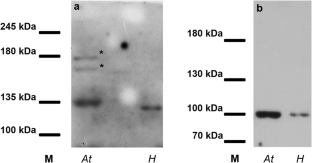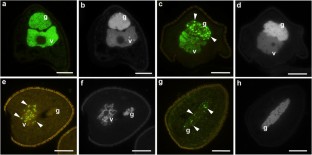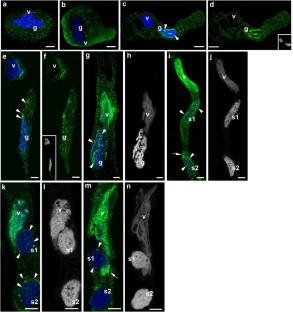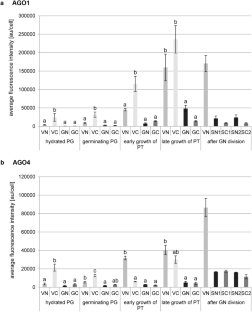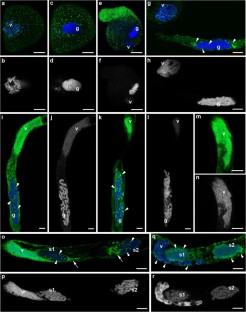 Abbreviations
5mC:

5-Methylcytosine

acH4:

Acetylated histone H4

AGO1:

Argonaute 1

AGO4:

Argonaute 4

BMA:

Butyl methacrylate

GC:

Generative cytoplasm

GN:

Generative nucleus

MGU:

Male germ unit

miRNA:

Micro RNA

MMA:

Methyl methacrylate

PAb:

Polyclonal antibody

PTGS:

Posttranscriptional gene silencing

RdDM:

RNA-directed DNA methylation

RISC:

RNA-induced silencing complex

SC:

Sperm cell

siRNA:

Small interfering RNA

sRNA:

Small noncoding RNA

TE:

Transposable element

TGS:

Transcriptional gene silencing

VC:

Vegetative cytoplasm

VN:

Vegetative nucleus
Funding
This project was supported by Polish National Science Center (NCN) grant no. 2011/03/D/NZ3/00603 (to KN).
Ethics declarations
Conflict of interest
The authors declare that they have no conflict of interest.
Additional information
Publisher's note
Springer Nature remains neutral with regard to jurisdictional claims in published maps and institutional affiliations.
Handling Editor: Burkhard Becker
Electronic supplementary material
About this article
Cite this article
Niedojadło, K., Kupiecka, M., Kołowerzo-Lubnau, A. et al. Dynamic distribution of ARGONAUTE1 (AGO1) and ARGONAUTE4 (AGO4) in Hyacinthus orientalis L. pollen grains and pollen tubes growing in vitro. Protoplasma 257, 793–805 (2020). https://doi.org/10.1007/s00709-019-01463-2
Received:

Accepted:

Published:

Issue Date:
Keywords
AGO1

AGO4

Male germ unit (MGU)

miRNA

Pollen tube

siRNA