Abstract
A comprehensive study which was undertaken on the effect of three polyamines (PAs) on stomatal closure was examined in relation to nitric oxide (NO) and reactive oxygen species (ROS) levels in guard cells of Arabidopsis thaliana. Three PAs—putrescine (Put), spermidine (Spd), and spermine (Spm)—induced stomatal closure, while increasing the levels of NO as well as ROS in guard cells. The roles of NO and ROS were confirmed by the reversal of closure by cPTIO (NO scavenger) and catalase (ROS scavenger). The presence of L-NAME (NOS-like enzyme inhibitor) reversed PA-induced stomatal closure, suggesting that NOS-like enzyme played a significant role in NO production during stomatal closure. The reversal of stomatal closure by diphenylene iodonium (DPI, NADPH oxidase inhibitor) or 2-bromoethylamine (BEA, copper amine oxidase inhibitor) or 1,12 diaminododecane (DADD, polyamine oxidase inhibitor) was partial. In contrast, the presence of DPI along with BEA/DADD reversed completely the closure by PAs. We conclude that both NO and ROS are essential signaling components during Put-, Spd-, and Spm-induced stomatal closure. The PA-induced ROS production is mediated by both NADPH oxidase and amine oxidase. The rise in ROS appears to be upstream of NO. Ours is the first detailed study on the role of NO and its dependence on ROS during stomatal closure by three major PAs.
Access options
Buy single article
Instant access to the full article PDF.
USD 39.95
Price includes VAT (USA)
Tax calculation will be finalised during checkout.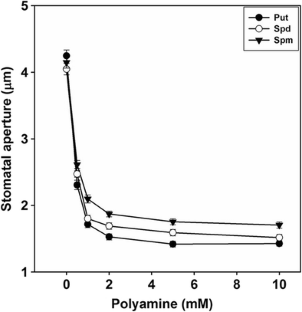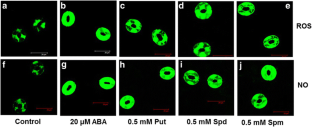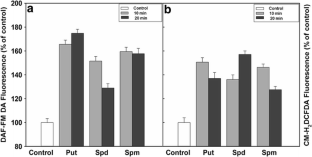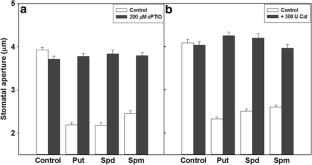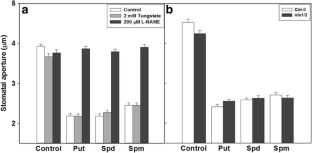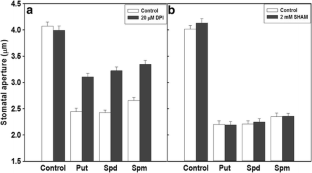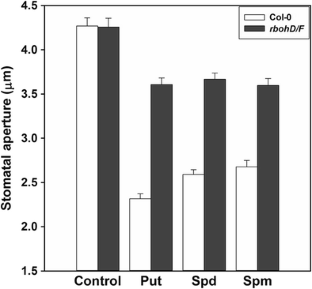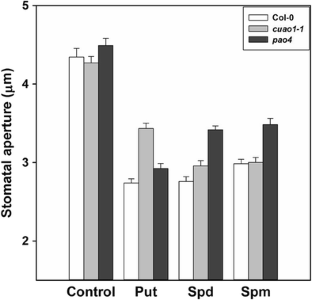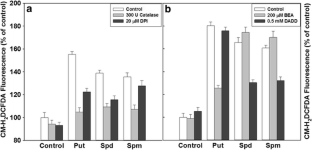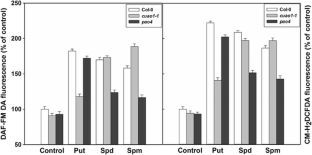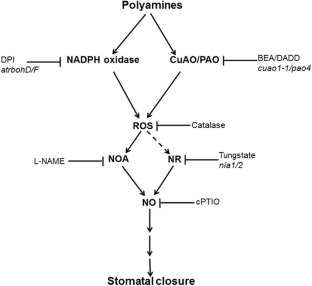 Abbreviations
ABA:

abscisic acid

Atrboh :

Arabidopsis thaliana respiratory burst oxidase homolog

BEA:

2-bromoethylamine

CM-H2DCF DA:

5-(and-6)-chloromethyl-2′,7′-dichlorodihydrofluorescein diacetate

Col:

Columbia

cPTIO:

2-phenyl-4,4,5,5-tetramethylimidazoline-1-oxyl3-oxide

CuAO:

copper amine oxidase

cuao1-1 :

copper amine oxidase1

DADD:

1,12 diaminododecane

DAF-FM DA:

4-amino-5-methyl amino-2′,7′-difluorofluorescein diacetate

DMSO:

dimethyl sulfoxide

DPI:

diphenylene iodonium chloride

L-NAME:

N-nitro-L-arginine methyl ester

nia1 :

nitrate reductase1

nia2 :

nitrate reductase2

NO:

nitric oxide

NOS:

nitric oxide synthase

NR:

nitrate reductase

PA(s):

polyamine(s)

PAO:

polyamine oxidase

pao4 :

polyamine oxidase4

Put:

putrescine

ROS:

reactive oxygen species

SHAM:

salicylhydroxamic acid

Spd:

spermidine

Spm:

spermine
References
Agurla S, Gayatri G, Raghavendra AS (2014) Nitric oxide as a secondary messenger during stomatal closure as a part of plant immunity response against pathogens. Nitric Oxide 43:89–96

Agurla S, Gayatri G, Raghavendra AS (2016) Nitric oxide (NO) measurements in stomatal guard cells. Methods Mol Biol 1424:49–56

Agurla S, Gayatri G, Raghavendra AS (2017) Signal transduction components in guard cells during stomatal closure by plant hormones and microbial elicitors, in Mechanism of Plant Hormone Signaling Under Stress (ed G. K. Pandey), John Wiley & Sons, Inc., Hoboken, NJ, USA

Agurla S, Raghavendra AS (2016) Convergence and divergence of signaling events in guard cells during stomatal closure by plant hormones or microbial elicitors. Front Plant Sci 7:1332

Alcázar R, Altabella T, Marco F, Bortolotti C, Reymond M, Koncz C, Carrasco P, Tiburcio AF (2010) Polyamines: molecules with regulatory functions in plant abiotic stress tolerance. Planta 231:1237–1249

An Z, Jing W, Liu Y, Zhang W (2008) Hydrogen peroxide generated by copper amine oxidase is involved in abscisic acid-induced stomatal closure in Vicia faba. J Exp Bot 59:815–825

Angelini R, Cona A, Federico R, Fincato P, Tavladoraki P, Tisi A (2010) Plant amine oxidases "on the move": an update. Plant Physiol Biochem 48:560–564

Bright J, Desikan R, Hancock JT, Weir IS, Neill SJ (2006) ABA-induced NO generation and stomatal closure in Arabidopsis are dependent on H2O2 synthesis. Plant J 45:113–122

Cona A, Rea G, Botta M, Corelli F, Federico R, Angelini R (2006) Flavin-containing polyamine oxidase is a hydrogen peroxide source in the oxidative response to the protein phosphatase inhibitor cantharidin in Zea mays L. J Exp Bot 57:2277–2289

García-Mata C, Lamattina L (2013) Gasotransmitters are emerging as new guard cell signaling molecules and regulators of leaf gas exchange. Plant Sci 201-202:66–73

Gayatri G, Agurla S, Raghavendra AS (2013) Nitric oxide in guard cell as an important second messenger during stomatal closure. Front Plant Sci 4:425

Gémes K, Kim YJ, Park KY, Moschou PN, Andronis E, Valassaki C, Roussis A, Roubelakis-Angelakis KA (2016) An NADPH-oxidase/polyamine oxidase feedback loop controls oxidative burst under salinity. Plant Physiol 172:1418–1431

Hou ZH, Liu GH, Hou LX, Wang LX, Liu X (2013) Regulatory function of polyamine oxidase-generated hydrogen peroxide in ethylene-induced stomatal closure in Arabidopsis thaliana. J Integr Agric 12:251–262

Kusano T, Berberich T, Tateda C, Takahashi Y (2008) Polyamines: essential factors for growth and survival. Planta 228:367–381

Liu K, Fu H, Bei Q, Luan S (2000) Inward potassium channel in guard cells as a target for polyamine regulation of stomatal movements. Plant Physiol 124:1315–1326

Melotto M, Underwood W, He SY (2008) Role of stomata in plant innate immunity and foliar bacterial diseases. Annu Rev Phytopathol 46:101–122

Moschou PN, Paschalidis KA, Delis ID, Andriopoulou AH, Lagiotis GD, Yakoumakis DI et al (2008a) Spermidine exodus and oxidation in the apoplast induced by abiotic stress is responsible for H2O2 signatures that direct tolerance responses in tobacco. Plant Cell 20:1708–1724

Moschou PN, Roubelakis-Angelakis KA (2014) Polyamines and programmed cell death. J Exp Bot 65:1285–1296

Moschou PN, Sanmartin M, Andriopoulou AH, Rojo E, Sanchez-Serrano JJ, Roubelakis-Angelakis KA (2008b) Bridging the gap between plant and mammalian polyamine catabolism: a novel peroxisomal polyamine oxidase responsible for a full back-conversion pathway in Arabidopsis. Plant Physiol 147:1845–1857

Munemasa S, Oda K, Watanabe-Sugimoto M, Nakamura Y, Shimoishi Y, Murata Y (2007) The coronatine-insensitive 1 mutation reveals the hormonal signaling interaction between abscisic acid and methyl jasmonate in Arabidopsis guard cells. Specific impairment of ion channel activation and second messenger production. Plant Physiol 143:1398–1407

Murata Y, Mori IC, Munemasa S (2015) Diverse stomatal signaling and the signal integration mechanism. Annu Rev Plant Biol 66:369–392

Pottosin I, Velarde-Buendía AM, Bose J, Zepeda-Jazo I, Shabala S, Dobrovinskaya O (2014) Cross-talk between reactive oxygen species and polyamines in regulation of ion transport across the plasma membrane: implications for plant adaptive responses. J Exp Bot 65:1271–1283

Qiao M, Sun J, Liu N, Un T, Liu G, Han S, Hou C, Wang D (2015) Changes of nitric oxide and its relationship with H2O2 and Ca2+ in defense interactions between wheat and Puccinia triticina. PLoS One 10:e0132265

Qu Y, An Z, Zhuang B, Jing W, Zhang Q, Zhang W (2014) Copper amine oxidase and phospholipase D act independently in abscisic acid (ABA)-induced stomatal closure in Vicia faba and Arabidopsis. J Plant Res 127:533–544

Raghavendra AS, Gonugunta VK, Christmann A, Grill E (2010) ABA perception and signaling. Trends Plant Sci 15:395–401

Saha J, Brauer EK, Sengupta A, Popescu SC, Gupta K, Gupta B (2015) Polyamines as redox homeostasis regulators during salt stress in plants. Front Environ Sci 3:21

Slocum RD, Flores HE (1991) Biochemistry and physiology of polyamines in plants. CRC Press, Boca Raton FL

Song Y, Miao Y, Song CP (2014) Behind the scenes: the roles of reactive oxygen species in guard cells. New Phytol 201:1121–1140

Srivastava N, Gonugunta VK, Puli MR, Raghavendra AS (2009) Nitric oxide production occurs downstream of reactive oxygen species in guard cells during stomatal closure induced by chitosan in abaxial epidermis of Pisum sativum. Planta 229:757–765

Suhita D, Raghavendra AS, Kwak JM, Vavasseur A (2004) Cytoplasmic alkalization precedes reactive oxygen species production during methyl jasmonate and abscisic acid induced stomatal closure. Plant Physiol 134:1536–1545

Sun Z, Jin X, Albert R, Assmann SM (2014) Multi-level modeling of light induced stomatal opening offers new insights into its regulation by drought. PLoS Comput Biol 10:e1003930

Takahashi T, Kakehi J (2010) Polyamines: ubiquitous polycations with unique roles in growth and stress responses. Ann Bot 105:1–6

Toumi I, Moschou PN, Paschalidis KA, Bouamama B, Ben Salem-fnayou A, Ghorbel AW, Mliki A, Roubelakis-Angelakis KA (2010) Abscisic acid signals reorientation of polyamine metabolism to orchestrate stress responses via the polyamine exodus pathway in grapevine. J Plant Physiol 167:519–525

Tun NN, Santa-Catarina C, Begumn T, Silveira V, Handro W, Floh EIS et al (2006) Polyamines induce rapid biosynthesis of nitric oxide (NO) in Arabidopsis thaliana seedlings. Plant Cell Physiol 47:346–354

Wang P, Song CP (2008) Guard-cell signaling for hydrogen peroxide and abscisic acid. New Phytol 178:703–718

Wimalasekera R, Tebartz F, Scherer GFE (2011) Polyamines, polyamine oxidases and nitric oxide in development, abiotic and biotic stresses. Plant Sci 181:593–603

Xue B, Zhang A, Jiang M (2009) Involvement of polyamine oxidase in abscisic acid-induced cytosolic antioxidant defense in leaves of maize. J Integr Plant Biol 51:225–234
Acknowledgments
This work was supported by grants (to ASR) of a JC Bose National Fellowship (No. SR/S2/JCB-06/2006) from the Department of Science and Technology and Department of Biotechnology (No. BT/PR9227/PBD/16/748/2007), both in New Delhi. SA and GG were supported by Senior Research Fellowships of University Grants Commission. We thank Mr. Prasad, technical assistant, Central Instrumentation Laboratory, for his help in using the confocal microscope. We also thank DBT-CREBB, DST-FIST, and UGC-SAP for support of infrastructure in our Department and School.
Additional information
Handling Editor: Bhumi Nath Tripathi
About this article
Cite this article
Agurla, S., Gayatri, G. & Raghavendra, A.S. Polyamines increase nitric oxide and reactive oxygen species in guard cells of Arabidopsis thaliana during stomatal closure. Protoplasma 255, 153–162 (2018). https://doi.org/10.1007/s00709-017-1139-3
Received:

Accepted:

Published:

Issue Date:
Keywords
Amine oxidase

Arabidopsis thaliana

Nitric oxide

Polyamines

Oxidative stress

Reactive oxygen species

Stomatal closure