Abstract
Present communication reports laboratory and pot experiments conducted to study the influence of water and osmotic stress on nitrogen uptake and metabolism in two wheat (Triticum aestivum L) cultivars with and without potassium supplementation. Polyethylene glycol 6000-induced osmotic stress/restricted irrigation caused a considerable decline in the activity of nitrate reductase, glutamate synthase, alanine and aspartate aminotransferases, and glutamate dehydrogenase. Potassium considerably improved nitrogen metabolism under normal water supply conditions and also resulted in amelioration of the negative impact of water and osmotic stresses indicating that potassium supplementation can be used as a potential tool for enhancing the nitrogen use efficiency in wheat for exploiting its genetic potential.
Access options
Buy single article
Instant access to the full article PDF.
US$ 39.95
Tax calculation will be finalised during checkout.
Subscribe to journal
Immediate online access to all issues from 2019. Subscription will auto renew annually.
US$ 119
Tax calculation will be finalised during checkout.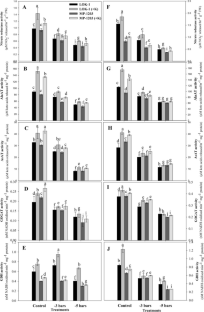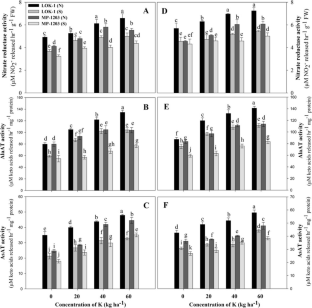 References
Agarwal RM, Gupta S, Jeevaratnam K (1994) NADH dependent glutamate dehydrogenase activity in Lablab purpureus L. under polyethylene glycol '6000' induced stress, cycocel and conditioning treatments. Indian J Exp Biol 32:812–815

Agarwal RM, Tomar NS, Jatav KS, Sharma GL (2009) Potassium induced changes in flowering plants. In: flower retrospect and Prospect (Professsor Vishwambhar Puri birth centenary volume) SR scientific publication. Delhi 110553:158–186

Ahanger MA, Agarwal RM (2016) Potassium improves antioxidant metabolism and alleviates growth inhibition under water and osmotic stress in wheat (Triticum aestivum L.). Protoplasma DOI:10.1007/s00709–016–1037-0.

Ahanger MA, Agarwal RM, Tomar NS, Shrivastava M (2015) Potassium induces positive changes in nitrogen metabolism and antioxidant system of oat (Avena sativa L. cultivar Kent). J Plant Int 10:211–223

Bates LS, Waldren RP, Teare ID (1973) Rapid determination of free proline for water stress studied. Plant Soil 39:205–207

Blum A (1996) Crop response to drought and the interpretation of adaptation. J Plant Growth Regul 20:135–148

Buchanan BB, Gruissem W, Jones RL (2000) Biochemistry and molecular biology of plants. I K Int Pvt ltd, New Delhi

de la Torre F, Suarez MF, Santis LD, Canovas FM (2007) The aspartate aminotransferase family in conifers. Biochemical analysis of a prokaryotic-type enzyme from maritime pine. Tree Physiol 27:1283–1291

de la Torre F, Canas RF, Pascual MB, Avila C, Canovas FM (2014) Plastidic aspartate aminotransferases and the biosynthesis of essential amino acids in plants. J Exp Bot 65:5527–5534

Fong J, Schaffer FL, Kirk PL (1953) The ultramicrodetermination of glycogen in liver. A comparison of the anthrone and reducing-sugar methods. Arch Biochem Biophy 45:319–326

Foyer CH, Valadier MH, Migge A, Becker TW (1998) Drought-induced effects on nitrate reductase activity and mRNA and on the coordination of nitrogen and carbon metabolism in maize leaves. Plant Physiol 117:283–292

Gajewska E, Sklodowska M (2009) Nickel-induced changes in nitrogen metabolism in wheat shoots. J Plant Physiol 166:1034–1044

Griffiths CA, Paul MJ, Foyer CH (2016) Metabolite transport and associated sugar signalling systems underpinning source/sink. Interactions 1857:1715–1725

Haque M, Hamid A, Bhuiyan NI (2001) Nutrient uptake and productivity as affected by nitrogen and potassium application levels N maize/sweet potato intercropping system. Korean J Crop Sci 46:1–5

Iswaran V, Marwaha TS (1980) A modified rapid kjeldahl method for determination of total nitrogen in agricultural and biological materials. Geobios 7:281–282

Jackson ML (1973) Soil chemical analysis. Prentice Hall of India Pvt. Ltd, New Delhi

Jain VK, Guruprasad KN (1989) Effect of chlorocholin chloride and gibberellic acid on the anthocyanin synthesis in radish seedlings. Physiol Plant 75:233–236

Jatav KS, Agarwal RM, Tomar NS, Tyagi SR (2014) Nitrogen metabolism, growth and yield responses of wheat (Triticum aestivum L.) to restricted water supply and varying potassium treatments. J Indian Bot Soc 93:177–189

Kaiser WM, Brendle-Behnisch E (1991) Rapid modulation of spinach leaf nitrate reductase by photosynthesis. I. Modulation in vivo by CO2 availability. Plant Physiol 96:363–367

Kaiser WM, Spill D, Glaab J (1993) Rapid modulation of nitrate reductase in leaves and roots: indirect evidence for the involvement of protein phosphorylation/dephosphorylation. Plant Physiol 89:557–562

Khan MIR, Asgher M, Fatma M, Per TS, Khan NA (2015) Drought stress vis-a-vis plant functions in the era of climate change. Climate Change Environ Sust 3:13–25

Lea PJ, Blackwell RD, Chen FL, Hecht U (1990) Enzymes of ammonia assimilation. In: Lea PJ (ed) Methods in plant biochemistry, Vol. 3, enzymes of primary metabolism. Academic Press Limited London, UK, pp 257–276

Maeda H, Dudareva N (2012) The shikimate pathway and aromatic amino acid biosynthesis in plants. Annu Rev Plant Biol 63:73–105

Matros A, Peshev D, Peukert M, Mock HP, den Ende WV (2015) Sugars as hydroxyl radical scavengers: proof-of-concept by studying the fate of sucralose in Arabidopsis. Plant J 82:822–839

Matt P, Krapp A, Haake V, Mock HP, Stitt M (2002) Decreased Rubisco activity leads to dramatic changes of nitrate metabolism, amino acid metabolism and the levels of phenylpropanoids and nicotine in tobacco antisense RBCS transformants. Plant J 30:663–677

Meng S, Zhang C, Su L, Li Y, Zhao Z (2016) Nitrogen uptake and metabolism of Populus simonii in response to PEG-induced drought stress. Environ Exp Bot 123:78–87

Michel BE, Wiggins OK, Outlaw WH Jr (1983) A guide to establishing water potential of aqueous two-phase solutions (polyethylene glycol plus dextran) by amendment with mannitol. Plant Physiol 72:60–65

Movludi A, Ebadi A, Jahanbakhsh S, Davari M, Parmoon G (2014) The effect of water deficit and nitrogen on the antioxidant enzymes' activity and quantum yield of barley (Hordeum vulgare L.). Not Bot Horti Agrobo 42:398–404

Nathawat NS, Kuhad MS, Goswami CL, Patel AL, Kumar R (2005) Nitrogen-metabolizing enzymes: effect of nitrogen sources and saline irrigation. J Plant Nut 28:1089–1101

Nazar R, Iqbal N, Syeed S, Khan NA (2011) Salicylic acid alleviates decreases in photosynthesis under salt stress by enhancing nitrogen and sulfur assimilation and antioxidant metabolism differentially in two mungbean cultivars. J Plant Physiol 168:807–815

Oddo E, Inzerillo S, Bella FL, Grisafi F, Salleo S, Nardini A (2012) Short-term effects of potassium fertilization on the hydraulic conductance of Laurus nobilis L. Tree Physiol 31:131–138

Pan XY, Wang YF, Wang GX, Cao QD, Wang J (2002) Relationship between growth redundancy and size inequality in spring wheat populations mulched with clear plastic film. Acta Phytoecol Sinica 26:177–184

Pandey R, Agarwal RM, Jeevaratnam K, Sharma GL (2004) Osmotic stress-induced alterations in rice (Oryza sativa L.) and recovery on stress release. Plant Growth Reg 42:79–87

Pawar VV, Lokhande PK, Dalvi US, Awari VR, Kale AA, Chimote VP, Naik RM (2015) Effect of osmotic stress on osmolyte accumulation and ammonia assimilating enzymes in chickpea cultivars. Ind J Plant Physiol 20:276–280

Reitman S, Frankel S (1957) A colorimetric method for the determination of serum glutamic oxalactic and glutamic pyruvic transaminases. Amer J Clin Path 28:56–63

Robinson SA, Slade AP, Fox GG, Phillips R, Ratcliffe RG, Stewart GR (1991) The role of glutamate dehydrogenase in plant nitrogen metabolism. Plant Physiol 95:509–516

Rocha M, Licausi F, Araujo WL, Nunes-Nesi A, Sodek L, Fernie AR, van Dongen JT (2010) Glycolysis and the TCA-cycle are linked by alanine aminotransferase during hypoxia induced by waterlogging of Lotus japonicus. Plant Physiol 152:1501–1513

Sadasivam S, Manickam A (2004) Biochemical methods, second edn. New Age International Limited Publishers, New Delhi

Schuppler U, He PH, John PCL, Munns R (1998) Effect of water stress on cell division and cell-division- cycle 2-like cell-cycle kinase activity in wheat leaves. Plant Physiol 117:667–678

Sharma GL, Agarwal RM, Singh RP (2006) Potassium induced changes in certain aspects of nitrogen metabolism in chickpea (Cicer arietinum L.). Physiol Mol Biol Plants 12:157–162

Srivastava HS (1974) In vivo activity of nitrate reductase in maize seedlings. Indian J Biochem Biophys 11:230–232

Stitt M, Muller C, Matt P, Gibon Y, Carillo P, Morcuende R, Scheible WR, Krapp A (2002) Steps towards an integrated view of nitrogen metabolism. J Exp Bot 53:959–970

Taiz L, Zeiger E (2002) Plant physiology. 3rd edition. Panima publishing corporation, Sinauer associates Inc. Publishers Sunderland, Massachusetts

Touchette BW, Smith GA, Rhodes KL, Poole M (2009) Tolerance and avoidance: two contrasting physiological responses to salt stress in mature marsh halophytes Juncus roemerianus Scheele and Spartina alterniflora Loisel. J Exp Marine Biol Eco 380:106–112

Yamaya T, Kusano M (2014) Evidence supporting distinct functions of three cytosolic glutamine synthetases and two NADH-glutamate synthases in rice. J Exp Bot 65:5519–5525

Zhou S, Han YY, Chen Y, Kong X, Wang W (2015) The involvement of expansins in response to water stress during leaf development in wheat. J Plant Physiol 183:64–74
Acknowledgement
Thanks to the Head, School of Studies in Botany, Jiwaji University, Gwalior for the facilities. Financial assistance from Jiwaji University (F/DEV/2013-14/33) and MPCST (1466/CST/R&D (BS)/2015), Bhopal to the first author, and UGC-RGNF to MT is gratefully acknowledged. Thanks are due to Prof Nafees A Khan, AMU, Aligarh for suggestions in maintaining sand cultures, and to Dr. Mohd Asgher for sharing SPSS and Sigma plot software.
Author contributions
Manuscript forms part of Ph D work of MA Ahanger. Conceived and designed by Prof RM Agarwal. MA Ahanger performed experiments and wrote the first draft of the manuscript, and RM Agarwal cross checked the results and manuscript. MT and RAM helped in literature survey and final preparation of the manuscript.
Ethics declarations
Conflict of interest
The authors declare that they have no conflict of interest.
Additional information
Handling Editor: Néstor Carrillo
About this article
Cite this article
Ahanger, M.A., Tittal, M., Mir, R.A. et al. Alleviation of water and osmotic stress-induced changes in nitrogen metabolizing enzymes in Triticum aestivum L. cultivars by potassium. Protoplasma 254, 1953–1963 (2017). https://doi.org/10.1007/s00709-017-1086-z
Received:

Accepted:

Published:

Issue Date:
Keywords
Nitrogen metabolizing enzymes

Water and osmotic stress

Potassium

Triticum aestivum L