Abstract
Sugarcane shows reduced crop stand under relatively suboptimal conditions; the main reason for this is its sensitivity to ionic stress in the soil solution. This research was performed to explore some physiological and developmental changes in the immature sugarcane buds submitted to salt stress and possible role of glycinebetaine (GB) and proline (Pro) in mitigating the ion toxicity in a time course manner. Salinity stress reduced fresh and dry weight, induced the generation of hydrogen peroxide, increased tissue levels of Na+ sand Cl−, reduced K+ and Ca2+, and K+:Na+ and Ca2+:Na+ ratios, while increasing the osmolyte synthesis in expanding sugarcane buds. Salinity stress reduced and delayed the formation of new bud leaves and their expansion, which was mainly because of reduction in the number and area of mesophyll cells and poor development of vascular bundles. The pretreatment of bud chips with 20 mM each of GB and Pro decreased tissue levels of Na+ and Cl−, reduced the generation of H2O2, improved K+ and Ca2+, K+:Na+ and Ca2+:Na+ ratios, and further increased the levels of GB, free proline (FP), and soluble sugars in the buds. The pretreatment increased mesophyll cell number and expansion of bud leaves and formation of elaborated vascular tissues, which apparently enabled the sprouting buds to adapt to salinity stress. Of the two osmolytes, GB was a relatively better inducer of salinity tolerance than Pro. In short, salinity-induced oxidative stress was the main cause for altered tissue development, the production of which was offset by pretreatment of bud tissues with Pro and GB.
Access options
Buy single article
Instant access to the full article PDF.
US$ 39.95
Tax calculation will be finalised during checkout.
Subscribe to journal
Immediate online access to all issues from 2019. Subscription will auto renew annually.
US$ 119
Tax calculation will be finalised during checkout.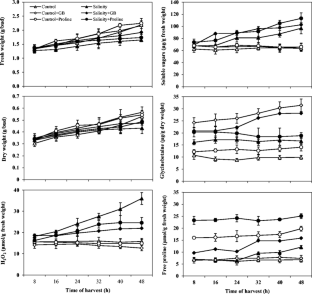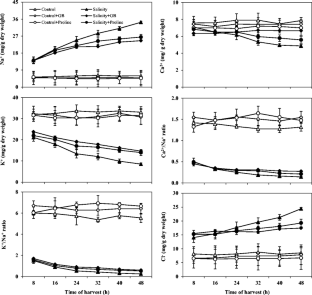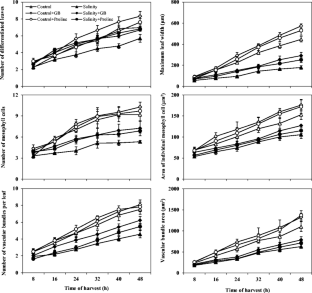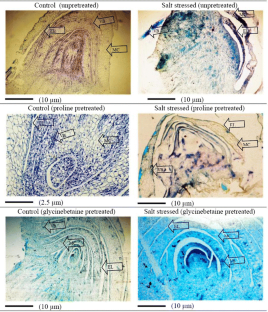 Abbreviations
MC:

Mesophyll cells

VB:

Vascular bundles

EL:

Elongating bud leaves
References
Akhtar S, Wahid A, Rasul E (2003) Emergence, growth and nutrient composition of sugarcane sprouts under NaCl salinity. Biol Plant 46:113–117

Alexander AG (1973) Sugarcane physiology: a comprehensive study of the Saccharum source-to-sink system. Elsevier Scientific Publication, Amsterdam, The Netherlands

Ambavaram MMR, Basu S, Krishnan A, Ramegowda V, Batlang U, Rahman L, Baisakh N, Pereira A (2014) Coordinated regulation of photosynthesis in rice increases yield and tolerance to environmental stress. Nat Commun 5:1–14

Annicchiarico P, Barrett B, Brummer EC, Julier B, Marshall AH (2015) Achievements and challenges in improving temperate perennial forage legumes. Crit Rev Plant Sci 34:327–380

Bakker H (1999) Sugar cane cultivation and management. Kluwer Academic/Plenum Publishers, Holland, New York

Baldwin IT, Halitschke R, Paschold A, von Dahl CC, Preston CA (2006) Volatile Signaling in Plant-Plant Interactions: "Talking Trees" in the Genomics Era Sci 311:812–815

Bates IS, Waldren RP, Teare ID (1973) Rapid determination of free proline for water stress studies. Plant Soil 39:205–207

Belkheiri O, Mulas M (2013) The effects of salt stress on growth, water relations and ion accumulation in two halophyte Atriplex species. Environ Exp Bot 86:17–28

Bruce TJA, Matthes MC, Napier JA, Pickett JA (2007) Stressful memories of plants: evidence and possible mechanisms. Plant Sci 173:603–608

Carillo P, Parisi D, Woodrow P, Pontecorvo G, Massaro G, Annunziata MG, Fuggi A, Sulpice R (2011) Salt-induced accumulation of glycine betaine is inhibited by high light in durum wheat. Funct Plant Biol 38:139–150

Conrath U, Beckers GJM, Flors V, Agustín PG, Jakab G, Mauch F, Newman MA, Pieterse CMJ, Poinssot B, Pozo MJ, Pugin A, Schaffrath U, Ton J, Wendehenne D, Zimmerli L, Mani BM (2006) Priming: getting ready for battle. Mol Plant-Microbe Interact 19:1062–1071

Cuin TA, Shabala S (2007) Compatible solutes reduce ROS-induced potassium efflux in Arabidopsis roots. Plant Cell Environ 30:875–885

Debnath M, Pandey M, Bisen PS (2011) An omics approach to understand the plant abiotic stress. Omics 15:739–762

Epstein E, Bloom AJ (2005) Mineral nutrition of plants: principles and perspectives, 2nd edn. Sinauer, Sunderland, Massachusetts

Farooq M, Aziz T, Wahid A, Lee D-J, Siddique KHM (2009) Chilling tolerance in maize: agronomic and physiological approaches. Crop Past Sci 60:501–516

Garrote-Moreno A, Sandoval-Gil JM, Ruiz JM, Marin-Guirao L, Bernardeau-Esteller J, Munoz RG, Sanchez-Lizaso JL (2015) Plant water relations and ion homoeostasis of Mediterranean seagrasses (Posidonia oceanica and Cymodocea nodosa) in response to hypersaline stress. Mar Biol 162:55–68

Grieve CM, Grattan SR (1983) Rapid assay for the determination of water soluble quaternary ammonium compounds. Plant Soil 70:303–307

Hasegawa PM, Bressan RA, Zhu JK, Bohnert HJ (2000) Plant cellular and molecular responses to high salinity. Annu Rev Plant Physiol Plant Mol Biol 51:463–499

Hulten MV, Pelser M, Loon LCV, Pieterse CMJ, Ton J (2006) Costs and benefits of priming for defense in Arabidopsis. Proc Natl Acad Sci U S A 103:5602–5607

Jimenez-Casas M, Zwiazek JJ (2014) Adventitious sprouting of Pinus leiophylla in response to salt stress. Ann For Sci 71:811–819

Kahlown MA, Chang MH, Ashraf M, Hassan MS (2003) Salt affected soils and their reclamation. Research report-4 2003. Pakistan Council of Research in Water Resources, Islamabad, Pakistan

Kaul S, Sharma SS, Mehta IK (2008) Free radical scavenging potential of L-proline: evidence from in vitro assays. Amino Acids 34:315–320

Kosova K, Prášil IT, Vítámvás P (2013) Protein contribution to plant salinity response and tolerance acquisition. Int J Mol Sci 14:6757–6789

Lakshmanan P, Geijskes RJ, Aitken KS, Grof CLP, Bonnett GD, Smith GR (2005) Sugarcane biotechnology: the challenges and opportunities. In Vitro Cell Dev Biol Plant 41:345–363

Marschner H (2011) Mineral nutrition of higher plants, 3rd edn. Acad. Press, London

Mot'kova K, Podlipna R, Vanek T, Kafka Z (2014) Halophytes and their use in phytoremediation. Chem Listy 108:586–591

Pessarakli M, Szabolcs I (1999) Soil salinity and sodicity as particular plant/crop stress factor. In: Pessarakli M (ed) Handbook of plant and crop stress. Marcel Dekker Press Inc, New York, pp 1–16

Rajput VD, Chen Y, Ayup M (2015) Effects of high salinity on physiological and anatomical indices in the early stages of Populus euphratica growth. Russ J Plant Physiol 62:229–236

Rasheed R (2009) Salinity and extreme temperature effects on sprouting buds of sugarcane (Saccharum officinarum L.): some histological and biochemical studies. PhD thesis submitted to Department of Botany, University of Agriculture, Faisalabad, Pakistan

Rasheed R, Wahid A, Farooq M, Hussain I, Basra SMA (2011) Role of proline and glycinebetaine pretreatments in improving heat tolerance of sprouting sugarcane (Saccharum sp.) buds. Plant Growth Regul 65:35–45

Ruzin SE (1999) Plant microtechnique and microscopy. Oxford Univ Press, New York

Schwabe KA, Iddo K, Knap KC (2006) Drain water management for salinity mitigation in irrigated agriculture. Am J Agric Ecol 88:133–140

Sekmen AH, Turkan I, Tanyolac ZO, Ozfidan C, Dinc A (2012) Different antioxidant defense responses to salt stress during germination and vegetative stages of endemic halophyte Gypsophila oblanceolata Bark. Environ Exp Bot 77:63–76

Sharma SK, Millam S (2004) Somatic embryogenesis in Solanum tuberosum L.: a histological examination of key developmental stages. Plant Cell Rep 23:115–119

Steel RGD, Torrie JH, Dickey DA (1996) Principles and procedures of statistics. McGraw Hill Book Co., New York, USA

Tendon HLS (1993) Methods of analysis of soil, plants, water and fertilizers. Fertilization Development and Consultation Organisation, New Delhi, India

Ton J, Alessandro MD, Jourdie V, Jakab G, Karlen D, Held M, Mani BM, Turlings TCJ (2007) Priming by airborne signals boosts direct and indirect resistance in maize. Plant J 49:16–26

Velikova V, Yordanov I, Edreva A (2000) Oxidative stress and some antioxidant systems in acid rain treated bean plants. Protective role of exogenous polyamines. Plant Sci 151:59–66

Verbruggen N, Hermans C (2008) Proline accumulation implants: a review. Amino Acids 35:753–759

Wahid A, Rasul E, Rao AR (1997) Germination responses of sensitive and tolerant sugarcane lines to sodium chloride. Seed Sci Technol 25:465–470

Wahid A, Sabir H, Farooq M, Ghazanfar A, Rasheed R (2009) Role of nodal bud and sprout tissue nutrients in sprout establishment, growth and salt tolerance of sugarcane. Crop Past Sci 60:453–462

Wani SH, Singh NB, Haribhushan A, Mir JI (2013) Compatible solute engineering in plants for abiotic stress tolerance—role of glycine betaine. Curr Genom 14:157–165

Yamane K, Taniguchi M, Miyake H (2012) Salinity-induced subcellular accumulation of H2O2 in leaves of rice. Protoplasma 249:301–308

Yang X, Lu C (2005) Photosynthesis is improved by exogenous glycinebetaine in salt-stressed maize plants. Physiol Plant 124:343–352

Yoshida S, Forno DA, Cock JH, Gomez KA (1976) Laboratory manual for physiological studies of rice. Los Banos, Laguna, The Philippines

Zhang J, Duan X, Ding F, Ma H, Zhang T, Yang Y (2014) Salinity induced the changes of root growth and antioxidative responses in two wheat cultivars. Protoplasma 251:771–780

Zhu J-K (2007) Plant salt stress. John Wiley & Sons Ltd, New York
Acknowledgments
The financial support of the Higher Education Commission (HEC), Islamabad, Pakistan, under Indigenous Ph.D. Fellowship Program (5000 fellowships) Batch-II to first author is highly acclaimed. Prof. Ahrar Khan, Department of Pathology, is highly thanked for providing the microtome facility. This work is part of PhD thesis of the first author.
Additional information
Handling Editor: Néstor Carrillo
About this article
Cite this article
Rasheed, R., Wahid, A., Hussain, I. et al. Partial repair of salinity-induced damage to sprouting sugarcane buds by proline and glycinebetaine pretreatment. Protoplasma 253, 803–813 (2016). https://doi.org/10.1007/s00709-015-0841-2
Received:

Accepted:

Published:

Issue Date:
Keywords
Osmoprotection

Oxidative stress

Pretreatment

Tissue expansion

Ionic toxicity