Abstract
This communication reports the first experimental evidence that in the bladder cancer model, membranous components labelled with the DiO dye and the cholera toxin subunit B can be transported from highly malignant (T24) to non-malignant (RT4) cells by extracellular vesicles. Taking into account the presence of stable membranous nanostructures found by scanning electron microscopy, we suggest a possible uptake mechanism in recipient cells through fusion with highly curved membranous regions.
Access options
Buy single article
Instant access to the full article PDF.
US$ 39.95
Tax calculation will be finalised during checkout.
Subscribe to journal
Immediate online access to all issues from 2019. Subscription will auto renew annually.
US$ 119
Tax calculation will be finalised during checkout.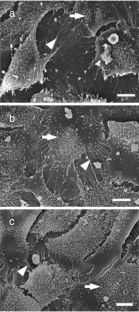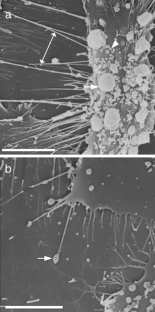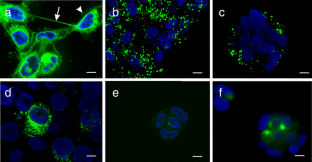 References
Dahiya R, Boyle B, Goldberg BC, Yoon WH, Konety B, Chen K, Yen TS, Blumenfeld W, Narayan P (1992) Metastasis-associated alterations in phospholipids and fatty acids of human prostatic adenocarcinoma cell lines. Biochem Cell Biol 70:548–554

D'Asti E, Garnier D, Lee TH, Montermini L, Meehan B, Rak J (2012) Oncogenic extracellular vesicles in brain tumor progression. Front Physiol 3:294

Frey B, Gaipl US (2011) The immune functions of phosphatidylserine in membranes of dying cells and microvesicles. Semin Immunopathol 33:497–516

Kharaziha P, Ceder S, Li Q, Panaretakis T (2012) Tumor cell-derived exosomes: a message in a bottle. Biochim Biophys Acta 1826:103–111

Kim CW, Lee HM, Lee TH, Kang C, Kleinman HK, Gho YS (2002) Extracellular membrane vesicles from tumor cells promote angiogenesis via sphingomyelin. Cancer Res 62:6312–6317

Kralj-Iglič V (2012) Stability of membranous nanostructures: a possible key mechanism in cancer progression. Int J Nanomed 7:3579–3596

Mrówczyńska L, Salzer U, Iglič A, Hägerstrand H (2011) Curvature factor and membrane solubilisation, with particular reference to membrane rafts. Cell Biol Int 35:991–995

Patra SK (2008) Dissecting lipid raft facilitated cell signaling pathways in cancer. Biochim Biophys Acta 1785:182–206

Simpson RJ, Jensen SS, Lim JW (2008) Proteomic profiling of exosomes: current perspectives. Proteomics 8:4083–4099

Skočaj M, Bakrac B, Križaj I, Maček P, Anderluh G, Sepčič K (2013) The sensing of membrane microdomains based on pore-forming toxins. Curr Med Chem 20:491–501

Van Blitterswijk WJ, De Veer G, Krol JH, Emmelot P (1982) Comparative lipid analysis of purified plasma membranes and shed extracellular membrane vesicles from normal murine thymocytes and leukemic GRSL cells. Biochim Biophys Acta 688:495–504

Veranič P, Lokar M, Schutz GJ, Weghuber J, Wieser S, Hagerstrand H, Kralj-Iglič V, Iglič A (2008) Different types of cell-to-cell connections mediated by nanotubular structures. Biophys J 95:4416–4425
Conflict of interest
The authors declare that they have no conflict of interest.
Additional information
Handling Editor: Peter Nick
About this article
Cite this article
Ogorevc, E., Hudoklin, S., Veranič, P. et al. Extracellular vesicle-mediated transfer of membranous components from the highly malignant T24 urinary carcinoma cell line to the non-malignant RT4 urinary papilloma cell line. Protoplasma 251, 699–702 (2014). https://doi.org/10.1007/s00709-013-0544-5
Received:

Accepted:

Published:

Issue Date:
Keywords
Intercellular transfer

Extracellular vesicles

Exosomes

Microvesicles

DiO

Cholera toxin