Abstract
In European larch microsporocytes, spherical structures 0.5 to 6 μm in diameter are present in which poly(A) RNA accumulates. There were one to several bodies per cell and they were often present in the vicinity of the nucleolus. No nascent transcripts were observed within them. Splicing factors of the SR family, including protein SC35, which participates in bringing the 3′ and 5′ sites closer in the splicing reaction, were also not observed. The absence of the above-mentioned elements within bodies containing poly(A) RNA disqualifies them as sites of synthesis and preliminary stages of primary transcript maturation. However, they contained abundant elements of the splicing machinery commonly occurring in Cajal bodies, i.e., Sm proteins or small nuclear RNA (snRNA). The molecular composition as well as the characteristic ultrastructure of bodies containing poly(A) RNA proves that these were Cajal bodies. This is the first report of such poly(A) RNA localization.
Access options
Buy single article
Instant access to the full article PDF.
USD 39.95
Price includes VAT (USA)
Tax calculation will be finalised during checkout.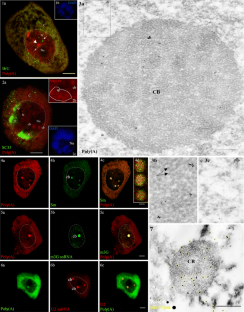 References
Acevedo R, Samaniego R, Díaz M, de la Espina S (2002) Coiled bodies in nuclei from plant cells evolving from dormancy to proliferation. Chromosoma 110:559–569

Ali GS, Glovkin M, Reddy AS (2003) Nuclear localization and in vivo dynamics of a plant-specific serine/arginine-rich protein. Plant J 36:883–93

Boudonck K, Dolan L, Shaw PJ (1999) The movement of coiled bodies visualized in living plant cells by the green fluorescent protein. Mol Biol Cell 10:2297–2307

Cajal SRY (1903) Un sencillo metodo de coloracion seletiva del reticulo protoplasmatico y sus efectos en los diversos organos nerviosos de vertebrados e invertebrados. Trab Lab Invest Biol (Madrid) 2:129–221

Collier S, Pendle A, Boudonck K, van Rij T, Dolan L, Shaw P (2006) A distant coilin homologue is required for the formation of Cajal bodies in Arabidopsis. Mol Biol Cell 17(7):2942–51

Frey MR, Matera AG (2001) RNA-mediated interaction of Cajal bodies and U2 snRNA genes. J Cell Biol 154:499–509

Gall JG (2000) Cajal bodies: the first 100 years. Annu Rev Cell Dev Bio l16:273–300

Gall JG, Bellini M, Wu Z, Murphy CH (1999) Assembly of the nuclear transcription and processing machinery: Cajal bodies (coiled bodies) and transcriptosomes. Mol Biol Cell 10:4385–4402

Gama-Carvalho M, Krauss RD, Chiang L, Valcárcel J, Green MR, Carmo-Fonseca M (1997) Targeting of U2AF65 to sites of active splicing in the nucleus. J Cell Biol 137:975–87

Huang S, Deerinck TJ, Ellisman MH, Spector DL (1994) In vivo analysis of the stability and transport of nuclear poly(A) + RNA. J Cell Biol 4:877–899

Inagaki S, Numata K, Kondo T, Tomista M, Yasuda K, Kanai A, Kageyama Y (2005) Identification and expression analysis of putative mRNA-like non-coding RNA in Drosophila. Genes Cells 10:1163–1173

Lamond AI, Spector DL (2003) Nuclear speckles: a model for nuclear organelles. Mol Cell Biol 4:605–612

Lequarre AS, Traverso JM, Marchandise J, Donnay I (2004) Poly(A) RNA is reduced by half during bovine oocyte maturation but increases when meiotic arrest is maintained with CDK inhibitors. Biol Reprod 71:425–431

Lorković ZJ, Barta A (2004) Compartmentalization of the splicing machinery in plant cell nuclei. Trends Plant Sci 9:555–568

Monneron A, Bernhard W (1969) Fine structural organization of the interphase cell nucleus of some mammalian cells. J Ultrastruct Res 27:266–288

Niedojadło J, Dominowska K, Bednarska E (2008) Nuclear bodies in microspore of Douglas fir (Pseudotsuga menziesii Mirb.) microspores. Protoplasma 234:77–85

Ochs RL, Stein TW, Tan EM (1994) Coiled bodies in the nucleolus of breast cancer cells. J Cell Sci 107:85–399

Picton H, Briggs D, Gosde R (1998) The molecular basis of oocyte growth and development. Mol Cell Endocrinol 145:27–37

Pięciński SZ, Smoliński DJ, Zienkiewicz K, Bednarska E (2008) Changes in poly(A) RNA and TMG snRNA distribution in the embryo sac of Hyacinthus orientalis L. before and after fertilization. Sex Plant Reprod 21:247–257

Raška I, Andrade LEC, Ochs RL, Chan EKL, Chang CM (1991) Immunological and ultrastructural studies of the nuclear coiled body with autoimmune antibodies. Exp Cell Res 195:27–37

Reed R, Magni K (2001) A new view of mRNA export: separating the wheat from the chaff. Nat Cell Biol 3:E201–E204

Shopland LS, Johnson CV, Lawrence JB (2002) Evidence that all SC-35 domains contain mRNAs and that transcripts can be structurally constrained within these domains. J Cell Biol 140:131–139

Schul W, van Driel R, de Jong L (1998) Coiled bodies and U2 snRNA genes adjacent to coiled bodies are enriched in factors required for snRNA transcription. Mol Biol Cell 9:1025–1036

Seguí-Simarro JM, Bárány I, Suárez R, Fadón B, Testillano PS, Risueño MC (2006) Nuclear bodies domain changes with microspore reprogramming to embryogenesis. Eur J Histochem 50:35–44

Smith KP, Lawrence JB (2000) Interactions of U2 gene loci and their nuclear transcripts with Cajal (coiled) bodies: evidence for preU2 within Cajal bodies. Mol Biol Cell 11:2987–2998

Smoliński DJ, Niedojadło J, Noble A, Górska-Brylass A (2007) Additional nucleoli and NOR activity during meiotic prophase I in larch (Larix decidua Mill.). Protoplasma 232:109–120

Tupy J (1982) Alternation in polyadenylated RNA during pollen maturation and generation. Biol Plant 24:331–340

Visa N, Puvion-Dutilleul F, Harper F, Bachellerie JP, Puvion E (1993) Intranuclear distribution of poly(A) RNA determined by electron microscope in situ hybridization. Exp Cell Res 1:19–34

Zienkiewicz K, Smoliński DJ, Bednarska E (2006) Distribution of poly(A) RNA and splicing machinery elements in mature Hyacinthus orientalis L. pollen grains and pollen tubes growing in vitro. Protoplasma 227:95–103

Zienkiewicz K, Zienkiewicz A, Rodriguez-Garcia MI, Smoliński DJ, Swidziński M, Bednarska E (2008a) Transcriptional activity and distribution of splicing machinery elements during Hyacinthus orientalis L. pollen tube growth. Protoplasma 233(1–2):129–39

Zienkiewicz K, Zienkiewicz A, Smoliński DJ, Świdziński M, Bednarska E (2008b) Intracellular organization of the pre-mRNA splicing machinery during Hyacinthus orientalis L. pollen development. Sex Plant Reprod 21:217–231

Zienkiewicz K, Zienkiewicz A, Smoliński DJ, Rafińska K, Świdziński M, Bednarska E (2008) Transcriptional state and distribution of poly(A) RNA and RNA polymerase II in differentiating Hyacinthus orientalis L. pollen grains. Sex Plant Reprod 21:233–245
Acknowledgments
We thank J. Niedojadło for critical reading of the manuscript. This work was supported by a UMK Grant (project 321-B) and by the grant of Polish Ministry of Science and Higher Education no. N303 290434.
Electronic supplementary material
Below is the link to the electronic supplementary material.
About this article
Cite this article
Kołowerzo, A., Smoliński, D.J. & Bednarska, E. Poly(A) RNA a new component of Cajal bodies. Protoplasma 236, 13–19 (2009). https://doi.org/10.1007/s00709-009-0042-y
Received:

Accepted:

Published:

Issue Date:
Keywords
Larix decidua

Meiotic prophase I

Nuclear bodies

Coiled body

pre-mRNA

snRNP