Abstract
Novel metallophthalocyanines substituted with four peripheral 4-[3,4-bis(benzyloxy)benzylidene]aminophenoxy groups were prepared by Schiff base condensation of 4-aminophenoxy-substituted phthalocyanines with 3,4-bis(benzyloxy)benzaldehyde. The structures were elucidated with elemental analysis, Fourier transform infrared spectroscopy, proton nuclear magnetic resonance spectrometry, and matrix assisted laser desorption ionization-time of flight spectrometry along with Ultraviolet–Visible spectrophotometry. In the studied concentration range of 1–10 × 10−6 M, no appreciable aggregation of the new species was detected. In tetrahydrofuran, the fluorescent quantum yield ΦF value of the zinc phthalocyanine was lower than the unsubstituted ZnPc (ΦF = 0.25) due to the peripheral [3,4-bis(benzyloxy)benzylidene]aminophenoxy substituents which surely caused fluorescence quenching. The zinc phthalocyanine showed fluorescent quenching by the addition of 1,4-benzoquinone in tetrahydrofuran with obedience to Stern–Volmer kinetics.
Graphic abstract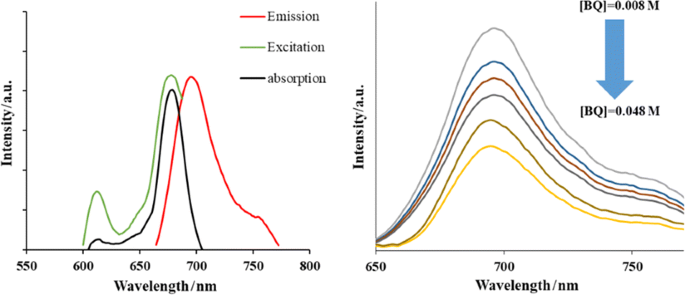 Access options
Buy single article
Instant access to the full article PDF.
USD 39.95
Price excludes VAT (USA)
Tax calculation will be finalised during checkout.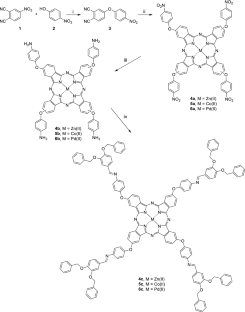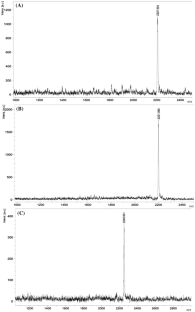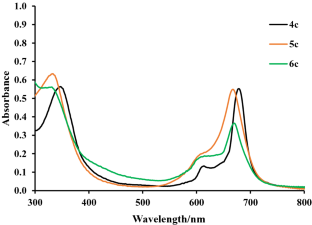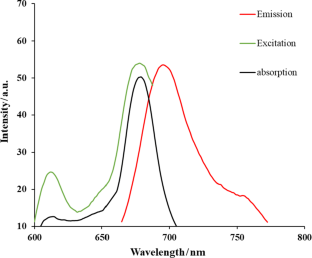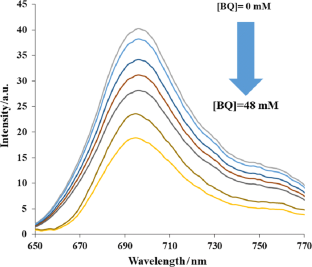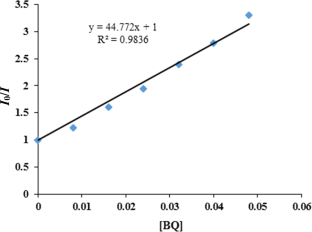 References
Meunier M, Sorokin A (1997) Acc Chem Res 30:470

Goux A, Bedioui F, Robbiola L, Pontie M (2003) Electroanalysis 15:969

Diaz-Garcia MA, Ledoux I, Duro JA, Torres T, Lopez FA, Zyss J (1994) J Phys Chem 98:8761

Simon J, Sirlin C (1989) Pure Appl Chem 61:1625

Karaca H, Çayeğil B, Sezer S (2016) Synth Met 215:134

Basova TV, Mikhaleva NS, Hassan AK, Kiselev VG (2016) Sens Actuators B 227:634

Nazeeruddin MK, Humprey-Baker R, Gratzel M, Murrer BA (1998) Chem Commun 6:719

Ragoussi ME, Cid JJ, Yum JH, Torre G, Censo D, Gratzel M, Nazeeruddin MK, Torres T (2012) Angew Chem Int Ed 51:4375

Urbani M, Ragoussi ME, Nazeeruddin MK, Torres T (2019) Coord Chem Rev 381:1

Emmelius M, Pawlowski G, Vollmann HW (1989) Angew Chem Int Ed 28:1445

Ali H, Van Lier JE (1999) Chem Rev 99:2379

Boyle RW, Leznoff CC, Van Lier JE (1993) Br J Cancer 67:1177

Huang ZF, Bao HW, Yao YY, Lu WY, Chen WX (2014) Appl Catal B 154:36

Koç I, Özer M, Özkaya AR, Bekaroğlu Ö (2009) Dalton Trans 32:6368

Sevim AM (2017) J Organomet Chem 832:18

Sevim AM, Arıkan S, Koca A, Gül A (2012) Dyes Pigments 92:1114

Değirmencioğlu İ, Atalay E, Er M, Köysal Y, Işık Ş, Serbest K (2010) Dyes Pigm 84:69

Özçeşmeci M, Sancar-Baş S, Akkurt B, Hamuryudan E, Bolken Ş (2018) ChemistrySelect 3:12805

Farajzadeh N, Karaoğlu HP, Akin M, Saki N, Koçak MB (2019) ChemistrySelect 4:8998

Henari F, Davey A, Blau W, Haisch P, Hanack M (1999) J Porphyrins Phthalocyanines 3:331

Romannikov VN, Klueva NV, Bobrov NN, Ione KG (1976) React Kinet Catal Lett 5:217

Wei W, Qin Y, Luo M, Xia P, Wong MS (2008) Organometallics 27:2268

Corma A, Garcia H, Leyva A (2005) J Mol Catal A Chem 230:97

Bianchini C, Shen PK (2009) Chem Rev 109:4183

Barrett PA, Dent CE, Linstead RP (1936) J Chem Soc 382:1719–1736

Lokesh KS, Adriaens A (2013) Dyes Pigments 96:269

Wöhrle D, Eskes M, Shigehara K, Yamada A (1993) Synthesis 2:194

Sütcüler YA, Gezek G, Mahmiani Y, Sevim AM (2018) Turk J Chem 42:704

Shankar R, Sharma P, Cabrera A, Espinosa G, Rosas N (1996) Indian J Chem B 35:894

Wohrle D, Krawczyk G, Paliuras M (1988) Macromol Chem Phys 189:1001

Mack J, Stillman MJ (2003) In: Kadish KM, Smith KM, Guilard R (eds) Phthalocyanines: spectroscopic and electrochemical characterization, vol 16. Elsevier Science, New York, p 43

Kobayashi K (1993) In: Leznoff CC, Lever ABP (eds) Phthalocyanines: properties and applications, vol 2. VCH Publications, New York, p 3

Jeong J, Kumar RS, Mergu N, Son Y (2017) J Mol Struct 1147:469

Vacus J, Simon J (1995) Adv Mater 7:797

Nyokong T (2007) Coord Chem Rev 251:1707

Sielcken E, Tilborg M, Roks MFM, Hendriks R, Drenth W, Nolte RJM (1987) J Am Chem Soc 109:4261

Acar I, Biyiklioglu Z, Durmus M, Kantekin H (2012) J Organomet Chem 708:65

Snow AW (2003) In: Kadish KM, Smith KM, Guilard R (eds) Phthalocyanines: properties and materials, vol 17. Elsevier Science, New York, p 129

Łapok L, Obłoza M, Gorski A, Knyukshto V, Raichyonok T, Waluk J, Nowakowska M (2016) Chem Phys Chem 17:1123

Sevim AM, Arıkan S, Özçeşmeci İ, Gül A (2013) Synth Met 183:1

Sevim AM, Özçeşmeci İ, Gül A (2013) J Porphyrins Phthalocyanines 17:540

Zorlu Y, Dumoulin F, Durmuş M, Ahsen V (2010) Tetrahedron 66:3248

Saka ET, Durmuş M, Kantekin H (2011) J Organomet Chem 696:91

Durmuş M, Nyokong T (2008) Spectrochim Acta A 69:1170

Gümrükçü G, Karaoğlan GK, Erdoğmuş S, Gül A, Avcıata U (2012) Dyes Pigments 95:280

Young JG, Onyebuagu W (1990) J Org Chem 55:2155

Masilela N, Nyokong T (2011) Dyes Pigments 91:164

Du H, Fuh RCA, Li J, Corkan LA, Lindsey JS (1998) Photochem Photobiol 68:141

Rose J (1964) Advanced physico-chemical experiments, 1st edn. Sir Isaac Pitman & Sons Ltd, London
Acknowledgements
Istanbul Technical University Research Fund kindly supported this work. TUBA (Turkish Academy of Sciences) provided partial support to AG.
Additional information
Publisher's Note
Springer Nature remains neutral with regard to jurisdictional claims in published maps and institutional affiliations.
Electronic supplementary material
Below is the link to the electronic supplementary material.
About this article
Cite this article
Sevim, A.M., Yüzeroğlu, M. & Gül, A. Novel metallophthalocyanines with bulky 4-[3,4-bis(benzyloxy)benzylidene]aminophenoxy substituents. Monatsh Chem 151, 1059–1068 (2020). https://doi.org/10.1007/s00706-020-02639-w
Received:

Accepted:

Published:

Issue Date:

DOI: https://doi.org/10.1007/s00706-020-02639-w
Keywords