Abstract
An original method for the preparation of Pt/C materials dispersed by means of platinum electrodeposition on the carbon particles which are in the form of suspension has been proposed. The materials were studied by XRD, cyclic voltammetry, SEM and TEM electron microscopy. The obtained Pt/C materials contain from 9 to 14 wt% Pt. The average size of platinum particles is from 7 to 15 nm; electrochemically active surface area of Pt/C is from 15 to 29 m2 g−1 (Pt). The resulting materials exhibit catalytic activity in the oxygen electroreduction reaction which predominantly flows through the 4-electron mechanism.
Graphical abstract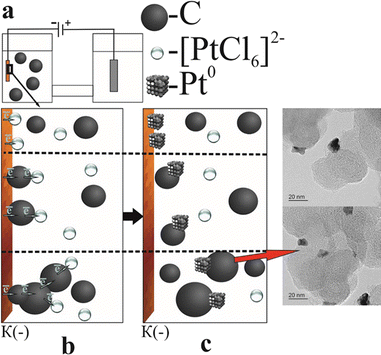 This is a preview of subscription content,
to check access.
Access this article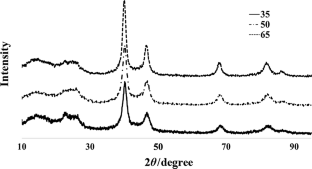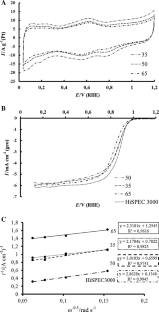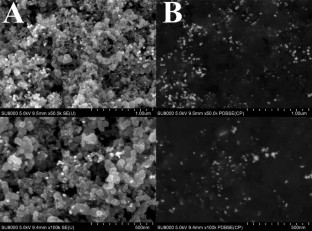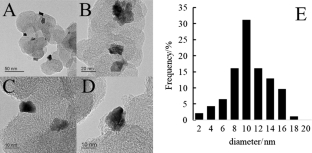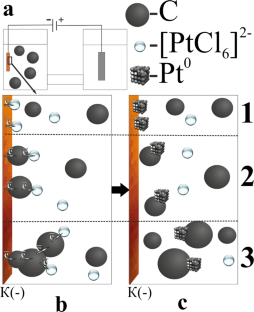 References
Bönnemann H, Brijoux W, Brinkmann R, Tilling AS, Schilling T, Tesche B, Seevogel K, Franke R, Hormes J, Köhl G, Pollmann J, Rothe J, Vogel W (1998) Inorg Chim Acta 270:95

Fang K, Yang Y, Fu L, Zheng H, Yuan J, Niu L (2014) Sens Actuators B 191:401

Gan B, Latella B, Cheary R (2005) Appl Surf Sci 239:237

Guan Y, Dai M, Liu T, Liu Y, Liu F, Liang X, Suo H, Sun P, Lu G (2016) Sens Actuators B 230:61

Yang X, Zhang Y, Hao X, Song Y, Liang X, Liu F, Liu F, Sun P, Gao Y, Yan X, Lu G (2018) Sens Actuators B 273:635

Zhang J, Wang X, Wu C, Wang H, Yi B, Zhang H (2004) React Kinet Catal Lett 83:229

Alekseenko A, Guterman V, Belenov S, Menshikov V, Tabachkova N, Safronenko O, Moguchikh E (2018) Int J Hydrog Energy 43:3676

Zhang J, Wang X, Wu C, Wang H, Yi B, Zhang H (2011) Electrochem Comm 13:314

Prabhuram J, Zhao T, Wong C, Guo J (2004) J Power Sources 134:1

Alekseenko AA, Guterman VE, Volochaev VA, Belenov SV (2015) Inorg Mater 51:1258

Ma H-C, Xue X-Z, Liao J-H, Liu C-P, Xing W (2006) Appl Surf Sci 252:8593

Nores-Pondal F, Vilella I, Troiani H, Granada M, Miguel SD, Scelza O, Corti H (2009) Int J Hydrog Energy 34:8193

Qi J, Jiang L, Jing M, Tang Q, Sun G (2011) Int J Hydrog Energy 36:10490

Thompsett D (2003) Catalysis for the proton exchange membrane fuel cell. In: Vielstich W, Lamm A, Gasteiger HA (eds) Handbook of fuel vells. Fundamentals, technology and applications, vol 3. Wiley, New York

Petrii OA (2015) Russ Chem Rev 84:159

Rao C, Trivedi D (2005) Coord Chem Rev 249:613

Whalen JJ, Weiland JD, Searson PC (2005) J Electrochem Soc 152:C738

Mentus SV (2005) Electrochim Acta 50:3609

Plyasova L, Molina I, Gavrilov A, Cherepanova S, Cherstiouk O, Rudina N, Savinova E, Tsirlina G (2006) Electrochim Acta 51:4477

Yasin HM, Denuault G, Pletcher D (2009) J Electroanal Chem 633:327

Jeon H, Joo J, Kwon Y, Uhm S, Lee J (2010) J Power Sources 195:5929

Wei Z, Chan S, Li L, Cai H, Xia Z, Sun C (2005) Electrochim Acta 50:2279

Santiago D, Rodríguez-Calero Gabriel G, Rivera H, Tryk DA, Scibioh MA, Cabrera CR (2010) J Electrochem Soc 157:F189

Yohannes W, Belenov SV, Guterman VE, Skibina LM, Volotchaev VA, Lyanguzov NV (2015) J Appl Electrochem 45:623

Leontyev I, Dkhil B, Kuriganova A, Kudryavtsev Y, Smirnova N (2012) Appl Catal A Gen 431–432:120

Leontyeva DV, Smirnova NV, Leontyev IN, Avramenko MV, Yuzyuk YI, Kukushkina YuA (2013) Electrochim Acta 114:356

Smirnova NV, Kuriganova AB, Leont'Eva DV, Leont'Ev IN, Mikheikin AS (2013) Kinet Catal 54:255

Kuriganova AB, Smirnova NV (2014) Mendeleev Commun 24:351

Chen Y-X, Lavacchi A, Chen S-P, Di Benedetto F, Bevilacqua M, Bianchini C, Fornasiero P, Innocenti M, Marelli M, Oberhauser W, Sun S-G, Vizza F (2012) Angew Chem Int Ed 51:8500

Guterman VE, Pakharev AY, Tabachkova NY (2013) Appl Catal A Gen 453:113

Esparbé I, Brillas E, Centellas F, Garrido JA, Rodríguez RM, Arias C, Cabot P-L (2009) J Power Sources 190:201

Vliet DVD, Strmcnik DS, Wang C, Stamenkovic VR, Markovic NM, Koper MT (2010) J Electroanal Chem 647:29

Shinozaki K, Zack JW, Pylypenko S, Pivovar BS, Kocha SS (2015) J Electrochem Soc 162

Zecevic SK (1997) J Electrochem Soc 144:2973

Kachala VV, Khemchyan LL, Kashin AS, Orlov NV, Grachev AA, Zalesskiy SS, Ananikov VP (2013) Russ Chem Rev 82:648
Acknowledgements
This work was supported by the Ministry of Education and Science RF (Grant 13.3005.2017/4.6). The authors thank the Department of Structural Studies in the Institute of Organic Chemistry of the Russian Academy of Sciences for providing the study of samples by the scanning electron microscopy.
Additional information
Publisher's Note
Springer Nature remains neutral with regard to jurisdictional claims in published maps and institutional affiliations.
About this article
Cite this article
Novomlinskiy, I.N., Tabachkova, N.Y., Safronenko, O.I. et al. A novel electrochemical method for the preparation of Pt/C nanostructured materials. Monatsh Chem 150, 631–637 (2019). https://doi.org/10.1007/s00706-019-2383-3
Received:

Accepted:

Published:

Issue Date:

DOI: https://doi.org/10.1007/s00706-019-2383-3
Keywords