Abstract
The novel 2-(difluoromethyl)-3-methylchromone, 2-(dichloromethyl)-3-methylchromone, and 3-methyl-2-(perfluoroethyl)chromone were synthesized by a one-pot method and characterized through MS spectrometry, cyclic voltammetry, and vibrational (IR, Raman), UV–Vis, fluorescence, and NMR (1H, 13C, and 19F) spectroscopy. The crystal structure of 2-(difluoromethyl)-3-methylchromone and 2-(dichloromethyl)-3-methylchromone determined by X-ray diffraction methods were used to calculate their intermolecular interactions and crystal lattice energies together with the Hirshfeld surface analysis.
Graphic abstract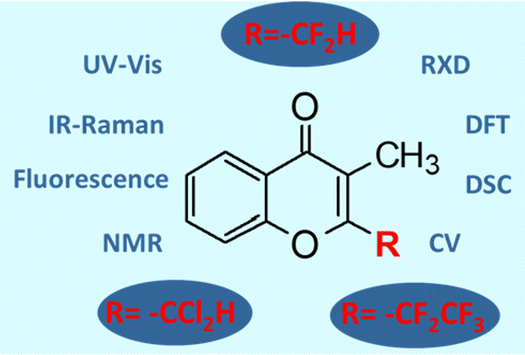 Access options
Buy single article
Instant access to the full article PDF.
USD 39.95
Price excludes VAT (USA)
Tax calculation will be finalised during checkout.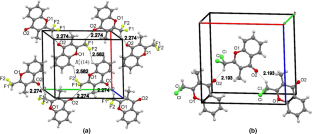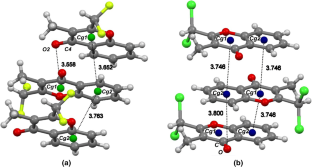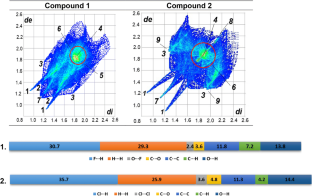 References
Keri RS, Budagumpi S, Pai RK, Balakrishna RG (2014) Eur J Med Chem 78:340

Nenajdenko V (2015) Fluorine in heterocyclic chemistry: 5-membered heterocycles and macrocycles. Springer, Berlin

Donnelly D, Geoghegan R, O'Brien C, Philbin E, Wheeler TS (1965) J Med Chem 8:872

Matos MJ, Vazquez-Rodriguez S, Uriarte E, Santana L, Borges F (2015) Expert Opin Ther Pat 25:1285

Reis J, Gaspar A, Milhazes N, Borges F (2017) J Med Chem 60:7941

Silva CFM, Batista VF, Pinto DCGA, Silva AMS (2018) Expert Opin Drug Discov 13:795

Gaspar A, Matos MJ, Garrido J, Uriarte E, Borges F (2014) Chem Rev 114:4960

Emami S, Ghanbarimasir Z (2015) Eur J Med Chem 93:539

Demirayak S, Yurttas L, Gundogdu-Karaburun N, Karaburun AC, Kayagil I (2017) Saudi Pharma J 25:1063

Liu H, Xu R, Feng L, Guo W, Cao N, Qian C, Teng P, Wang L, Wu X, Sun Y, Li J, Shen Y, Xu Q (2012) PLoS ONE 7:e37168

Treml J, Šmejkal K (2016) Compr Rev Food Sci Food Saf 15:720

Tapas AR, Sakarkar D, Kakde R (2008) Trop J Pharm Res 7:1089

Amić D, Davidović-Amić D, Bešlo D, Trinajstić N (2003) Croat Chem Acta 76:55

Farkas O, Jakus J, Héberger K (2004) Molecules 9:1079

Yadav P, Parshad B, Manchanda P, Sharma SK (2014) Curr Top Med Chem 14:2552

Rasulev BF, Abdullaev ND, Syrov VN, Leszczynski J (2005) QSAR Comb Sci 24:1056

Salar U, Khan KM, Chigurupati S, Taha M, Wadood A, Vijayabalan S, Ghufran M, Perveen S (2017) Sci Rep 7:16980

Gomes A, Fernandes E, Garcia MBQ, Silva AMS, Pinto DCGA, Santos CMM, Cavaleiro JAS, Lima JLFC (2008) Bioorg Med Chem 16:7939

Born M, Carrupt PA, Zini R, Brée F, Tillement JP, Hostettmann K, Testa B (1996) Helv Chim Acta 79:1147

Gil ES, Couto RO (2013) Rev Bras Farmacogn 23:542

Ahmed S, Shakeel F (2012) Czech J Food Sci 30:153

Hendrickson HP, Kaufman AD, Lunte CE (1994) J Pharm Biomedl Anal 12:325

Dias MM, Machado NFL, Marques MPM (2011) Food Funct 2:595

Yang S-W, Elangovan A, Ho T-I (2005) Photochem Photobiol Sci 4:327

Alcívar León CD, Echeverría GA, Piro OE, Ulic SE, Jios JL, Luna Tapia CA, Mera Guzmán MF (2019) Mol Phys 117:368

Alcívar León CD, Echeverría GA, Piro OE, Ulic SE, Jios JL (2015) Spectrochim Acta A 136:1358

Alcivar Leon CD, Echeverria GA, Piro OE, Ulic SE, Jios JL, Pereañez JA, Henao Castaneda IC, Perez H (2017) New J Chem 41:14659

Farrugia LJ (1997) J Appl Cryst 30:565

Alcívar León CD, Echeverría GA, Piro OE, Ulic SE, Jios JL, Burgos Paci M, Argüello GA (2016) Chem Phys 472:142

Erickson JA, McLoughlin JI (1995) J Org Chem 60:1626

Jones CR, Baruah PK, Thompson AL, Scheiner S, Smith MD (2012) J Am Chem Soc 134:12064

Caminati W, Melandri S, Moreschini P, Favero PG (1999) Angew Chem Int Ed 38:2924

Sessler CD, Rahm M, Becker S, Goldberg JM, Wang F, Lippard SJ (2017) J Am Chem Soc 139:9325

Slater JC (1964) J Chem Phys 41:3199

Levina EO, Chernyshov IY, Voronin AP, Alekseiko LN, Stash AI, Vener MV (2019) RSC Adv 9:12520

McKinnon JJ, Spackman MA, Mitchell AS (2004) Acta Crystallogr Sect B 60:627

Salpage SR, Smith MD, Shimizu LS (2016) J Chem Crystallogr 46:170

Dey D, Bhandary S, Thomas SP, Spackman MA, Chopra D (2016) Phys Chem Chem Phys 18:31811

Hayes SA, Berger RJF, Neumann B, Mitzel NW, Bader J, Hoge B (2010) Dalton Trans 39:5630

Waerder B, Steinhauer S, Bader J, Neumann B, Stammler H-G, Vishnevskiy YV, Hoge B, Mitzel NW (2015) Dalton Trans 44:13347

Alcívar León CD (2016) Estudio de nuevos benzopiranos haloalquil sustituidos. Doctoral Thesis, Facultad de Ciencias Exactas, Universidad Nacional de La Plata

Hidalgo A, Avendaño Jiménez LP, Ramos LA, Mroginski MA, Jios JL, Ulic SE, Echeverría GA, Piro OE, Castellano E (2012) J Phys Chem A 116:1110

Nagabalasubramanian PB, Periandy S, Mohan S, Govindarajan M (2009) Spectrochim Acta A 73:277

McKean DC, Lavalley JC, Saur O, Edwards HGM, Fawcett V (1977) Spectrochim Acta A 33:913

Iogansen AV (1999) Spectrochim Acta A 55:1585

Ortiz RP, Casado J, Hernández V, Navarrete JTL, Letizia JA, Ratner MA, Facchetti A, Marks TJ (2009) Chem Eur J 15:5023

Ye C, Li M, Luo J, Chen L, Tang Z, Pei J, Jiang L, Song Y, Zhu D (2012) J Mater Chem 22:4299

Bredas J-L (2014) Mater Horiz 1:17

Duvenhage M, Visser H, Ntwaeaborwa O, Swart H (2014) Phys B 439:46

Rocha M, Di Santo A, Echeverría GA, Piro OE, Cukiernik FD, Ulic SE, Gil DM (2017) J Mol Struct 1133:24

Neto AC, Ducati LC, Rittner R, Tormena CF, Contreras RH, Frenking G (2009) J Chem Theory Comput 5:2222

Dybiec K, Gryff-Keller A (2009) Magn Reson Chem 47:63

Autschbach J, Ziegler T (2007) Relativistic Computation of NMR Shieldings and Spin-Spin Coupling Constants. In: Harris RK, Wasylishen RL (eds), eMagRes. https://doi.org/10.1002/9780470034590.emrstm0451

Kaupp M (2004) Theor Comput Chem 14:552

Gorenstein DG (1977) J Am Chem Soc 99:2254

Brey WS, Brey ML (2011) Fluorine-19 NMR. In: Harris RK, Wasylishen RL (eds), eMagRes. https://doi.org/10.1002/9780470034590.emrstm0170.pub2

Henao Castañeda IC, Ulic SE, Della Védova CO, Metzler-Nolte N, Jios JL (2011) Tetrahedron Lett 52:1436

Ribeiro AA, Umayahara K (2003) Magn Reson Chem 41:107

CrysAlisPro C, CrysAlisPro R (2009) including ABSPACK. Oxford Diffraction Ltd, Yarnton, England

Sheldrick GM (2015) Acta Crystallogr Sect C 71:3

Sheldrick G (2008) Acta Crystallogr Sect A 64:112

Frisch MJ, Trucks GW, Schlegel HB, Scuseria GE, Robb MA, Cheeseman JR, Montgomery JA Jr, Vreven T, Kudin KN, Burant JC, Millam JM, Iyengar SS, Tomasi J, Barone V, Mennucci B, Cossi M, Scalmani G, Rega N, Petersson GA, Nakatsuji H, Hada M, Ehara M, Toyota K, Fukuda R, Hasegawa J, Ishida M, Nakajima T, Honda Y, Kitao O, Nakai H, Klene M, Li X, Knox JE, Hratchian HP, Cross JB, Adamo C, Jaramillo J, Gomperts R, Stratmann RE, Yazyev O, Austin AJ, Cammi R, Pomelli C, Ochterski JW, Ayala PY, Morokuma K, Voth GA, Salvador P, Dannenberg JJ, Zakrzewski VG, Dapprich S, Daniels AD, Strain MC, Farkas O, Malick DK, Rabuck AD, Raghavachari K, Foresman JB, Ortiz JV, Cui Q, Baboul AG, Clifford S, Cioslowski J, Stefanov BB, Liu G, Liashenko A, Piskorz P, Komaromi I, Martin RL, Fox DJ, Keith T, Al-Laham MA, Peng CY, Nanayakkara A, Challacombe M, Gill PMW, Johnson B, Chen W, Wong MW, Gonzalez C, Pople JA (2003) Gaussian 03. Gaussian Inc, Pittsburgh

Mackenzie CF, Spackman PR, Jayatilaka D, Spackman MA (2017) IUCrJ 4:575

Turner MJ, Grabowsky S, Jayatilaka D, Spackman MA (2014) J Phys Chem Lett 5:4249
Acknowledgements
The authors thank Universidad Nacional de La Plata (UNLP), CONICET, Departamento de Ciencias Básicas de la Universidad Nacional de Luján (Argentina) and DAAD (Germany) for financial support. S.E.U and J.L.J specially thanks Deutscher Akademischer Austauschdienst (DAAD) for an equipment grant and financial support. CDAL thanks SENESCYT for the fellowship and financial support. This work was supported by UNLP (11/X830 and 11/X848), CONICET (PIP: 0359 and 1529), and by ANPCyT (PME06 2804 and PICT06 2315) of Argentina. S.E.U., G.A.E., and O.E.P, are Research Fellows of CONICET; J.L.J. is a Researcher of Comisión de Investigaciones Científicas de la Provincia de Buenos Aires (CICPBA), Argentina.
Additional information
Publisher's Note
Springer Nature remains neutral with regard to jurisdictional claims in published maps and institutional affiliations.
Electronic supplementary material
Below is the link to the electronic supplementary material.
About this article
Cite this article
Alcívar León, C.D., Ramos Guerrero, L.A., Bonilla Valladares, P.M. et al. Synthesis and structural study of 2-(haloalkyl)-3-methylchromones. Monatsh Chem 150, 1929–1940 (2019). https://doi.org/10.1007/s00706-019-02512-5
Received:

Accepted:

Published:

Issue Date:

DOI: https://doi.org/10.1007/s00706-019-02512-5
Keywords
Haloalkylchromones

Spectroscopic properties

Single crystal X-ray diffraction

Quantum chemical calculations

Hirshfeld surface analysis