Abstract
Along our way towards the advanced saccharide-sensitive probes, three novel electroactive iminoboronate regioisomers of [(ferrocenylimino)methyl]phenylboronic acid have been synthesized. The ortho, meta, and para regioisomers were characterized structurally by NMR, MS, FT-IR, UV/Vis and their electrochemical behavior in aqueous solution was studied using cyclic voltammetry. The obtained results confirmed different behavior of the ortho isomer due to an interaction of boronic acid moiety with the proximate imine group of the iminoferrocenyl residue.
Graphical abstract

This is a preview of subscription content,
to check access.
Access this article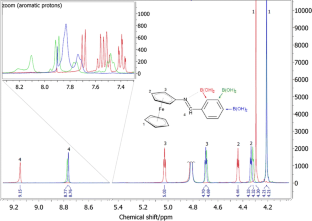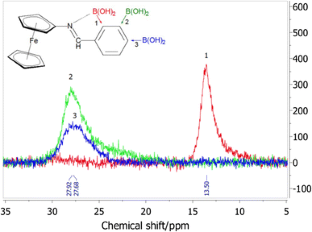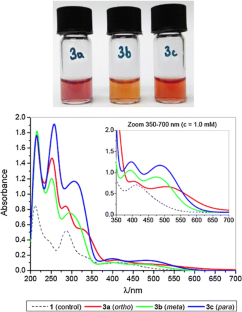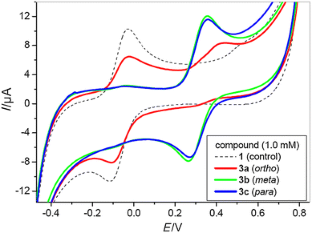 References
James TD, Sandanayake KRAS, Iguchi R, Shinkai S (1995) J Am Chem Soc 117:8982

Hall DG (2005) Boronic acids. Wiley-Blackwell, London

James TD, Phillips MD, Shinkai S (2006) Boronic acids in saccharide recognition. RSC Publishing, London

Sun X, James TD (2015) Chem Rev 115:8001

Ward CJ, Patel P, James TD (2002) J Chem Soc Perkin Trans 1:462

Wu X, Li Z, Chen XX, Fossey JS, James TD, Jiang YB (2013) Chem Soc Rev 42:8032

Štěpnička P (2008) Ferrocenes. Wiley-Blackwell, London

Lacina K, Skládal P (2011) Electrochim Acta 56:10246

Lacina K, Novotný J, Moravec Z, Skládal P (2015) Electrochim Acta 153:280

Anzai JI (2016) Mat Sci Eng C 67:737

Egawa Y, Seki T, Takahashi S, Anzai JI (2011) Mat Sci Eng C 31:1267

Ori A, Shinkai S (1995) J Chem Soc Chem Commun 1771

Norrild JC, Sotofte I (2001) J Chem Soc Perkin Trans 2:727

Arimori S, Ushiroda S, Peter LM, Jenkins ATA, James TD (2002) Chem Commun 2368

Norrild JC, Sotofte I (2002) J Chem Soc Perkin Trans 2:303

Lacina K, Konhefr M, Novotný J, Potěšil D, Zdráhal Z, Skládal P (2014) Tetrahedron Lett 55:3235

Adamczyk-Wozniak A, Cyranski MK, Fraczak BT, Lewandowska A, Madura ID, Sporzynski A (2012) Tetrahedron 68:3761

Larkin JD, Fossey JS, James TD, Brooks BR, Bock CW (2010) J Phys Chem A 114:12531

French TC, Bruice TC (1964) Biochemistry 3:1589

French TC, Auld DS, Bruice TC (1965) Biochemistry 4:77

Iglesias AL, García JJ (2009) J Mol Catal A Chem 298:51

Cano R, Yus M, Ramón DJ (2011) Tetrahedron 67:8079

Zhao J, Davidson MG, Mahon MF, Kociok-Köhn G, James TD (2004) J Am Chem Soc 126:16179

Togni A, Hayashi T (1995) Ferrocenes—homogeneous catalysis—organic synthesis—material science. Wiley-Blackwell, London

Nöth H, Wrackmeyer B (1978) Nuclear magnetic resonance spectroscopy of boron compounds. Springer Nature, Berlin

Cal PMSD, Vicente JB, Pires E, Coelho AV, Veiros LF, Cordeiro C, Gois PMP (2012) J Am Chem Soc 134:10299

Couturier M, Tucker JL, Andersen BM, Dubé P, Negri JT (2001) Org Lett 3:465

Brieger G, Nestrick TJ (1974) Chem Rev 74:567
Acknowledgements
This research has been financially supported by the Masaryk University project MUNI/A/1265/2015—Support of biochemical research at MU, by the Ministry of Education, Youth and Sports of the Czech Republic under the project CEITEC 2020 (LQ1601) and by the Czech Science Foundation (Project P206/12/G014).
Electronic supplementary material
Below is the link to the electronic supplementary material.
Supplementary material 1 (PDF 3225 kb) Supplementary data (supplementary material includes 1H, 11B, 13C NMR, MS and FTIR spectra associated with this article) can be found in the online version
About this article
Cite this article
Konhefr, M., Lacina, K., Langmajerová, M.S. et al. The synthesis and comparative characterization of three novel electroactive iminoboronates containing ferrocene. Monatsh Chem 148, 1953–1958 (2017). https://doi.org/10.1007/s00706-017-2028-3
Received:

Accepted:

Published:

Issue Date:

DOI: https://doi.org/10.1007/s00706-017-2028-3
Keywords