Abstract
Efficient and metal-free synthesis of [3,4-d]triazole-fused chromenes, coumarins, and quinolones has been achieved in an intensified regime using microwave heating. The smooth 1,3-dipolar cycloaddition reaction of heterocyclic nitroalkenes with sodium azide provides a rapid entry into valuable heterocyclic scaffolds with potential biological properties.
Graphical abstract

Access options
Buy single article
Instant access to the full article PDF.
US$ 39.95
Tax calculation will be finalised during checkout.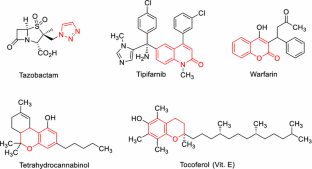 References
1.

Borges F, Roleira F, Milhazes N, Santana L, Uriarte E (2005) Curr Med Chem 12:887

2.

Lauria A, Delisi B, Mingoia F, Terenzi A, Martorana A, Barone G, Almerico AM (2014) Eur J Org Chem 2014:3289

3.

Haider S, Alam SA, Hamid H (2014) Inflamm Cell Signal 1:e95

4.

Penq XM, Damu GL, Zhou C (2013) Curr Pharm Des 19:3884

5.

Srikrishna D, Godugu C, Dubey PK (2016) Mini Rev Med Chem. doi:10.2174/1389557516666160801094919

6.

Drlica K, Hiasa H, Kerns R, Malik M, Mustaev A, Zhao X (2009) Curr Top Med Chem 9:981

7.

Schiedel MS, Briehn CA, Bäuerle P (2001) Angew Chem Int Ed 40:4677

8.

Glasnov TN, Kappe CO (2007) QSAR Comb Sci 26:1261 (and citations therein)

9.

Shieh P, Bertozzi CR (2014) Org Biomol Chem 12:9307

10.

Huisgen R (1963) Angew Chem Int Ed 2:565

11.

Tornoe CW, Christensen C, Meldal M (2002) J Org Chem 67:3057

12.

Kolb HC, Finn MG, Sharpless KB (2001) Angew Chem Int Ed 40:2004

13.

Rostovtsev VV, Green GL, Fokin VV, Sharpless KB (2002) Angew Chem Int Ed 41:2596

14.

Anisimova NA, Makarova NG, Berkova GA, Berestovitskaya VM (2006) Russ J Gen Chem 76:1545

15.

Anisimova NA, Berestovitskaya VM, Berkova GA, Makarova NG (2007) Russ J Org Chem 43:652

16.

Wang T, Hu XC, Huang XS, Li XS, Xie JW (2012) J Braz Chem Soc 6:1119

17.

Mani NS, Fitzgerald AE (2014) J Org Chem 79:8889

18.

Zhang H, Dong DQ, Wang ZL (2016) Synthesis 40:131

19.

Xiao GQ, Liang BX, Chen SH, Ou TM, Bu XZ, Yan M (2012) Arch Pharm Chem Life Sci 345:767

20.

Bogdal D (1998) J Chem Res (S) 468

21.

de la Hoz A, Loupy A (2012) Microwaves in organic synthesis, vol 1&2, 3rd edn. Wiley-VCH, Weinheim

22.

Barton JW, Pearson ND (1987) J Chem Soc Perkin Trans 1:1541

23.

Uno H, Okada SI, Shiraishi Y, Shinokawa K, Suzuki H (1988) Chem Lett 17:1165

24.

Yan MC, Tu Z, Lin C, Ko S, Hsu J, Yao CF (2004) J Org Chem 69:1565

25.

Sharma RK, Priyanka Katiyar D (2016) Monatsh Chem 147:2157

26.

Dauzonne D, Royer R (1983) Synthesis 836

27.

Dauzonne D, Royer R (1984) Eur J Med Chem 19:477

28.

Anderson WK, Dalvie DK (1993) J Heterocycl Chem 30:1533

29.

Dauzonne D, Royer R (1984) Synthesis 348

30.

Neirabeyeh MA, Koussini R, Guillaumet G (1990) Synth Commun 20:783

31.

Ito K, Haryia J (1987) Heterocycles 26:35

32.

D'Ambrosio G, Fringuelli F, Pizzo F, Vaccaro L (2005) Green Chem 7:874
Acknowledgements
Funding was provided by the Austrian Science Funds (FWF, Grant No. P28243-B27).
About this article
Cite this article
Schwendt, G., Glasnov, T. Intensified synthesis of [3,4-d]triazole-fused chromenes, coumarins, and quinolones. Monatsh Chem 148, 69–75 (2017). https://doi.org/10.1007/s00706-016-1885-5
Received:

Accepted:

Published:

Issue Date:
Keywords
Microwave-assisted synthesis

1,3-Cycloaddition

Heterocycles

Catalyst-free