Abstract
New benzothiazolyl- and benzimidazolyl-substituted 1-iminoisoindolines are prepared in the reaction of o-phthalaldehyde and substituted 2-aminobenzothiazoles and 2-aminobenzimidazoles. The optimization of these reactions is discussed, and the reaction mechanisms are proposed based on the experimental findings. Isoindolines with other heterocyclic substituents are prepared as a confirmation of the proposed mechanisms. Molecular and crystal structures of several prepared compounds are determined by a single crystal X-ray diffraction. These structures are found to be in line with projections based on the chemical and spectroscopic properties, and thus offer an additional confirmation of the proposed reaction mechanisms.
Graphical abstract

Access options
Buy single article
Instant access to the full article PDF.
USD 39.95
Price includes VAT (USA)
Tax calculation will be finalised during checkout.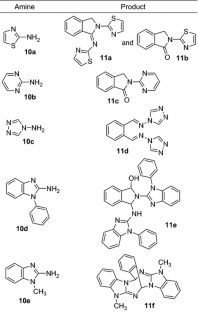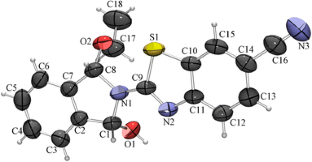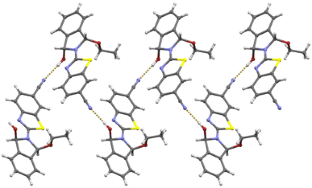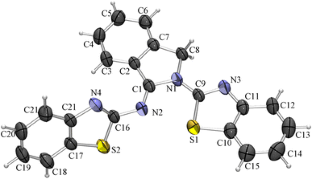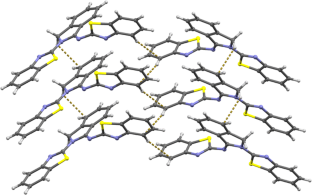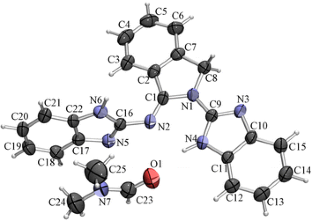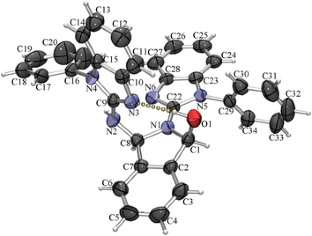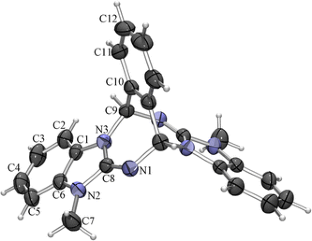 References
1.

Rothweiler W, Tamm C (1966) Experientia 22:750

2.

Aldridge DC, Armstrong JJ, Speake RN, Turner, WB (1967) Chem Commun:26

3.

Kundu N, Khan MW, Mukhopadhyay R (2001) J Indian Chem Soc 78:671

4.

Abdel-Aziz AA, El Tahir KE, Asiri YA (2011) Eur J Med Chem 46:1648

5.

Belliotti TR, Brink WA, Kesten SR, Rubin JR (1998) Bioorg Med Chem Lett 8:1499

6.

Norman MH, Minick DJ, Rigdon GC (1996) J Med Chem 39:149

7.

Luci DK, Lawson EC, Ghosh S, Kinney WA, Smith CE, Qi J, Wang Y, Minor LK, Maryanoff BE (2009) Tetrahedron Lett 50:4958

8.

Lawson EC, Luci DK, Ghosh S, Kinney WA, Reynolds CH, Qi J, Smith CE, Wang Y, Minor LK, Haertlein BJ, Parry TJ, Damiano BP, Maryanoff BE (2009) J Med Chem 52:7432

9.

Berger D, Citarella R, Dutia M, Greenberger L, Hallett W, Paul R, Powell D (1999) J Med Chem 42:2145

10.

Masterson LA, Croker SJ, Jenkins TC, Howard PW, Thurston DE (2004) Bioorg Med Chem Lett 14:901

11.

Curtin ML, Frey RR, Heyman HR, Sarris KA, Steinman DH, Holmes JH, Bousquet PF, Cunha GA, Moskey MD, Ahmed AA, Pease LJ, Glaser KB, Stewart KD, Davidsen SK, Michaelides MR (2004) Bioorg Med Chem Lett 14:4505

12.

Jiaang W-T, Chen J-S, Hsu T, Wu S-H, Chien C-H, Chang C-N, Chang S-P, Lee S-J, Chen X (2005) Bioorg Med Chem Lett 15:687

13.

Van Goethem S, Van der Veken P, Dubois V, Soroka A, Lambeir A-M, Chen X, Haemers A, Scharpe S, De Meester I, Augustyns K (2008) Bioorg Med Chem Lett 18:4159

14.

Meggers E, Atilla-Gokcumen GE, Bregman H, Maksimoska J, Mulcahy SP, Pagano N, Williams DS (2007) Synlett 8:1177

15.

Kaizer J, Kripli B, Speier G, Parkanyi L (2009) Polyhedron 28:933

16.

Chitanda JM, Prokopchuk DE, Quail JW, Foley SR (2008) Organometallics 27:2337

17.

Broering M, Kleeberg C, Koehler S (2008) Inorg Chem 47:6404

18.

Broering M, Kleeberg C (2009) Inogr Chim Acta 362:1065

19.

Takahashi I, Hatanaka M (1997) Heterocycles 45:2475

20.

Wan J, Wu B, Pan Y (2007) Tetrahedron 63:9338

21.

Wan J-P, Zhou J, Mao H, Pan Y-J, Wu A-X (2008) Tetrahedron 64:11115

22.

Cul A, Daich A, Decroix B, Sanz G, Van Hijfte L (2004) Tetrahedron 60:11029

23.

Souvie J-C, Fugire C, Lecouve J-P (2001) Process for the preparation of isoindoline. U.S. Patent 6320058 B2. Chem Abstr 135:195499

24.

Yoshida H, Fukushima H, Ohshita J, Kunai A (2004) Tetrahedron Lett 45:8659

25.

Shen S, Xu X, Lei M, Hu L (2012) Synthesis 44:3543

26.

Hu L-J, Zhan Z-J, Lei M, Hu L-H (2013) Arkivoc 2013:189

27.

You H, Chen F, Lei M, Hu L (2013) Tetrahedron Lett 54:2972

28.

Chen F, Lei M, Hu L (2014) Green Chem 16:2472

29.

Sole D, Serrano O (2010) J Org Chem 75:6267

30.

Zang Q, Javed S, Porubsky P, Ullah F, Neuenswander B, Lushington GH, Basha FZ, Organ MG, Hanson PR (2012) ACS Comb Sci 14:211

31.

Priebbenow DL, Stewart SG, Pfeffer FM (2011) Org Biomol Chem 9:1508

32.

Chen K, Pullarkat SA (2012) Org Biomol Chem 10:6600

33.

Fustero S, Moscardo J, Sanchez-Rosello M, Rodriguez E, Barrio P (2010) Org Lett 12:5494

34.

Fustero S, Herrera L, Lazaro R, Rodriguez E, Maestro MA, Mateu N, Barrio P (2013) Chem Eur J 19:11776

35.

Tamgho I-S, Engle JT, Ziegler CJ (2013) Tetrahedron Lett 54:6114

36.

He ZL, Liu TL, Tao HY, Wang CJ (2012) Org Lett 14:6230

37.

Takahashi I, Miyamoto R, Nishiuchi K, Hatanaka M, Yamano A, Sakushima A, Hosoi S (2004) Heterocycles 63:1267

38.

Takahashi I, Nishiuchi K, Miyamoto R, Hatanak M, Uchida H, Isa K, Sakushima A, Hosoi S (2005) Lett Org Chem 2:40

39.

Sović I, Stilinović V, Kaitner B, Kraljević Pavelić S, Bujak M, Čuljak K, Novak P, Karminski-Zamola G (2011) J Mol Struct 1006:259

40.

Sović I, Kraljević Pavelić S, Markova-Car E, Ilić N, Nhili R, Depauw S, David-Cordonnier M-H, Karminski-Zamola G (2014) Eur J Med Chem 87:372

41.

Ćaleta I, Grdiša M, Mrvoš-Sermek D, Cetina M, Tralić-Kulenović V, Pavelić K, Karminski-Zamola G (2004) Il Farmaco 59:297

42.

Starčević K, Ćaleta I, Cinčić D, Kaitner B, Kralj M, Ester K, Karminski-Zamola G (2006) Heterocycles 68:2285

43.

Allen FH, Kennard O, Watson DG, Brammer L, Orpen AG (1987) J Chem Soc Perkin Trans 2:S1

44.

Blagus A, Cinčić D, Friščić T, Kaitner B, Stilinović V (2010) Maced J Chem Chem Eng 29:117

45.

Stilinović V, Cinčić D, Zbačnik M, Kaitner B (2012) Croat Chem Acta 85:485

46.

Oxford Diffraction (2003) CrysAlis CCD and CrysAlis RED, version 1.170. Oxford Diffraction Ltd, Wroclaw

47.

Sheldrick GM (2008) Acta Cryst A64:112

48.

Farrugia LJ (1999) J Appl Cryst 32:837
Acknowledgments
This work was financially supported by Croatian Science Foundation (project No. 5596).
About this article
Cite this article
Sović, I., Orehovec, I., Stilinović, V. et al. Benzothiazolyl- and benzimidazolyl-substituted 1-iminoisoindolines: synthesis, mechanistic studies, and crystal structure determination. Monatsh Chem 147, 1825–1837 (2016). https://doi.org/10.1007/s00706-016-1796-5
Received:

Accepted:

Published:

Issue Date:
Keywords
Heterocycles

Reaction mechanisms

Schiff bases

X-ray structure determination