Abstract
The modular synthesis of teraryl-based alpha-helix mimetics can be accomplished by sequential Suzuki-couplings of arylboronic acid building blocks with 4-iodophenyltriflate core-fragments. We report about new synthetic accesses to core fragments featuring the side chains of Leu, Lys, Cys, Glu, Gln, Ser, and Thr starting from simple phenol precursors.
Graphical abstract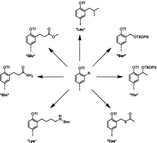 This is a preview of subscription content, log in to check access.
Access options
Buy single article
Instant access to the full article PDF.
US$ 39.95
Price includes VAT for USA
Subscribe to journal
Immediate online access to all issues from 2019. Subscription will auto renew annually.
US$ 199
This is the net price. Taxes to be calculated in checkout.

References
1.

Stumpf MPH, Thorne T, de Silva E, Stewart R, An HJ, Lappe M, Wiuf C (2008) Proc Natl Acad Sci USA 105:6959

2.

Stelzl U, Worm U, Lalowski M, Haenig C, Brembeck FH, Goehler H, Stroedicke M, Zenkner M, Schoenherr A, Koeppen S, Timm J, Mintzlaff S, Abraham C, Bock N, Kietzmann S, Goedde A, Toksöz E, Droege A, Krobitsch S, Korn B, Birchmeier W, Lehrach H, Wanker EE (2005) Cell 122:957

3.

http://ppi.fli-leibniz.de/. Accessed 3 Nov 2015

4.

Jochim AL, Arora PS (2010) ACS Chem Biol 5:919

5.

Jochim AL, Arora PS (2009) Mol BioSyst 5:924

6.

Berg T (2003) Angew Chem Int Ed Engl 42:2462

7.

Pelay-Gimeno M, Glas A, Koch O, Grossmann TN (2015) Angew Chem Int Ed 54:8896

8.

Kim YW, Grossmann TN, Verdine GL (2011) Nat Protocols 6:761

9.

Johnson LM, Mortenson DE, Yun HG, Horne WS, Ketas TJ, Lu M, Moore JP, Gellman SH (2012) J Am Chem Soc 134:7317

10.

Kritzer JA, Lear JD, Hodsdon ME, Schepartz A (2004) J Am Chem Soc 126:9468

11.

Robinson J (2008) Acc Chem Res 41:278

12.

Azzarito V, Prabhakaran P, Bartlett AI, Murphy NS, Hardie MJ, Kilner CA, Edwards TA, Warriner SL, Wilson AJ (2012) Org Biomol Chem 10:6469

13.

Sopkova-de Oliveira Santos J, Voisin-Chiret AS, Burzicki G, Sebaoun L, Sebban M, Lohier JF, Legay R, Oulyadi H, Bureau R, Rault S (2012) J Chem Inf Model 52:429

14.

Gomes CP, Metz A, Bats JW, Gohlke H, Göbel MW (2012) Eur J Org Chem 3270

15.

Williams AB, Hanson RN (2012) Tetrahedron 68:5406

16.

Thompson S, Vallinayagam R, Adler MJ, Scott RTW, Hamilton AD (2012) Tetrahedron 68:4501

17.

Reuter C, Huy P, Neudoerfl JM, Kuehne R, Schmalz HG (2011) Chem Eur J 17:12037

18.

Ehlers I, Maity P, Aubé J, König B (2011) Eur J Org Chem 2474

19.

Lee TK, Ahn JM (2011) ACS Comb Sci 13:107

20.

Lee JH, Zhang Q, Jo S, Chai SC, Oh M, Im W, Lu H, Lim HS (2011) J Am Chem Soc 133:676

21.

Restorp P, Rebek J Jr (2008) Bioorg Med Chem Lett 18:5909

22.

Moisan L, Odermatt S, Gombosuren N, Carella A, Rebek Jr J (2008) Eur J Org Chem 1673

23.

Che Y, Brooks BR, Marshall GR (2007) Biopolymers 86:288

24.

Oguri H, Tanabe S, Oomura A, Umetsu M, Hirama M (2006) Tetrahedron Lett 47:5801

25.

Antuch W, Menon S, Chen QZ, Lu Y, Sakamuri S, Beck B, Schauer-Vukasinovic V, Agarwal S, Hess S, Dömling A (2006) Bioorg Med Chem Lett 16:1740

26.

Jacoby E (2002) Bioorg Med Chem Lett 12:891

27.

Horwell DC, Howson W, Ratcliffe GS, Willems HMG (1996) Bioorg Med Chem 4:33

28.

Moon H, Lim H (2015) Curr Opin Chem Biol 24:38

29.

Jayatunga MDP, Thompson S, Hamilton AD (2014) Bioorg Med Chem Lett 24:717

30.

Azzarito V, Long K, Murphy NS, Wilson AJ (2013) Nat Chem 5:161

31.

Cummings CG, Hamilton AD (2010) Curr Opin Chem Biol 14:341

32.

Peters M, Trobe M, Tan H, Kleinweischede R, Breinbauer R (2013) Chem Eur J 19:2442

33.

Peters M, Trobe M, Breinbauer R (2013) Chem Eur J 19:2450

34.

Trobe M, Peters M, Grimm SH, Breinbauer R (2014) Synlett 25:1202

35.

Toumi M, Couty F, Evano G (2007) Angew Chem Int Ed 46:572

36.

Djukic B, Poddutoori PK, Dube PA, Seda T, Jenkins HA, Lemaire MT (2009) Inorg Chem 48:6109

37.

Martínez RF, Ávalos M, Babiano R, Cintas P, Jiménez JL, Light ME, Palacios JC (2011) Eur J Org Chem 3137

38.

Subhas Bose D, Jayalakshmi B (1999) Synthesis 64

39.

Beruben D, Marek I, Normant JF, Platzer N (1995) J Org Chem 60:2488

40.

Peng W, Blagg BSJ (2006) Org Lett 8:975

41.

Davies SG, Pyatt D, Thomson C (1990) J Organomet Chem 387:381

42.

Scott JP, Alam M, Bremeyer N, Goodyear A, Lam T, Wilson RD, Zhou G (2011) Org Process Res Dev 15:1116

43.

Nicolai S, Erard S, González DF, Waser J (2010) Org Lett 12:384

44.

Azzena U, Dettori G, Pireddu R, Pisano L (2004) Tetrahedron 60:1617

45.

Rodriguez JM, Ross NT, Katt WP, Deepali D, Lee G, Hamilton AD (2009) ChemMedChem 4:649

46.

Nicolaou KC, Yu R, Shi L, Cai Q, Lu M, Heretsch P (2013) Org Lett 15:1994
Acknowledgments
We thank Michael Bumberger, Patrick Dobrounig, Anna Schweiger, and Beate Steller for skillful assistance in the lab and Dr. Martin Peters for fruitful discussions in the early phase of this project. This research was funded by grants of the Volkswagenstiftung, Hannover, the PLACEBO (Platform for Chemical Biology) project as part of the Austrian Genome Project GEN-AU funded by the Forschungsförderungsgesellschaft (FFG) and Bundesministerium für Wissenschaft und Forschung (BMWF), and NAWI Graz.
Electronic supplementary material
Below is the link to the electronic supplementary material.
About this article
Cite this article
Trobe, M., Breinbauer, R. Improved and scalable synthesis of building blocks for the modular synthesis of teraryl-based alpha-helix mimetics. Monatsh Chem 147, 509–521 (2016). https://doi.org/10.1007/s00706-015-1599-0
Received:

Accepted:

Published:

Issue Date:
Keywords
Baeyer–Villiger oxidation

Claisen rearrangement

Iodination

Peptidomimetics

Protein–protein interactions

Wittig reaction