Abstract
A practical and mild method for the 5-exo cyclization of N-substituted α-alkynyl hydroxamic acids into isoxazolidin-3-ones catalyzed by Au(PPh3)SbF6 was developed. Under optimized conditions, the cyclization shows a high Z-selectivity for the newly formed exocyclic double bond.
Graphical Abstract

This is a preview of subscription content, log in to check access.
Access options
Buy single article
Instant access to the full article PDF.
US$ 39.95
Price includes VAT for USA
Subscribe to journal
Immediate online access to all issues from 2019. Subscription will auto renew annually.
US$ 199
This is the net price. Taxes to be calculated in checkout.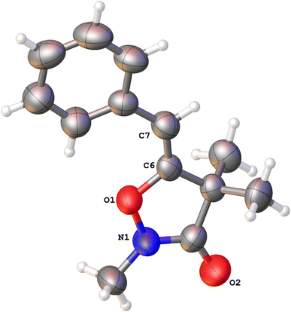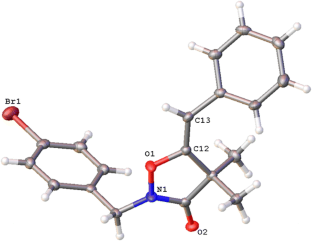 Notes
1.

10 mol% of Au(PPh3)Cl and 5 mol% of AgSbF6 were mixed in methylene chloride and stirred for 10 min. The suspension was filtered through Celite and the filtrate was added to a solution of the starting material.

2.

Details of the single crystal X-ray diffraction measurement of 19a and 20b (CCDC 1008262 and 1008263) are given in the supporting information to this article.

3.

Due to slow decomposition of the N-alkyl hydroxamic acids in the presence of silica gel, rapid chromatography was essential to obtain pure material. Further attempts to purify the compounds by chromatography over aluminium oxides with different acidity failed and led to complete decomposition.
References
1.

Tacheuchi Y (1977) Adv Heterocycl Chem 21:207

2.

Michelot D, Melendez-Howell LM (2003) Mycol Res 107:131

3.

Harada S, Tsubotani S, Hida T, Koyama K, Kondo M, Ono H (1988) Tetrahedron Lett 44:6589

4.

Neuhaus FC (1967) In: Gottlieb D, Shaw PD (eds) Antibiotics, vol 1. Springer, Berlin, p 40

5.

Stammer CH (1971) Chem Biochem Amino Acids Pept Proteins 1:23

6.

Fang QK, Hopkins S, Jones S (2005) Benzo[d]isoxazol-3-ol DAAO Inhibitors. US Patent 20050143434, Jun 30, 2005; (2005). Chem Abstr 143:97345

7.

Kennis LJE, van Hoof GCP, Bongartz JPAM, Luyckx MGM, Minke WE (2005) Daao inhibiting benzisoxazoles and their use for the treatment of mental disorders. WO2005/089753, Sep 29, 2005; (2005). Chem Abstr 143:326349

8.

Ferraris D, Duvall B, Ko YS, Thomas AG, Rojas C, Majer P, Hashimoto K, Tsukamoto T (2008) J Med Chem 51:3357

9.

Smith SM, Uslaner JM, Hutson PH (2010) Open Med Chem J 4:3

10.

Krogsgaard-Larsen P, Nielsen L, Falch E, Curtis DR (1985) J Med Chem 28:1612

11.

Silverman RB, Olson GT (1995) Bioorg Med Chem 3:11

12.

Conti P, De Amici M, Pinto A, Tamborini L, Grazioso G, Frølund B, Nielsen B, Thomsen C, Ebert B, De Micheli C (2006) Eur J Org Chem 5533

13.

Watanabe M, Maemura K, Kanbara K, Tamayama T, Hayasaki H (2002) Int Rev Cyctology 213:1

14.

Hall IH, Izydore RA (1988) Isoxazolidine-3,5-diones in the treatment of hyperlipidemia. EP0321090A2, Jun 21, 1989; (1990) Chem Abstr 112:178946

15.

Milner PG (2002) Isoxazolidine compounds useful in the treatment of diabetes, hyperlipidemia, and atherosclerosis. WO2002024689A1, Mar 28, 2002; (2002) Chem Abstr 136:257265

16.

Hobbs SH (1991) Preparation of substituted oxazolidin-2-ones and 1,2,4-oxadiazolin-5-ones as muscarinic agents. US Patent 5,066,665, Nov 19, 1991. Chem Abstr 116:59358

17.

Dallanoce C, Magrone P, Matera C, Frigerio F, Grazioso G, De Amici M, Fucile S, Piccari V, Frydenvang K, Pucci L, Gotti C, Clementi F, De Michel C (2011) ChemMedChem 6:889

18.

Chang JH (1983) Herbicidal 3-isoxazolidinones ans hydroxamic acids. US Patent 4,405,357, Sep 20, 1983; (1984). Chem Abstr 100:34529

19.

Warfield TR, Carlson DB, Bellman SK, Guscar HL (1985) Weed Sci Abstr 25:105

20.

Warfield TR, Halvorson GC, Dobbins LD, Hopper DM (1985) NCWCC Proc 40:80

21.

Baker DR, Fenyes WK, Morberg WK (1987) In: Cross B (ed) Synthesis and chemistry of agrochemicals. American Chemical Society, Washington DC, p 10

22.

Konz MJ (1981) Herbicidal isoxazolidine-3,5-diones. US Patent 4,302,238, Nov 24, 1981; (1982). Chem Abstr 96:217824

23.

Yun S, Kim K (2000) Tetrahedron Lett 41:1469

24.

Zydore RA, Hall IH (1990) Compounds for the control of hyperlipidemia using N-substituted isoxazolidine-3,5-diones. US Patent 4,946,963, Aug 7, 1990; (1990). Chem Abstr 112:178946

25.

Reddy AS, Kumar MS, Reddy GR (2000) Tetrahedron Lett 41:6285

26.

Li X, Meng X, Duan H, Wang L, Wang S, Zhang Y, Qin D (2010) Arch Pharm Chem Life Sci 8:473

27.

Kim HK, Park KJJ (2012) Tetrahedron Lett 53:4090

28.

Kim HR, Shin SI, Park HJ, Jeon DJ, Ryu EK (1998) Synlett 789

29.

Fiumana A, Lombardo M, Trombini C (1997) J Org Chem 62:5623

30.

Mancini F, Piazza MG, Trombini C (1991) J Org Chem 56:4246

31.

Dhavale DD, Gentilucci L, Piazza MG, Trombini C (1992) Liebigs Ann Chem 12:1289

32.

Westphalen KO, Hamprecht G, Hettinger P (1987) Preparation of dialkylisoxazolidinones as intermediates for herbicides. DE 3540770, May 21, 1987; (1987) Chem Abstr 107:154321

33.

Wang J, Stefane B, Jaber D, Smith JAI, Vickery C, Diop M, Sintim HO (2010) Angew Chem Int Ed 49:3964

34.

Schmidt VA, Alexanian EJ (2010) Angew Chem Int Ed 49:4491

35.

Hashmi ASK (2010) Pure Appl Chem 82:657

36.

Shen HC, Graham TH (2013) Drug Discov Today 10:e3

37.

Fürstner A, Davies PW (2007) Angew Chem Int Ed 46:3410

38.

Hashmi ASK (2007) Chem Rev 107:3180

39.

Leyva-Pérez A, Corma A (2012) Angew Chem Int Ed 51:614

40.

Patil NT, Yamamoto Y (2008) Chem Rev 108:3395

41.

Klahn P, Duschek A, Liébert C, Kirsch SF (2012) Org Lett 14:1250

42.

Umland KD, Palisse A, Haug TT, Kirsch SF (2011) Angew Chem Int Ed 50:9965

43.

Harschneck T, Kirsch SF (2011) J Org Chem 76:2145

44.

Menz H, Binder JT, Crone B, Duschek A, Haug TT, Kirsch SF, Klahn P, Liébert C (2009) Tetrahedron 65:1880

45.

Haug TT, Harschneck T, Duschek A, Lee CU, Binder JT, Menz H, Kirsch SF (2009) J Organomet Chem 694:510

46.

Baskar B, Bae HJ, An SE, Cheong JY, Rhee YH, Duschek A, Kirsch SF (2008) Org Lett 10:2605

47.

Binder JT, Crone B, Kirsch SF, Liébert C, Menz H (2007) Eur J Org Chem 1636

48.

Kirsch SF, Binder JT, Crone B, Duschek A, Haug TT, Liébert C, Menz H (2007) Angew Chem Int Ed 46:2310

49.

Kirsch SF, Binder JT, Liébert C, Menz H (2006) Angew Chem Int Ed 45:5878

50.

Menz H, Kirsch SF (2006) Org Lett 8:4795

51.

Zhu ZB, Kirsch SF (2013) Chem Commun 49:2272

52.

Hummel S, Kirsch SF (2011) Beilstein J Org Chem 7:847

53.

Haug TT, Kirsch SF (2009) Targets in Heterocycl Syst 13:57

54.

Klahn P, Kirsch SF (2011) ChemCatChem 3:649

55.

Kirsch SF (2008) Synthesis 3183

56.

Crone B, Kirsch SF (2008) Chem Eur J 14:3514

57.

Cahiez G, Gager O, Buendia J (2010) Angew Chem Int Ed 49:1278

58.

Yang CY, Lin GY, Liao HY, Datta S, Liu RSJ (2008) Org Chem 73:4907

59.

Ohemeng KA, Podlogar BL, Nguyen VN, Bernstein JI, Krause HM, Hilliard JJ, Barret JFJ (1997) Med Chem 40:3292

60.

Kawase M, Kikugawa Y (1979) J Chem Soc Perkin Trans 1:643

61.

High A, Prior T, Bell RA, Rangachari PKJ (1999) Pharm Exp Therp 288:490

62.

Eckelbarger JD, Schmitzer PR, Yerkes CN, Boebel TA, Satchivi NM, Whiteker GT (2010) N-Alkoxyamides of 6-(trisubstituted phenyl)-4-aminopicolinates and their use as selective herbicides for crops. US Patent 20100222221, Sep 2, 2010; (2010). Chem Abstr 153:359051

63.

Pangborn AB, Giardello MA, Grubbs RH, Rosen RK, Timmers FJ (1996) Organometallics 15:1518

64.

Yang CY, Lin GY, Liao HY, Datta S, Liu RS (2008) J Org Chem 73:4907

65.

Cheoljae K, Hyo JB, Ji HL, Wook J, Haejin K, Sampath V, Young HR (2009) J Am Chem Soc 131:14660

66.

Coskun N, Parlar A (2005) Synth Commun 35:2445

67.

Gopalakrishnan M, Anandabaskaran T, Sureshkumar P, Thanusu J, Kumaran AK, Kanagarajan V (2006) Mendeleev Commun 16:50

68.

Hayashi D, Kato N, Kuzuyama T, Sato Y, Ohkanda J (2013) Chem Commun 49:5535

69.

Brady OL, Bennett CL (1927) J Chem Soc 894
Acknowledgments
We are grateful to Deutsche Forschungsgemeinschaft (DFG; KI 1289/1–3) and Fonds der Chemischen Industrie (FCI) for financial support. The donation of chemicals by Rockwood Lithium is gratefully acknowledged.
Electronic supplementary material
Below is the link to the electronic supplementary material.
About this article
Cite this article
Häring, A.P., Klahn, P., Jübermann, M. et al. Gold(I)-catalyzed heterocyclization of β-alkynyl hydroxamic acids: synthesis of isoxazolidin-3-ones. Monatsh Chem 146, 119–134 (2015). https://doi.org/10.1007/s00706-014-1319-1
Received:

Accepted:

Published:

Issue Date:
Keywords
Isoxazolidin-3-ones

Heterocycles

Catalysis

Cyclizations

Hydroxamic acid