Abstract
The ionic liquid 1-methyl-3-(3-trimethoxysilylpropyl)imidazolium chloride was immobilized on Fe3O4 nanoparticles and used as an efficient and reusable catalyst for the one-pot synthesis of 1,2,4,5-tetrasubstituted imidazoles at room temperature under ultrasonic irradiation. The immobilized ionic liquid catalysts proved to be effective and easily separated from the reaction media by applying an external magnetic field. This procedure has many obvious advantages compared to those reported in the previous literatures, including avoiding the use of harmful catalysts, reacting at room temperature, high yields, and simplicity of the methodology.
Graphical Abstract

Access options
Buy single article
Instant access to the full article PDF.
USD 39.95
Price excludes VAT (USA)
Tax calculation will be finalised during checkout.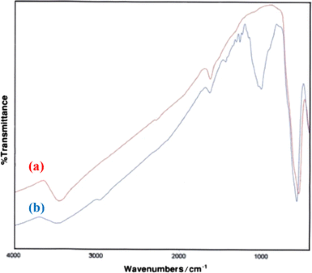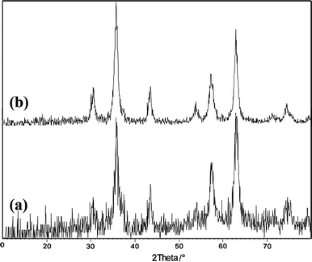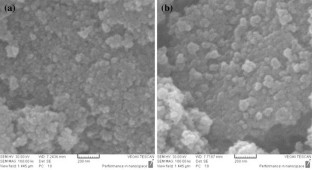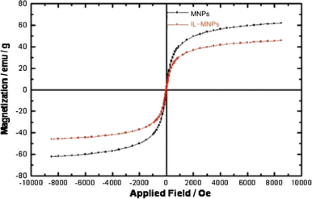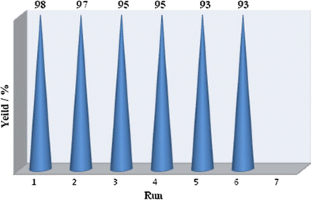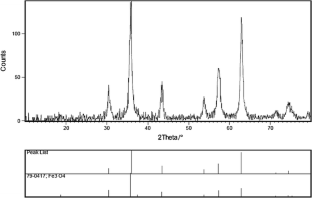 References
Roger RD, Seddon KR, Volkov S (eds) (2003) Green industrial applications of ionic liquids. Kluwer Academic Publishers, Dordrecht

Abu-Reziq R, Wang D, Post M, Alper H (2008) Chem Mater 20:2544

Burrell AK, Sesto RED, Baker SN, McCleskey TM, Baker GA (2007) Green Chem 5:449

Sheldon R (2001) Chem Commun 23:2399

Wilkes JS (2002) Green Chem 4:73

Jain N, Kumar A, Chauhan S, Chauhan SMS (2005) Tetrahedron 61:1015

Zang H, Wang M, Cheng BW, Song J (2009) Ultrason Sonochem 16:301

Borikar SP, Daniel T (2011) Ultrason Sonochem 18:928

Sahoo S, Kumar P, Lefebvre F, Halligudi SB (2009) Appl Catal A 354:17

Zhu LL, Liu YH, Chen J (2009) Ind Eng Chem Res 48:3261

Chen W, Zhang YY, Zhu LB, Lan JB, Xie RG, You JS (2007) J Am Chem Soc 129:13879

Miao J, Wan H, Guan G (2011) Catal Commun 12:353

Zhu Y, Fang Y, Kaskel S (2010) J Phys Chem C 114:16382

Neuberger T, Schoepf B, Hofmann H, Hofmann M, Rechenberg B (2005) J Magn Magn Mater 293:483

Pankhurst QA, Connolly J, Jones SK, Dobson J (2003) J Phys D Appl Phys 36:167

Graham DL, Ferreira HA, Freitas PP (2004) Trends Biotechnol 22:455

Wang D, He J, Rosenzweig N, Rosenzweig Z (2004) Nano Lett 4:409

Jordan A, Scholz R, Wust P, Fahling H, Felix R (1999) J Magn Magn Mater 201:413

Hu A, Yee GT, Lin W (2005) J Am Chem Soc 127:12486

Puratchikody A, Doble M (2007) Bioorg Med Chem Lett 15:1083

Safari J, Khalili SD, Rezaei M, Banitaba SH, Meshkani F (2010) Monatsh Chem 141:1339

Shen M, Cai C, Yi W (2008) J Fluorine Chem 129:541

Sharma GVM, Jyothi Y, Sree Lakshmi P (2006) Synth Commun 36:2991

Heravi MM, Bakhtiari K, Oskooie HA, Taheri S (2007) J Mol Catal A: Chem 263:279

Shaabani A, Rahmati A, Farhangi E, Badri Z (2007) Catal Commun 8:1149

Wang L, Cai C (2009) Monatsh Chem 140:541

Jadhave SD, Kokare ND, Jadhave SD (2009) J Heterocycl Chem 45:1461

Sharma SD, Hazarika P, Konwar D (2008) Tetrahedron Lett 49:2216

Karimi AR, Alimohammadi Z, Azizian J, Mohammadi AA, Mohammadzadehi MR (2006) Catal Commun 7:728

Kantevari S, Vuppalapati SVN, Biradar DO, Nagarapu L (2007) J Mol Catal A: Chem 266:109

Heravi MM, Derikvand F, Bamoharram FF (2007) J Mol Catal A: Chem 263:112

Sadeghi B, Mirjalili BBF, Hashemi MM (2008) Tetrahedron Lett 4:2575

Heravi MM, Derikv F, Haghighi M (2008) Monatsh Chem 139:31

Usyatinsky AY, Khmelnitsky YL (2000) Tetrahedron Lett 41:5031

Siddiqui SA, Narkhede UC, Palimkar SS, Daniel T, Lahoti RJ, Srinivasan KV (2005) Tetrahedron 61:3539

Chary MV, Keerthysri NC, Vupallapati S, Lingaiah N, Kantevari S (2008) Catal Commun 9:2013

Xia M, Lu Y (2007) J Mol Catal A: Chem 265:205

Zang H, Su Q, Mo Y, Cheng BW, Jun S (2010) Ultrason Sonochem 17:749

Shaterian HR, Ranjbar M (2011) J Mol Liquids 160:40

Nagargoje D, Mandhane P, Shingote S, Badadhe P, Gill C (2012) Ultrason Sonochem 19:94

Yang D, Hu J, Fu S (2009) J Phys Chem C 113:7646

Chrobok A, Baj S, Pudło W, Jarzebski A (2009) Appl Catal A: General 366:22

Massart R (1981) IEEE Trans Magn 17:1247

Jiang Y, Jiang J, Gao Q, Ruan M, Yu H, Qi L (2008) Nanotech 19:75714

Kappe CO (2004) Angew Chem Int Ed 43:6250

Kidwai M, Mothsra P, Bansal V, Somvanshi RK, Ethayathulla AS, Dey S, Singh TP (2007) J Mol Catal A: Chem 265:177

Khosropour AR (2008) Ultrason Sonochem 15:659

Murthy SN, Madhav B, Nageswar YVD (2010) Tetrahedron Lett 51:5252

Shelke KF, Sapkal SB, Sonar SS, Madje BR, Shingate BB, Shingare MS (2009) Bull Korean Chem Soc 30:1057
Acknowledgments
We gratefully acknowledge the financial support from the Research Council of the University of Kashan for supporting this work by Grant No. 256722/I.
About this article
Cite this article
Safari, J., Zarnegar, Z. Magnetic nanoparticle supported ionic liquid as novel and effective heterogeneous catalyst for synthesis of substituted imidazoles under ultrasonic irradiation. Monatsh Chem 144, 1389–1396 (2013). https://doi.org/10.1007/s00706-013-1015-6
Received:

Accepted:

Published:

Issue Date:

DOI: https://doi.org/10.1007/s00706-013-1015-6
Keywords
Ionic liquid

Imidazole

1-Methyl-3-(3-trimethoxysilylpropyl)imidazolium chloride

Magnetic nanoparticles

Ultrasonic irradiation