Abstract
The naturally occurring drug hypericin has invoked much interest in a wide variety of biomedical applications as an antiviral, antibacterial, or antitumor agent, as well as its use as a photosensitizer for photodynamic therapy. However, hypericin suffers from notoriously poor solubility, in particular in aqueous solution, a requirement for many biomedical applications. Using state-of-the-art living polymerization techniques, conjugates of hypericin with biodegradable polyphosphazenes were prepared which show significantly enhanced solubility in ethanol and water compared with the parent compound. Herein, we report the synthesis and structural characterization of these novel polymer–drug conjugates as well as initial testing of their photoreactivity.
Graphical Abstract

Access options
Buy single article
Instant access to the full article PDF.
USD 39.95
Price excludes VAT (USA)
Tax calculation will be finalised during checkout.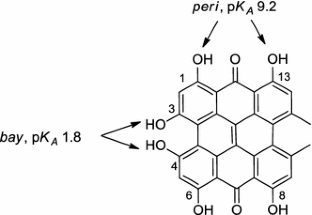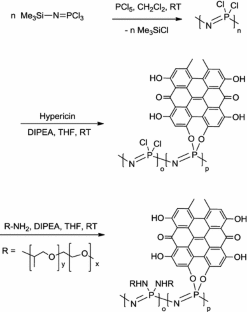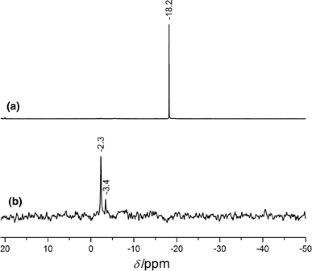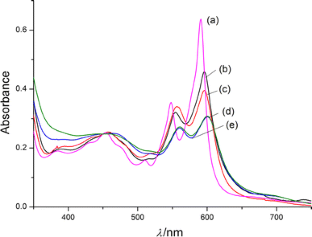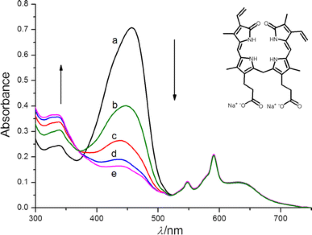 References
Kiesslich T, Krammer B, Plaetzer K (2006) Curr Med Chem 13:2189

Kubin A, Wierrani F, Burner U, Alth G, Grunberger W (2005) Curr Pharm Design 11:233

Falk H (1999) Angew Chem Int Ed 38:3117

Engelhardt V, Krammer B, Plaetzer K (2010) Photochem Photobiol Sci 9:369

Thong PSP, Olivo M, Chin WWL, Bhuvaneswari R, Mancer K, Soo KC (2009) Br J Cancer 101:1580

Lavie G, Mazur Y, Lavie D, Meruelo D (1995) Med Res Rev 15:111

Colasanti A, Kisslinger R, Liuzzi Quarto M, Riccio P, Roberti G, Tramontano D, Villani FJ (2000) Photochem Photobiol B 54:103

Agostinis P, Vantieghem A, Merlevede W, De Witte PAM (2002) Int J Biochem Cell Biol 34:221

Chen B, Xu Y, Roskams T, Delaey E (2001) Int J Cancer 93:275

Falk H, Meyer J (1994) Monatsh Chem 125:753

Falk H, Sarhan A, Tran HTN, Altmann R (1998) Monatsh Chem 129:309

Waser M, Falk H (2007) Curr Org Chem 11:547

Waser M, Falk H (2011) Curr Org Chem 15:3894

Derycke ASL, De Witte PAM (2002) Int J Oncol 20:181

Kubin A, Loew HG, Burner U, Jessner G, Kolbabek H, Wierrani F (2008) Pharmazie 63:263

Vandepitte J, Van Cleynenbreugel B, Hettinger K, Van Poppel H, De Witte PAM (2010) Cancer Chemother Pharm 67:775

Zeisser-Labouebe M, Lange N, Gurny R, Delie F (2006) Int J Pharm 326:174

Mondon K, Zeisser-Labouebe M, Gurny R, Delie F (2010) Photochem Photobiol 87:399

Haag R, Kratz F (2006) Angew Chem Int Ed 45:1198

Ojima I (2008) Acc Chem Res 41:108

Andrianov AK (2006) J Inorg Organomet Polym Mater 16:397

Blackstone V, Lough AJ, Murray M, Manners I (2009) J Am Chem Soc 131:3658

Allcock HR, Crane CA, Morrissey CT, Nelson JM, Reeves SD, Honeyman CH, Manners I (1996) Macromolecules 29:7740

Sethuraman S, Nair LS, El-Amin S, Farrar R, Nguyen MTN, Singh A, Allcock HR, Greish YE, Brown PW, Laurencin CT (2006) J Biomed Mater Res Part A 77A:679

Allcock HR, Fuller TJ, Mack DP, Matsumura K, Smeltz KM (1977) Macromolecules 10:824

Andrianov AK, Marin A (2006) Biomacromolecules 7:1581

Teasdale I, Wilfert S, Nischang I, Brueggemann O (2011) Polym Chem 2:828

Amer AM, Falk H, Tran HTN (1998) Monatsh Chem 129:1237

Carriedo GA, Alonso FJG, Presa-Soto A (2003) Eur J Inorg Chem 24:4341

Darmanyan AP, Burel L, Eloy D, Jardon P (1994) J Chim Phys Chim Biol 91:1774

Waser M, Falk H (2006) Eur J Org Chem 5:1200

Hagenbuchner K, Falk H (1999) Monatsh Chem 130:1075

Bugaj AM (2011) Photochem Photobiol Sci 10:1097

Falk H, Meyer J, Oberreiter M (1993) Monatsh Chem 124:339

Falk H, Schoppel G (1992) Monatsh Chem 123:931
Acknowledgments
The NMR spectrometers used in this work were acquired in collaboration with the University of South Bohemia (CZ) with financial support from the European Union through the EFRE INTERREG IV ETC.-AT-CZ program (project M00146, "RERI-uasb").
About this article
Cite this article
Teasdale, I., Waser, M., Wilfert, S. et al. Photoreactive, water-soluble conjugates of hypericin with polyphosphazenes. Monatsh Chem 143, 355–360 (2012). https://doi.org/10.1007/s00706-011-0707-z
Received:

Accepted:

Published:

Issue Date:

DOI: https://doi.org/10.1007/s00706-011-0707-z
Keywords