Abstract
Alzheimer's disease is a multifactorial neurodegenerative disorder characterized by the pathological brain deposition of neurofibrillary tangles and senile plaques. The latter consist mainly of insoluble β-amyloid (Aβ) fibril deposition. Aβ aggregation and deposition can be increased by several factors, including metal ions. In this study we investigated the role played by metal ions in affecting Aβ oligomerization in the presence and in the absence of its hydrophobic fragment Aβ17–28. This was done not as a physiological investigation, but as a paradigmatic study to confirm the key role of Aβ superficial hydrophobicity as a relevant aggravating factor that contributes to the toxicity of Aβ and Aβ–metal complexes. The structural conformations of Aβ–metal complexes were monitored through fluorescence and turbidity measurements as well as transmission electron microscopy. Results reported herein indicate that various metals differentially influence Aβ conformation, with aluminum being the only metal ion for which we are able to determine a dramatic enhancement of peptide oligomer formation with a consequent toxic effect. This scenario was further enhanced by the presence of Aβ17–28, which resulted in a marked toxicity in a neuroblastoma cell culture as a consequence of the enhancement of the hydrophobicity of the amyloid and amyloid–metal complexes.
Graphical abstract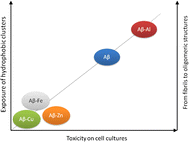 This is a preview of subscription content, log in to check access.
Access options
Buy single article
Instant access to the full article PDF.
US$ 39.95
Price includes VAT for USA
Subscribe to journal
Immediate online access to all issues from 2019. Subscription will auto renew annually.
US$ 199
This is the net price. Taxes to be calculated in checkout.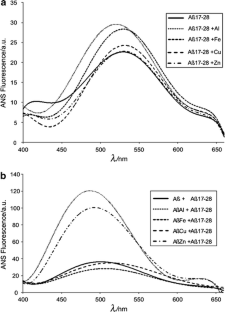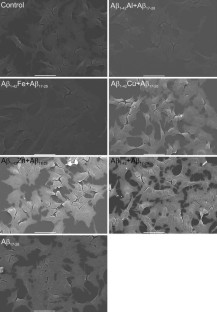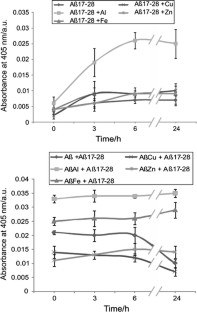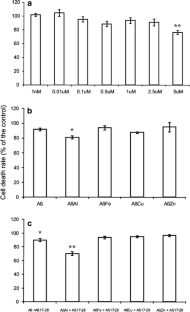 References
1.

Iqbal K, Liu F, Gong CX, Alonso AD, Grundke-Iqbal I (2009) Acta Neuropathol 118:53

2.

Ono K, Condron MM, Teplow DB (2009) Proc Natl Acad Sci USA 106:14745

3.

Savva GM, Wharton SB, Ince PG, Forster G, Matthews FE, Brayne C (2009) N Engl J Med 360:2302

4.

Nygaard HB, Strittmatter SM (2009) AMA Arch Neurol 66:1325

5.

Zatta P, Drago D, Bolognin S, Sensi SL (2009) Trends Pharmacol Sci 30:346

6.

Lovell MA, Robertson JD, Teesdale WJ, Campbell JL, Markesbery WR (1998) J Neurol Sci 158:47

7.

Miller LM, Wang Q, Telivala TP, Smith RJ, Lanzirotti A, Miklossy J (2006) J Struct Biol 155:30

8.

Leskovjan AC, Lanzirotti A, Miller LM (2009) Neuroimage 47:1215

9.

Zbilut JP, Webber CL, Colosimo A, Giuliani A (2000) Protein Eng 13:99

10.

Kim W, Hecht MH (2006) Proc Natl Acad Sci USA 103:15824

11.

Dahlgren KN, Manelli AM, Stine WB, Baker LK, Krafft GA, LaDu MJ (2002) J Biol Chem 277:32046

12.

Drago D, Folin M, Baiguera S, Tognon G, Ricchelli F, Zatta P (2007) J Alzheimers Dis 11:33

13.

Shearman MS, Hawtin SR, Tailor VJ (1995) J Neurochem 65:218

14.

Maezawa I, Hong HS, Liu R, Wu CY, Cheng RH, Kung MP, Kung HF, Lam KS, Oddo S, LaFerla FM, Jin LW (2008) J Neurochem 104:457

15.

Ferreira ST, Vieira MNN, De Felice FG (2007) IUBMB Life 59:332

16.

Naiki H, Gejyo F, Nakakuki K (1997) Biochemistry 36:6243

17.

Uversky VN, Winter S, Lober G (1996) Biophys Chem 60:79

18.

Drago D, Bolognin S, Zatta P (2008) Curr Alzheimer Res 5:500

19.

Friedman R, Pellarin R, Caflisch A (2009) J Mol Biol 387:407

20.

Suwalsky M, Bolognin S, Zatta P (2009) J Alzheimers Dis 17:81

21.

Yankner BA, Lu T (2009) J Biol Chem 284:4754

22.

Kopito RR, Ron D (2000) Nat Cell Biol 2:E207

23.

Drago D, Bettella M, Bolognin S, Cendron L, Scancar J, Milacic R, Ricchelli F, Casini A, Messori L, Tognon G, Zatta P (2008) Int J Biochem Cell B 40:731

24.

Millucci L, Ghezzi L, Bernardini G, Santucci A (2010) Curr Protein Pep Sc 11:457

25.

Atamna H (2009) J Bioenerg Biomembr 41:457

26.

Tjernberg LO, Callaway DJE, Tjernberg A, Hahne S, Lilliehook C, Terenius L, Thyberg J, Nordstedt C (1999) J Biol Chem 274:12619

27.

Melquiond A, Dong X, Mousseau N, Derreumaux P (2008) Curr Alzheimer Res 5:244

28.

Levine H (1993) Protein Sci 2:404

29.

Xue WF, Hellewell AL, Gosal WS, Homans SW, Hewitt EW, Radford SE (2009) J Biol Chem 284:34272

30.

Zhang A, Qi W, Good TA, Fernandez EJ (2009) Biophys J 96:1091

31.

Shah SB, Nolan R, Davis E, Stokin GB, Niesman I, Canto I, Glabe C, Goldstein LSB (2009) Neurobiol Dis 36:11

32.

Deshpande A, Mina E, Glabe C, Busciglio J (2006) J Neurosci 26:6011

33.

Behl C, Davis JB, Lesley R, Schubert D (1994) Cell 77:817

34.

Nakagawa T, Zhu H, Morishima N, Li E, Xu J, Yankner BA, Yuan JY (2000) Nature 403:98

35.

Kremer JJ, Pallitto MM, Sklansky DJ, Murphy RM (2000) Biochemistry 39:10309

36.

Lashuel HA, Hartley D, Petre BM, Walz T, Lansbury PT (2002) Nature 418:291

37.

Eckert GP, Wood WG, Muller WE (2005) Subcell Biochem 38:319

38.

Miller Y, Ma B, Nussinov R (2010) Chem Rev 110:4820
Acknowledgment
This work was supported by PRIN 2007.
About this article
Cite this article
Granzotto, A., Bolognin, S., Scancar, J. et al. Beta-amyloid toxicity increases with hydrophobicity in the presence of metal ions. Monatsh Chem 142, 421–430 (2011). https://doi.org/10.1007/s00706-011-0470-1
Received:

Accepted:

Published:

Issue Date:
Keywords
Amyloid-beta

Aluminum

Alzheimer's disease

Metal ions

Hydrophobicity