Micro-solid oxide fuel cells: status, challenges, and chances
Abstract
Abstract
Micro-solid oxide fuel cells (micro-SOFC) are predicted to be of high energy density and are potential power sources for portable electronic devices. A micro-SOFC system consists of a fuel cell comprising a positive electrode-electrolyte-negative electrode (i.e. PEN) element, a gas-processing unit, and a thermal system where processing is based on micro-electro-mechanical-systems fabrication techniques. A possible system approach is presented. The critical properties of the thin film materials used in the PEN membrane are discussed, and the unsolved subtasks related to micro-SOFC membrane development are pointed out. Such a micro-SOFC system approach seems feasible and offers a promising alternative to state-of-the-art batteries in portable electronics.
Graphical abstract
Graphical Abstract text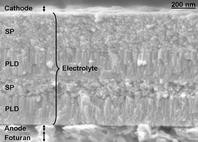 Keywords
Micro-solid oxide fuel cell 
Thin film deposition 
MEMS 
Microfabrication 
Gas processing 
Thermal system 
Notes
Acknowledgments
Financial support from the following Swiss institutions for the ONEBAT and NANCER projects is gratefully acknowledged: Commission for Technology and Innovation (CTI), Competence Centre for Energy and Mobility (CCEM), Competence Centre for Materials Science and Technology (CCMX), Bundesamt für Energie (BfE), and Swiss Electric Research (SER).