Abstract
A new potyvirus was found in Thevetia ahouai L. (Fam. Apocynaceae) plants exhibiting white spots on leaves and fruit discoloration in Ecuador. The complete genome sequences of two isolates of this virus, tentatively named "thevetia white spot virus" (ThWSV), were determined and found to be 9,912 (isolate 1) and 9,904 (isolate 2) nucleotides (nt) in length, each encoding a polyprotein of 363 kDa. Sequence comparisons between the two isolates showed 80 and 87% identity at the nt and amino acid (aa) level, respectively, whereas the overall sequence identity between ThWSV and its closest relative was 69% and 71% at the nt and aa level, respectively.
This is a preview of subscription content,
to check access.
Access this article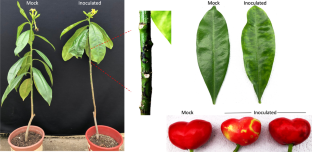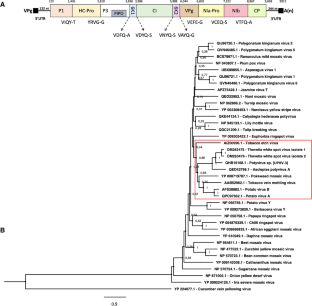 Data availability
The genomic sequences of the two virus isolates reported here have been deposited in the GenBank database under accession numbers OM263475 and OM263476.
References
Alvarado-Cárdenas LO, Ochoterena H (2007) A phylogenetic analysis of the Cascabela-Thevetia Species Complex (Plumerieae, Apocynaceae) based on morphology. Ann Mo Bot Gard 94(2):298–323

Calderón ÁI et al (2006) Screening of Latin American plants for cytotoxic activity. Pharm Biol 44(2):130–140

Alvarez-Quinto RA et al (2022) Complete genome sequences of two isolates of spiraea yellow leafspot virus (genus Badnavirus) from Spiraea x bumalda 'Anthony Waterer'. Arch Virol 167:631–634

Dodds JA, Morris TJ, Jordan RL (1984) Plant viral double-stranded RNA. Annu Rev Phytopathol 22(1):151–168

Valverde RA, Dodds JA, Heick JA (1986) Double stranded RNAs from plants infected with viruses having elongated particles and undivided genomes. Phytopathology 76:7

Wylie SJ et al (2017) ICTV Virus Taxonomy Profile: Potyviridae. J Gen Virol 98(3):352–354

Alcalá-Briseño RI et al (2020) Network analysis of the papaya Orchard virome from two agroecological Regions of Chiapas, Mexico. mSystems 5:e00423-9(1)

Hull R (2009) Mechanical inoculation of plant viruses. Curr Protoc Microbiol 13(1):16B.6.1-16B.6.4

Laney AG, Avanzato MV, Tzanetakis IE (2012) High incidence of seed transmission of Papaya ringspot virus and Watermelon mosaic virus, two viruses newly identified in Robinia pseudoacacia. Eur J Plant Pathol 134(2):227–230

Hajimorad MR et al (2018) Soybean mosaic virus: a successful potyvirus with a wide distribution but restricted natural host range. Mol Plant Pathol 19(7):1563–1579

Adams MJ, Antoniw JF, Beaudoin F (2005) Overview and analysis of the polyprotein cleavage sites in the family Potyviridae. Mol Plant Pathol 6(4):471–487

Worrall EA et al (2019) Molecular characterization and analysis of conserved potyviral motifs in bean common mosaic virus (BCMV) for RNAi-mediated protection. Arch Virol 164(1):181–194

Vijayapalani P et al (2012) Interaction of the trans-frame potyvirus protein P3N-PIPO with host protein PCaP1 facilitates potyvirus movement. PLoS Pathog 8(4):e1002639

Edgar RC (2004) MUSCLE: multiple sequence alignment with high accuracy and high throughput. Nucleic Acids Res 32(5):1792–1797

Kumar S et al (2018) MEGA X: molecular evolutionary genetics analysis across computing platforms. Mol Biol Evol 35(6):1547–1549

Fuentes S et al (2021) Potato virus A isolates from three continents: their biological properties, phylogenetics, and prehistory. Phytopathology® 111(1):217–226
Acknowledgements
The authors acknowledge Dr. Benham Lockhart and the University of Minnesota Imaging Center for assistance with virus purification and particle visualization at the transmission electron microscopy facility.
Funding
The authors declare that no funds, grants, or other support were received during the preparation of this manuscript.
Ethics declarations
Conflict of interest
The authors declare no conflict of interest.
Ethical approval
This article does not contain any studies with human participants or animals performed by any of the authors. Plant samples were collected under Genetic Resource Access Permit # MAE-DNB-CM-2018-0098, granted by the Department of Biodiversity of the Ecuadorean Ministry of the Environment.
Additional information
Handling Editor: Ioannis E. Tzanetakis.
Publisher's Note
Springer Nature remains neutral with regard to jurisdictional claims in published maps and institutional affiliations.
Supplementary Information
Below is the link to the electronic supplementary material.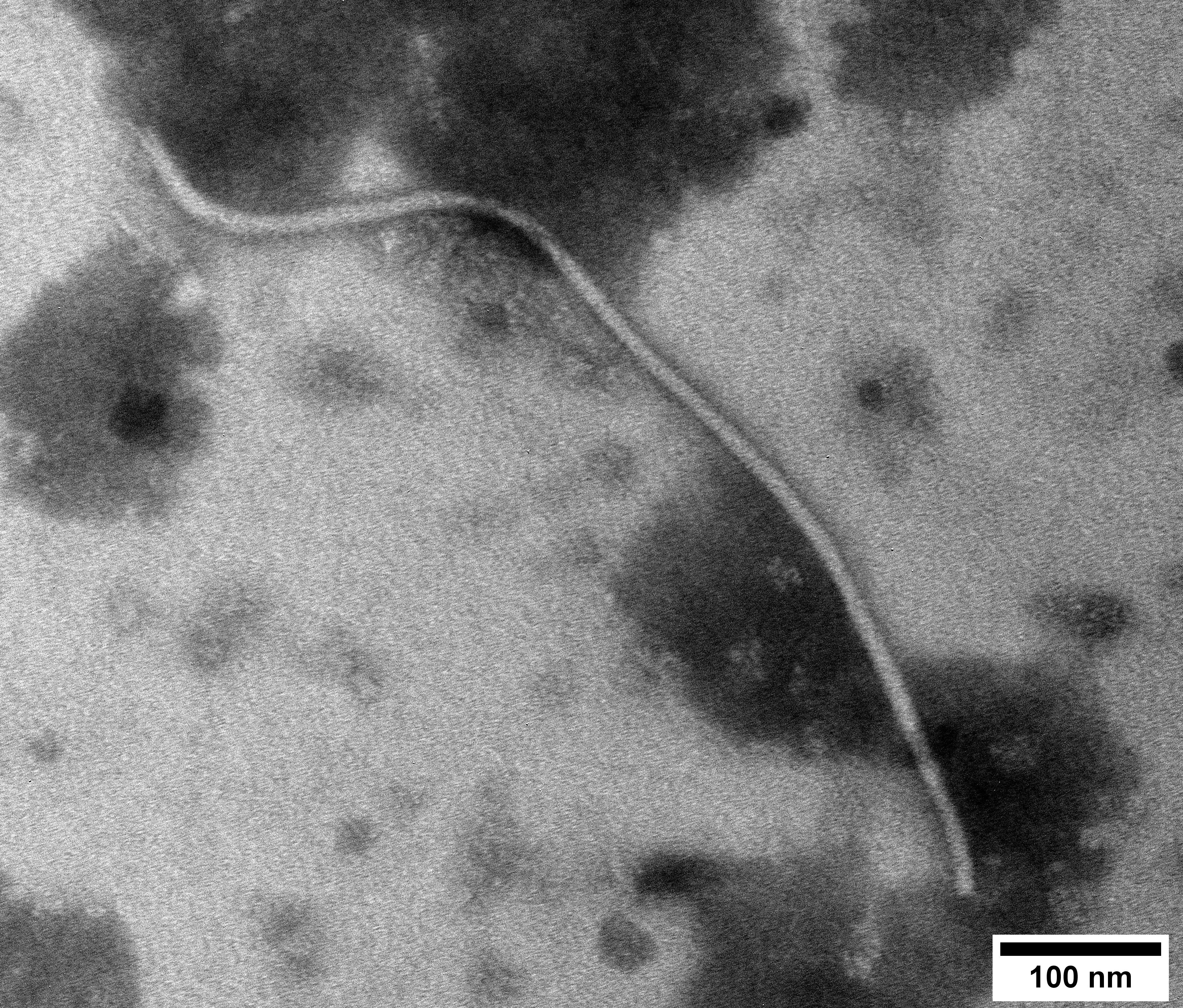 Online Resource 1 Transmission electron micrograph of partially purified extracts from symptomatic leaves of Thevetia ahouai. A representative single flexuous filamentous virus-like particle is shown. The scale bar equals 100 nm. Magnification, 60,000 X. (JPG 4678 KB)
About this article
Cite this article
Cañada-Bautista, M.G., Reyes-Proaño, E.G., Cornejo-Franco, J.F. et al. Characterization of a new potyvirus infecting Thevetia ahouai in Ecuador. Arch Virol 167, 1461–1466 (2022). https://doi.org/10.1007/s00705-022-05450-6
Received:

Accepted:

Published:

Issue Date:

DOI: https://doi.org/10.1007/s00705-022-05450-6