Abstract
Fowlpox virus (FWPV), which is the type member of the genus Avipoxvirus, subfamily Chordopoxvirinae, family Poxviridae, can lead to significant losses to the poultry industry. Although a large number of fowlpox virus genomes have been sequenced and characterised globally, there are no sequences available at the genomic level from Australian isolates. Here, we present the first complete genome sequence of a fowlpox virus vaccine strain (FWPV-S) containing an integrated near-full-length reticuloendotheliosis virus (REV) provirus. The genome of FWPV-S showed the highest sequence similarity to a fowlpox virus from the USA (97.74% identity). The FWPV-S genome contained 16 predicted unique genes, while a further two genes were fragmented compared to previously reported FWPV genome sequences. Subsequent phylogenetic analysis showed that FWPV-S was most closely related to other fowlpox viruses. This is the first reported genome sequence of FWPV from Australia.
Access options
Buy single article
Instant access to the full article PDF.
US$ 39.95
Tax calculation will be finalised during checkout.
Subscribe to journal
Immediate online access to all issues from 2019. Subscription will auto renew annually.
US$ 119
Tax calculation will be finalised during checkout.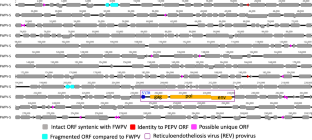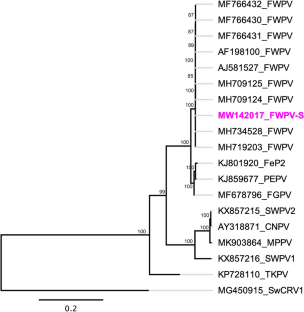 Data availability
The complete sequence of the FWPV-S genome was deposited in the GenBank database under the accession number MW142017.
References
1.

Bolte AL, Meurer J, Kaleta EF (1999) Avian host spectrum of avipoxviruses. Avian Pathol 28(5):415–432. https://doi.org/10.1080/03079459994434

2.

van Riper C, Forrester DJ (2007) Avian Pox. In: Thomas NJ, Hunter DB, Atkinson CT (eds) Infectious diseases of wild birds. Wiley Blackwell Publishing, Oxford

3.

Carulei O, Douglass N, Williamson A-L (2017) Comparative analysis of avian poxvirus genomes, including a novel poxvirus from lesser flamingos (Phoenicopterus minor), highlights the lack of conservation of the central region. BMC Genomics 18(1):947. https://doi.org/10.1186/s12864-017-4315-0

4.

Tripathy DN, Reed WM (2017) Pox. In Diseases of Poultry, D.E. Swayne (Ed.). https://doi.org/10.1002/9781119421481.ch10

5.

Joshi LR, Bauermann FV, Hain KS, Kutish GF, Armién AG, Lehman CP, Neiger R, Afonso CL, Tripathy DN, Diel DG (2019) Detection of Fowlpox virus carrying distinct genome segments of Reticuloendotheliosis virus. Virus Res 260:53–59. https://doi.org/10.1016/j.virusres.2018.10.017

6.

Hertig C, Coupar BE, Gould AR, Boyle DB (1997) Field and vaccine strains of fowlpox virus carry integrated sequences from the avian retrovirus, reticuloendotheliosis virus. Virology 235(2):367–376. https://doi.org/10.1006/viro.1997.8691

7.

Tripathy DN, Schnitzlein WM, Morris PJ, Janssen DL, Zuba JK, Massey G, Atkinson CT (2000) Characterization of poxviruses from forest birds in Hawaii. J Wildl Dis 36(2):225–230. https://doi.org/10.7589/0090-3558-36.2.225

8.

Niemeyer C, Favero CM, Kolesnikovas CKM, Bhering RCC, Brandão P, Catão-Dias JL (2013) Two different avipoxviruses associated with pox disease in Magellanic penguins (Spheniscus magellanicus) along the Brazilian coast. Avian Pathol 42(6):546–551. https://doi.org/10.1080/03079457.2013.849794

9.

Boyle DB, Pye AD, Coupar BEH (1997) Comparison of field and vaccine strains of Australian fowlpox viruses. Arch Virol 142(4):737–748. https://doi.org/10.1007/s007050050115

10.

Boyle DB, Bulach DM, Amos-Ritchie R, Adams MM, Walker PJ, Weir R (2012) Genomic sequences of Australian bluetongue virus prototype serotypes reveal global relationships and possible routes of entry into Australia. J Virol 86(12):6724–6731. https://doi.org/10.1128/JVI.00182-12

11.

Sarker S, Das S, Lavers JL, Hutton I, Helbig K, Imbery J, Upton C, Raidal SR (2017) Genomic characterization of two novel pathogenic avipoxviruses isolated from pacific shearwaters (Ardenna spp.). BMC Genomics 18(1):298. https://doi.org/10.1186/s12864-017-3680-z

12.

Sarker S, Roberts HK, Tidd N, Ault S, Ladmore G, Peters A, Forwood JK, Helbig K, Raidal SR (2017) Molecular and microscopic characterization of a novel Eastern grey kangaroopox virus genome directly from a clinical sample. Sci Rep 7(1):16472. https://doi.org/10.1038/s41598-017-16775-7

13.

Sarker S, Batinovic S, Talukder S, Das S, Park F, Petrovski S, Forwood JK, Helbig KJ, Raidal SR (2020) Molecular characterisation of a novel pathogenic avipoxvirus from the Australian magpie (Gymnorhina tibicen). Virology 540:1–16. https://doi.org/10.1016/j.virol.2019.11.005

14.

Sarker S, Athukorala A, Raidal SR (2021) Molecular characterisation of a novel pathogenic avipoxvirus from an Australian passerine bird, mudlark (Grallina cyanoleuca). Virology 554:66–74. https://doi.org/10.1016/j.virol.2020.12.011

15.

Benson DA, Cavanaugh M, Clark K, Karsch-Mizrachi I, Lipman DJ, Ostell J, Sayers EW (2013) GenBank. Nucleic Acids Res. https://doi.org/10.1093/nar/gks1195

16.

Hillary W, Lin S-H, Upton C (2011) Base-By-Base version 2: single nucleotide-level analysis of whole viral genome alignments. Microbial Inform Exp 1:2–2. https://doi.org/10.1186/2042-5783-1-2

17.

Katoh K, Standley DM (2013) MAFFT multiple sequence alignment software version 7: improvements in performance and usability. Mol Biol Evol 30(4):772–780. https://doi.org/10.1093/molbev/mst010

18.

Afonso CL, Tulman ER, Lu Z, Zsak L, Kutish GF, Rock DL (2000) The genome of fowlpox virus. J Virol 74(8):3815–3831. https://doi.org/10.1128/jvi.74.8.3815-3831.2000

19.

Offerman K, Carulei O, van der Walt AP, Douglass N, Williamson A-L (2014) The complete genome sequences of poxviruses isolated from a penguin and a pigeon in South Africa and comparison to other sequenced avipoxviruses. BMC Genomics 15(1):1–17. https://doi.org/10.1186/1471-2164-15-463

20.

Sarker S, Isberg SR, Milic NL, Lock P, Helbig KJ (2018) Molecular characterization of the first saltwater crocodilepox virus genome sequences from the world's largest living member of the Crocodylia. Sci Rep 8(1):5623. https://doi.org/10.1038/s41598-018-23955-6
Acknowledgements
Dr. Sarker is the recipient of an Australian Research Council Discovery Early Career Researcher Award (Grant number DE200100367) funded by the Australian government. We also gratefully acknowledge the funding contributed by the Australian Biosecurity CRC for Emerging Infectious Disease in support of this work.
Ethics declarations
Conflict of interest
The authors declare that they have no competing interests.
Additional information
Publisher's Note
Springer Nature remains neutral with regard to jurisdictional claims in published maps and institutional affiliations.
Handling Editor: William G Dundon.
Supplementary Information
Below is the link to the electronic supplementary material.
About this article
Cite this article
Sarker, S., Athukorala, A., Bowden, T.R. et al. Characterisation of an Australian fowlpox virus carrying a near-full-length provirus of reticuloendotheliosis virus. Arch Virol 166, 1485–1488 (2021). https://doi.org/10.1007/s00705-021-05009-x
Received:

Accepted:

Published:

Issue Date: