Abstract
The complete genome sequence of a new polerovirus found naturally infecting Artemisia princeps, artemisia virus B (ArtVB), was determined using high-throughput sequencing. The ArtVB genome comprises 6,141 nucleotides and contains six putative open reading frames (ORF0 to ORF5) with a genome structure typical of poleroviruses. A multiple sequence alignment showed that the complete ArtVB genome shares 50.98% nucleotide sequence identity with ixeridium yellow mottle virus 1 (IxYMaV-1, GenBank accession no. KT868949). ArtVB shares the highest amino acid sequence identity in P0 and P3–P5 (21.54%–51.69%) with other known poleroviruses. Phylogenetic analysis indicated that ArtVB should be considered a member of a new species within the genus Polerovirus, family Luteoviridae.
Access options
Buy single article
Instant access to the full article PDF.
US$ 39.95
Tax calculation will be finalised during checkout.
Subscribe to journal
Immediate online access to all issues from 2019. Subscription will auto renew annually.
US$ 119
Tax calculation will be finalised during checkout.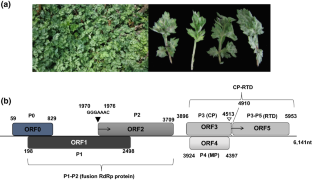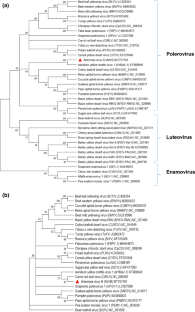 References
1.

Domier LL (2012) Family Luteoviridae. In: King AMQ, Adams MJ, Carstens EB, Lefkowitz EJ (eds) Virus taxonomy, ninth report of the international committee on taxonomy of viruses. Academic Press, San Diego, pp 1045–1053

2.

Pagán I, Holmes EC (2010) Long-term evolution of the Luteoviridae: time scale and mode of virus speciation. J Virol 84:6177–6187. https://doi.org/10.1128/JVI.02160-09

3.

Smirnova E, Firth AE, Miller WA, Scheidecker D, Brault V, Reinbold C, Rakotondrafara AM, Chung BYW, Ziegler-Graff V (2015) Discovery of a small non-AUG-initiated ORF in poleroviruses and luteoviruses that is required for long-distance movement. PLoS Pathog 11:e1004868

4.

Zhou B, Wang F, Zhang X, Zhang L, Lin H (2017) Sequencing and phylogenetic analysis of tobacco virus 2, a polerovirus from Nicotiana tabacum. Arch Virol. 162:2159–2162

5.

Hirano A, Goto M, Mitsui T, Hashimoto-Hachiya A, Tsuji G, Furue M (2017) Antioxidant Artemisia princeps extract enhances the expression of filaggrin and loricrin via the AHR/OVOL1 pathway. Int J Mol Sci 18:1948

6.

Ramel ME, Gugerli P, Besse S, Simonnet X, Balmelli C (2013) Molecular characterization of artemisia virus A, a new sobemovirus isolated from Artemisia annua. Adv Virol 158:463–466

7.

Kumar S, Stecher G, Li M, Knyaz C, Tamura K (2018) MEGA X: molecular evolutionary genetics analysis across computing platforms. Mol Biol Evol 35:1547–1549

8.

Bortolamiol D, Pazhouhandeh M, Marrocco K, Genschik P, Ziegler-Graff V (2007) The polerovirus F box protein P0 targets ARGONAUTE1 to suppress RNA silencing. Curr Biol 17:1615–1621

9.

Huang LF, Naylor M, Pallett DW et al (2005) The complete genome sequence, organization and affinities of carrot red leaf virus. Arch Virol 150:1845–1855

10.

King AM, Adams MJ, Carstens EB, Lefkowitz E (2011) Virus taxonomy: ninth report of the international committee on taxonomy of viruses. Elsevier, New York

11.

Mutterer JD, Stussi-Garaud C, Michler P et al (1999) Role of the beet western yellows virus readthrough protein in virus movement in Nicotiana clevelandii. J Gen Virol 80(Pt 10):2771–2778. https://doi.org/10.1099/0022-1317-80-10-2771
Acknowledgements
This research was supported by grants from the National Institute of Forest Science, Republic of Korea (project no. FG0700-2018-02-2198), Rural Development Administration, Republic of Korea (project no. PJ0137412018) and the KRIBB Research Initiative Program, funded by the Ministry of Science and ICT, Republic of Korea (project no. KGM5372012). We are thankful to the Office of Research and Innovation at the Mongolian National University of Education. Also, we thank Steven M. Thompson from Edanz Group (https://en-author-services.edanzgroup.com/ac) for editing a draft of this manuscript.
Ethics declarations
Conflict of interest
All authors declare that they have no conflict of interest.
Ethical approval
This article did not involve any studies with human participants or animals performed by any of the authors.
Additional information
Publisher's Note
Springer Nature remains neutral with regard to jurisdictional claims in published maps and institutional affiliations.
Handling Editor: Robert H.A. Coutts.
Supplementary Information
Below is the link to the electronic supplementary material.
About this article
Cite this article
Igori, D., Lim, S., Cho, H.S. et al. Complete genome sequence of artemisia virus B, a new polerovirus infecting Artemisia princeps in South Korea. Arch Virol 166, 1495–1499 (2021). https://doi.org/10.1007/s00705-021-05004-2
Received:

Accepted:

Published:

Issue Date: