Abstract
In this study, a novel mitovirus designed "Colletotrichum higginsianum mitovirus 1" (ChMV1) was isolated from the phytopathogenic fungus Colletotrichum higginsianum. The genome of this mitovirus is 2,893 nt in length with an A + U content of 61% and contains a large open reading frame (ORF) encoding an RNA-dependent RNA polymerase (RdRp). A BLASTp analysis revealed that the RdRp domain of ChMV1 had 30.25% to 61.72% sequence identity to those of members of the genus Mitovirus and showed the highest degree of similarity (61.72% identity) to Botrytis cinerea mitovirus 3 (BcMV3). Phylogenetic analysis further indicated that ChMV1 is a member in the genus Mitovirus of the family Mitoviridae. To the best of our knowledge, this is the first report of a mitovirus in C. higginsianum.
Access options
Buy single article
Instant access to the full article PDF.
US$ 39.95
Tax calculation will be finalised during checkout.
Subscribe to journal
Immediate online access to all issues from 2019. Subscription will auto renew annually.
US$ 119
Tax calculation will be finalised during checkout.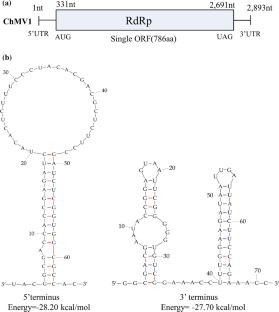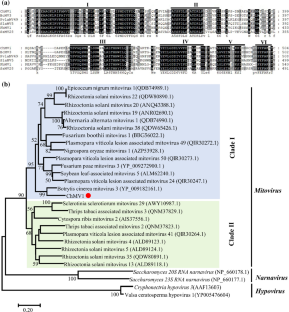 References
1.

Ghabrial SA, Suzuki N (2009) Viruses of plant pathogenic fungi. Annu Rev Phytopathol 47:353–384

2.

Xu Z, Wu S, Liu L, Cheng J, Fu Y, Jiang D, Xie J (2015) A mitovirus related to plant mitochondrial gene confers hypovirulence on the phytopathogenic fungus Sclerotinia sclerotiorum. Virus Res 197:127–136

3.

Nuss DL (1992) Biological control of chestnut blight: an example of virus-mediated attenuation of fungal pathogenesis. Microbiol Rev 56(4):561–576

4.

Hillman BI, Cai G (2013) The family narnaviridae: simplest of RNA viruses. Adv Virus Res 86:149–176

5.

Liu H, Liu R, Li CX, Wang H, Zhu HJ, Gao BD, Zhou Q, Zhong J (2019) A victorivirus and two novel mitoviruses co-infected the plant pathogen Nigrospora oryzae. Viruses 11(1)

6.

Vainio EJ (2019) Mitoviruses in the conifer root rot pathogens Heterobasidion annosum and H. parviporum. Virus Res 271:197681

7.

Ran H, Liu L, Li B, Cheng J, Fu Y, Jiang D, Xie J (2016) Co-infection of a hypovirulent isolate of Sclerotinia sclerotiorum with a new botybirnavirus and a strain of a mitovirus. Virol J 13:92

8.

Khalifa ME, Pearson MN (2013) Molecular characterization of three mitoviruses co-infecting a hypovirulent isolate of Sclerotinia sclerotiorum fungus. Virology 441(1):22–30

9.

Wu M, Zhang L, Li G, Jiang D, Ghabrial SA (2014) Genome characterization of a debilitation-associated mitovirus infecting the phytopathogenic fungus Botrytis cinerea. Virology 406(1):117–126

10.

Deng F, Boland GJ (2006) Attenuation of virulence in Sclerotinia homoeocarpa during storage is associated with latent infection by Ophiostoma mitovirus 3a. Eur J Plant Pathol 114(2):127–137

11.

Cannon PF, Damm U, Johnston PR, Weir BS (2012) Colletotrichum—current status and future directions. Stud Mycol 73(1):181–213

12.

Yan Y, Yuan Q, Tang J, Huang J, Hsiang T, Wei Y, Zheng L (2018) Colletotrichum higginsianum as a model for understanding host-pathogen interactions: a review. Int J Mol Sci 19(7)

13.

Campo S, Gilbert KB, Carrington JC (2016) Small RNA-based antiviral defense in the phytopathogenic fungus Colletotrichum higginsianum. PLoS Pathog 12(6):e1005640

14.

Liu F, Damm U, Cai L, Crous PW (2013) Species of the Colletotrichum gloeosporioides complex associated with anthracnose diseases of Proteaceae. Fungal Divers 61(1):89–105

15.

Morris TJ (1979) Isolation and analysis of double-stranded RNA from virus-infected plant and fungal tissue. Phytopathology 69(8):854–858

16.

Zhong J, Lei XH, Zhu JZ, Song G, Zhang YD, Chen Y, Gao BD (2014) Detection and sequence analysis of two novel co-infecting double-strand RNA mycoviruses in Ustilaginoidea virens. Arch Virol 159(11):3063–3070

17.

Larkin MA, Blackshields G, Brown NP, Chenna R, McGettigan PA, McWilliam H et al (2007) Clustal W and Clustal X version 2.0. Bioinformatics 23(21):2947–2948

18.

Nicholas KB (1997) GeneDoc: analysis and visualization of genetic variation, EMBNEW. Embnew News 4:14

19.

Kumar S, Stecher G, Li M, Knyaz C, Tamura K (2018) MEGA X: molecular evolutionary genetics analysis across computing platforms. Mol Biol Evol 35(6):1547–1549

20.

Zheng L, Zhao J, Liang X, Zhuang H, Qi T, Kang Z (2019) Complete genome sequence of a novel mitovirus from the wheat stripe rust fungus Puccinia striiformis. Arch Virol 164(3):897–901

21.

Li S, Li Y, Hu C, Han C, Zhou T, Zhao C, Wu X (2020) Full genome sequence of a new mitovirus from the phytopathogenic fungus Rhizoctonia solani. Arch Virol 165(7):1719–1723
Funding
This study was supported by the Excellent Doctoral Dissertation Cultivating Fund of Hunan Agricultural University (YB2019005) and the Hunan Provincial Department of Education Science Project (19K040).
Ethics declarations
Conflict of interest
All authors declare no conflicts of interest.
Ethical approval
This article does not include experiments with human participants or animals performed by any of the authors.
Additional information
Publisher's Note
Springer Nature remains neutral with regard to jurisdictional claims in published maps and institutional affiliations.
Handling Editor: Ioly Kotta-Loizou.
Supplementary Information
Below is the link to the electronic supplementary material.
About this article
Cite this article
Wang, H., Liu, H. & Zhou, Q. The complete genome sequence of a new mitovirus from the phytopathogenic fungus Colletotrichum higginsianum. Arch Virol 166, 1481–1484 (2021). https://doi.org/10.1007/s00705-021-04996-1
Received:

Accepted:

Published:

Issue Date: