Abstract
European clinical practice guidelines (EASL) on chronic hepatitis B (CHB) recently recognized the importance of migration flows in the changing hepatitis B virus (HBV) epidemiology in low-endemic European countries. The role of different genotypes in nucleos(t)ide analogue (NA) treatment is still unknown. In the case of genotype E, which is mainly circulating in West Africa, a quantitative decrease in the level of HBsAg (qHBsAg) during treatment with entecavir (ETV) predicts a longer time to HBsAg loss when compared to genotypes A and D. We prospectively evaluated qHBsAg decline in HBeAg-negative CHB patients infected with HBV genotype E who were treated with tenofovir 245 mg (TDF) or ETV 0.5 mg from 2008 to 2014. Sixty-five West African patients (58; 89.2% males) were enrolled. The median age was 29 years, and the most prevalent route of transmission was familial (25; 38.5%). Median liver stiffness was 7.4 kPa, HBV-DNA was 4.7 Log IU/ml, and qHBsAg was 3.4 Log UI/ml. According to clinical evaluation, 40 patients (61.5%) started ETV treatment, whereas 25 patients (38.5%) started TDF treatment. The decline of qHBsAg in ETV patients was significantly lower than in TDF patients after 5 years of treatment (0.31 vs. 0.68 LogIU/mL, p < 0.001). At the same time points, a significantly higher virological non-response rate was observed in ETV patients (p < 0.001). Despite the partial and non-response rates observed in the ETV group, no mutations associated with drug resistance were detected in these subjects. In genotype E infections, ETV treatment results in a significantly lower decline in qHBsAg and higher rates of virological non-response after 5 years. TDF could represent the optimal choice.
Access options
Buy single article
Instant access to the full article PDF.
US$ 39.95
Tax calculation will be finalised during checkout.
Subscribe to journal
Immediate online access to all issues from 2019. Subscription will auto renew annually.
US$ 119
Tax calculation will be finalised during checkout.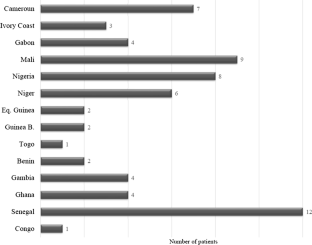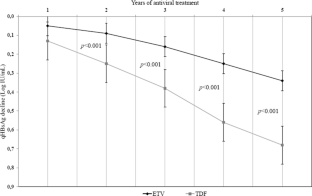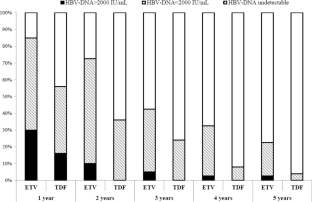 Abbreviations
HBV:

Hepatitis B virus

NA:

Nucleos(t)ide analogues

CHB:

Chronic hepatitis B

IC:

Inactive carrier

PEG-INF:

Pegylated interferon

HBsAg:

Hepatitis B surface antigen

qHBsAg:

Quantitative HBsAg

ALT:

Alanine aminotransferase

HBeAg:

Hepatitis e antigen

SR:

Sustained response

UNL:

Upper normal level

IQR:

Inter-quartile range
References
1.

EASL (2017) EASL 2017 Clinical Practice Guidelines on the management of hepatitis B virus infection. J Hepatol. https://doi.org/10.5152/tjg.2017.20817

2.

Schaefer S (2007) Hepatitis B virus taxonomy and hepatitis B virus genotypes. World J Gastroenterol 13:14–21. https://doi.org/10.3748/wjg.v13.i1.14

3.

Kurbanov F, Tanaka Y, Mizokami M (2010) Geographical and genetic diversity of the human hepatitis B virus. Hepatol Res 40:14–30. https://doi.org/10.1111/j.1872-034X.2009.00601.x

4.

McMahon BJ (2009) The influence of hepatitis B virus genotype and subgenotype on the natural history of chronic hepatitis B. Hepatol Int 3:334–342. https://doi.org/10.1007/s12072-008-9112-z

5.

Chu CJ, Lok ASF (2002) Clinical significance of hepatitis B virus genotypes. Hepatology 35:1274–1276. https://doi.org/10.1053/jhep.2002.33161

6.

Mulders MN, Venard V, Njayou M et al (2004) Low genetic diversity despite hyperendemicity of hepatitis B virus genotype E throughout West Africa. J Infect Dis 190:400–408. https://doi.org/10.1086/421502

7.

Erhardt A, Gobel T, Ludwig A, Lau GKK (2009) Response to antiviral treatment in patients infected with hepatitis B virus genotypes E–H. J Med Virol 81:1716–1720. https://doi.org/10.1002/jmv

8.

Ahmad AE, Bakari AG, Musa BOP et al (2019) Pattern of prevalent hepatitis B virus genotypes in Zaria, Nigeria. Niger Postgrad Med J 26:80–86. https://doi.org/10.4103/npmj.npmj_59_19

9.

Andernach IE, Hubschen JM, Muller CP (2009) Hepatitis B virus: the genotype E puzzle. Rev Med Virol 19:231–240. https://doi.org/10.1002/rmv

10.

Boglione L, Cardellino CS, De Nicolò A (2014) Different HBsAg decline after 3 years of therapy with entecavir in patients affected by chronic hepatitis B HBeAg-negative and genotype A, D and E. J Med Virol 86:1845–1850. https://doi.org/10.1002/jmv

11.

Westland C, Delaney W IV, Yang H et al (2003) Hepatitis B virus genotypes and virologic response in 694 patients in phase III studies of adefovir dipivoxil. Gastroenterology 125:107–116. https://doi.org/10.1016/S0016-5085(03)00700-5

12.

Lampertico P, Viganò M, Cheroni C et al (2013) IL28B polymorphisms predict interferon-related hepatitis B surface antigen seroclearance in genotype D hepatitis B e antigen-negative patients with chronic hepatitis B. Hepatology 57:890–896. https://doi.org/10.1002/hep.25749

13.

Boglione L, Cusato J, Cariti G et al (2014) The E genotype of hepatitis B: clinical and virological characteristics, and response to interferon. J Infect 69:81–87. https://doi.org/10.1016/j.jinf.2014.02.018

14.

Martinot-Peignoux M, Lapalus M, Asselah T, Marcellin P (2014) HBsAg quantification: useful for monitoring natural history and treatment outcome. Liver Int 34:97–107. https://doi.org/10.1111/liv.12403

15.

Boglione L, D'Avolio A, Cariti G et al (2013) Kinetics and prediction of HBsAg loss during therapy with analogues in patients affected by chronic hepatitis B HBeAg negative and genotype D. Liver Int 33:580–585. https://doi.org/10.1111/liv.12091

16.

Kuhnhenn L, Jiang B, Kubesch A et al (2018) Impact of HBV genotype and mutations on HBV DNA and qHBsAg levels in patients with HBeAg-negative chronic HBV infection. Aliment Pharmacol Ther 47:1523–1535. https://doi.org/10.1111/apt.14636

17.

Malagnino V, Salpini R, Maffongelli G et al (2018) High rates of chronic HBV genotype E infection in a group of migrants in Italy from West Africa: virological characteristics associated with poor immune clearance. PLoS ONE 13:e0195045. https://doi.org/10.1371/journal.pone.0195045

18.

Lok AS, Zoulim F, Locarnini S et al (2007) Antiviral drug-resistant HBV: standardization of nomenclature and assays and recommendations for management. Hepatology 46:254–265. https://doi.org/10.1002/hep.21698

19.

Fournier C, Zoulim F (2007) Antiviral therapy of chronic hepatitis B: prevention of drug resistance. Clin Liver Dis 11:869–892

20.

Villet S, Billioud G, Pichoud C et al (2009) In vitro characterization of viral fitness of therapy-resistant hepatitis B variants. Gastroenterology 136:168-176.e2. https://doi.org/10.1053/j.gastro.2008.09.068

21.

Bartholomew MM, Jansen RW, Jeffers LJ et al (1997) Early reports hepatitis-B-virus resistance to lamivudine given for recurrent infection after orthotopic liver transplantation amplified from serum and sequenced through a conserved within the YMDD locus of the HBV polymerase gene in all orthotopic liver transplant. Lancet 349(9044):20–22
Ethics declarations
Conflict of interest
All authors declare no conflict of interest.
Ethics approval statement
This study was approved by the local ethics committee as "HBV-Analogues Study" (Prot. N°002360; 26/1/2015) and all included subjects provided written informed consent.
Additional information
Publisher's Note
Springer Nature remains neutral with regard to jurisdictional claims in published maps and institutional affiliations.
Handling Editor: Zhongjie Shi.
About this article
Cite this article
Boglione, L., De Benedetto, I., Lupia, T. et al. Serological and virological response in patients with hepatitis B virus genotype E treated with entecavir or tenofovir: a prospective study. Arch Virol 166, 1125–1131 (2021). https://doi.org/10.1007/s00705-021-04992-5
Received:

Accepted:

Published:

Issue Date: