Abstract
Human endogenous retrovirus W family envelope protein (HERV-W env) is associated with several neurological and psychiatric disorders, including multiple sclerosis (MS) and schizophrenia. Clinical studies have demonstrated a common link between inflammatory abnormalities and HERV-W env in neuropsychiatric diseases. Nonetheless, the molecular mechanisms by which HERV-W env mediates neuroinflammation are still unclear. In this study, we found that HERV-W env significantly increased the mRNA and protein levels of TNF-α and IL-10 in U251 and A172 cells. HERV-W env also induced a notable increase in Toll-like receptor 4 (TLR4). Knockdown of TLR4 impaired the expressions of TNF-α and IL-10 induced by HERV-W env. Overexpression of HERV-W env led to the upregulation of MyD88 but caused a decrease in MyD88s. MyD88s overexpression suppressed the expressions of TNF-α and IL-10 induced by HERV-W env. These findings indicate that HERV-W env upregulates the expressions of IL-10 and TNF-α by inhibiting the production of MyD88s in glial cells. This work sheds light on the immune pathogenesis of HERV-W env in neuropsychiatric disorders.
Access options
Buy single article
Instant access to the full article PDF.
US$ 39.95
Tax calculation will be finalised during checkout.
Subscribe to journal
Immediate online access to all issues from 2019. Subscription will auto renew annually.
US$ 119
Tax calculation will be finalised during checkout.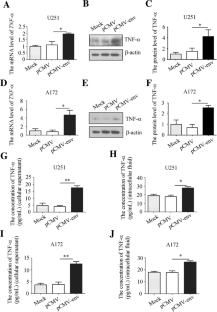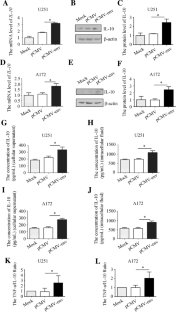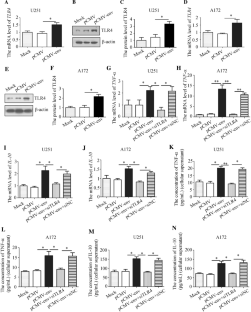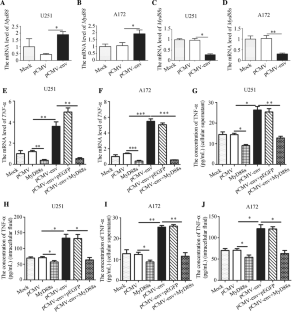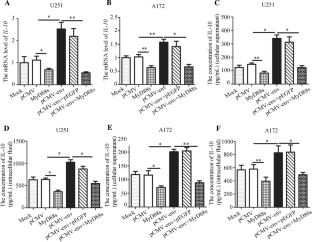 References
1.

Vargiu L, Rodriguez-Tome P, Sperber GO, Cadeddu M, Grandi N, Blikstad V, Tramontano E, Blomberg J (2016) Classification and characterization of human endogenous retroviruses; mosaic forms are common. Retrovirology 13:7. https://doi.org/10.1186/s12977-015-0232-y

2.

Johnson WE (2019) Origins and evolutionary consequences of ancient endogenous retroviruses. Nat Rev Microbiol 17(6):355–370. https://doi.org/10.1038/s41579-019-0189-2

3.

Fu B, Ma H, Liu D (2019) Endogenous retroviruses function as gene expression regulatory elements during mammalian pre-implantation embryo development. Int J Mol Sci. https://doi.org/10.3390/ijms20030790

4.

Noorali S, Rotar IC, Lewis C, Pestaner JP, Pace DG, Sison A, Bagasra O (2009) Role of HERV-W syncytin-1 in placentation and maintenance of human pregnancy. Appl Immunohistochem Mol Morphol 17(4):319–328. https://doi.org/10.1097/PAI.0b013e31819640f9

5.

Li F, Karlsson H (2016) Expression and regulation of human endogenous retrovirus W elements. APMIS 124(1–2):52–66. https://doi.org/10.1111/apm.12478

6.

Huang WJ, Liu ZC, Wei W, Wang GH, Wu JG, Zhu F (2006) Human endogenous retroviral pol RNA and protein detected and identified in the blood of individuals with schizophrenia. Schizophr Res 83(2–3):193–199. https://doi.org/10.1016/j.schres.2006.01.007

7.

Chen Y, Yan Q, Zhou P, Li S, Zhu F (2019) HERV-W env regulates calcium influx via activating TRPC3 channel together with depressing DISC1 in human neuroblastoma cells. J Neurovirol 25(1):101–113. https://doi.org/10.1007/s13365-018-0692-7

8.

Perron H, Mekaoui L, Bernard C, Veas F, Stefas I, Leboyer M (2008) Endogenous retrovirus type W GAG and envelope protein antigenemia in serum of schizophrenic patients. Biol Psychiatry 64(12):1019–1023. https://doi.org/10.1016/j.biopsych.2008.06.028

9.

Qin C, Li S, Yan Q, Wang X, Chen Y, Zhou P, Lu M, Zhu F (2016) Elevation of Ser9 phosphorylation of GSK3beta is required for HERV-W env-mediated BDNF signaling in human U251 cells. Neurosci Lett 627:84–91. https://doi.org/10.1016/j.neulet.2016.05.036

10.

Xiao R, Li S, Cao Q, Wang X, Yan Q, Tu X, Zhu Y, Zhu F (2017) Human endogenous retrovirus W env increases nitric oxide production and enhances the migration ability of microglia by regulating the expression of inducible nitric oxide synthase. Virol Sin 32(3):216–225. https://doi.org/10.1007/s12250-017-3997-4

11.

Tu X, Li S, Zhao L, Xiao R, Wang X, Zhu F (2017) Human leukemia antigen-A*0201-restricted epitopes of human endogenous retrovirus W family envelope (HERV-W env) induce strong cytotoxic T lymphocyte responses. Virol Sin 32(4):280–289. https://doi.org/10.1007/s12250-017-3984-9

12.

Dolei A, Uleri E, Ibba G, Caocci M, Piu C, Serra C (2015) The aliens inside human DNA: HERV-W/MSRV/syncytin-1 endogenous retroviruses and neurodegeneration. J Infect Dev Ctries 9(6):577–587. https://doi.org/10.3855/jidc.6916

13.

Kremer D, Schichel T, Forster M, Tzekova N, Bernard C, van der Valk P, van Horssen J, Hartung HP, Perron H, Kury P (2013) Human endogenous retrovirus type W envelope protein inhibits oligodendroglial precursor cell differentiation. Ann Neurol 74(5):721–732. https://doi.org/10.1002/ana.23970

14.

Rolland A, Jouvin-Marche E, Saresella M, Ferrante P, Cavaretta R, Creange A, Marche P, Perron H (2005) Correlation between disease severity and in vitro cytokine production mediated by MSRV (multiple sclerosis associated retroviral element) envelope protein in patients with multiple sclerosis. J Neuroimmunol 160(1–2):195–203. https://doi.org/10.1016/j.jneuroim.2004.10.019

15.

Rolland A, Jouvin-Marche E, Viret C, Faure M, Perron H, Marche PN (2006) The envelope protein of a human endogenous retrovirus-W family activates innate immunity through CD14/TLR4 and promotes Th1-like responses. J Immunol 176(12):7636–7644. https://doi.org/10.4049/jimmunol.176.12.7636

16.

Bandil K, Singhal P, Dogra A, Rawal SK, Doval DC, Varshney AK, Bharadwaj M (2017) Association of SNPs/haplotypes in promoter of TNF A and IL-10 gene together with life style factors in prostate cancer progression in Indian population. Inflamm Res 66(12):1085–1097. https://doi.org/10.1007/s00011-017-1088-5

17.

Gomes CP, Torloni MR, Gueuvoghlanian-Silva BY, Alexandre SM, Mattar R, Daher S (2013) Cytokine levels in gestational diabetes mellitus: a systematic review of the literature. Am J Reprod Immunol 69(6):545–557. https://doi.org/10.1111/aji.12088

18.

Hassan MO, Dix-Peek T, Duarte R, Dickens C, Naidoo S, Vachiat A, Grinter S, Manga P, Naicker S (2020) Association of chronic inflammation and accelerated atherosclerosis among an indigenous black population with chronic kidney disease. PloS One 15(7):e0232741. https://doi.org/10.1371/journal.pone.0232741

19.

Sag S, Sag MS, Tekeoglu I, Kamanli A, Nas K, Acar BA (2020) Central nervous system involvement in rheumatoid arthritis: possible role of chronic inflammation and tnf blocker therapy. Acta Neurol Belgica 120(1):25–31. https://doi.org/10.1007/s13760-017-0879-3

20.

Brostjan C, Oehler R (2020) The role of neutrophil death in chronic inflammation and cancer. Cell Death Discov 6:26. https://doi.org/10.1038/s41420-020-0255-6

21.

Neurath MF (2020) IL-36 in chronic inflammation and cancer. Cytokine Growth Fact Rev. https://doi.org/10.1016/j.cytogfr.2020.06.006

22.

Potvin S, Stip E, Sepehry AA, Gendron A, Bah R, Kouassi E (2008) Inflammatory cytokine alterations in schizophrenia: a systematic quantitative review. Biol Psychiatry 63(8):801–808. https://doi.org/10.1016/j.biopsych.2007.09.024

23.

Shen SJ, Shui SF, Xiao BK, Yang JY, Huang RQ (2017) Anti-inflammation effect of Jinlingzi San in rat metabonomics based on 1H-NMR and LC-MS technology. Zhongguo Zhong Yao Za Zhi 42(2):363–369. https://doi.org/10.19540/j.cnki.cjcmm.20161222.028

24.

Zhang W, Chen H (2002) The study on the interleukin-8 (IL-8). Sheng Wu Yi Xue Gong Cheng Xue Za Zhi 19(4):697–702

25.

Kunz M, Cereser KM, Goi PD, Fries GR, Teixeira AL, Fernandes BS, Belmonte-de-Abreu PS, Kauer-Sant'Anna M, Kapczinski F, Gama CS (2011) Serum levels of IL-6, IL-10 and TNF-alpha in patients with bipolar disorder and schizophrenia: differences in pro- and anti-inflammatory balance. Rev Bras Psiquiatr 33(3):268–274

26.

Bocchio Chiavetto L, Boin F, Zanardini R, Popoli M, Michelato A, Bignotti S, Tura GB, Gennarelli M (2002) Association between promoter polymorphic haplotypes of interleukin-10 gene and schizophrenia. Biol Psychiatry 51(6):480–484

27.

Magliozzi R, Howell OW, Nicholas R, Cruciani C, Castellaro M, Romualdi C, Rossi S, Pitteri M, Benedetti MD, Gajofatto A, Pizzini FB, Montemezzi S, Rasia S, Capra R, Bertoldo A, Facchiano F, Monaco S, Reynolds R, Calabrese M (2018) Inflammatory intrathecal profiles and cortical damage in multiple sclerosis. Ann Neurol 83(4):739–755. https://doi.org/10.1002/ana.25197

28.

Muller N, Myint AM, Schwarz MJ (2012) Inflammation in schizophrenia. Adv Protein Chem Struct Biol 88:49–68. https://doi.org/10.1016/B978-0-12-398314-5.00003-9

29.

Brubaker SW, Bonham KS, Zanoni I, Kagan JC (2015) Innate immune pattern recognition: a cell biological perspective. Annu Rev Immunol 33:257–290. https://doi.org/10.1146/annurev-immunol-032414-112240

30.

Duperray A, Barbe D, Raguenez G, Weksler BB, Romero IA, Couraud PO, Perron H, Marche PN (2015) Inflammatory response of endothelial cells to a human endogenous retrovirus associated with multiple sclerosis is mediated by TLR4. Int Immunol 27(11):545–553. https://doi.org/10.1093/intimm/dxv025

31.

Perron H, Dougier-Reynaud HL, Lomparski C, Popa I, Firouzi R, Bertrand JB, Marusic S, Portoukalian J, Jouvin-Marche E, Villiers CL, Touraine JL, Marche PN (2013) Human endogenous retrovirus protein activates innate immunity and promotes experimental allergic encephalomyelitis in mice. PloS One 8(12):e80128. https://doi.org/10.1371/journal.pone.0080128

32.

Kuzmich NN, Sivak KV, Chubarev VN, Porozov YB, Savateeva-Lyubimova TN, Peri F (2017) TLR4 signaling pathway modulators as potential therapeutics in inflammation and sepsis. Vaccines (Basel). https://doi.org/10.3390/vaccines5040034

33.

Feng Z, Li Q, Meng R, Yi B, Xu Q (2018) METTL3 regulates alternative splicing of MyD88 upon the lipopolysaccharide-induced inflammatory response in human dental pulp cells. J Cell Mol Med 22(5):2558–2568. https://doi.org/10.1111/jcmm.13491

34.

Janssens S, Burns K, Vercammen E, Tschopp J, Beyaert R (2003) MyD88S, a splice variant of MyD88, differentially modulates NF-kappaB- and AP-1-dependent gene expression. FEBS Lett 548(1–3):103–107

35.

Huang W, Li S, Hu Y, Yu H, Luo F, Zhang Q, Zhu F (2011) Implication of the env gene of the human endogenous retrovirus W family in the expression of BDNF and DRD3 and development of recent-onset schizophrenia. Schizophr Bull 37(5):988–1000. https://doi.org/10.1093/schbul/sbp166

36.

Liu Y, Liu L, Zhou Y, Zhou P, Yan Q, Chen X, Ding S, Zhu F (2019) CKLF1 enhances inflammation-mediated carcinogenesis and prevents doxorubicin-induced apoptosis via IL6/STAT3 signaling in HCC. Clin Cancer Res 25(13):4141–4154. https://doi.org/10.1158/1078-0432.CCR-18-3510

37.

Zeuner MT, Vallance T, Vaiyapuri S, Cottrell GS, Widera D (2017) Development and characterisation of a novel NF-kappaB reporter cell line for investigation of neuroinflammation. Mediat Inflamm 2017:6209865. https://doi.org/10.1155/2017/6209865

38.

Davis RL, Buck DJ, Saffarian N, Stevens CW (2007) The opioid antagonist, beta-funaltrexamine, inhibits chemokine expression in human astroglial cells. J Neuroimmunol 186(1–2):141–149. https://doi.org/10.1016/j.jneuroim.2007.03.021

39.

Azizi G, Mirshafiey A (2012) The potential role of proinflammatory and antiinflammatory cytokines in Alzheimer disease pathogenesis. Immunopharmacol Immunotoxicol 34(6):881–895. https://doi.org/10.3109/08923973.2012.705292

40.

Kryvoruchko IA, Goncharova NM, Andreyeshchev SA, Yavorska TP (2015) Dynamics of changes of proinflammatory and antiinflammatory cytokines, as well as some indices of the blood peroxidation system, in the patients with various pancreatic pseudocyst types. Klinichna Khirurhiia 4:13–18

41.

Lee MB, Lee JH, Hong SH, You JS, Nam ST, Kim HW, Park YH, Lee D, Min KY, Park YM, Kim YM, Kim HS, Choi WS (2017) JQ1, a BET inhibitor, controls TLR4-induced IL-10 production in regulatory B cells by BRD4-NF-kappaB axis. BMB Rep 50(12):640–646. https://doi.org/10.5483/bmbrep.2017.50.12.194

42.

Takbiri Osgoei L, Parivar K, Ebrahimi M, Mortaz E (2018) Nicotine modulates the release of inflammatory cytokines and expression of TLR2, TLR4 of cord blood mononuclear cells. Iran J Allergy Asthma Immunol 17(4):372–378. https://doi.org/10.18502/ijaai.v17i4.96

43.

Adib-Conquy M, Adrie C, Fitting C, Gattolliat O, Beyaert R, Cavaillon JM (2006) Up-regulation of MyD88s and SIGIRR, molecules inhibiting Toll-like receptor signaling, in monocytes from septic patients. Crit Care Med 34(9):2377–2385. https://doi.org/10.1097/01.CCM.0000233875.93866.88

44.

Wang X, Liu Z, Wang P, Li S, Zeng J, Tu X, Yan Q, Xiao Z, Pan M, Zhu F (2018) Syncytin-1, an endogenous retroviral protein, triggers the activation of CRP via TLR3 signal cascade in glial cells. Brain Behav Immun 67:324–334. https://doi.org/10.1016/j.bbi.2017.09.009

45.

Wang X, Huang J, Zhu F (2018) Human endogenous retroviral envelope protein syncytin-1 and inflammatory abnormalities in neuropsychological diseases. Front Psychiatry 9:422. https://doi.org/10.3389/fpsyt.2018.00422

46.

de Waal Malefyt R, Abrams J, Bennett B, Figdor CG, de Vries JE (1991) Interleukin 10(IL-10) inhibits cytokine synthesis by human monocytes: an autoregulatory role of IL-10 produced by monocytes. J Exp Med 174(5):1209–1220. https://doi.org/10.1084/jem.174.5.1209

47.

Fiorentino DF, Zlotnik A, Mosmann TR, Howard M, O'Garra A (1991) IL-10 inhibits cytokine production by activated macrophages. J Immunol 147(11):3815–3822

48.

Sabat R, Grutz G, Warszawska K, Kirsch S, Witte E, Wolk K, Geginat J (2010) Biology of interleukin-10. Cytokine Growth Fact Rev 21(5):331–344. https://doi.org/10.1016/j.cytogfr.2010.09.002

49.

Burdin N, Rousset F, Banchereau J (1997) B-cell-derived IL-10: production and function. Methods 11(1):98–111. https://doi.org/10.1006/meth.1996.0393

50.

Levy Y, Brouet JC (1994) Interleukin-10 prevents spontaneous death of germinal center B cells by induction of the bcl-2 protein. J Clin Investig 93(1):424–428. https://doi.org/10.1172/JCI116977

51.

Carson WE, Lindemann MJ, Baiocchi R, Linett M, Tan JC, Chou CC, Narula S, Caligiuri MA (1995) The functional characterization of interleukin-10 receptor expression on human natural killer cells. Blood 85(12):3577–3585

52.

Iribarren P, Chen K, Gong W, Cho EH, Lockett S, Uranchimeg B, Wang JM (2007) Interleukin 10 and TNFalpha synergistically enhance the expression of the G protein-coupled formylpeptide receptor 2 in microglia. Neurobiol Dis 27(1):90–98. https://doi.org/10.1016/j.nbd.2007.04.010

53.

Finnegan A, Roebuck KA, Nakai BE, Gu DS, Rabbi MF, Song S, Landay AL (1996) IL-10 cooperates with TNF-alpha to activate HIV-1 from latently and acutely infected cells of monocyte/macrophage lineage. J Immunol 156(2):841–851

54.

Rabbi MF, Finnegan A, Al-Harthi L, Song S, Roebuck KA (1998) Interleukin-10 enhances tumor necrosis factor-alpha activation of HIV-1 transcription in latently infected T cells. J Acquir Immune Def Syndrom Hum Retrovirol 19(4):321–331. https://doi.org/10.1097/00042560-199812010-00002

55.

Purnamasari D, Khumaedi AI, Soeroso Y, Marhamah S (2019) The influence of diabetes and or periodontitis on inflammation and adiponectin level. Diabetes Metabol Syndrome 13(3):2176–2182. https://doi.org/10.1016/j.dsx.2019.05.012

56.

West AP, Brodsky IE, Rahner C, Woo DK, Erdjument-Bromage H, Tempst P, Walsh MC, Choi Y, Shadel GS, Ghosh S (2011) TLR signalling augments macrophage bactericidal activity through mitochondrial ROS. Nature 472(7344):476–480. https://doi.org/10.1038/nature09973

57.

Madeira A, Burgelin I, Perron H, Curtin F, Lang AB, Faucard R (2016) MSRV envelope protein is a potent, endogenous and pathogenic agonist of human toll-like receptor 4: Relevance of GNbAC1 in multiple sclerosis treatment. J Neuroimmunol 291:29–38. https://doi.org/10.1016/j.jneuroim.2015.12.006

58.

Perron H, Lang A (2010) The human endogenous retrovirus link between genes and environment in multiple sclerosis and in multifactorial diseases associating neuroinflammation. Clin Rev Allergy Immunol 39(1):51–61. https://doi.org/10.1007/s12016-009-8170-x

59.

Weber ANR, Cardona Gloria Y, Cinar O, Reinhardt HC, Pezzutto A, Wolz OO (2018) Oncogenic MYD88 mutations in lymphoma: novel insights and therapeutic possibilities. Cancer Immunol Immunother 67(11):1797–1807. https://doi.org/10.1007/s00262-018-2242-9

60.

Zhu M, Yu K, Wang L, Yu S (2018) Contribution of drugs acting on the TLRs/MyD88 signaling pathway on colitis-associated cancer. Pharmazie 73(7):363–368. https://doi.org/10.1691/ph.2018.8388

61.

De Arras L, Alper S (2013) Limiting of the innate immune response by SF3A-dependent control of MyD88 alternative mRNA splicing. PLoS Genet 9(10):e1003855. https://doi.org/10.1371/journal.pgen.1003855

62.

Vickers TA, Zhang H, Graham MJ, Lemonidis KM, Zhao C, Dean NM (2006) Modification of MyD88 mRNA splicing and inhibition of IL-1beta signaling in cell culture and in mice with a 2'-O-methoxyethyl-modified oligonucleotide. J Immunol 176(6):3652–3661. https://doi.org/10.4049/jimmunol.176.6.3652

63.

Janssens S, Burns K, Tschopp J, Beyaert R (2002) Regulation of interleukin-1- and lipopolysaccharide-induced NF-kappaB activation by alternative splicing of MyD88. CB 12(6):467–471. https://doi.org/10.1016/s0960-9822(02)00712-1
Acknowledgements
This work was supported by grants from the National Natural Sciences Foundation of China (grant nos. 81971943, 81772196, 31470264, 81271820, 30870789, and 30300117) and the Stanley Foundation from the Stanley Medical Research Institute (SMRI), United States (grant no. 06R-1366) for Dr. F Zhu, and the Medical Science Advancement Program (Basic Medical Sciences) of Wuhan University (grant no. TFJC 2018002).
Ethics declarations
Conflict of interest
The authors declare that they have no conflict of interest.
Ethical approval
This article does not contain any studies with human or animal subjects performed by any of the authors.
Additional information
Publisher's Note
Springer Nature remains neutral with regard to jurisdictional claims in published maps and institutional affiliations.
Handling Editor: Zhongjie Shi.
Supplementary Information
Below is the link to the electronic supplementary material.
About this article
Cite this article
Wang, X., Wu, X., Huang, J. et al. Human endogenous retrovirus W family envelope protein (HERV-W env) facilitates the production of TNF-α and IL-10 by inhibiting MyD88s in glial cells. Arch Virol 166, 1035–1045 (2021). https://doi.org/10.1007/s00705-020-04933-8
Received:

Accepted:

Published:

Issue Date: