Abstract
Seven novel tailed lytic viruses (Ds3CZ, Ds5CZ, Ds9CZ, Ds16CZ, Ds20CZ, Ds23CZ, Ds25CZ) infecting the bacterium Dickeya solani were isolated in the Czech Republic. Genomes of these viruses are dsDNA, 149,364 to 155,285 bp in length, and the genome arrangement is very similar to that of the type virus Dickeya virus LIMEstone 1. All but the Ds25CZ virus should be regarded as strains of a single species. Most of the sequence differences are due to the presence or absence of homing endonuclease (HE) genes, with 23 HEs found in Ds3CZ, Ds5CZ, and Ds20CZ, 22 in Ds9CZ, 19 in Ds16CZ, 18 in Ds25CZ, and 15 in Ds23CZ.
Access options
Buy single article
Instant access to the full article PDF.
US$ 39.95
Tax calculation will be finalised during checkout.
Subscribe to journal
Immediate online access to all issues from 2019. Subscription will auto renew annually.
US$ 119
Tax calculation will be finalised during checkout.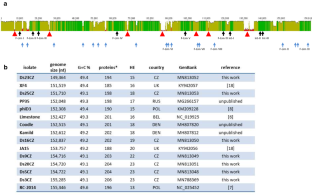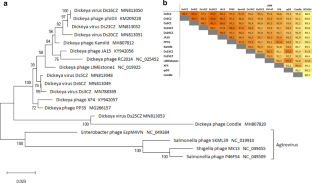 Acknowledgements
This research work was supported by project QK1910028 from the Ministry of Agriculture of the Czech Republic and by institutional funding RVO60077344.
Ethics declarations
Conflict of interest
The authors declare no conflict of interest. The funding sponsors had no role in the design of the study, in the collection, analysis, or interpretation of data, in the writing of the manuscript, or in the decision to publish the results.
Additional information
Publisher's Note
Springer Nature remains neutral with regard to jurisdictional claims in published maps and institutional affiliations.
Handling Editor: Johannes Wittmann.
About this article
Cite this article
Petrzik, K., Vacek, J., Brázdová, S. et al. Diversity of limestone bacteriophages infecting Dickeya solani isolated in the Czech Republic. Arch Virol 166, 1171–1175 (2021). https://doi.org/10.1007/s00705-020-04926-7
Received:

Accepted:

Published:

Issue Date: